The top 10 fully electric cars in Australia

Just a decade ago, if you were after the best full electric car in Australia, you wouldn't find yourself with a whole lot of options to choose from. 
With the popularity of Electric Vehicles (EVs) gaining momentum, however, there's a whole lot more choice for those who want to find a quality full electric car in Australia. 
So here is our hugely helpful list of the Top 10 Best Fully Electric Cars, including the cheapest fully electric car and the greatest fully electric sports car that money can buy. 
Read more about electric cars
Porsche Taycan 

Price: From $190,400
Anyone who thinks a sports car can't possibly have speed and power without an internal combustion engine hasn't had the privilege of sitting behind the wheel of the Porsche full electric Taycan. Although it's classified as a large sedan, you wouldn't know it: combining classic Porsche style with the ability to hit 100km/h in an astonishing 2.8 seconds in the Turbo S variant, this battery-powered beast is quite simply one of the fastest cars in history and quite simply the best EV money can buy.
Tesla Model 3

Price: From $66,900
Tesla's Model 3 may be the most popular fully electric car on the planet, and for good reason. With a decent mid-level price point and a powerful battery that offers up an impressive 508 to 657km of range (depending on variant), it gives drivers decent bang for their buck. Add a cool interior, which features large screens with an in-built games hub that wisely targets kids as the next generation of buyers, and you've got yourself one of the smartest and slickest EVs available today. The Performance variant is also insanely fast.
Audi e-tron

Price: From $146,700
The first Audi full electric vehicle shows that the prestigious car maker is serious about entering the EV market, with the classy and capable e-tron. It offers plenty of space for those who need to pack a family inside, and charges quickly so you don't have to waste a lot of time sitting around before you get moving. With a range starting at 336km for the base model, the e-tron will more than cover you for your weekly commute, and then some. 
Mercedes-Benz EQC 

Price: From $137,900
As you'd expect from a car brand that knows a thing or two about luxury, the first Mercedes full electric SUV, the EQC, is a juggernaut of style and comfort. The five-seater, with a range of 434km, has plenty of space for families and their assorted bits and bobs, with a sizeable luggage capacity of 500 litres. The plush interior and silent electric motor might make you think you're riding in some kind of road-worthy space shuttle, with Mercedes chucking in a free five-year subscription to Chargefox, Australia's largest EV charging network, to sweeten the deal. 
Hyundai Kona Electric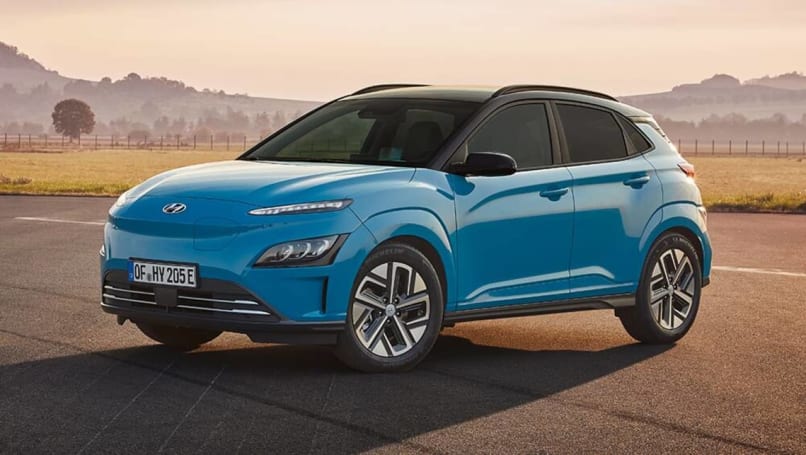 Price: From $62,000 
This Hyundai full electric SUV is at the more affordable end of the spectrum compared to the Mercedes-Benz EQC, with the car's 64kWh battery offering up an impressive 484km range on a full charge (that's more range than the EQC, which is over double the price, although you're of course missing out on all of Mercedes' bells and whistles). The Kona Electric also comes with a five-year/unlimited-kilometre warranty with 12 months of roadside assist, which comes standard with every Hyundai model. 
Nissan Leaf

Price: From $49,990
The Leaf is Nissan's first fully electric car, the zero tailpipe emissions EV making its debut all the way back in 2010. Growing in popularity due to being a particularly affordable full electric car, the Leaf's 40kWh lithium-ion battery provides 270km range - not a huge number, but absolutely enough if it's the kind of EV you'll be using a lot for workday city commuting. The compact size also makes it a good city car, especially where parking spaces are small and limited. 
MG ZS EV

Price: From $40,990
Undercutting its nearest competitors - the Hyundai Ioniq Electric and the Nissan Leaf - the MG ZS EV has taken the title of cheapest EV of all Australia's fully electric vehicles. The 44.5kWh battery gives the MG ZS EV a 262km range, although MG claim this figure can be as high as 370km in an urban environment where there's less pressure put on the vehicle's battery pack. MG also claims the ZS EV can get to a full charge after 45 minutes on DC power, or around seven hours on AC power, which is not bad for a car this size. 
Mazda MX-30

Price: TBC
The emissions-free MX-30 SUV, set to be available mid-2021, is Mazda's first fully electric car. While no price has been announced yet, its size and driving range of 224km places it as a direct competitor to all-electric SUVs the Hyundai Kona Electric and the MG ZS EV. Mazda say that "sizing for the high-voltage battery was carefully considered to fit the inner-urban lifestyle of the target market", which gives you a good idea who the MX-30 is aimed at. 
BMW i3

Price: From $71,900
The BMW full electric car, the i3, is a hatchback designed for urban drivers, which has been on the Australian market for several years now. It's costlier than direct competitors like the Nissan Leaf and the Hyundai Ioniq, largely due to its more expensive carbon monocoque body and high-tech powertrain. It comes with a claimed range of 260km, double what the range was when the first i3 was launched in Australia back in 2014. 
Jaguar I-Pace

Price: From $128,248
Stylish and powerful - which you'd expect for the hefty price tag - the Jaguar all-electric I-Pace is a family friendly luxury EV with a 90kWh battery giving a claimed range of 470km. The I-Pace's SUV-like body means there's plenty of space inside, but the coupe-like roofline adds a sense of aerodynamic sleekness, making it look anything but bulky. Capable of reaching100km/h in 4.8 seconds, it's certainly got the grunt where it counts. 
A round-up of other brands: 
Toyota full electric car: Rumours suggest a mid-size SUV EV may make its way to the Australian market shortly. 
Volvo full electric car: Volvo says it will be launching its first compact electric SUV, the XC40 Recharge, in Australia soon. 
Honda full electric car: The retro-styled Honda e has been ruled out for the Australian market and there are currently no plans for Honda to release any EVs here. 
Kia full electric car: The Kia e-Niro, an all-electric small SUV, will be available in Australia in 2021. 
Lexus full electric car: The front-wheel drive, all-electric Lexus UX 300e is set to debut in Australia in November 2021. 
Peugeot full electric car: The e-208 hatchback and e-2008 SUV are both expected to debut in Australia in 2022. 
Volkswagen full electric car: Volkswagen's range of ID electric vehicles won't arrive in Australia until 2023.
Skoda full electric car: There are no plans for the Enyaq iV SUV EV to hit Australia yet, but if it does it will be in 2022 or 2023 at the earliest. 
Range Rover full electric car: A fully electric Range Rover is expected to arrive in Australia in 2021 or 2022.