What is an electric car?

An electric cars is any vehicle that has an electric motor powered by a battery pack. 
Much like visiting a country where a foreign language is spoken, or trying to communicate with a Gen Z teenager who only speaks in TikTok, sometimes it helps to learn the lingo when being confronted with something new and different.
While electric cars aren't exactly a brand new thing - General Motors made the first mass-produced electric car, the GM EV1, in 1996 - they may still seem new to a lot of folk now that they've gone mainstream - at least relatively speaking - garnering the kind of media coverage that turns B-list Home and Away stars green with envy. 
So, what is an electric car? And what are electric cars called, so you don't look like a numpty when talking about them? And what are electric vehicles - is there a difference between that and an electric car? 
Confusingly, the answer is both yes and no. Let us explain. 
Types of electric-powered vehicles

A BEV is powered by an electric motor, which is charged charged by using an external power source.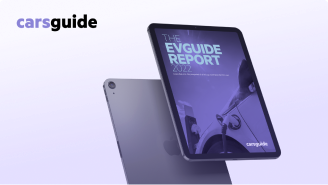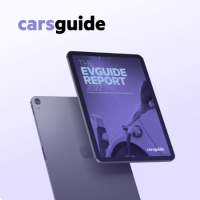 Download the EVGuide Report, 2022
Australia's one-stop snapshot of all things relating to electric cars.
Download for free
An electric car, or electric vehicle (EV), is any car that has a battery-pack that powers an electric motor. That includes the following:
Battery Electric Vehicle (BEV), which is often confusingly referred to as an EV, or all-electric vehicle, or even a pure electric vehicle. The battery is charged with electricity via plugging it in to an external power source, like an AC home charger or public fast charger. There is no secondary source of power. 
Plug-in Hybrid Electric Vehicle (PHEV), which contains both a battery-powered electric motor, and a traditional petrol or diesel-powered internal-combustion engine (ICE). As the name suggests, the battery is charged by plugging it into an external power source, exactly the same way  you would with a BEV. The ICE acts as a secondary source of power to assist the electric motor, or as the prime source of power if the battery runs out of charge. PHEVs have the ability to drive in all-electric mode, but not as far as BEVs, as their batteries are smaller, to leave room for that back up ICE power.

PHEVs contain a battery-powered electric motor, and an internal-combustion engine.
Hybrid electric vehicle (HEV), although these are more commonly just called 'hybrids'. Like a PHEV, a hybrid has an ICE and a battery-powered electric motor, but it doesn't need to be plugged in to charge as it's self-charging (done largely via a process called regenerative braking, where kinetic energy captured when the car slows down or stops is transferred either directly to the wheels or stored in the battery for future use). In a hybrid, the ICE is the primary source of power, with the electric motor assisting in certain driving conditions. Hybrids cannot drive in all-electric mode. 
Fuel Cell Electric Vehicle (FCEV). FCEVs are powered by hydrogen, which is the most abundant element in the universe. Hydrogen gas is stored in a tank that is then converted by a fuel cell into electricity, which in turn powers the vehicle. The benefits of hydrogen are that it's quicker to fuel a FCEV, and they have a greater driving range, although you won't see many on the road yet due to the fact that hydrogen fuelling infrastructure is still in its infancy. 
BEVs and FCEVs are the only electric-powered cars that are zero emission, as the ICE inside PHEVs and hybrids still create harmful greenhouse gases that are released into the atmosphere.
What are the benefits of electric cars?

With fewer moving parts, EVs are cheaper to maintain than ICE vehicles.
As you may have worked out from the above, the major benefit of electric cars is that they are more environmentally-friendly (PHEVs and hybrids less so, but they're still less harmful than ICE vehicles). 
Another major benefit is saving money when it comes to fuel. Running your car on electricity can reduce your fuel costs by up to 70 per cent, and by 100 per cent if your electricity is sourced from free renewable energy. like solar, wind or hydroelectricity. 
Electric cars also have far less moving parts than ICE vehicles, which means you can expect to spend far less when it comes to maintenance costs. 
What electric cars are available in Australia?

There are two FCEVs available in Australia, but the Nexo and Mirai are only leased to government agencies.
BEVs, PHEVs and hybrids are all widely available in Australia from a number of car manufacturers, with popular models including the Tesla Model 3 (Australia's most popular EV), Nissan Leaf, Mitsubishi Eclipse Cross, Toyota RAV4 hybrid and Hyundai Ioniq Electric. 
The Toyota Mirai and Hyundai Nexo are the only two FCEVs available in Australia, but so far they've only been leased to government agencies on account of there being an incredibly small number of hydrogen fuelling stations in Australia (two at least count, or possibly three if we're being generous). 
Globally, what per cent of cars are electric?

Electric cars made up 1.95 per cent of new car sales in 2021 in Australia.
The latest information suggests that electric cars accounted for close to 9 per cent of the global car market in 2021, which is triple what their market share was as recently  as 2019. 
Electric cars made up 1.95 per cent of new car sales in 2021 in Australia, which is almost triple the amount when compared to the number of EVs sold in 2020.