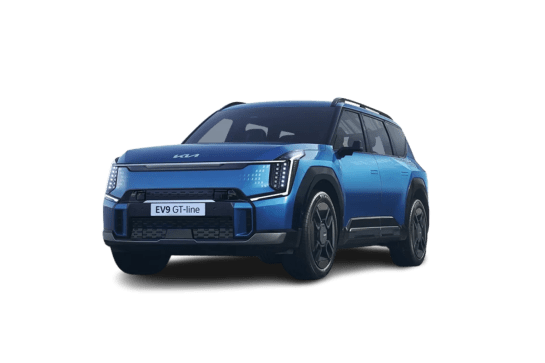 Kia EV9
What's on this page
Kia EV9 Models Price and Specs
The price range for the Kia EV9 varies based on the trim level you choose. Starting at $97,000 and going to $121,000 for the latest year the model was manufactured. The model range is available in the following body types starting from the engine/transmission specs shown below.
Year
Body Type
Specs
Price from
Price to
2023
SUV
—, Electric, 1 SP AUTO
$97,000
$121,000
See All Kia EV9 Pricing and Specs
Kia EV9 Colours
The EV9 hero colour is the 'Ocean Blue Matte', but it's also available in 'Flare Red', 'Iceberg Green', 'Pebble Grey', 'Snow White Pearl', 'Aurora Black Pearl' and 'Panthera Metal'.
Ocean Blue Matte

Aurora Black Pearl

Flare Red

Iceberg Green

Panthera Metal

Pebble Grey

Snow White Pearl
Kia EV9 Accessories
The entry-level Air's standard features list includes a single rear-motor, along with 19-inch alloy wheels projection headlights with LED DRLs and LED tail-lights, flush-closing door handles and vehicle to load functionality.
Inside, there are synthetic leather seats that are powered, heated and ventilated up front, twin 12.3-inch interior screens with a 5.0-inch climate panel in the middle, an eight-speaker stereo, wireless device charging and a powered tailgate. You also get 'Kia Connect' and over the air updates.
Next, the Earth adds better seats, gloss black exterior detailing, ambient interior mood lighting, a light-up logo in the steering wheel, and some extra safety kit. Crucially, you also get a twin-motor powertrain that makes more power, and a bigger battery.
Finally, the GT-Line builds on the Earth's inclusions with 21-inch alloys, LED headlights, roof racks, privacy glass, digital side mirrors, a dual tilt-and-slide sunroof and remote park assist.

Kia EV9 Interior
Inside, the EV9's cabin is more pared-back and minimalist than you might expect, and I'm a big fan of the haptic controls embedded into the dash panel, and of the more old-school air-con switches that sit below it. The office chair-style front seats are super comfy, and I'm enamoured with the twin-screen set-up (two 12.3-inch screens joined by a climate control screen in the middle) which create a wall of tech in front of the driver.

Kia EV9 Boot Space
All EV9s get a heap of boot space, growing from 573L to 1233L and 2314L, depending on whether you have seven, five or two seats in place.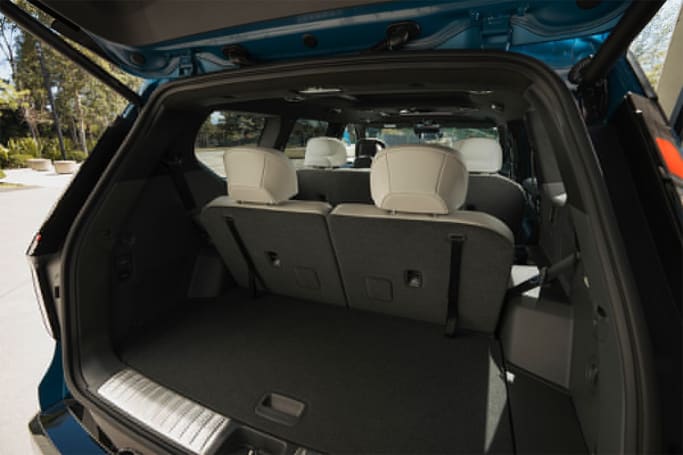 Kia EV9 Seats
The Kia EV9 is a true seven-seat vehicle, and its middle row is especially spacious, helped by a rail system that allows you to slide it forwards or backwards, depending on where you need the space. Things get a little tighter once you move to the third row, where leg room disappears and it feels a little tighter for full-grown adults. That said, it might be the easiest third row I've ever climbed into, with the second row not just tilting forward, but lifting up and towards the front, creating a space you can walk through.

Kia EV9 Speed
The Kia EV9 rear-wheel-drive model records a sprint to 100km/h of 8.2 seconds and a 190km/h top speed.
Because the AWD GT-Line is equipped with an "Acceleration Boost" function, it's faster to 100km/h than the AWD Earth – 5.3 seconds versus 6.0 seconds.
Kia EV9 Towing Capacity
The Kia EV9 has maximum towing capacity of 2500kg for the latest model available.
Year
Body Type
Braked Capacity from
Braked Capacity to
2023
SUV
900kg
2500kg
See All Towing Capacity for Kia EV9
Kia EV9 Q&As
Check out real-world situations relating to the Kia EV9 here, particularly what our experts have to say about them.
I struggle to get my 2022 Toyota LandCruiser 200 into the garage

I'll assume you mean the forthcoming Kia EV9 electric SUV. In which case, yes, you will struggle to fit it into a garage that only just contains a 200-Series LandCruiser, as the EV9 is, indeed, 75mm wider. Perhaps. See, at this stage, the images and specifications we've been dished up have involved the vehicle in its concept stage, and as car companies know only too well, not every aspect of a concept makes it to production (which would be sometime next year in the EV9's case).

Whether or not the electric off-roader from Kia will have a mirror-retractor function is anybody's guess right now, but the images we've seen of the concept suggest that instead of conventional mirrors, the EV9 would use small cameras mounted in the mirrors' place, transferring the image to the info-screen inside the car. If that's the case, these tiny cameras would not need to be retractable, suggesting that the width of 2055mm quoted for the Kia is possibly a concept-only dimension.

If the vehicle really reaches production as wide as that, it would have difficulty fitting down some Australian bush tracks; tracks that have been cut by generations of LandCruisers and Nissan Patrols. Then again, the EV9 has been designed for a global market, not just us. And let's not forget the width of a Hummer...

The bottom line is you'll have to wait and see precisely how wide the Kia is when it finally goes on sale. but if your current LandCruiser is a tight fit, don't expect the Kia to be any easier to fit in your garage.
See All Kia EV9 Q&As
Kia EV9 Engine
The Kia EV9 rear-wheel-drive model gets a single rear-mounted motor good for 160kW and 350Nm. The AWD models add a second motor at the front axle, and the outputs jump to 283kW and 700Nm.
Kia EV9 Dimensions
The dimensions of the Kia EV9 SUV vary according to year of manufacture and spec level.
Year
Body Type
Height x Width x Length
Ground Clearance
2023
SUV
1750x1980x5010 mm
177 mm
See All Kia EV9 Dimensions
Kia EV9 Fuel Consumption
The Kia EV9 is available in a number of variants and body types that are powered by Electric fuel type(s).
Year
Body Type
Fuel Consumption*
Engine
Fuel Type
Transmission
2023
SUV
—
—
Electric
1 SP AUTO
See All Kia EV9 Pricing and Specs for 2023
Kia EV9 Wheel Size
The Kia EV9 has a number of different wheel and tyre options. When it comes to tyres, these range from 255x60 R19 1 for SUV in 2023.
Year
Body Type
Front Tyre Size
Front Rim
Rear Tyre Size
Rear Rim
2023
SUV
255x60 R19 1
—
255x60 R19 1
—
See All Kia EV9 Wheel Sizes
Kia EV9 Range
There are two battery sizes on offer. The RWD models (for now, just the Air) get a 76.1kWh lithium-ion battery which delivers a WLTP driving range of 443km.
The AWD Earth and GT-Line get a bigger 99.8kWh battery, upping the driving range to 512km and 505km, respectively.
All models are equipped with 800V architecture, which the brand says – when plugged into an ultra-fast charger – will help the EV9 go from 10 to 80 percent charged in just 20 minutes.