Subaru Impreza 2.0i-L hatch 2017 review
James Cleary road tests and reviews the new Subaru Impreza 2.0i-L hatch with specs, fuel consumption and verdict.
What we like
Chassis refinement
Space for people and cargo
Standard spec (including safety)
What we don't
Busy interior
Modest grunt
Average CVT
What we like
Chassis refinement
Space for people and cargo
Standard spec (including safety)
What we don't
Busy interior
Modest grunt
Average CVT
James Cleary road tests and reviews the new Subaru Impreza 2.0i-L hatch with specs, fuel consumption and verdict.
Conventional cars in the Australian market must be feeling like the dinosaurs, casually dominating the planet and looking up as the sky dims and rocky shrapnel from a substantial chunk of the earth's crust flies towards them. As the temperature drops and the ground begins to crumble, it's clear the landscape is changing, and not in a good way.
But this time around the large mass making its presence felt isn't a wayward asteroid, it's our collective appetite for SUVs. As in, this year it's likely that for the first time, these high-riding, family-friendly, lifestyle mobiles will outsell sedans, hatches and wagons. So cars like the Subaru Impreza, while popular now, could be moving towards the endangered species list, or at least a captive breeding program in a protected habitat.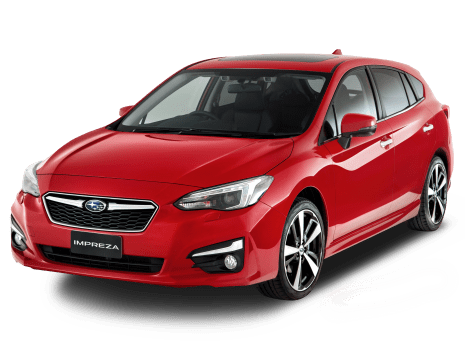 Explore the 2017 Subaru Impreza range
Does Subaru's entry-level model deserve to suffer such a cruel fate? A new, fifth generation model, launched locally late last year, has delivered a slew of fresh features and tech upgrades, and we've driven the mid-spec 2.0i-L to determine whether it has what it takes to survive the onslaught.
Is there anything interesting about its design?
The Impreza is underpinned by the 'Subaru Global Platform' (SGP), a new chassis matrix claimed to improve body rigidity and dynamic refinement.
In parallel with the SGP's introduction the car's looks have evolved, with signature elements like the hexagon grille and 'Hawk Eye' headlights combined with an even more angular body design.
The result is a wide, confident stance, with tricks like a larger rear spoiler, carefully contoured rear bumper, tweaked exterior mirrors and an 'Active Shutter Grille' also claimed to improve aero performance.
A renewed focus on space efficiency has delivered impressive results when it comes to room for people and cargo.
Inside, things get busier with the dash and console consisting of multiple shapes, curves, screens, and lots of buttons. Grey is the dominant colour, broken by some shiny black inserts, a hint of chrome here and there, and subtly textured trim inserts on the seats are a nice touch. The centre stack houses the only significant break from the practical yet dour palette, courtesy of the main 8.0-inch colour multimedia screen.
These things are always a subjective call, but faux carbon-fibre inserts on the doors are rarely a good look, and nothing says 'you've missed out on the good stuff' like multiple blanks inserted into holes where buttons and knobs for more premium equipment would go.
For us, the overall interior design lacks cohesion and maturity. Not convinced? Take a look inside a Mazda3 or Volkswagen Golf.
How practical is the space inside?
At just under 4.5 metres long, 1.8m wide, and 1.5m high the Impreza hatch is line ball for overall size with top-selling competitors like the Hyundai i30, Mazda3 and Toyota Corolla.
Its 2670mm wheelbase (+25mm on the old model) is marginally up on the Hyundai and Toyota's and a fraction down on the Mazda's, yet a renewed focus on space efficiency has delivered impressive results when it comes to room for people and cargo.
Subaru claims cabin width is up 29mm at the front and 34mm at the rear, while the critical distance between seat centres has jumped 21mm. Add in slimmer front seat backrests and the net result is an extra 26mm of rear legroom, and it shows.
I'm 183cm tall and sitting behind my own driving position there's heaps of head and legroom in the back - more than you'd expect in a car of this size. However, the lack of individual air vents and only one seat back map pocket is a negative for those consigned to the rear.
The cupholder count runs to two in the front centre console, and two in the fold-down rear armrest, with generous door bins (front and back) able to hold sizeable bottles and other bits and pieces.
There are two 12V/120W power jacks and a pair of USB charging ports in the front, the latter housed in a deep centre storage box.
Cargo volume with the 60/40 split-folding rear seat upright is a handy 345 litres (+24 litres); enough for the CarsGuide pram and a couple of soft bags, or if the rugrats aren't along for the ride, several medium hard shell suitcases.
With the rear seat folded (kinda) flat, via simple pull-up buttons on the backrest, that volume more than doubles to a generous 795 litres. The spare is a space saver under the cargo floor.
Tip in tie-down hooks, specific lighting, and a remote hatch release button on the key fob and you have a flexible and mega practical storage area.
Does it represent good value for the price? What features does it come with?
The four model Impeza hatch line-up ranges from $22,600 for the entry-level 2.0i, to $24,690 for the 2.0i-L (as tested here), $26,490 for the 2.0i-Premium, and on to $29,190 for the primo 2.0i-S. Equivalent sedan models cost $200 less.
Your $25k for the 2.0i-L secures a generous standard equipment list including, 17-inch alloy wheels, adaptive cruise control, dual-zone climate control air, remote central locking, push-button ignition, leather trimmed steering wheel and gear shift, and the top-shelf multimedia system (featuring sat nav, Pandora, Apple CarPlay, Android Auto, six speakers and the 8.0-inch central touchscreen).
Throw in a laundry list of active and passive safety tech, which we'll get to shortly, and this Impreza adds up to outstanding value-for-money.
What are the key stats for the engine and transmission?
For a couple of decades from the early '70s to the mid-1990s Ferrari conducted a passionate and high-profile love affair with the horizontally-opposed engine. Twelve cylinders, furiously punching away at each other in a series of racing and flagship road cars was the prancing horse's headline act.
But in the 1960s, well before Maranello decided 'flat' engines, and their inherently low centre of gravity were the way to go, little old Fuji Heavy Industries had determined a 'boxer' four cylinder (technically a 180-degree V4) was the right choice for its still fledgling Subaru brand.
And 50 years later this Impreza duly features a 2.0-litre, 115kW/196Nm naturally aspirated flat four cylinder petrol engine, driving all four wheels through a continuously variable transmission (CVT) to the 'Active Torque Split' (ATS) all-wheel drive system.
The current double overhead cam (FB20) engine is every bit the modern powerplant with 'Dual AVCS' (Active Valve Control System) variable valve timing, and now, direct injection.
First impressions behind the wheel are focused on how quiet and nicely damped this car is.
A range of other weight saving, power boosting and efficiency improving measures include a stronger, more rigid block, a higher compression ratio, a redesigned combustion chamber and intake ports, new cam carriers, as well as new piston rings, an upgraded crankshaft, and lighter connecting rods.
But that's just the tip of the engineering iceberg. The list goes on (and on, and on) through the fuel system, electricals and exhaust. In fact, Subaru claims around 80 per cent of all engine components have been revised, and the end result is an engine that's more powerful (+5kW), more fuel efficient (-0.2L/100km), cleaner (-5 g/km carbondioxide) and lighter (-12kg).
The 'Lineartronic' CVT automatic transmission uses a chain, rather than the more typical belt drive for faster response to throttle inputs, and features a stepped set-up mimicking seven individual gear ratios for manual changes via wheel-mounted paddles.
How much fuel does it consume?
Subaru claims the auto-only Impreza 2.0i-L consumes 6.6 litres of 91RON unleaded for every 100 km it travels on the industry standard combined (urban/extra urban) test cycle. That figure compares to a claimed 6.8L/100km for the previous model.
Over 250 kays of mixed city, suburban and freeway running, we averaged 7.8L/100km (the number coming courtesy of the on-board 'Multi-Function Display' computer). Not too shabby, and extra impressive given the yawning chasm often separating a factory number from the real world.
What's it like to drive?
First impressions behind the wheel are focused on how quiet and nicely damped this car is. No sign of the choppy exhaust thrum and agricultural engine noise produced by older Subaru boxers, and ride quality, even over typically crap suburban blacktop is excellent. Top marks for the new chassis and extra sound insulation.
Subaru went over seat design and construction with a fine-toothed comb for this upgrade, and the driver's chair is comfy and supportive. Steering feel and weight from the electrically-assisted set-up is great, and all around visibility is better than your average hatch.
Default front to rear drive distribution for the active torque-split AWD system is 60/40, with sensors to monitor grip, throttle position, braking and vehicle speed feeding in to an electronically controlled MP-T (Multi Plate Transfer) clutch, which helps adjusts the balance of torque going to each wheel accordingly.
All that monitoring and adjustment is undetectable, the system delivering optimum drive to the excellent (205/50 x 17) Bridgestone rubber, and working seamlessly with the MacPherson strut front and double wishbone rear suspension, even on enthusiastic backroad runs.
Body control is well buttoned down, while braking is reassuringly progressive and effective.
Step off acceleration is spirited, but heading into the mid-range things become a little more subdued.
Maximum torque arrives at a relatively high 4000rpm, with peak power taking over at 6000, so all the action is upstairs, and when all's said and done 115kW/196Nm is not a lot to shift a 1417kg five door hatchback.
Even using the gearshift paddles to 'manually' call up those extra watts and torques in the higher rev range results in less than spectacular performance.
On the subject of the CVT, it's improving all the time, but give me a traditional torque converter auto any day. The Subaru unit might be efficient but still suffers from constant rpm drone syndrome and some shuntiness at slow speeds.
Subaru should take on OPSM and start flogging glasses because its 'EyeSight' driver assist system is simply brilliant.
We also began to experience screen fatigue with multiple interfaces displaying loads of (sometimes duplicate) information.
The primary multimedia screen (see Price and features) is supported by a 6.3-inch LCD 'Multi-Function Display' above it displaying a welter of stuff, including outside temp, time, journey and fuel economy info, air-con settings, and EyeSight status.
Then, just in case you need a little more data, a 4.2-inch LCD 'Multi-Information Display' sits between the speedo and rev counter in the instrument binnacle.
Big tick for a digital speed readout in there, as well as the tyre pressure monitoring, but not so much for the double up on fuel economy, EyeSight and auto stop-start read-outs.
A final whinge relates to a lack of refinement in the stop-start system, with the engine off function being so intrusive it actually twists the steering wheel in your hands. It didn't take long to hit the Off button.
What safety equipment is fitted? What safety rating?
Subaru should take on OPSM and start flogging glasses because its 'EyeSight' driver assist system is simply brilliant.
The (stereo) camera-based set-up incorporates adaptive cruise control, lane departure warning, lane sway warning, lead vehicle start alert, pre-collision braking, pre-collision brake assist, pre-collision throttle management, pre-collision steering assist and brake light recognition.
Then the all-wheel drive and 'Vehicle Dynamics Control' system add Electronic Stability Control (ESC), ABS, EBD, brake assist, and traction control.
The tyre pressure monitoring and a standard rear view reverse camera round out a massively impressive suite of active safety tech.
But if all that isn't enough to stop metal from meeting metal get ready for dual front, dual front side, curtain and driver knee airbags, as well as ISOFIX child restraint anchor points in the outer rear seat positions.
Hats off to Subaru for such a comprehensive approach to safety in a mass market hatch, and the Impeza's maximum five star ANCAP rating is well deserved.
What does it cost to own? What warranty is offered?
All new Subarus sold in Australia are covered by a three year/unlimited kilometre warranty.
The recommended scheduled service interval for the Impreza is every 12,500km/12 months, and a three year/37,500km capped price servicing program breaks down as follows.
One month free 'Health Check & Chat' (not sure if blood sugar and cholesterol readings are included). 'A' Service - 12,500km/12 months - $348.30, 'B' Service - 25,000km/24 months - $601.59, and 'C' Service - 37,500km/36 months - $348.30.
A 12 month roadside assistance program is also included.
Verdict
The Impreza is under pressure in a hotly contested small car segment, with close to 30 quality offerings doing their best to trample each other with ever more spec, tech and design innovation.
Add to that the looming presence of an SUV onslaught and the Impreza has to deliver. And the 2.0i-L hatch does with a superb new chassis, great AWD system, loads of standard equipment for the money, heaps of space and outstanding safety.
Balancing that is a busy interior design, a lack of performance and inclusion of a so-so CVT.
But no talk of extinction here. The Impreza is a capable, comfortable and well-engineered contender in rude good health.
Does the Impreza 2.0i-L make it onto your small hatch shortlist? Tell us what you think in the comments below.
Pricing guides
$25,244
Based on 193 cars listed for sale in the last 6 months
Range and Specs
| Vehicle | Specs | Price* | |
| --- | --- | --- | --- |
| 2.0i (AWD) | 2.0L, ULP, CVT AUTO | $12,900 – 18,700 | 2017 Subaru Impreza 2017 2.0i (AWD) Pricing and Specs |
| 2.0i Premium (AWD) | 2.0L, ULP, CVT AUTO | $17,900 – 24,970 | 2017 Subaru Impreza 2017 2.0i Premium (AWD) Pricing and Specs |
| 2.0i-L (AWD) | 2.0L, ULP, CVT AUTO | $16,700 – 23,320 | 2017 Subaru Impreza 2017 2.0i-L (AWD) Pricing and Specs |
| 2.0i-S (AWD) | 2.0L, ULP, CVT AUTO | $20,200 – 27,500 | 2017 Subaru Impreza 2017 2.0i-S (AWD) Pricing and Specs |
Pricing Guide
$16,888
Lowest price, based on 189 car listings in the last 6 months
View cars for sale
Similar Cars
Subaru Forester

Subaru XV

Toyota Corolla

Subaru Outback

Disclaimer: The pricing information shown in the editorial content (Review Prices) is to be used as a guide only and is based on information provided to Carsguide Autotrader Media Solutions Pty Ltd (Carsguide) both by third party sources and the car manufacturer at the time of publication. The Review Prices were correct at the time of publication.  Carsguide does not warrant or represent that the information is accurate, reliable, complete, current or suitable for any particular purpose. You should not use or rely upon this information without conducting an independent assessment and valuation of the vehicle.