Subaru Impreza
Pricing and Specs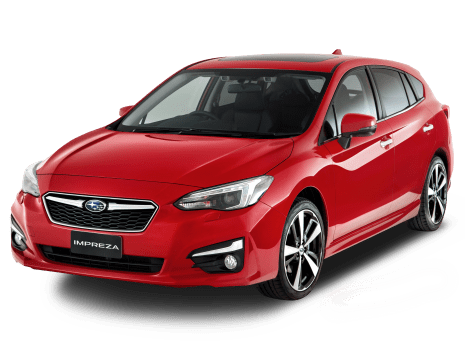 2020
From $23,590
Based on Manufacturer's Suggested Retail Price (MSRP)
1993 to 2019
$2,310 - 30,800
In a sea of same-same five-door hatches, Subaru's Impreza has always been a little different, and not just because you can have one in four-door sedan shape if you prefer. While its shape, and its face, have changed a lot over the years since its global launch, in 1992 - from sleek to shockingly bug-eyed and ugly to pretty again - it's what's beneath the skin that makes it special. All-wheel-drive, the kind that's good for handling rather than  climbing sand-hills, has been a point of difference, and one the company promoted for many years by taking an active part in the sport of rallying. But it's the engine configuration that makes it truly special. Subaru uses a 'boxer' engine, meaning its cylinders are set-up horizontally 'punching' towards each other like a boxer. While this set-up is fiendishly difficult to get right - Porsche is the only other company that has successfully managed it, and they quietly admit to being in awe of how Subaru does it at a cheaper price - but delivers genuine fun, and a unique engine note, as a result. The Impreza isn't just different, though, it's' generally a very fine car indeed, and the WRX sports car that Subaru spins off the same platform is fantastic.
The Impreza 2.0i (AWD) starts off at $23,590, while the range-topping, Impreza 2.0i-S (AWD) is priced at $31,360.
This vehicle is also known as subaru xv.
| Year | Price From | Price To |
| --- | --- | --- |
| 2020 | $23,590 | $31,360 |
| 2019 | $17,600 | $29,040 |
| 2018 | $16,280 | $30,800 |
| 2017 | $14,410 | $28,050 |
| 2016 | $12,760 | $23,100 |
| 2015 | $10,890 | $20,350 |
| 2014 | $9,790 | $18,150 |
| 2013 | $8,470 | $15,510 |
| 2012 | $7,260 | $15,070 |
| 2011 | $5,830 | $27,610 |
| 2010 | $5,060 | $24,860 |
| 2009 | $4,180 | $17,710 |
| 2008 | $3,190 | $14,960 |
| 2007 | $2,750 | $15,400 |
| 2006 | $3,740 | $14,300 |
| 2005 | $2,970 | $13,640 |
| 2004 | $2,860 | $13,090 |
| 2003 | $2,530 | $11,000 |
| 2002 | $2,420 | $7,700 |
| 2001 | $2,530 | $7,260 |
| 2000 | $2,640 | $8,250 |
| 1999 | $2,640 | $8,030 |
| 1998 | $2,640 | $6,160 |
| 1997 | $2,420 | $6,820 |
| 1996 | $2,420 | $5,720 |
| 1995 | $2,420 | $5,170 |
| 1994 | $2,310 | $4,400 |
| 1993 | $2,310 | $4,290 |
* Manufacturer's Suggested Retail Price