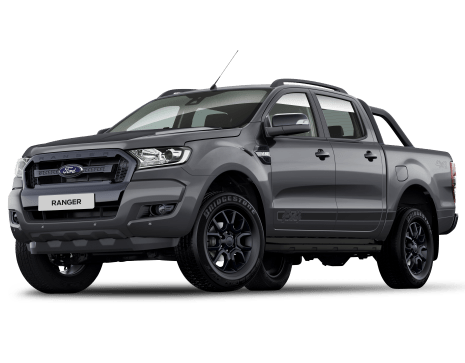 COMPARE
Ford Ranger
VS
Toyota Land Cruiser
Ford Ranger
Likes
Comfortable
Great steering
Nice cabin
Dislikes
Limited availability
Soft suspension a bit bouncy with weight
A bit of turbo lag
---
Toyota Land Cruiser
Likes
Nothing else can do so much, so well
Interior sets a new standard for Toyota
Trim levels tailored to specific use cases
Dislikes
GX misses out on some safety gear
Fans of leather may object to spending $131k-plus
No 7 seat option in top specs
Summary
Ford Ranger
The Ford Ranger Wildtrak has been a runaway success for the brand. Plenty of people have bought them, modified them, taken them off-road and put them to task in the PX generation of Ranger.
Now, to see out the 2019 model range, Ford has added a new version above the standard Wildtrak. It's the Ford Ranger Wildtrak X, and the 'X' stands for 'extra', because you get a bit more gear for a touch more money.
We'll get to all the detail soon, and for this test we didn't head off the beaten track - our aim here was to see how the Wildtrak X copes in daily driving, as well as how it handles hard work.
| | |
| --- | --- |
| Safety rating | |
| Engine Type | 2.0L turbo |
| Fuel Type | Diesel |
| Fuel Efficiency | 7.4L/100km |
| Seating | 5 seats |
---
Toyota Land Cruiser
New models don't get much bigger than this. Literally, but also figuratively speaking. In fact, I haven't actually seen anything generate anywhere near the level of buzz around the new Toyota LandCruiser 300 Series in the past decade. 
It's also not often we see a new design with the pressure of living up to a seven-decade heritage, but this one also carries the reputation of the world's most successful car brand on its shoulders. 
The big LandCruiser wagon is Toyota's equivalent of the 911, S-Class, Golf, Mustang, Corvette, GT-R, or MX-5. A flagship model that needs to demonstrate the brand's core values. 
Read more about the Toyota LandCruiser
There's some poetry in the biggest brand having the largest icon, but its physical scale is more of a by-product of its broad spectrum of capabilities. 
And unlike these other brand figureheads, the new LandCruiser LC300 won't sell in the big markets like China, the USA or Europe. Instead, it's the Middle East, Southeast Asia (including Australia), Japan, Africa and Central and South America where it will strut its stuff. 
Yes, little old Australia, which has a demonstrated love affair with the LandCruiser badge that kicked off as Toyota's first export model (ever, anywhere) in 1959, and therefore blazed the trail toward the global domination Toyota enjoys today.
This love affair has never been clearer than the massive anticipation for the new 300 Series LandCruiser, with the stories we've published on CarsGuide to-date having broken traffic records left, right and centre. 
Why do we love the idea of a big LandCruiser so much? Because of its demonstrated ruggedness for remote areas and off-road, ability to tow huge loads and carry lots of people in great comfort over very long distances.
For many who live in remote areas, these are essential strengths for daily life. For those of us in more populated parts of Australia, it represents the ideal gateway for escaping to enjoy this wide, brown land.
And for every Australian looking to buy one new, there's probably hundreds dreaming about buying a used example in the future, with the expectation of a dependable buy decades after they're built.
The big plot twist amid all this is that despite finally going on sale, Toyota still can't promise when you'll be able to park one in your garage, due to pandemic-related parts shortages halting production. Keep an eye on this page for any developments on that front.
But for now, thanks to the LandCruiser 300 Series' Australian media launch, I can finally tell you what the finished product is like to drive. 
I can also finally dissect the whole Australian line-up, and go through all the details we were still missing when we published Byron Mathioudakis' prototype LandCruiser 300 review back in August.
| | |
| --- | --- |
| Safety rating | |
| Engine Type | 3.3L turbo |
| Fuel Type | Diesel |
| Fuel Efficiency | 8.9L/100km |
| Seating | 5 seats |
Verdict
Ford Ranger
9/10
The Ford Ranger Wildtrak X is up to the task when it comes to hard work, but it's more comfortable showing off at the worksite than actually getting the job done. We all know someone like that.
And that's no bad thing - if you're after a competent and impressively specified (if a little expensive) dual-cab ute, you could do a lot worse than the Wildtrak X. 
Thanks again to our mates at Crown Forklifts in Sydney for helping out with this load test.
---
Toyota Land Cruiser
8.5/10
There's not much more to say really. The new Land Cruiser 300 Series seems like a better all-round package than ever, that's so well suited to Australia's broad array of driving conditions.  
It's impossible to suggest a sweet spot among the six trim levels on offer, given they all tend to be aimed at a specific use case and buyer. May I reiterate; check all the details before choosing the right model for you.
It's not cheap, but try and find something that'll do everything so well at any price.
Design
Ford Ranger
You might be considering the Wildtrak X purely on aesthetic appeal - and that's understanding. It has a few new design highlights compared with the non-X model, and most of them add function as well.
It scores an array of blacked out components, such as new 18-inch wheels (still wrapped in the same Bridgestone Dueler H/T rubber), wheel-arch flares (allowing for a more aggressive wheel/tyre setup), plus there's a black nudge bar with LED light bar, and there's a genuine Ford snorkel, too.
Combined, it makes the Wildtrak X look like a lot of those non-X models you've seen, where owners have spent thousands on extras. The rest of the destine is unchanged for the 19.75 model year variant we had, but there are subtle updates coming for the 2020 model range.
---
Toyota Land Cruiser
9/10
The new 300 Series' overall proportions look very similar to the 14-year old 200 Series it replaces, but Toyota insists it's a clean-sheet design from top to bottom.
| | | | | |
| --- | --- | --- | --- | --- |
| Overall imensions (mm) | Length | Width | Height | Wheelbase |
| Sahara ZX | 5015 | 1980 | 1950 | 2850 |
| GR Sport | 4995 | 1990 | 1950 | 2850 |
| Sahara | 4980 | 1980 | 1950 | 2850 |
| VX | 4980 | 1980 | 1950 | 2850 |
| GXL | 4980 | 1980 | 1950 | 2850 |
| GX | 4980 | 2000 | 1950 | 2850 |
I actually have a feeling the bonnet release lever is a carryover, but I'm yet to verify this, and everything else seems to take a step forward to push it's all-rounder status to greater heights than ever.
Australia has once again played a key role in its development, with the first prototype touching down in 2015. Toyota says that in addition to Australia being a key market for the 300 Series, we offer engineers access to 80 per cent of the world's driving conditions.
The new body is both stronger and lighter than before thanks to using aluminium for the roof and opening panels, plus high-tensile steel, and rides on a new separate chassis with redesigned mechanical elements that have been relocated to give a lower centre of gravity while offering more ground clearance. The wheel tracks have also been widened to improve stability.
It all aligns with the TNGA platform philosophy that's put a shine on all new Toyotas since the launch of the fourth-generation Prius, and the LC300's specific separate-chassis iteration is branded TNGA-F. This also underpins the new Tundra truck in the US, and will also evolve into the next Prado and likely others.
Regardless of the new design, it is still a big car, and combined with its requirements for ruggedness, it was always going to be a heavy outcome, with all versions tipping the scales near the 2.5 tonne mark. Which makes it one of the heaviest cars on the market.
| | |
| --- | --- |
|   | Kerb weight |
| Sahara ZX | 2610kg |
| GR Sport | 2630kg |
| VX/Sahara | 2630kg |
| GXL | 2580kg |
| GX | 2495kg |
On the inside, the new LandCruiser is bang up to date. Even the base GX looks nice and fresh with materials that feel like the top quality you'd expect, and a lot of attention has been paid to ergonomics. It's clear that function has been put before form, unlike a lot of other off-roaders that do it the other way around to the detriment of occupants.
There's also plenty of button controls, which I'd prefer rather than hidden controls behind submenus in the touchscreen.
On that note, it's surprising to see analog gauges across the range, where so many new models are going for full digital instrumentation lately.
Another thing that's surprisingly missing for a new model in 2021 is wireless Android Auto and Apple CarPlay, even though all bar the base GX gets a wireless phone charger. You do get corded Android Auto and Apple CarPlay across the range, but no wireless, even when you spend up to just under 140 thousand dollars.
Practicality
Ford Ranger
Like every dual-cab Ranger, the Wildtrak X is a good size inside. There's enough space to fit three adults across the back and therefore five adults in the cabin. No rear air vents, though, which can result in a stuffy back seat on hot days.
You get cup holders up front and in the rear, and bottle holders in all four doors. You can raise the seat base for extra storage space, if there's not enough room in the tub. 
Up front there's a good amount of space and storage, and the media system is simple to use. And while we haven't raised this in the past, the number of warning gongs and danger dings might annoy you. Like, I know the door is open, I just opened it. Sheesh!
Now, the tub.
It's 1549mm long, 1560mm wide and 1139mm between the wheel-arches, which means it's too narrow for an Aussie pallet to fit (1165mm minimum). The depth of the tub is 511mm, but not in the the Wildtrak models, because the roller cover housing at the far end of the tub just about halves that, eating into usable space.
It's great that you get the hard top roller cover, and that there's a tub liner, too: however, the four tie-down hooks in the corners of the tub makes it difficult to strap down a load.
---
Toyota Land Cruiser
9/10
Being a big SUV, practicality is a big deal, and just to reiterate, it's only the GXL, VX and Sahara that have seven seats, with the base GX and the top-tier GR Sport and Sahara ZX only having five.
There's good storage space all round, with at least six cupholders, and there's bottle holders in each door. 
All bar the base GX get ample USB coverage, there's a 12V point up front and in the second row, and all trim levels get a handy 220V/100W  inverter in the cargo area.
| | | | | |
| --- | --- | --- | --- | --- |
|   | USB-A (audio) | USB-C (charge) | 12V | 220V/100W |
| Sahara ZX | 1 | /*-->*/ 3 | /*-->*/ 2 | /*-->*/ 1 |
| GR Sport | 1 | /*-->*/ 3 | /*-->*/ 2 | /*-->*/ 1 |
| Sahara | 1 | /*-->*/ 5 | /*-->*/ 2 | /*-->*/ 1 |
| VX | 1 | /*-->*/ 5 | /*-->*/ 2 | /*-->*/ 1 |
| GXL | 1 | /*-->*/ 5 | /*-->*/ 2 | /*-->*/ 1 |
| GX | 1 | 1 | /*-->*/ 2 | /*-->*/ 1 |
The second row is where things get clever. Despite the new model riding on the same wheelbase as the 200 Series, they've managed to move the second row back to allow an extra 92mm of legroom. There's always been plenty of room for my 172cm height, but taller passengers will likely be big fans of the new 300 Series, and for those of us with kids there's the standard two ISOFIX and three top tether child seat mounts. The second row seats also have reclining backrests, but the base doesn't slide fore and aft. Note that the GX and GXL second row splits 60:40, where the VX, Sahara, GR Sport and Sahara ZX split 40:20:40.
Climbing into the third row is never going to be easy given how far off the ground you are, but it's pretty good with the second row tumbled forward, and the smaller part is thankfully on the passenger side. 
Once you're back there, there's decent room for adults of average height, you can see out the windows quite easily, which is not always the case. There's good ventilation for your face, head and feet. 
Each backrest reclines (electronically on Sahara), there's a cupholder for each passenger, but there's no child seat mounts in the third row, unlike a lot of other newer seven seaters.
Approaching the 300 Series from behind, there is a couple more big changes over the LandCruiser wagons of old. 
First is the one-piece tailgate, so no more split or barn door options. There's lots of arguments for all three types of tailgates, but two big pluses for the new design is that the simpler construction makes it much easier to seal dust from getting in, and it makes a handy shelter when you've got it open.
The second big change back here is that the third row seats finally fold into the floor, instead of the awkward 'up and to the side' approach of the past.
One compromise that's likely resulted from moving the second row closer to the rear is a significant reduction in overall boot space, with the third-row folded figure dropping by 272 litres VDA to 1004, but it is still a big, tall space, and the fact that the third row now folds into the floor has liberated an extra 250mm of boot width.
Boot space
5 seat
7 seat
Seats up (L VDA)
1131
175
Third row folded (L VDA)
n/a
1004
All folded (L VDA)
2052
1967
*all figures measured to roofline
As per big LandCruiser tradition, you'll still find a full-size spare wheel under the boot floor, which is accessed from beneath. This might sound like a dirty job, but it's much easier than unloading your boot onto the ground to access it from inside.
Payload figures weren't a 200 Series strong point, so it's good to see that these have improved by a useful 40-90kg across the range. 
| | |
| --- | --- |
|   | Payload |
| Sahara ZX | /*-->*/ 670 kg |
| VX/Sahara/GR Sport | /*-->*/ 650kg |
| GXL | 700kg |
| GX | 785kg |
Note the numbers still vary by up to 135kg depending on trim level, so pay close attention if you plan on carrying heavy loads.
Speaking of heavy loads, the maximum braked tow rating is still the benchmark 3.5 tonnes and all trim levels come with an integrated tow receiver. While the overall number may not have changed, Toyota boasts that the 300 Series does a better job of towing within that limit.
All versions of the LC300 are rated with a 6750kg gross-combined mass (GCM) and a 3280kg gross-vehicle mass (GVM). The maximum front axle load is 1630kg, where the rear can handle 1930kg. The roof load limit is 100kg.
Running ground clearance is slightly improved at 235mm, and the wading depth is rated at the Toyota-standard 700mm.
Price and features
Ford Ranger
The Ford Ranger Wildtrak X starts at $65,290 plus on-road costs for the 3.2-litre turbo-diesel five-cylinder model we drove, while the more powerful and more refined 2.0-litre Bi-turbo four-cylinder engine is $1500 more ($66,790).
That makes it a $2000 jump over the standard Wildtrak, but according to Ford, you're getting $6000 worth of extra value. 
The Wildtrak X's additional styling gear builds upon the already impressive list of included equipment on the regular Wildtrak. 
Included on this grade are 18-inch alloy wheels, LED daytime running lights, HID headlights, an LED light bar as well as all the Wildtrak X body additions (see the Design section for more detail), an integrated tow bar and wiring harness, a tub liner, 12-volt outlet in the tub, roller hard top and the model-specific interior with part-leather trim and a dark headlining.
There's also an 8.0-inch touchscreen media system with sat nav, DAB digital radio, Apple CarPlay and Android Auto, Bluetooth phone and audio streaming and a six-speaker sound system with a CD player. There are two USB ports, a 12-volt charger in the back seat and a 230-volt powerpoint, too. 
The front seats are heated and the driver's seat has electric adjustment, there are digital displays in front of the driver showing navigation and driving data (including a digital speedometer, which many utes still miss out on). 
---
Toyota Land Cruiser
8/10
We've known for a couple of months now that the new 300 Series has jumped in price, like a lot of new models lately, but the $7-10,000 price rises are spread across a broader line-up than before, and there's a lot going on with its new design from top to bottom to help justify it. 
It's interesting to note that the 300 Series line-up isn't the usual pattern of more features the more you spend, with some trim levels specifically focused on certain customers and use cases, so check the details carefully.
Like before, you can pick the base GX ($89,990 MSRP) by its 17-inch steel wheels - which revert to six-stud, unlike the five studs used for the past two generations - and big black snorkel. This is the one you'll see wearing Police signage beyond the black stump.
As we've called out before, it no longer gets the barn door tailgate, but still gets rubber on the floor and in the boot instead of carpet.
Equipment highlights include a leather steering wheel, comfy black cloth trim, active cruise control, but you only get most of the important safety gear. 
The base multimedia screen is on the small side at 9.0 inches, but it finally comes with CarPlay and Android Auto, which is still corded unlike the wireless that's starting to pop up on most new models. The driver gets a basic 4.2 inch display in the instrument panel. 
The GXL ($101,790 MSRP) loses the snorkel but adds key details like 18-inch alloys, roof rails, and alloy side steps. It's also the cheapest seven-seater, and brings carpet, a wireless phone charger, Multi-Terrain Select which specifically adapts the drivetrain to suit the terrain you're driving on, and brings in key safety features including  front and rear parking sensors, blind-spot monitoring and rear cross-traffic alerts.
The VX ($113,990 MSRP) had become the most popular trim level with the 200 Series, and you can now pick it by its shinier wheels, silver grille and more stylised DRL headlights.
On the inside, it swaps the cloth for black or beige synthetic leather seat trim, and adds highlights like the bigger 12.3-inch multimedia screen and 10 speaker audio with a CD/DVD player (in 2021!!!), a big 7-inch display ahead of the driver, four-zone climate control, heated and ventilated front seats, a sunroof, and four-camera surround view.  Interestingly, this is the cheapest model with auto wipers and reverse auto braking to protect from colliding with static objects.
Look for the chrome mirrors to pick a Sahara ($131,190 MSRP) over a VX, and it feels a bit odd that you've got to spend more than $130,000 to get leather seat trim with the Sahara, and that's also the case for a head-up display and a power tailgate. This leather can be had in black or beige, though. 
Other luxury details include second row entertainment screens and 14-speaker audio, electric folding for the third row seats, a cool box in the centre console as per Sahara tradition, heated steering wheel and the second row also scores heated and ventilated seats.
The GR Sport is next on the price tree at $137,790 MSRP, but shifts its philosophy from the Sahara's luxury to more of a sporting or adventure flavour.  
This means black details and the classic TOYOTA uppercase badge on the grille, a bunch of GR badging, but also a bunch of unpainted plastic to make it more rugged when you're off-road. 
It's also only got five seats - trimmed with black or black and red leather - and loses the rear seat screens, which makes it ideal for mounting a fridge and a set of drawers in the boot for touring. 
Further supporting this notion are front and rear diff locks, and it's the only model to get the clever e-KDSS active swaybar system for allowing more suspension travel on rough terrain. 
The top of the range Sahara ZX ($138,790 MSRP) is about the same price as the GR Sport, but has a more glitzy look, with bigger 20-inch wheels and a choice of black, beige or black and red leather options. The Sahara ZX seems to be the LandCruiser to buy if you spend a lot of time around town, ironically.
There's a total of 10 colour options across the LC300 range, but only the top Sahara ZX is available in all of them, so check the brochure for the full breakdown.
For the record, the colour spectrum includes Glacier White, Crystal Pearl, Arctic White, Silver Pearl, Graphite (grey metallic), Ebony, Merlot Red, Saturn Blue, Dusty Bronze, and Eclipse Black.
One of the most recent 300 Series announcements has been the factory accessories range, which is ready to go with a choice of new and improved bullbars and nudge bars, a winch, recovery points, roof carrying systems in addition to the usual optional extras.
As always, these factory accessories are your best chance to retain all safety and mechanical functions, not to mention your warranty.
Engine & trans
Ford Ranger
Under the bonnet of the Wildtrak X we drove is a 3.2-litre five-cylinder turbo-diesel engine producing 147kW of power (at 3000rpm) and 470Nm of torque (from 1750-2000rpm). It has a six-speed automatic transmission in this spec, and there is no manual option for the Wildtrak X. It has selectable four-wheel drive with a low-range transfer case (2H, 4H and 4L gearing), and an electronic locking rear diff.
The other engine option for the Wildtrak X is the 2.0-litre Bi-turbo four-cylinder engine producing 157kW of power (at 3750rpm) and 500Nm of torque (1750-2000rpm). That's class-leading levels of grunt from a four-cylinder engine. It runs a 10-speed automatic transmission and four-wheel drive.
The Ranger Wildtrak X has a towing capacity of 750kg for an un-braked trailer, and 3500kg for a braked trailer.
The kerb weight of the Ranger Wildtrak X 3.2L is 2287kg. It has a gross vehicle mass (GVM) of 3200kg, and a gross combination mass (GCM) of 6000kg. 
---
Toyota Land Cruiser
9/10
Yes, the V8 is dead, in the 300 Series at least, but don't forget you can still get the single turbo version in the 70 Series. 
The LC300's new 3.3-litre (3346cc) twin-turbo diesel V6 F33A-FTV engine promises to be better in every way though, and paired with a new 10-speed torque converter auto they promise more performance, efficiency, and refinement. 
With 227kW and 700Nm, the outright numbers are up 27kW and 50Nm over the 200 Series diesel, but interestingly the max torque band remains the same 1600-2600rpm.
The new engine's move to a 'hot V' design, with both turbos mounted on top of the engine and the intercoolers moved to behind the bumper is more complicated than before, particularly for keeping things cool when you might be crawling over endless sand dunes in say, the Australian outback. 
But, Toyota engineers are confident that it will live up to all reliability expectations, and above all, I like the fact that the new engine has been designed for this car. It's not like Toyota has cut corners by adapting an engine from the Prado or Kluger, and that says a lot in this day and age. 
It also has a timing chain, rather than a timing belt, and in keeping with the new engine's Euro 5 emissions compliance, it also has a diesel particulate filter. 
I was surprised to experience the 'DPF regen' process three times across three of the four cars I drove during the LC300's launch program, but if it weren't for the alert in the driver display, I wouldn't have been aware it was happening. All vehicles had less than 1000km on their odometers, and the process occurred on the highway as well as during slow-speed low-range off-roading. 
Before you ask, no there's no hybrid version of the 300 Series yet, but there's one under development.
Fuel consumption
Ford Ranger
Fuel consumption for the Ranger Wildtrak X 3.2L model is claimed at 8.9 litres per 100 kilometres, and it has an 80-litre fuel tank capacity. There is no long range fuel tank.
Our test drive saw a real-world return of 11.1L/100km across a mix of driving including urban, highway and back-road, as well as laden and unladen.
---
Toyota Land Cruiser
8/10
Toyota has paid attention to efficiency at every level of this new design, but even with a lighter body, smaller engine, more ratios and a lot more technology you're still propelling 2.5 tonnes of tall car with big, chunky off-road tyres. 
So the new official combined consumption figure 8.9L/100km is only 0.6L better than the old V8 200 Series diesel, but it could be a lot worse. 
The 300 Series' 110-litre fuel capacity is also 28 litres smaller than before, but this combined figure still suggests a very decent 1236km range between fills.
During my test I saw 11.1L/100km on the trip computer after a 150km stretch of 110km/h motorway, so don't bank on achieving 1200km between fills all the time.
Driving
Ford Ranger
We like the Ford Ranger as a daily driver. It's easy to see why so many people buy Ford Ranger dual-cab four-wheel drives, even if they don't need the payload, or the towing capacity. It's the utility that appeals with this utility.
Without weight in the back it rides smoothly enough, and around town you won't complain about back pain or sore kidneys when you crunch over speed humps. It's composed and refined, so much so that it's a better ute to drive without a load than with weight in the back, and there aren't many that can claim that accolade.
The steering makes it easy to park, and it's nice to steer in all sorts of situations. If you happen to be on the tools all day, you'll be happy not to have to wrestle the wheel on your way home.
Acceleration is good, if not blindingly quite, and the transmission does what it should. 
---
Toyota Land Cruiser
9/10
When Byron drove the prototype version of the 300 Series earlier this year, he came away with only good impressions. 
Now that I've finally driven the finished car on and off road, It really seems that Toyota has nailed the brief. 
I covered about 450km on the highway in the Sahara and Sahara ZX, and it's even more of a loungeroom on wheels than before. It's quiet, comfortable, and more stable than I remember the 200 Series feeling, which is a big ask given how rugged the chassis is with so much off-road ability. 
With just myself on board the new V6 ticks over at just 1600rpm in 9th gear at 110km/h, which is exactly the kickoff point for max torque, so it takes a big hill before it needs to drop down to 8th gear. Even in 8th, it sits on just 1800rpm at 110km/h. 
What's the point of 10th gear you might ask? Good question, as I only used it by selecting it manually, and the revs drop down to just 1400rpm at 110km/h. I can only imagine 10th comes in handy when you're sitting on 130km/h for hours on end in the Northern Territory. I hope we can test that theory soon, but you get a good sense of capability well beyond what's needed.
You can say the same for its off-road ability, with it being pretty amazing given how comfortable on the road it is. 
Following Toyota's admittedly prescribed off-road loop, it represented about 5km of low-range, tight, generally loose rock surface, with climbs and descents you'd struggle to manage on foot. Also thrown into the mix were plenty of obstacles that got wheels well and truly in the air despite the 300's excellent travel and articulation. 
With so much weight, you'd expect it to be pretty settled over such terrain, but it's some achievement for something weighing 2.5 tonnes to manage its heft so well and simply walk around the track. If the gap isn't too narrow, there's a mighty good chance you'll emerge on the other side.
I managed to get through all the above without creasing the alloy side steps - a traditional LandCruiser weakness - but plenty of the other cars on the day were showing the usual battle scars. They're still a good buffer before you take out a sill, but stronger aftermarket steps or sliders would be a good move if you plan on using the LC300 to its full potential off-road.
I did all this on standard tyres with no modifications, straight out of the box, in a 2.5 tonne vehicle, that somehow manages to shrink around you when you're tackling the tough stuff.
Little things like low range clicking in as soon as you flick the switch play a big role here, plus driver aids like really effective Hill Descent Control, and the new-generation Crawl Control that extracts every ounce of grip from the tyres is a lot less dramatic than it used to be.
Now granted I only managed to drive the GR Sport off-road, so its e-KDSS active swaybars suggest it will be the ultimate 300 Series for this sort of thing, so we'll try to follow up with proper off-road tests of other grades as soon as possible.
I also briefly towed the pictured 2.9-tonne caravan, and while we look forward to bringing you a proper long-distance tow test, its performance with such a big van really underlines that the new model is an even better all-rounder than ever. 
Sitting at a steady 110/km/h, I did notice the bonnet fluttering toward the front, which some drivers may find distracting, particularly in the darker colours. 
I can't recall noticing this in the 200 Series, and it's likely a by-product of moving to an aluminium construction and also considering pedestrian impact absorption.
Back on the positive side of the ledger, the new LC300's seats are among the most comfortable in the business, visibility is pretty good, so I suppose the only thing I haven't been able to test is the headlight performance. Watch this space.
Safety
Ford Ranger
The Ford Ranger Wildtrak - as with the rest of the Ranger line-up - is in the mix for the best in the business for ute safety specs.
Standard gear on all Ranger models is auto emergency braking (AEB) with pedestrian detection as well as lane keeping assist, driver attention alert, traffic sign recognition and automated high-beam lights. The AEB system works at city and highway speeds, and adaptive cruise control is included, too. There is no blind-spot monitoring or rear cross-traffic alert, however.
The Ranger retains its five-star ANCAP crash test rating from 2015, when the standards were considerably more lax. It does, however, have six airbags (dual front, front side and full-length curtain), a reversing camera, front and rear parking sensors and a semi-autonomous parking system. 
It comes with dual ISOFIX child seat anchor points and two top-tether restraints for baby seats.
---
Toyota Land Cruiser
8/10
The new 300 Series is yet to score an ANCAP safety rating, but here's curtain airbags covering all rows of seats, which properly cover third-row occupants. 
Also beyond the norm are side airbags up front and in the second row, plus knee bags for both front occupants. 
There's no centre airbag up front, but a car this wide doesn't necessarily need it to score top marks from ANCAP. Watch this space.
On the active safety front, highlights for all models include front auto emergency braking that has all the right smarts and is impressively active all the way between 10-180km/h. So it's fair to describe it as city and highway AEB.
Note that the base GX misses out on key safety features including  front and rear parking sensors, blind-spot monitoring and rear cross-traffic alerts, which could lead to it being the only LC300 to miss out on a top safety rating.
Only from the VX model upwards do you get rear auto braking for static objects, and I can confirm, it works a treat.
| | | | | | | |
| --- | --- | --- | --- | --- | --- | --- |
|   | GX | GXL | VX | Sahara | GR Sport | Sahara VX |
| AEB | City, Hwy | City, Hwy | City, Hwy, Rear | City, Hwy, Rear | City, Hwy, Rear | City, Hwy, Rear |
| Rear cross-traffic alert | N | /*-->*/ Y | Y | Y | Y | Y |
| Parking sensors | N | /*-->*/ Front, Rear | Front, Rear | Front, Rear | Front, Rear | Front, Rear |
| Front row airbags | Driver, Knee, Pass, Side, Curtain | Driver, Knee, Pass, Side, Curtain | Driver, Knee, Pass, Side, Curtain | Driver, Knee, Pass, Side, Curtain | Driver, Knee, Pass, Side, Curtain | Driver, Knee, Pass, Side, Curtain |
| Second row airbags | Curtain, Side | Curtain, Side | Curtain, Side | Curtain, Side | Curtain, Side | Curtain, Side |
| Third row airbags | n/a | Curtain | Curtain | Curtain | n/a | n/a |
| Adaptive cruise control | /*-->*/ Y | /*-->*/ Y | Y | Y | Y | Y |
| Blind-spot monitoring | N | /*-->*/ Y | Y | Y | Y | Y |
| Lane departure warning | Y | /*-->*/ Y | Y | Y | Y | Y |
| Lane assist | N | /*-->*/ N | Y | Y | Y | Y |
Ownership
Ford Ranger
Ford backs all of its models with a five-year/unlimited kilometre warranty plan, which is on par with the rest of the mainstream ute market but behind the likes of the Triton (promotional seven-year warranty), SsangYong Musso (permanent seven-year/unlimited kilometre warranty), and Isuzu D-Max (six-year/150,000km).
Capped price servicing intervals are set every 12 months/15,000km. The duration of the service plan is for the life of the vehicle, too, which is good for peace of mind if you plan to hang on to your car for a long time.
Ford is currently running a promotion whereby the first four years/60,000km of maintenance is capped at $299 per visit. That's competitive, but costs rise as you get beyond the promo period.
Concerned about Ford Ranger problems? Check out our Ford Ranger problems page for issues, complaints, recalls or anything else regarding reliability. We had an issue of our own, with the car convinced it was towing a trailer the whole time we had it, which disabled the self-parking system and the rear parking sensors, too.
---
Toyota Land Cruiser
8/10
Like all new Toyotas, the new LC300 carries a five year, unlimited kilometre warranty, which is the status quo among mainstream brands at the moment, but the engine and driveline coverage extends to seven years if you stick to the service schedule. Roadside assistance will cost you extra though.
Service intervals are still a relatively brief six months or 10,000km, but the capped-price servicing plan has been extended to cover the first five years or 100,000km of ownership. 
So at a decent $375 per service, this totals an also-decent $3750 for the first ten services.