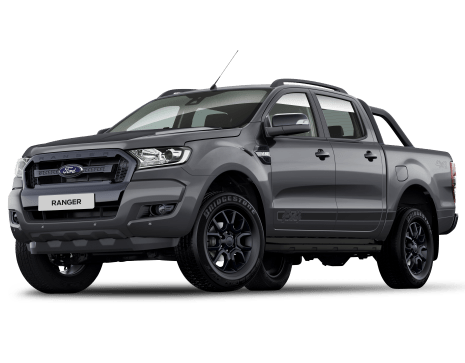 COMPARE
Ford Ranger
VS
Volkswagen Crafter
Ford Ranger
Likes
Comfortable
Great steering
Nice cabin
Dislikes
Limited availability
Soft suspension a bit bouncy with weight
A bit of turbo lag
---
Volkswagen Crafter
Likes
Great safety standard
Designed for work
Easy to operate
Dislikes
Rubber floor can be slippery
Some options could be standard
Pedal position a little high
Summary
Ford Ranger
The Ford Ranger Wildtrak has been a runaway success for the brand. Plenty of people have bought them, modified them, taken them off-road and put them to task in the PX generation of Ranger.
Now, to see out the 2019 model range, Ford has added a new version above the standard Wildtrak. It's the Ford Ranger Wildtrak X, and the 'X' stands for 'extra', because you get a bit more gear for a touch more money.
We'll get to all the detail soon, and for this test we didn't head off the beaten track - our aim here was to see how the Wildtrak X copes in daily driving, as well as how it handles hard work.
| | |
| --- | --- |
| Safety rating | |
| Engine Type | 2.0L turbo |
| Fuel Type | Diesel |
| Fuel Efficiency | 7.4L/100km |
| Seating | 5 seats |
---
Volkswagen Crafter
The person who delivers your new golf shoes or stretch denim jeggings isn't just a nameless delivery driver – they've got families and friends to go home to, as well.
Their offices are often exposed to more danger than most, though, so Volkswagen decided to build its all-new Crafter commercial range to offer the same level of safety – and similar levels of comfort – as its passenger car range.
| | |
| --- | --- |
| Safety rating | — |
| Engine Type | 2.0L turbo |
| Fuel Type | Diesel |
| Fuel Efficiency | —L/100km |
| Seating | 2 seats |
Verdict
Ford Ranger
9/10
The Ford Ranger Wildtrak X is up to the task when it comes to hard work, but it's more comfortable showing off at the worksite than actually getting the job done. We all know someone like that.
And that's no bad thing - if you're after a competent and impressively specified (if a little expensive) dual-cab ute, you could do a lot worse than the Wildtrak X. 
Thanks again to our mates at Crown Forklifts in Sydney for helping out with this load test.
---
Volkswagen Crafter
7.6/10
The medium commercial space is set to heat up in the next few years, and Volkswagen's uncompromising approach to the Crafter should stand it in good stead. It's a bit hard to get a read on the car after such a brief test, so we'll add to our knowledge base in the coming months.
There's a Crafter option for every application, though, and VW claims its service network will stand behind the product right across the country… which it will need to do if it's to take the fight to arch-rival Mercedes-Benz.
Which Crafter grade would you pick for your business? Tell us what you think in the comments section below.
Design
Ford Ranger
You might be considering the Wildtrak X purely on aesthetic appeal - and that's understanding. It has a few new design highlights compared with the non-X model, and most of them add function as well.
It scores an array of blacked out components, such as new 18-inch wheels (still wrapped in the same Bridgestone Dueler H/T rubber), wheel-arch flares (allowing for a more aggressive wheel/tyre setup), plus there's a black nudge bar with LED light bar, and there's a genuine Ford snorkel, too.
Combined, it makes the Wildtrak X look like a lot of those non-X models you've seen, where owners have spent thousands on extras. The rest of the destine is unchanged for the 19.75 model year variant we had, but there are subtle updates coming for the 2020 model range.
---
Volkswagen Crafter
8/10
Despite the Crafter looking like the easiest car in the world to design – draw straight lines and join them up – it actually shares a styling language with the sixth generation Transporter van range.
It's available as a cab-chassis and a van, which comes with a side door on one or both sides, a rear step, rear barn doors and in a high roof version.
VW will also sell the Crafter with an optional Trendline styling package, but it won't include a body kit, rear spoiler, side skirts or front spoiler. Instead it offers chrome garnishes for the interior, an additional 12-volt socket and hub caps.
Interior dimensions are vast even in the medium-wheelbase version, with familiar controls across the dash and steering wheel plucked from VW's passenger car range. The van can be ordered with a regular or high roof, as well as with a so-called super high roof version.
The rear barn doors can also be upgraded to versions that open to 270 degrees on the medium- and long-wheelbase versions. They come standard on the biggest version.
Practicality
Ford Ranger
Like every dual-cab Ranger, the Wildtrak X is a good size inside. There's enough space to fit three adults across the back and therefore five adults in the cabin. No rear air vents, though, which can result in a stuffy back seat on hot days.
You get cup holders up front and in the rear, and bottle holders in all four doors. You can raise the seat base for extra storage space, if there's not enough room in the tub. 
Up front there's a good amount of space and storage, and the media system is simple to use. And while we haven't raised this in the past, the number of warning gongs and danger dings might annoy you. Like, I know the door is open, I just opened it. Sheesh!
Now, the tub.
It's 1549mm long, 1560mm wide and 1139mm between the wheel-arches, which means it's too narrow for an Aussie pallet to fit (1165mm minimum). The depth of the tub is 511mm, but not in the the Wildtrak models, because the roller cover housing at the far end of the tub just about halves that, eating into usable space.
It's great that you get the hard top roller cover, and that there's a tub liner, too: however, the four tie-down hooks in the corners of the tub makes it difficult to strap down a load.
---
Volkswagen Crafter
7/10
The Crafter comes in two styles, three lengths and three powertrains, and will eventually expand to a range of 59 variants by the time all models come on stream by early 2019.
The van comes in a three-seat single cab chassis style, while the dual cab is only offered in a seven-seat dual cab version.
A variety of roof heights is also offered, and it's worth noting the higher roofs lower the roof rack load limit of 300kg on the standard height van.
VW is making a lot of the fact that it has worked the Crafter over from the ground up with feedback from real tradies, right down to making sure that there's enough light in the cargo area for parcel couriers to read labels in the dark.
The interior, too, is festooned with storage compartments small and large right across the dash and through the cabin.
The new FWD version offers a 100mm lower loading area than the AWD and RWD models, too.
Load capacity, of course, varies from model to model. In the medium wheelbase van line, it's the more powerful TDI410-powered rear-drive model with dual rear wheels that can carry the most across all vans at 2024kg, while the entry level Runner can carry 1384kg.
In the cab-chassis line, single-cab dual-wheel TDI410 takes the overall crown with 2392kg of payload ability.
If you want to add a towbar, the Crafter can tow up to 2500kg.
Overall, the ergonomics are quite good. It goes without saying there is a load of headroom, and there are small storage containers above the driver and passenger area.
The windscreen is massive, though the sealed off driver compartment does restrict visibility through the rear vision mirror. The Crafter also features aids like hill-start assist as well as hill-descent assist.
Crafters also feature a bench seat arrangement in the single row versions that can seat three people. The centre seat back can be folded down to form a tray table with two cupholders as standard. There's also an additional pair of cupholders on the dash, and huge door pockets on either side that can accept large bottles or Thermos flasks.
Other hidey holes for day-to-day gear are scattered through the cabin, including small trays in the doors and on the dash itself.
The steering wheel is polycarbonate, as is the gear shift knob. Don't forget these vehicles are built for hard work, not necessarily for luxury. A higher brake and accelerator pedal placement is quite a common feature of vans, and it places the foot at a slightly unusual angle if you're used to driving a regular car.
It's a more upright seating position, and does take a little bit of finessing to get the best fit. The sealed driver's compartment in our medium van tester allowed the seat to be ratcheted back to suit this 187cm driver, although we wonder if an XL-sized owner would be able to comfortably fit behind the wheel given the restriction of the rear bulkhead.
An 8.0-inch multimedia system has Apple CarPlay or Android Auto as standard, and it can be controlled from the steering wheel. You can also have two phones connected at the same time via Bluetooth. If you're hanging onto the 1990s, unfortunately there's no CD player any more, nor is there a DVD player… but the DAB radio is pretty good.
VW claims the Crafter's 'App Connect' is a first for the category. Volkswagen also fits a 'Customer-Specific Functional Control Unit' (CFCU) to each Crafter. For example, the lights and siren on an ambulance can be controlled through the on-board CFCU, or if you have a digger unit on the back, the car can be programmed not to move while the digger arm is in motion.
Price and features
Ford Ranger
The Ford Ranger Wildtrak X starts at $65,290 plus on-road costs for the 3.2-litre turbo-diesel five-cylinder model we drove, while the more powerful and more refined 2.0-litre Bi-turbo four-cylinder engine is $1500 more ($66,790).
That makes it a $2000 jump over the standard Wildtrak, but according to Ford, you're getting $6000 worth of extra value. 
The Wildtrak X's additional styling gear builds upon the already impressive list of included equipment on the regular Wildtrak. 
Included on this grade are 18-inch alloy wheels, LED daytime running lights, HID headlights, an LED light bar as well as all the Wildtrak X body additions (see the Design section for more detail), an integrated tow bar and wiring harness, a tub liner, 12-volt outlet in the tub, roller hard top and the model-specific interior with part-leather trim and a dark headlining.
There's also an 8.0-inch touchscreen media system with sat nav, DAB digital radio, Apple CarPlay and Android Auto, Bluetooth phone and audio streaming and a six-speaker sound system with a CD player. There are two USB ports, a 12-volt charger in the back seat and a 230-volt powerpoint, too. 
The front seats are heated and the driver's seat has electric adjustment, there are digital displays in front of the driver showing navigation and driving data (including a digital speedometer, which many utes still miss out on). 
---
Volkswagen Crafter
8/10
Sitting above the Transporter in size, the Crafter will actually become the single most complex range in VW's local line-up, with up to 59 variants set to go on sale by January 2019… so there's a lot to look at.
In basic terms, it'll come in three main chassis types, comprising medium, long, and long-with-rear-overhang (basically, there's more van behind the rear axle). That's then divided into unibody vans and cab-chassis variants, while the latter is divided further into single- and dual-cab models.
The price list starts at $48,490 for a six-speed manual-equipped medium wheelbase van, and covers 36 price points all the way through to a long-with-overhang high roof van with dual rear wheels, a twin-turbo 2.0-litre diesel and eight-speed ZF auto, as well as range-topping 5.5-tonne GVM (gross vehicle mass, or maximum weight of Crafter and cargo) limit, at $71,490.
Of those 36 price points, seven are offered with a single-turbo EA288 Nutz (VW's designation for commercial engines) 2.0-litre, four-cylinder diesel, while the rest feature a twin-turbo version of the same engine. Seven are also offered in six-speed manual guise.
All models are equipped with single-zone climate control, tilt- and reach-adjustable steering column, daytime running lights, an 8.0-inch touchscreen multimedia system with digital radio, Apple CarPlay and Android Auto support, voice control, a four-speaker sound system and Bluetooth.
There is also lots of USB and auxiliary connectivity, rubber floor mats, cruise control, heated and powered external mirrors, power lumbar support for the driver seat, and front power windows.
There are also a host of options for the driver's compartment, including upgraded multimedia, automatic wipers, better seats and more driver aids, while LED headlights, GPS sat nav, wooden floor coverings and plywood panelling for vans are also on the long options list.
If you're looking for accessories like a nudge bar, bullbar, awning or a light bar, you'll need to source them yourself, and the same goes for leather seats.
When it comes to colours, there's a surprisingly wide variety on offer, including black, blue, white, orange, silver, red and grey.
Engine & trans
Ford Ranger
Under the bonnet of the Wildtrak X we drove is a 3.2-litre five-cylinder turbo-diesel engine producing 147kW of power (at 3000rpm) and 470Nm of torque (from 1750-2000rpm). It has a six-speed automatic transmission in this spec, and there is no manual option for the Wildtrak X. It has selectable four-wheel drive with a low-range transfer case (2H, 4H and 4L gearing), and an electronic locking rear diff.
The other engine option for the Wildtrak X is the 2.0-litre Bi-turbo four-cylinder engine producing 157kW of power (at 3750rpm) and 500Nm of torque (1750-2000rpm). That's class-leading levels of grunt from a four-cylinder engine. It runs a 10-speed automatic transmission and four-wheel drive.
The Ranger Wildtrak X has a towing capacity of 750kg for an un-braked trailer, and 3500kg for a braked trailer.
The kerb weight of the Ranger Wildtrak X 3.2L is 2287kg. It has a gross vehicle mass (GVM) of 3200kg, and a gross combination mass (GCM) of 6000kg. 
---
Volkswagen Crafter
8/10
Two specs of the same engine size are offered in the Crafter. The (EA288 Nutz) 2.0-litre four-cylinder diesel comes in both single and twin-turbo configurations; the single spinner is known as the TDI340, puts out 103kW/340Nm, and the TDI410 twin huffer grunts out 130kW/410Nm.
It's best to check your manual for oil type and capacity, while injector problems haven't been noted as an issue in the Nutz (commercial) version of the EA288. It uses a timing chain rather than a timing belt for longevity. VW has fitted the driveline with an AdBlue system, along with a diesel particulate filter.
No petrol version of the Crafter is available. There are no reports of injector problems.
The AWD version uses a Haldex system, a mechanical diff lock and hill descent assist, and offers a 4000kg GVM as well. It'll cost $4500 more than the FWD system, which VW claims is a quarter of the cost of similar systems from its key competitors.
A six-speed manual gearbox has been the only option up to this point, but VW believes the market for vehicles like the Crafter will swing from 90 per cent manual to 80 per cent automatic within a couple of years.
The ZF-sourced eight-speed automatic transmission is a key upgrade to the Crafter, and it dates back to 2008. A derivative of the unit used in the Amarok (and the Bentley Continental GT, as it happens), it's available on all three drivelines. Automatic gearbox problems aren't an issue with the ZF.
A second battery and/or alternator is also available from the factory, to help power any and all devices you might want to mount.
Fuel consumption
Ford Ranger
Fuel consumption for the Ranger Wildtrak X 3.2L model is claimed at 8.9 litres per 100 kilometres, and it has an 80-litre fuel tank capacity. There is no long range fuel tank.
Our test drive saw a real-world return of 11.1L/100km across a mix of driving including urban, highway and back-road, as well as laden and unladen.
---
Volkswagen Crafter
7/10
Our drive program was far too brief to comment meaningfully on fuel economy figures, but we noted a figure of 10.2 litres per 100km after a 65km test period around the streets of Auckland aboard an auto TDI410-equipped van.
Volkswagen doesn't supply fuel consumption figures because of the sheer variance in size and spec across the range. None of its competitors do, either.
All Crafters have a fuel tank capacity which measures 75 litres in size.
Driving
Ford Ranger
We like the Ford Ranger as a daily driver. It's easy to see why so many people buy Ford Ranger dual-cab four-wheel drives, even if they don't need the payload, or the towing capacity. It's the utility that appeals with this utility.
Without weight in the back it rides smoothly enough, and around town you won't complain about back pain or sore kidneys when you crunch over speed humps. It's composed and refined, so much so that it's a better ute to drive without a load than with weight in the back, and there aren't many that can claim that accolade.
The steering makes it easy to park, and it's nice to steer in all sorts of situations. If you happen to be on the tools all day, you'll be happy not to have to wrestle the wheel on your way home.
Acceleration is good, if not blindingly quite, and the transmission does what it should. 
---
Volkswagen Crafter
7/10
If you've driven any fairly recent Volkswagen product, or indeed a regular sedan or hatch, you'll be familiar with the operation of the Crafter.
There is nothing aboard that makes it difficult for the average operator to jump in and use it. It's really just like a regular car to drive, except for its sheer size.
Ease of use is vital for a van that's often used on the road for 12 hours a day, or more. And the Crafter has been designed from the ground up to make life as easy for its driver as possible.
Climbing abroad, the ability to adjust the steering wheel for reach, and height instantly gives you the impression the Crafter is going to be a very user-friendly device.
Volkswagen has worked hard to make the standard seats as comfortable as possible, and there is the ability to option them to an even higher level.
The medium wheelbase automatic we tested also featured automatic parking, which, for a large van in an urban environment, is an absolute bonus. And it works amazingly well. There's nothing like a five metre-plus van reverse-parking itself as the driver holds his hands in the air to make passers-by gawk in amazement.
Throttle response is linear and easy to manage, as is the electrically assisted steering, though you have to wind on a bit of lock to get around a corner. Disc brakes all round give the Crafter a good middle pedal feel, too. A brief drive in a manual reveals a light clutch and shift action.
The ride is well controlled even when it's unladen, if verging on a little stiff – but it's possible to uprate the suspension to suit loads of up to 2.4 tonnes, depending on variant, so a spin around Auckland's CBD aboard a Crafter with 500kg of low-slung weight isn't going to tell us too much.
We can tell you that if you're looking for a 4x4 with air suspension and off road-ready all-terrain tyres that's begging for a lift kit, this is not the place. The Crafter only comes with steel wheels, and its 0-100km/h acceleration speed isn't especially important.
Safety
Ford Ranger
The Ford Ranger Wildtrak - as with the rest of the Ranger line-up - is in the mix for the best in the business for ute safety specs.
Standard gear on all Ranger models is auto emergency braking (AEB) with pedestrian detection as well as lane keeping assist, driver attention alert, traffic sign recognition and automated high-beam lights. The AEB system works at city and highway speeds, and adaptive cruise control is included, too. There is no blind-spot monitoring or rear cross-traffic alert, however.
The Ranger retains its five-star ANCAP crash test rating from 2015, when the standards were considerably more lax. It does, however, have six airbags (dual front, front side and full-length curtain), a reversing camera, front and rear parking sensors and a semi-autonomous parking system. 
It comes with dual ISOFIX child seat anchor points and two top-tether restraints for baby seats.
---
Volkswagen Crafter
9/10
VW has taken standard safety for a commercial vehicle to a new high. Front, side and curtain airbags for front-row passengers, 'Front Assist' with AEB, post-crash multi-collision braking, crosswind assist, front and rear parking sensors and reversing camera are all standard. It would be great to be able to turn on the rear view camera just to check what is behind the Crafter without reverse engaged, but that's a minor quibble.
Optional systems include park assist, adaptive cruise control, rear traffic alert, active lane keep assist and sensor-based side assist. You'll have to leave the youngest tradies at home, though – there are no ISOFIX points in the Crafter.
Ownership
Ford Ranger
Ford backs all of its models with a five-year/unlimited kilometre warranty plan, which is on par with the rest of the mainstream ute market but behind the likes of the Triton (promotional seven-year warranty), SsangYong Musso (permanent seven-year/unlimited kilometre warranty), and Isuzu D-Max (six-year/150,000km).
Capped price servicing intervals are set every 12 months/15,000km. The duration of the service plan is for the life of the vehicle, too, which is good for peace of mind if you plan to hang on to your car for a long time.
Ford is currently running a promotion whereby the first four years/60,000km of maintenance is capped at $299 per visit. That's competitive, but costs rise as you get beyond the promo period.
Concerned about Ford Ranger problems? Check out our Ford Ranger problems page for issues, complaints, recalls or anything else regarding reliability. We had an issue of our own, with the car convinced it was towing a trailer the whole time we had it, which disabled the self-parking system and the rear parking sensors, too.
---