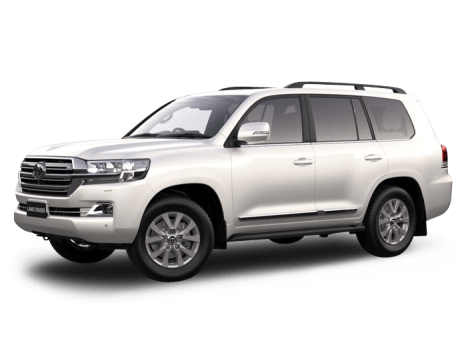 COMPARE
Toyota Land Cruiser
VS
Ford Ranger
Toyota Land Cruiser
Likes
Driving a living legend
Tough-truck looks
Go-anywhere capability
Dislikes
Driving it on anything that's not a mountain
Trying to shut the door
Contemplating the price
---
Ford Ranger
Likes
New powertrain is a beaut
Suspension tweaks help around-town ride
AEB in a ute? Great work!
Dislikes
Highway ride too jiggly when unladen
Options can push price up
Sync 3 not perfect
Summary
Toyota Land Cruiser
Andrew Chesterton road tests and reviews the new Toyota LC70 LandCruiser GX single cab with specs, fuel consumption and verdict.
You take your life into your own hands when you say this, but the 70 Series Toyota LandCruiser isn't perfect. In fact, it isn't perfect in lots of ways.
Explore the 2017 Toyota LandCruiser Range
But such is the burning passion for this Aussie (well, Japanese) icon that any criticism of it, no matter how fair, is greeted with howls of protests by our bearded brethren of the bush, who will accept nothing less than top marks for the mighty 'Cruiser.
And it's hard to blame them: if your morning commute includes cresting glorious mountains and powering through standing water deep enough to swallow a hatchback, you'll find few that do it better than the hard-as-nails Toyota. 
There's a reason people say the 70 Series LandCruiser powers the Aussie bush, and that's because it's the place where this vehicle feels truly at home. When you're thousands of kilometres from anywhere else, durability and reliability count above all. And this tough Toyota offers that in spades.
But… if you live in the city, can see a city from your house, or have ever visited a city (or seen a photo of one), then the 70 Series LandCruiser will feel a touch agricultural. And by that we mean there are forklifts that offer more creature comforts than this thing. 
We spent a week with one of the most utilitarian of the lot - the LC79 GX cab chassis ($64,990) - to see how we'd get along.
| | |
| --- | --- |
| Safety rating | |
| Engine Type | 4.5L turbo |
| Fuel Type | Diesel |
| Fuel Efficiency | 10.7L/100km |
| Seating | 3 seats |
---
Ford Ranger
As one of Australia's best-selling vehicles month to month, Ford finds itself between a rock and a hard place when it comes to updating the Ranger line-up… does it dare mess with a winning formula, or should it push the boat out to try and claim a technological edge over its nearest rival, the Toyota HiLux?
The MY19 Ford Ranger update appears to plot a course right down the middle, offering key mechanical and safety updates with only the barest of bare minimum physical changes. Has Ford chosen the right path?
| | |
| --- | --- |
| Safety rating | |
| Engine Type | 3.2L turbo |
| Fuel Type | Diesel |
| Fuel Efficiency | 8.4L/100km |
| Seating | 5 seats |
Verdict
Toyota Land Cruiser
6.5/10
It's loud, rough and so overtly masculine you can feel the hairs growing on your chest as you drive it. And while we couldn't live with it day-to-day, we applaud the fact it exists.
Tell us your best LC70 LandCruiser story in the comments below.
---
Ford Ranger
7.5/10
Park the MY19 Ranger next to an MY18 version, and only the train spotters will tell the difference externally. The key engineering changes, though, have made a real difference in the way that the Ranger presents as a privately bought family rig.
The suspension changes are most effective at lower speeds, and the new 2.0-litre twin-turbo engine is torquey, economical and quiet.
Add to that driver aids like AEB on the higher grades, and the Ranger is set to grace the top end of the vehicle sales charts for some time to come.
If we needed to narrow it down to one choice, we'd take the 2.0-litre XLT with the optional tech pack and black 18-inch rims. The fabric interior is great, and the pack gives the XLT the safety benefits at less cost than the Wildtrak.
Would you opt for the twin-turbo 2.0-litre Ford Ranger? Tell us in the comments below!
Design
Toyota Land Cruiser
6/10
Function over form is the order of the day here. Everything that exists on the exterior of the LC79 is there for a reason, from its chunky and thick tyres, the monstrous plastic snorkel or the chicken wire-style mesh that protects the back windscreen like that honky-tonk bar from The Blues Brothers (Bob's Country Bunker - Ed).
There's an undeniable retro-cool to the look (mostly because it is retro, and has barely changed over the years), mixed with a kind of overt masculinity thanks to its bulbous bonnet scoop and a huge bumper bar that juts forth from the grille like Jay Leno's chin.
Inside, it's clean and functional. Expect no touchscreen here. Nor a digitalised driver's binnacle, reversing camera or electric anything. When you leave the car, for example, you need to push down the door-lock button and then hold the door handle up as you slam the door. The last time I remember doing that I think I had a beeper attached to my belt.
Everywhere you turn there are reminders that this car was born in an era when tough mattered. Even shutting the door requires a monstrous effort, with anything but the most brutal of force resulting in a warning light on the dash that serves as a blinking reminder you lack the physical strength to manhandle this car. Needless to say, we saw that light quite a lot.
---
Ford Ranger
7/10
Not a lot to report here; chrome door handles and grille surrounds for XLT variants, along with a new front bumper skin on the Wildtrak, are about the extent of the exterior design changes.
Ranger's interior images reveal a similarly short story. There is more black headlining through the range, while some of the interior finishes are more subtle and less reflective. The Wildtrak gets leather-accented seating as standard, while the XLT can be optioned with cowhide.
Side steps feature on XLT and Wildtrak, while body kits that include front spoilers, bonnet stripes and side skirts aren't offered. A rolltop-type hardtop lid comes standard on the Wildtrak dual cab tray utility body, but a soft top tonneau is not included. There is a rear step bumper, though.
The Wildtrak misses out on the awesome wheel arch extensions that feature on the Raptor, sadly.
Dimensions remain the same for the MY19, including interior dimensions and dual cab tub dimensions.
If you're looking for colours, there's white, red, blue, silver, grey and black, while the Wildtrak comes in Saber orange. No green or yellow, unfortunately, and there's no options for two tone paint. You can't opt for a sunroof, either, and it isn't offered with an off-road pack or dual battery option.
Practicality
Toyota Land Cruiser
7/10
Is your view of practicality being able to drive up practically anything? Then Toyota's got good news for you. Better still, the LC79 GX has a claimed payload of 1235kg and a towing capacity of 3.5 tonnes - both of which are impressive numbers. 
Inside, the basic two-seat layout offers a single cupholder to share between passengers, but a storage bin between the seats comes in handy for securing loose items.
---
Ford Ranger
7/10
Again, there's no real change over the MY18 model. There's a small, deep centre console bin and an oddments tray under the centre console, along with two line-astern cup holders up front and two in a pull-down centre armrest in the second row of the dual-cab.
Wonder no more about how many seats the Ranger has; it'll handle five passengers (in dual cab guise, anyway).
Speaking of the second row, rear legroom is sufficient for all but the tallest of passengers, while headroom is acceptable. The angle of the seat backs isn't too vertical, either, which does present as an issue in some dual-cabs.
Bottle holders are present in the shallow door pockets, and there's a tray on the top of the dash that sports a 12-volt socket.
There's another 12V socket and two USB ports under the console, and there's a 230V universal plug and another USB port for the second row in dual-cab and super-cab Rangers.
There's also a 12V socket in the tray. Speaking of which, the cab-chassis can obviously accept a steel tray, an aluminium tray or flat tray.
If you still think in terms of boot space - even for a ute - the cargo capacity of the Ranger's styleside tray isn't measured in litres, but in millimetres. At 1549mm long by 1560mm wide, the width drops to 1139mm between the wheel arches at the floor. A canopy is a common addition, too.
The dual-cab's second row sports ISOFIX mounts for two baby seats, as well.
The Sync 3 system is offered as an option in the XLS and standard in XLT and Wildtrak, and while it works well on the whole, its speech recognition talents are on par with most of the others present in the industry… not terrific. If you learn the system's intricacies, it gets better, but it's still got a way to go before it's truly intuitive.
It comes with Apple CarPlay/Android Auto compatibility, but we found that it confused things when it came to navigation; plugged in, our iPhone would default to Apple maps, even if you've started a trip with the Ranger's nav.
The Ranger's front passenger seat, too, offers only fore/aft and seat back adjustment, but no ability to adjust for height. It didn't get a positive rating from our passenger.
A spare tyre and full size rim – along with a small tool kit – are stashed underneath the rear of the Ranger, and underbody protection guards the sump and gearbox.
Price and features
Toyota Land Cruiser
6/10
Cost of entry for the LC79 GX is $64,490 (the same as the LC76 GXL Wagon), which is no picnic no matter how you shake it. And that spend buys you a fairly sparse product.
All creature comforts are cost extra. Air-conditioning, for example, adds $2761 to the bottom line. The tray, tow bar, and trailer wiring harness add another $4305 (but that's the fitted cost), and our test car also got diff locks, which add another $1500. All of which brings the final number to a touch over $73k, before on-road costs.
For that, you get cloth seats, plastic door trims and a scattering of ashtrays. Your radio is Bluetooth-equipped, your windows are manually operated and your plastics are so hard they could be used to cut diamonds.
But all of that is superfluous, really. What you're buying is a tried-and-tested workhorse, and this one has been put through an extra 100,000kms of what Toyota calls "extreme heavy-duty local testing". Toyota toured mine sites and cattle farms across the country, taking in the red dirt of the outback to the rocky escarpments of alpine country to the towering sand dunes of the northern NSW, feeding that information back to Japan while the LC79 was being developed.
---
Ford Ranger
8/10
While we'll look mostly at the dual cab part of the mix in this test, the Ranger is also available in cab-chassis, single cab and super cab (spacecab or extra cab, if you like) variants, as well as 4x2 and 4x4 drivetrains.
There are a total of 29 models in the Ranger range for 2019 across four grades. Six have been dumped - including the 2.2-litre, four-cylinder-powered 4x2 XL Hi-Rider and 4x4 double-cab manuals - while four have been added.
The price list remains surprisingly static across all trim levels, and of course how much you spend is up to you, but the RRP starts at $41,890 (up $300) for the 4x4 XL single-cab chassis manual, while as a guide the double-cab Wildtrak pick-up with the 3.2-litre five-cylinder turbo-diesel costs $1000 more at $60,590 (manual) and $62,790 (auto).
When you compare that most variants pick up extra specification vs the 2017 models, this is pretty good from a value standpoint. As well, Ford dealers will often have Rangers on the yard for a keen drive-away price.
All Rangers will benefit from a reworked front suspension setup that sees the front anti-roll bar moved from in front of the axle line to behind it, which has allowed engineers to reduce its diameter and increase its strength. This in turn means that softer front springs and shocks can be fitted.
All Rangers have power windows, power mirrors, central locking, cruise control, climate control air conditioning, multimedia touch screen with Bluetooth, too. There's no subwoofer amongst the speakers in the Ranger's sound system, and the radio CD player – indeed, the CD changer – has gone the way of the dodo. Haven't you heard of MP3 or DAB?
And even though a DVD player used to be a great addition for kids, it's all about iPads these days…
All 4x4s are fitted with an electronic differential lock, while the base model XL 4x2 Lo-Rider is the only RWD version to miss out on a limited slip differential. All models do get hill descent control, hill start assist, ESP and power steering.
The entry level XL features a darker interior treatment and very minor exterior updates that include chrome door handles and grille surround, along with an lift-assisted tailgate that reduces lift effort by almost half. The 118kW/385Nm 2.2-litre four-cylinder diesel and 147kW/470Nm 3.2L engines are carried over unchanged.
It also gets xenon, rather than projector, headlights.
The XLS gets the same set of updates, along with a tech pack that includes gadgets like front sensors, an optional $1950 Sync 3 pack with eight-inch multimedia screen with sat nav, dual zone climate control, digital radio and a smart key.
The dual cab-only variant also gets different seat fabric, 16-inch alloy rims and foglights.
The XLT is the first of the 2019 Rangers to feature the model's biggest update for the new year; the option to fit Ford's latest 2.0-litre twin-turbocharged four-cylinder diesel engine that's been plucked from the Ranger Raptor, alongside the tried and true 3.2-litre five-cylinder diesel.
The 157kW/500Nm engine uses Ford's 10-speed automatic transmission – as seen in both the Raptor and the Mustang GT – while the five-potter keeps the six-speed tranny. It's a $1200 uptick to get four more gears, one less cylinder and 10kW/30Nm more oomph.
It's now got keyless entry with push-button start, while an optional $1700 tech pack furnishes it with AEB with pedestrian detection, traffic sign recognition within the navigation system and – in a first for a dual cab ute – automatic park assist.
There are also 18-inch alloys in black as an option, while LED daytime lamps, roof rails (no roof racks, though), a tailgate liner and HID headlights are included.
By way of model comparison, the top-drawer Wildtrak – which is like a sport edition - is offered with both the 3.2 and optional 2.0-litre diesels, and is also fitted with AEB that includes both obstacle and pedestrian detection modes.
Traffic sign recognition and active parking (including parallel) are added, along with LED driving lights in a new front bumper fascia. No LED headlights, unfortunately.
The easy-lift tailgate is also connected to the Wildtrak's central locking system, and the black 18-inch rims can also be optioned.
Accessories like a bull bar, snorkel, nudge bar, ladder rack are an aftermarket affair, but a sports bar is offered on XLT grades and up, as is window tint. Floor mates? Argue the toss with your dealer.
If you just want a price list, this should help out a lot:
Ranger 4x2
| | |
| --- | --- |
| XL single cab-chassis 2.2L, manual | $27,990 |
| XL single cab-chassis 2.2L Hi-Rider, auto | $33,690 |
| XL super cab-chassis 2.2L Hi-Rider, auto | $36,190 |
| XL double cab-chassis 2.2L Hi-Rider, auto | $38,190 |
| XL double cab pick-up 2.2L Hi-Rider, auto | $39,690 |
| XLT double cab pick-up 3.2L Hi-Rider, auto | $50,290 |
| XLT double cab pick-up 2.0L Bi-Turbo Hi-Rider, auto | $51,490 |
Ranger 4x4
| | |
| --- | --- |
| XL single cab-chassis 3.2L, manual | $41,890 |
| XL single cab-chassis 3.2L, auto | $44,090 |
| super cab-chassis 3.2L, manual | $44,390 |
| XL super cab-chassis 3.2L, auto | $46,590 |
| XL super cab pick-up 3.2L, auto | $48,090 |
| XL double cab-chassis 2.2L, auto | $46,090 |
| XL double cab pick-up 2.2L, auto | $47,590 |
| XL double cab-chassis 3.2L, manual | $46,390 |
| XL double cab-chassis 3.2L, auto | $48,590 |
| XL double cab pick-up 3.2L, manual | $47,890 |
| XL double cab pick-up 3.2L, auto | $50,090 |
| XLS double cab pick-up 3.2L, manual | $49,190 |
| XLS double cab pick-up 3.2L, auto | $51,390 |
| XLT super cab pick-up 3.2L, auto | $56,190 |
| XLT super cab pick-up 2.0L Bi-Turbo, auto | $57,390 |
| XLT double cab pick-up 3.2L, manual | $55,990 |
| XLT double cab pick-up 3.2L, auto | $58,190 |
| XLT double cab pick-up 2.0L Bi-Turbo, auto | $59,390 |
| Wildtrak double cab pick-up 3.2L, manual | $60,590 |
| Wildtrak double cab pick-up 3.2L, auto | $62,790 |
| Wildtrak double cab pick-up 2.0L Bi-Turbo, auto | $63,990 |
| Raptor double cab pick-up 2.0L Bi-Turbo, auto | $74,990 |
Engine & trans
Toyota Land Cruiser
7/10
It's a single-engine offering right across the LC70 range, with a torque-rich 4.5-litre turbo-diesel V8 paired with a five-speed manual transmission the only combo on offer. The engine generates 151kW at 3400rpm, but a very healthy 430Nm from a low 1,200rpm.
Like the rest of the LC70 range, the LC79 has undergone an engine upgrade in line with Euro5 standards (the very standards that saw the demise of the Land Rover Defender and Nissan Pathfinder), with a diesel particulate filter added and a tweaking of the gear ratios to make second and fifth taller for better fuel economy. Stability and traction control were also included for the first time in October last year.
---
Ford Ranger
8/10
The Ranger is the only ute range to offer three different diesel engine sizes and specs (the Toyota HiLux has a petrol and two diesels), and all three will be offered in 2019.
It comes in both 4x2 (rear wheel drive) or 4x4 (technically not all-wheel-drive, thanks to the low-range transfer case). No front-wheel-drive here!
The 2.2-litre four-cylinder turbocharged diesel makes 118kW and 385Nm, and is used mainly for the 4x2 models. It can be had with either a six-speed manual or six-speed auto, with the latter doing the best job of distributing the Ranger's horsepower.
The 3.2-litre five-cylinder turbo diesel, meanwhile, makes 147kW and 470Nm, and uses the same two six-speed gearbox options.
The 2.0-litre four-cylinder twin-turbo diesel is the newest engine in Ford's commercial roster, and debuted in the Transit last year. In the more highly tuned Ranger it makes 157kW and 500Nm, and is backed by a 10-speed auto.
All three engines use a diesel particulate filter system.
Even though some overseas markets offer a petrol motor version, it's unlikely we'll ever see it here; petrol consumption isn't on Ford Australia's radar. Neither is EV, and LPG is not possible, either.
Fuel consumption
Toyota Land Cruiser
6/10
The tweaks have seen fuel economy improve by up to 1.2 litres per hundred kilometres, now a claimed/combined 10.7L/100km. CO2 emissions are also a little better, now 281 grams per kilometres - 32 grams less than before.
---
Ford Ranger
7/10
Our 150km test of the 2.0-litre Wildtrak returned a dash-indicated fuel consumption average of 9.4L/100km, against claimed figures of 7.4L/100km on the combined fuel economy cycle. The Wildtrak 3.2's fuel economy is rated at 8.9L/100km, and the XL dual-cab 4x4 2.2's mileage is 8.0L/100km.
When it comes to manual vs automatic fuel consumption, the manual 3.2 returns 8.3L/100km.
The Ranger has an 80-litre size tank as standard, while a long-range fuel tank is an aftermarket proposition.
Weight wise, the 2.0-litre Wildtrak comes in at 2246kg at the kerb, and 3200kg gross vehicle weight (or GVW), meaning it's able to deal with a payload / load capacity of 954kg. Its gross combined weight when hauling a trailer, therefore, is 6000kg.
Driving
Toyota Land Cruiser
7/10
A nightmare on anything even resembling an actual road. The steering is the same soft and spongy experience you'll find in most serious four-wheel drives, while the suspension feels like it sees more travel than your average pilot. 
The turning circle, too, is a curiosity, turning even the most rudimentary U-turns into a three-point effort (if you're lucky). Toyota claims the turning circle figure as 14.4 metres, which is considerably longer than the wagon version. The blame is laid at the feet of the cab chassis' longer wheelbase (3180mm versus 2780mm).
But this is a car set up almost entirely for serious off-road work. And we mean serious. Those who tackle nothing harder than the gravel driveway of a Hunter Valley winery need not apply. The floor matts are constructed from hard-wearing (and easy to hose out) plastic, while the gearing is set up with first gear so short is serves almost no purpose on the tarmac.
Get it moving, and there's heaps of torque available for mid-range acceleration, and it's plenty brisk enough for overtaking, but the ride doesn't inspire confidence on the freeway, and we found ourselves travelling at just below the speed limit instead of on it. At 100km/h, though, it buzzes about, even with Toyota's focus on improved NVH this time around.
But all of that is largely irrelevant. If you're buying this car to navigate sealed roads, then there's probably something quite wrong with you. In fact, even if lightweight 4WDing is in your future, this car is overkill. There are plenty of cheaper options (including those from Toyota) that will tackle some pretty serious terrain, but will do it in what will feel like luxurious comfort by comparison.
If you require the battle-hardened services of a retro-styled legend, however, Toyota's 70 Series LandCruiser is the car for you. In fact, with stricter emission programs spelling the end for Nissan's Pathfinder and the Land Rover Defender, it's just about your only option.
Full disclosure: We didn't venture far off road (we saved that for the LC76 GXL Wagon), but with the same basic architecture, the same 4WD set-up (two-speed transfer case with auto-locking front hubs), and the addition of Toyota's off-road focused 'A-TRC' active traction control (which serves as kind of off-road and digital LSD, preventing wheel spin on low-grip surfaces), we're confident it would shine just as brightly.
---
Ford Ranger
7/10
We tested a Wildtrak with the new 2.0-litre engine and suspension set-up over 150km, and we came away impressed. The 500Nm engine is the same spec as the one found in the Ranger Raptor, and while it won't tear the hairs off your chest when you plant the foot, its performance – especially when combined with the 10-speed auto – saw it build speed evenly and confidently.
It holds pace going uphill, too, and it's plenty strong enough for towing (we drove a stint with a 1200kg horse float attached). It's still rated to tow 3500kg of braked trailer, just like the 3.2-litre model.
It's impressively quiet and grumble-free for a diesel, and especially when comparing its noise output directly to the 3.2-litre five-cylinder. As well, the smaller engine feels stronger lower down in the rev range than the five-potter, though at the top, the 3.2 feels stouter at speed.
We didn't put the two back to back across the 0-100 acceleration test, but our guess is that the performance figures would actually come out pretty evenly.
The retuned suspension is notably more compliant both front (coil sprung) and rear (leaf sprung) than the previous model, with a nicer front end and much more pleasant manners around town and under 70km/h.
Without a heavy duty load on board, though, it's still a bit too brittle and unsettled at highway speeds, especially on less than perfect bitumen.
Steering feel is very light, and it takes a watchful eye to keep the Ranger on the straight and narrow. Its 12.7m turning circle is pretty ponderous, too.
We didn't do enough dirt work to justify an off road review, but the Ranger's capability and performance off road is well documented. The Wildtrak is fitted with highway-spec all-terrain tyres on its 18-inch alloy wheels, which still managed a wet, muddy loop of Werribee's 4x4 facility perfectly well.
Smaller diameter 16-inch alloy wheels may be a better bet when it comes to tyre selection for pure off road work, and while some people may be thinking of fitting air suspension, it's definitely not necessary.
We did test the wading depth of 800mm by traversing a river crossing that easily topped 600mm, while the ground clearance figure of 237mm is commendable, as well.
Its towing capacity tops out at pulling 3500kg of braked trailer, and a tow bar is standard on all models above the XLS 4x4.
Safety
Toyota Land Cruiser
6/10
Part of this latest update saw Toyota upgrade the safety credentials of its LC70 range, and while the wagon variants oddly missed out on some of the changes, the LC79 got the lot. 
The entire range now gets traction control, stability control, hill-start assist, brake assist and electronic brake-force distribution as standard kit, while the single-cab models (including the LC79) got new under-dash padding, new seats and seating frames, and new and stronger body panels.  
The utes also scored three extra airbags (joining the two front bags), including two curtain bags and a driver's knee airbag. The result was a maximum five-star ANCAP safety rating, tested against 2016 criteria.
---
Ownership
Toyota Land Cruiser
7/10
The LandCruiser LC79 GX is covered by a three-year/100,000km warranty, and will require a visit to a service centre every six months or 10,000 kilometres. 
Toyota's capped-price servicing program limits the cost of each service to $340 for each of the first six services.
---
Ford Ranger
8/10
Ford now offers an extended warranty of five years as standard, with unlimited kilometre coverage.
Servicing the 2.0-litre dual cab 4x4 Ranger, as an example, will cost $2300 over five years, with service intervals at every 15,000km or 12 months. As an example, a 30,000km service will cost $555.
Don't forget, though, if you bush-bash your Ranger, you'll need more frequent, and possibly more expensive, services. Even it's just a more frequent oil change regimen, it'll help prolong the life of your Ranger.
If you're wondering where the Ford Ranger is built, it comes from Thailand.
In terms of problems, common faults, issues and defects, the Ranger has been recalled ten times since 2010 for items ranging from improperly secured manual shifter cables (2015-16), a lack of heat shielding near the rear exhaust that could lead to fires if driven in long grass (2016-2018), and poor steering shaft welds (2018).
Previous owners have also noted reliability issues around the Ranger's EGR coolers. On the whole, though, the ratings for the Ranger for durability have been solid. Make sure you keep your owner's manual filled out for easier resale, and keep it to hand when you want to know about oil capacity and type.
If you're wondering if the diesels use a timing belt or chain, we can tell you all three use the former. The 2.0-litre actually uses a belt-in-oil set-up.
Transmission issues, auto gearbox problems or transmission failures haven't really cropped up as a concern, though injector changes at 100,000km are recommended by some repairers as a preventative measure.
Blowing black smoke is a thing of the past, while the oil pump, clutch and intercooler pose no issues if regular services are performed.
When it comes to resale value, a second hand 2016 XLT dual-cab that sold new for $57,000 could now fetch around $40,000 second hand if sold privately, depending on mileage and condition.