Tesla Model X P90D 2017 review
Tesla doesn't do things the way other carmakers do. Instead of trying the halfway-house of hybrid, they went straight to all electric, and the Model X is their latest model. We test the P90D version.
What we like
You can download new features and retro-fit hardware
Colossal performance
Just the idea of it is brilliant
What we don't
High cost of entry
Lack of fast charging in Australia
Some of the clever stuff still needs work
What we like
You can download new features and retro-fit hardware
Colossal performance
Just the idea of it is brilliant
What we don't
High cost of entry
Lack of fast charging in Australia
Some of the clever stuff still needs work
Tesla doesn't do things the way other carmakers do. In many ways, this is good. Instead of trying the halfway-house world of hybrid, they went straight to full electric after first buying a chassis from lightweight wunderkinds Lotus, and the company then took a deep breath and did its R&D in public.
The Roadster was a rolling lab, a bit like Ferrari's FXX-K program, except much cheaper, quieter, and you could drive anywhere you wanted within electric range. Then Tesla pretty much single-handedly turned the automotive world on its head with the Model S, triggering a huge amount of soul-searching and corporate direction-changing. Nobody had twigged Tesla is a battery company selling cars, so were unprepared for the wild-but-then-proven range claims.
MORE: Read the full Tesla Model X 2017 review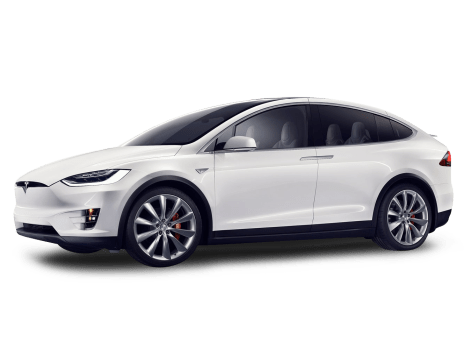 Explore the 2017 Tesla Model X range
Now the Model X is here to, Tesla hopes, make us re-think how the large SUV should be. It had a troubled gestation and a ropey few first months on the road, mostly related to issues with wacky 'Falcon Wing' doors but also guilt-by-association with a few dumb owners doing themselves a mischief in Autopiloted cars of both Model S and X.
We got a cheeky weekend in the the P90D version, complete with 'Ludicrous Mode' and some funky options.
Does it represent good value for the price? What features does it come with?
You have to take a deep breath while specifying your Model X because before you click a single checkbox either on your computer at home or on the shiny white dealer floor, you're staring down the barrel of around $168,00 for a five seat P75D, $172,100 for a 90D, $195,000 for a P100D and $272,000 for the fully-loaded P100D (but still with five seats).
Breaking down P90D 90 means 90kWh battery, a range of 476km (according to the sticker on the windscreen, and FYI the Europeans reckon 489km), P is for Performance, D is for dual motor. All in all, it has a pretty hefty standard inclusions list that's heavy on the sci-fi technology.
You start off with 20-inch wheels, keyless entry and start, front, side and rear parking sensors, reversing camera, sat nav, LED lighting inside and out, electric front seats with memory, electric sliding middle row, power tailgate, panoramic glass windscreen, rear privacy glass, auto headlights and wipers, four USB ports and bluetooth, 17-inch touchscreen, dual rear sunroof, electric rear doors, dual-zone climate control, a very clever safety package, leather trim and air suspension.
That big screen runs some very complicated software that governs pretty much everything from the interior lighting to the suspension height and steering weight and how fast you can get to 100km/h. You can even see what it's like in the cheap seats and step the power delivery down to that of a 60D. You can hook the car up to your home or work internet and receive updates to the car that can fix both hardware (eg the doors) and software problems.
The standard stereo has nine speakers, and via USB or Bluetooth, will connect to your phone for music selection. Spotify is built-in, as is TuneIn radio which makes up for the lack of an AM radio and uses the Telstra 3G SIM that comes with your purchase. So you're depending on that for your AM radio fix.
Our car had a few options. Well, most of them.
First up was the eminently sensible six-seater upgrade, which removes the centre seat in the middle row and installs two more seats behind them with a 50/50 fold and a handy walk through capability. That's $4500 and you can ask for the middle seat back for a further $1500 for a total of seven seats. Make them all (real) black leather for $3600. And match them with black 'Obsidian' paint for $1450. The dark ash wood trim and light headliner are included.
Ludicrous Mode makes the car go like Elon Musk's other product line, the Space X rocket, for $14,500 and includes a pop-up rear spoiler (like a Porsche's, yes) that deploys when you get in, and red brake calipers. Those last two things are possibly to counter criticisms you're paying almost $15,000 for a few lines of code.
A higher amperage charger is $2200, enhanced autopilot is $7300 and a further $4400 adds full self-driving. This is more than software - lots more cameras, lots more sensors, and lots of computer brainpower. More of that later.
Ultra high-fidelity sound added $3800, and is really quite good, 17 speakers-worth of excellent resonance.
And finally, the $6500 'Premium Upgrades Package', which comes with dumb things and good things. The good things are the Alcantara dash trim, leather bits and bobs including steering wheel (which is leather-look as standard), soft LED interior lighting, active LED turning lights, LED phone lights, nifty carbon air filter for the air-con and quick phone connection dock.
The dumb things are self-presenting doors that partially opened when I approached and then shut on me (although wouldn't do it for me on film... ) and a ridiculous 'Bioweapons Defense Mode' for the climate control which removes 99.97 percent of contaminants from the air, just in case someone releases sarin gas or you're stuck in an underground car park with a thousand other people suffering from severe flatulence. It's probably extremely useful in cities like Beijing which has diabolical air quality.
The front doors were clever when they worked as planned. You walk up with the key in your hand, they swing open (while not hitting nearby objects), you step in, put your foot on the brake and they close. You can also pull the door release to get them to shut or pull them to. Just a bit unreliable and we had more than one fight with them. The Falcon doors seemed positively tame in comparison.
Ready? Altogether, our P90D is on the road (in NSW) for $285,713. Knock off the on-roads and it's $271,792.
How practical is the space inside?
If you don't really need seven seats, the six-seater is a pretty good option. Being able to walk between the middle row saves a fair chunk of time instead of waiting for the electric motors to slide and tip the middle row seats forward (you can also do this from the control screen).
The cabin itself is a huge volume and with the Falcon doors open there's tons of room to move while everyone installs themselves. Once the doors close, the outboard passengers will feel their heads are close to the B-pillar, but thanks in no small part to the sunroof (gouged out of the upper surface of the Falcon door), a two metre tall passenger (a family friend) just fitted. He was a bit tight for legroom, too, but that's to be expected.
Front seat passengers have plenty of headroom, partly due to the windscreen that goes back right over your head. The downside of that is a cabin that heats up quickly and the need for fairer folk to slip, slop, slap for a trip to the shops. There are also four cupholders, two for normal-sized cups in the armrest and two for the American buckets-of-latte style cups. There is also a closable lidded tray where big sunglasses and/or a big phone can fit, and it contains two USB ports.
The middle row has two cupholders sprouting out of the rear console and face level air vents in the B pillars. The rear row also has two cupholders, this time between the two seats BMW style, making total of eight for the car.
The cargo capacity maxes out at 2494 litres with the seats out of the way, but that seems suspiciously high to be a VDA-to-the-glass-line measurement. You can get a moderate amount of shopping in the boot (at a guess, I'd say a Mazda3 hatch-matching 308 litres) with all seats in place and there's a very useful front boot with what looks like about 200 litres of space.
The Falcon doors are amazing. They look brilliant when they're opened and opening, work surprisingly well in confined spaces and are sufficiently clever to know when to stop if you or an object gets in the way. They are slow, but the huge aperture and easy access to the car is probably worth it. No, you can't fling them open, you're always reliant on the whirr-whirr-click.
Is there anything interesting about its design?
The Model X looks suspiciously like someone has put a Model S into Photoshop, pulled the roof up at the B pillar and balanced it out by adding height to the tailgate. It's not a classic design by any stretch and even with the cleaner (or blanker) front end introduced on both S and X, it just looks like a fat S or a CGI render. The 22-inch wheels certainly help balance out the visual flab and are therefore worth the outlay for that alone. From the front it's quite imposing.
The detailing relative to other cars at this price level isn't really there in the surfacing or furniture like headlights, trims and things like indicator repeaters, but the build quality has improved immensely from the first cars I saw, from panel fit and paint quality to the little flip-out lid on the charge plug.
Inside is also much better than earlier cars, partly I think because there's a bit more room to play with, meaning it's not as hard to make everything meet. Everything looks good, the leather is nice to the touch and it feels expensive.
There are still Mercedes stalks, which is annoying because the indicator/wiper stalk arrangement is too much for one stick. The gear selector stalk isn't as irritating for some reason and the cruise control and electric steering adjustment stalks are also the same. 
The dash is clean and dominated by that huge 17-inch screen in portrait mode, skewed towards the driver. Recently updated to version 8, it's easy to use and responsive, although the music software is for some reason not as good as before.
What are the key stats for the motor and transmission?
The P90D's massive bank of batteries powers two electric motors. The front motor 'produces' 193kW and the rear 375kW for a combined 568kW. Torque is allegedly immeasurable, but to sling a 2500kg SUV from 0-100km/h in a couple of blinks over three seconds suggests around 1000Nm.
How much fuel does it consume?
Well, yeah... none. Charging is costs 35c per kW/g at Telsa Supercharger stations (if you can get to one) and home charging is dirt cheap even in Victoria and NSW - a few bucks fully (and slowly) charges you at home at the rate of about 8km of range per hour of charging. That's workable if your commute isn't more than about 40km in each direction and you are home at a reasonable hour. Tesla also has what it calls Destination charging with chargers of various power capacities at some shopping centres, hotels and other public buildings.
Model X buyers do get the wall connector thrown in with the purchase, but you have to pay for installation (Audi does the same thing when you buy an A3 e-tron). If you've got two phase or three-phase power, you'll get between 36km and 55km per hour of charge.
What's it like to drive?
The quickest way to explain the Model X is to say it's a slightly higher-altitude version of the Model S, which is fair given a fair chunk of that car makes up the X. 
Acceleration is phenomenal, addictive and for passengers, possibly injurious. You really do have to warn people to put their head against the restraint to prevent mild whiplash, or, as one friend discovered, a crack to the head from the rear glass. There are other cars that do the 0-100km/h dash this quickly but the power delivery just isn't this brutal, sudden, or relentless. No gear changes, just floor it, two, three, and you're losing your licence.
In spite of the huge 22-inch alloys with which our X was shod, the ride is most impressive. It's still firm but knocks the edges off the bumps and lumps of city running while isolating you from the freeways.
In the corners it keeps the X flat and allied with the grip of the Goodyear Eagle F1 rubber, makes the X indecently fast. It will understeer and it doesn't have the finesse - again - of other cars at this price point, but the acceleration will keep you and your family and friends giggling forever.
Most of the weight is very low and the car is quite stiff (though not as rigid as the S through the top half of the body) with an almost perfect 50:50 weight distribution. Given more of the power is at the rear, it feels pointy but power-on understeer still happens, although not as keenly as the first S P85D I drove. It doesn't feel like it could capsize and Tesla reckons they couldn't provoke a rollover during testing.
Of course, it's very quiet and that means you hear every creak and squeak, most of which we traced to the Falcon doors and even then, only over big bumps. 
The range doesn't seem hugely affected by showy acceleration shenanigans and had the car been fully-charged when I picked it up, I'd have returned it after four days and countless hard launches (with a car full of giggling idiots aboard) with charge to spare having just topped it up overnight in the garage the night before.
Frustratingly, a number of features, standard and optional, were not yet working due to the long-anticipated roll-out of software for the Hardware 2 carried in the X. This meant the active cruise didn't work (although normal cruise control did), the Autopilot (meant for freeways) and self-driving (meant for the city) weren't available. These are currently being fleet-tested in 1000 cars in the US and all cars are feeding back info as the sensors are running in shadow mode, meaning the hardware is doing its thing, just not driving the car. We'll get it when it's ready.
What safety equipment is fitted? What's the safety rating?
The X has a whopping 12 airbags (including kneebags in the front, four side airbags and two door mounted airbags) ABS, stability and traction controls, rollover crash sensor, forward collision warning and AEB.
The stuff that relies on sensors didn't work on our car due to the software not yet being ready for the Hardware 2 revision (due March 2017).
There has not been an ANCAP test however the NHTSA awarded it a perfect score of five stars. Which, to be fair, they also gave the Mustang.
What does it cost to own? What warranty is offered?
Teslas come with a bumper-to-bumper warranty of four years/80,000km and roadside assist for the same period. The batteries and electric motors come with an eight year/unlimited kilometre warranty.
Anecdotal evidence suggests swift and solid responses to critical problems, including loan cars with no strings attached. 
Servicing costs can be capped with a three year maintenance plan for $2475, or four years for $3675, which includes the inspections and a wheel alignment if required. That seems high. Individual services bounce around from $725 to $1300 for an average of almost $1000 year.
Verdict
Look, it's a lot of money. Most of what the Model X does is replicated by an Audi SQ7 for just over half the price of the X we drove, so the $130k you save can go on diesel until doomsday. But then, that's not what it's about for Tesla customers, at least not all of it. There are still bugs in the system, a few bats in the belfry, but time and again you remind yourself this isn't a new car maker, it's new type of transport altogether.
That's what makes a Tesla special. It's not the headline stuff like Ludicrous Mode, it's the fact that a (near) new player in town is not just stamping out crap cars like some Chinese manufacturers are doing just to make a quick buck. 
Tesla has reinvented the whole car industry - just look at the way the Volkswagen Group and Mercedes-Benz are scrambling to get their electric cars to market, and how depressed Renault execs look when you talk Tesla compared to their offerings. While GM and Ford were sending work offshore, Tesla built factories in the US, and hired Americans to run them.
You're buying into the dream and the future of motoring. Tesla has allayed our fears that the future was going to suck and it's worth a few overpriced SUVs to help get the rest of us there.
Is the Model X your idea of an automotive dream or nightmare? Tell us what you think in the comments below.
Pricing guides
$137,040
Based on third party pricing data
Range and Specs
| Vehicle | Specs | Price* | |
| --- | --- | --- | --- |
| 100D | —, Electric, 1 SP AUTO | $109,600 – 138,600 | 2017 Tesla MODEL X 2017 100D Pricing and Specs |
| 100D (100XB) | —, Electric, 1 SP AUTO | $102,100 – 129,140 | 2017 Tesla MODEL X 2017 100D (100XB) Pricing and Specs |
| 75D | —, Electric, 1 SP AUTO | $95,500 – 120,780 | 2017 Tesla MODEL X 2017 75D Pricing and Specs |
| 75D (75XB) | —, Electric, 1 SP AUTO | $85,100 – 107,580 | 2017 Tesla MODEL X 2017 75D (75XB) Pricing and Specs |
Pricing Guide
$106,300
Lowest price, based on third party pricing data
View cars for sale
Similar Cars
Mercedes-Benz EQC

Audi Q7

BMW X5

Porsche Macan

Disclaimer: The pricing information shown in the editorial content (Review Prices) is to be used as a guide only and is based on information provided to Carsguide Autotrader Media Solutions Pty Ltd (Carsguide) both by third party sources and the car manufacturer at the time of publication. The Review Prices were correct at the time of publication.  Carsguide does not warrant or represent that the information is accurate, reliable, complete, current or suitable for any particular purpose. You should not use or rely upon this information without conducting an independent assessment and valuation of the vehicle.