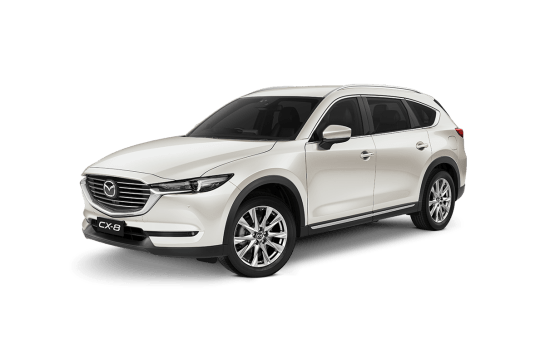 Mazda CX-8
What's on this page
Mazda CX-8 Price and Specs
The price range for the Mazda CX-8 varies based on the trim level you choose. Starting at $39,910 and going to $65,440 for the latest year the model was manufactured. The model range is available in the following body types starting from the engine/transmission specs shown below.
Year
Body Type
Specs
Price from
Price to
2020
SUV
2.5L, ULP, 6 SP AUTO
$39,910
$65,440
2019
SUV
2.2L, Diesel, 6 SP AUTO
$39,888
$66,990
2018
SUV
2.2L, Diesel, 6 SP AUTO
$36,990
$59,875
See All Mazda CX-8 Pricing and Specs
Mazda CX-8 Dimensions
The dimensions of the Mazda CX-8 SUV vary according to year of manufacture and spec level.
Year
Body Type
Height x Width x Length
Ground Clearance
2020
SUV
1720x1840x4900 mm
200 mm
2019
SUV
1720x1840x4900 mm
200 mm
2018
SUV
1720x1840x4900 mm
200 mm
See All Mazda CX-8 Dimensions