Land Rover Range Rover Sport V8 2013 review
What we like
Gorgeous looks
Still off-road capable
Now handles like its name suggests
What we don't
Not cheap
21 inch wheels not likely to enjoy off-roading
Options pricing
What we like
Gorgeous looks
Still off-road capable
Now handles like its name suggests
What we don't
Not cheap
21 inch wheels not likely to enjoy off-roading
Options pricing
There are classic oxymorons that keep garden-variety morons like me awake at night. Think about 'military intelligence', or 'a little big' -- or even perhaps 'adult male'. Among those brainbenders is the term 'sporty SUV'.
But our first drive of the 2014 Land Rover Range Rover Sport in sunny Welsh countryside proved the label's validity. We strafe a lightly used airport runway at 240 km/h in the Sport, before running it through half a meter deep river of muck. Could you do that in a Cayenne, an X6 or an ML? Possibly. Would you ever consider it? Unlikely.
Relatively long story short, the confusingly accurate "sporty SUV" label isn't just stuck on the Range Rover Sport--it's earned.
Design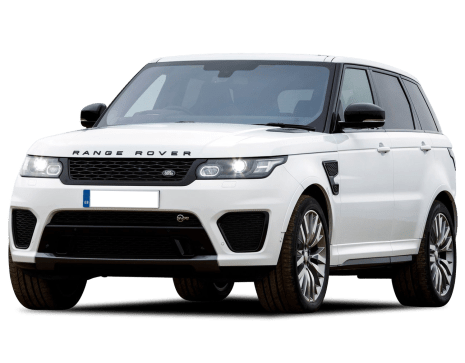 Explore the 2013 Range Rover Sport range
Here's the even shorter story on how the Range Rover Sport's grown better: Range Rover. The first-generation car was a steel body on a frame; now it's an aluminium spin-off of last year's brand-new Range Rover, with just a few inches of height and length subtracted to suit it for a differently shaded personality. The same crash diet that shaved 318 kg from the bigger ute nips about 363 kg from the Sport. In performance terms, that's like kicking out four adults before hot laps.
In essence the Sport's a slice off the Range Rover, but there's plenty of influence from the smaller Evoque in its profile. It's almost pure Range Rover from the doors forward, save for a slimmer nose and winged headlamps, but the roofline picks up the Evoque's sleekness and its rounded rump. The cockpit? It's all Range Rover, with calm stretches of leather and wood devoid of the busy clusters of buttons that had cramped the Sport's style.
Engines And Transmissions
Two drivetrains are on tap this time, and they divide camps neatly, into nicely done and awesomely hot. A new supercharged, 250 kW 3.0-litre V6 engine is the new base engine, delivering a nice 90-degree V6 snarl and sub-7-second acceleration, in tandem with a sweet paddle-shifted ZF eight-speed automatic.

The supercharged V8 comes from a different planet entirely, one maybe with a timeshare in the American South: it barks out 375 kWr with NASCAR authority, ripping off 5-second runs to 100 km/h.
With either, the Sport's ride/handling worldview tilts firmly to sport. The bigger Range Rover specializes in coddling; the Sport's air dampers and variable-ratio steering quicken up the pace, and with the V8's Dynamic setting, dial out much of the innate lean and scrub dictated by its height and weight. It's much closer now to the benchmarks set by the uber-utes from Germany.
At the same time, it's an incredibly capable muckraker, with either the base Torsen four-wheel-drive setup, or the more advanced dual-range system, with its active rear locking differential. With more ground clearance than ever, the Sport can extract itself from almost anything the bigger Range Rover can, and its slight size advantage might let it squeeze through where the executive-class Landie might not--say, an abandoned 747, like the one we were guided through carefully, from cargo hold to a first-class arrival through the nose.
Interior
The Sport's cabin has never looked better, and extra room in almost all dimensions solves one of the least happy aspects of the first-generation ute, though the second-row seat isn't quite as supportive as the Range Rover's. These are the sacrifices, folks. If you're an occasional user of a third-row seat, the Sport gives in to convention with a pair of semi-usable jump seats that fold away tidily when not in use. We suggest if you're beyond Highlights for Children, you don't try to clamber in them.
Features
All 2014 Range Rover Sport models come nicely equipped, including custom Meridian audio systems (three in total, ranging up to 1,700 watts and 23 speakers); advanced safety systems aided by cameras; an 8-inch touchscreen infotainment interface that frankly could use a couple of Palo Alto software geeks and a quick reskin; and of course, the latest generation of Land Rover's Terrain Response 2 traction management system.
Driving
The Range Rover Sport shares nearly all its structure and powertrains with the bigger Range Rover, and it shows--on the scale, on the way it keeps an even keel when it's sunk knee-deep in mud.
The new 3.0-litre supercharged V6 is an assertive-sounding engine at full throttle, with a hearty snarl that subdues quickly as the Sport flicks into higher gears, back into a more relaxed part of the powerband.
But it's really the 5.0-litre supercharged V8 you want, if only for the NASCAR intake and exhaust riffs that were frankly the inspiration for its soundtrack. It's scored at 375 kW and 624 Nm of torque, and ripping off a 0-100 km/h run in 5 seconds is in the realm of Cayenne Turbos and Grand Cherokee SRTs.

Top speed is 225 km/h, unless the Dynamic pack's specified--it's lifted to 250 km/h. Either way, the Sport's stick shifter is in control--it's not a rotary like the control in the Range Rover or Evoque--unless you flick the paddle shift controls, letting the ZF automatic do what it does best, click off clean shifts without any drama.
The Range Rover Sport's more obviously, and vastly, better on pavement than it was in its first lifetime. A procession of electronic assistants get tuned for more focus and more grip than they do in the bigger Range Rover. If you don't see as much daylight between the bigger ute and the Sport, you'll feel it, particularly in the V8 versions.
The Sport's stock and trade are some of the same air suspension and electric-steering bits as in the Range Rover, but that flagship's setup is deliberately set for a more relaxed feel. The Sport's most neutral state, when its ride height is set to normal via a console-mounted switch, and its Terrain Response system dialled into street driving, still yields quicker steering responses with more deliberate counterweight and a much calmer ride than the first-gen Sport.
The extra technology in the V8 Sport crafts a handling personality that's strikingly different from the base Sport, from the Range Rover, and about as deft as the other ultra-powerful SUVs (even if the SRT Jeeps and Cayenne Turbos are still ultimately, slightly, quicker).
If it's not quite the thunderclap that is the Cayenne Turbo or the SRT Jeep, the Range Rover Sport makes up for the tenth or two of acceleration with unbelievable off-road talent. The basic, lighter-duty setup  is a new four-wheel-drive system with a Torsen limited-slip differential and anti-lock brakes limiting wheelspin, and a 42:58 torque split that can shift to 62 percent front, or up to 78 percent to the rear.

It's offered only on the V6, and wasn't ready in time for our first drives. The more rugged version, standard on the V8 and optional overseas on the V6, has a low range and locking differentials, with a torque split of 50:50 that can switch to 100 percent, front or rear wheels, as traction suffers.
We spent the better part of two days in Welsh hills and English river beds, letting Terrain Response's Auto mode do all of the work some of the time, and opting for its individual modes (Grass/Gravel/Snow, Mud/Ruts, Sand, and Rock Crawl) as we trudged through the countryside without the benefit of pavement.
The Sport's slight size benefit versus the Range Rover isn't so noticeable, but the increased ground clearance over its last-generation edition is. It's up to 28 cm, and the air suspension can extend itself another inch and some change when it needs to extract itself from especially difficult off-road scenarios.

With nearly 55 cm of cross-wheel articulation, that doesn't happen too often--but when it does, the Sport can isolate its roll bars, and make the most of its wheel travel. It can even deploy that additional reserve of ground clearance when it's wading close to its 85 cm maximum, and seconds later, lower itself almost silently down a steep grade thanks to a much quieter hill-descent control system.
Verdict
We think the Sport's tugged and stretched its performance wrapper in the right directions.
Pricing Guides
$53,990
Based on 59 cars listed for sale in the last 6 months
Range and Specs
| Vehicle | Specs | Price* | |
| --- | --- | --- | --- |
| 3.0 SDV6 | 3.0L, Diesel, 6 SP AUTO | $39,888 – 41,888 | 2013 Land Rover Range Rover Sport 2013 3.0 SDV6 Pricing and Specs |
| 3.0 SDV6 Autobiography | 3.0L, Diesel, 6 SP AUTO | $45,523 – 53,990 | 2013 Land Rover Range Rover Sport 2013 3.0 SDV6 Autobiography Pricing and Specs |
| 3.0 SDV6 HSE | 3.0L, Diesel, 8 SP AUTO | $64,990 – 74,990 | 2013 Land Rover Range Rover Sport 2013 3.0 SDV6 HSE Pricing and Specs |
| 3.0 SDV6 Luxury | 3.0L, Diesel, 6 SP AUTO | $39,990 – 49,990 | 2013 Land Rover Range Rover Sport 2013 3.0 SDV6 Luxury Pricing and Specs |
Pricing Guide
$39,990
Lowest price, based on 17 car listings in the last 6 months
View cars for sale
Similar Cars
BMW X5

Land Rover Discovery

Volkswagen Touareg

Jeep Grand Cherokee