Land Rover Range Rover Sport SDV6 2013 review
What we like
Gorgeous looks
Still off-road capable
Now handles like its name suggests
What we don't
Not cheap
21 inch wheels not likely to enjoy off-roading
Options pricing
What we like
Gorgeous looks
Still off-road capable
Now handles like its name suggests
What we don't
Not cheap
21 inch wheels not likely to enjoy off-roading
Options pricing
In the course of a few crowded hours one afternoon this week we charted the extremes of the passenger vehicle spectrum.Leaving the smooth tarmac of South Wales we swept along gravel surfaces that could belong to a stage of the World Rally Championship. There followed a dissection of B to C hardtop that could hardly have been incised more sharply in a roadster.
Then, on England's original off road torture ground, we descended a slope so towering and precipitous that it can't be walked. That behind us, we sauntered to day's end along the motorway at 150km/h, the supercharged V8 barely ticking over.  The next day we drove up into, through and out of a 747. But that's another story. All of this was accomplished in one vehicle (and on one type of tyres).
The top line variant of Range Rover's new Sport is a polymath, a renaissance figure, one whose breadth of fully realised abilities should not be possible in a single SUV. There are undoubtedly rivals that perform some or even most of the Sport's feats, some of these with marginally more competence.

None bring off the lot with the Sport's all-pervading sense of driver cosseting ease. The second generation Sport needed to stand further apart from its senior sibling than did the first. It does so and writes its own ticket for any form of journey you care to undertake.
Value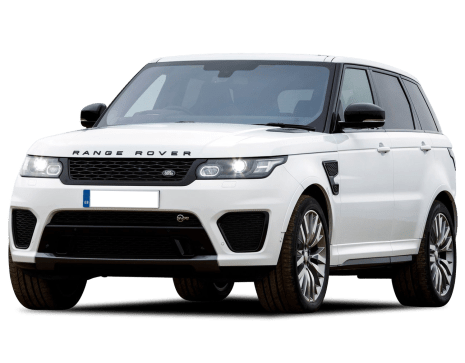 Explore the 2013 Range Rover Sport range
On sale in November, prices are up by some one per cent for an altogether better car. The turbo diesel line-up starts at $102,800 for the TDV6 SE, powered by a 190kW/600Nm 3.0-litre turbo-diesel V6. The SDV6, with a 215kW version of that engine, is $113,600. The higher spec HSE is $125,800 and the flagship Autobiography $145,500.
If diesel doesn't do it for you, the HSE grade also comes as a 250kW/450Nm 3.0-litre supercharged petrol V6 for $123,100. The gloriously excessive 375kW/625Nm 5.0-litre supercharged V8 is $161,600 in HSE Dynamic grade and $182,400 as Autobiography Dynamic.
It's a gaping price range for what is essentially a variant of the Range Rover "proper" (the previous Sport was built off Land Rover Discovery underpinnings) yet in keeping with the diversity of this Rangie's range. The base car, which is priced at the level of an over optioned Evoque, gets as standard 19-inch alloys, leather trim, six-way driver and four-way passenger electrically-adjustable front seats, rear parking sensors with rear camera, dual-zone climate control, and eight-inch touchscreen with hard disc drive and satellite navigation.

To that the spicier SDV6 adds high- and low-range gearing, adaptive suspension, Terrain Response and 20-inch alloys. It's here that the Sport lineup really begins. HSE spec chucks in paddleshifters, xenon headlights, nicer leather, yet further adjustable front seats and steering column, aluminium tread plates and front parking sensors.

The fully blinged Autobiography raises the player's game to 21s, high-beam assist, 18-way electrically-adjustable front seats, front seat cooling and heating, mood lighting, centre console fridge and Meridian audio. The V8 Supercharged variants cop amazingly enabling dynamic suspension and torque vectoring with an active rear locking differential. Elsewhere it adds $8100.

Indeed, in keeping with being a serious rival to top end BMW X5s and Porsche Cayennes, the Rangie doesn't stint on big priced options - try $1420 for the blind spot monitor that can had on a $50K Commodore, $3,200 for climate control and an outrageous $4200 for premium metallic paint. Transforming this five seater SUV to seven costs a further $3700 for all grades. A hybrid diesel is en route.
Technology 
There's so very much of this, a tech four de force. Yet the Sport's coolest aspect is in rendering you largely ignorant that this vast battery of trickery is at work. It's this seamlessness - from the eight speed ZF auto to big brained automatic terrain selector - that makes the Sport the luxury vehicle of the 2013.

Yet possibly the most impressive aspect is what's not there; as much as 420kg and at least 230kg in weight saved over the previous model, reducing acceleration times and fuel figures alike, an equation in which the all aluminium platform is chief denominator. The drive enhancements take the Sport, indeed Land Rover a whole, into a new realm.

Retaining and even enlarging upon Land Rover's traditional offroad competencies, the Sport thoroughly deserves that much abused appellation. The steering is direct at three turns lock to lock. It's a new system, as is the four-corner air suspension which delivers greater than average travel.

Upper variants get a dedicated Dynamic mode in the Terrain Response system, tying down the body and reducing roll when the hardtop corkscrews, abetted by slotting the gear shifter into sport. But left to its own devices, the auto selector is adept enough to identify and adapt to conditions. Dynamic Active Rear Locking Differential combines with torque vectoring to keep nose and tail in the designated direction under intense duress.

One bespoke tyre suffices for the Sport's multitude of tasks - Pirelli Scorpion Verde. No need to risk a manicure changing rubber between rock crawling and B road hauling.
Design
Very roughly speaking, the Sport's a visual blend of the Evoque and the senior Range Rover. Longer than its predecessor at 4.8m, it's still shorter than comparable SUVs and most of the big luxury sedans it's going to blow away sales wise.

A black pack, which eliminates shiny bits, is pretty mean looking on an icy white Sport. The cockpit is a masterpiece, distinctly Rangie but it's own thing too. It is, yes, sporty.

Love that gear shifter, hand fillingly functional but cool. The rotary dial is still there, but confined to selecting drive modes. Thumb operated toggles on either side of the steering wheel control ancillary functions.

There's limo like legroom for rear seat passengers, the outside two of whom are cosseted in buckets as supportive and comforted - indeed as heatable or coolable - as the front. Optional is a powered third row occasional 5+2 'secret' seating, which folds away into the floor. As a five seater it will take that many adults and suitcase for each.  Cabin quality has to be felt to be appreciated.
Safety
Yet to be crashed, and unlikely to be, it's reasonably assumed the Range Rover's five star NCAP rating applies here. New items reflect the polar extremes of the Sport's ability - traffic sign recognition, perpendicular park assist, depth sensing for wading a creek, and active lane assist. Flank guard alerts you to the imminence of a car park scrape. Vast Brembo brakes provide awesome stopping power, augmented by tremendous feel through the pedal. More mundane, but crucial, the spare tyre is full size.
Drive
Again, you have to ask can the same car be so variously outstanding? Dynamically, the supercharged Sport V8 keeps pace with a Porsche Cayenne - some five seconds from to 100km/h from standing makes it by same distance the fastest ever Land Rover model. Yet it crawls on rocks and wades a creek to almost a metre's depth as readily as the doughty Discovery.

The company calls it the "fastest, most agile and responsive" vehicle in its history. This is possibly an understatement. The narrow, sheep infested mountain roads of Wales would keep one of Audi's or Benz's faster grand tourers honest. I doubt any would handle these with the aptitude of Sport V8. Such body roll as there is hardly any more noticeable than the RS4 wagon we'd driven the previous week, despite the Sport being some 500kg heavier.

Its immense output goes to the ground as immediately as you wish, and seemingly in any cornering attitude, seldom activating the electronic safety nets. It just shouldn't be this adept - especially when a little over an hour later it is descending a 45 degree dirt gradient like a lushly upholstered mountain goat with minimal driver input.

Yet while performance reaches new highs for an SUV with this badge, ride remains that of Range Rover - cosseting and unruffled, even while tastefully tuned note of the bent eight is roaring. Driving the top diesel in similar conditions the next day should be a massive anti-climax and in truth anything feels underdone after the visceral punch of the supercharged petrol monster.

That it isn't a bum note has much to do with it sounding hardly at all like a diesel. Or feeling overly like one. Launched on a runway drag contest it cannot scale the top model's heights but it's speed rises steadily and surely, born along by almost equivalent torque. In the real world, the SDV6 will leave little cause for complaint.
Verdict
Only the extra ask for items that should be standard on a car of this stature prevent a full five star rating for the V8. It is an exceptional achievement and surely the luxury car of the year.
Pricing Guides
$61,900
Based on 72 cars listed for sale in the last 6 months
Range and Specs
| Vehicle | Specs | Price* | |
| --- | --- | --- | --- |
| 3.0 SDV6 | 3.0L, Diesel, 6 SP AUTO | $39,888 – 39,990 | 2013 Land Rover Range Rover Sport 2013 3.0 SDV6 Pricing and Specs |
| 3.0 SDV6 Autobiography | 3.0L, Diesel, 6 SP AUTO | $49,999 – 78,800 | 2013 Land Rover Range Rover Sport 2013 3.0 SDV6 Autobiography Pricing and Specs |
| 3.0 SDV6 HSE | 3.0L, Diesel, 8 SP AUTO | $67,990 – 74,990 | 2013 Land Rover Range Rover Sport 2013 3.0 SDV6 HSE Pricing and Specs |
| 3.0 SDV6 Luxury | 3.0L, Diesel, 6 SP AUTO | $42,888 – 49,990 | 2013 Land Rover Range Rover Sport 2013 3.0 SDV6 Luxury Pricing and Specs |
Pricing Guide
$29,950
Lowest price, based on 65 car listings in the last 6 months
View cars for sale
Similar Cars
BMW X5

Land Rover Discovery

Porsche Macan

Jaguar F-Pace