Tesla Model S 2014 review: road test
I know what you're thinking: not another electric car story. But, please, hear us out. This one is a little different – it's "normal" to drive.
It's brought to us by Tesla, the electric-car start-up co-founded by Elon Musk, the entrepreneur who set up PayPal, sold it for a tonne of cash, and now launches rockets into space under contract for the US government.
His side project is to accelerate the adoption of electric cars by promising to address the big problems: driving range, recharging and price. We've heard the promises before but, shock, horror, this one delivers.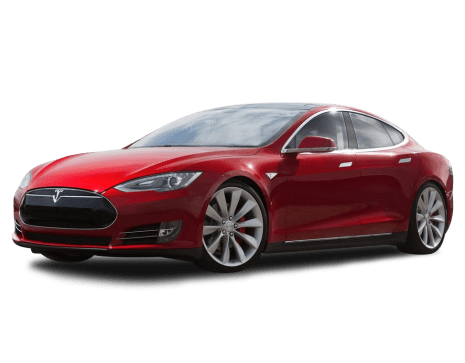 Explore the 2014 Tesla Model S range
To learn more about the technology, Tesla started five years ago with an electric roadster (based on a Lotus sportcar) that could out-sprint a Porsche to 100km/h.
It then broadened its reach by contracting electric-vehicle technology to Toyota and Mercedes-Benz – the world's biggest car maker and the inventor of the automobile. Not bad to have in the resume.
Not it has built its own, ground-up model: a sleek five-door luxury hatch about as big as a BMW 5 Series sedan.
The Model S went on sale in the US late last year and is due in Australian showrooms by the end of this year.

VALUE

The Nissan Leaf is $50,000 and is the size of a Pulsar hatch. The Holden Volt is $60,000 and the size of a Cruze sedan. So Tesla offering a large luxury sedan from $60,000 is something of a minor miracle.

The line-up has two other models, with more power and more driving range as the price increases to $70,000 and $80,000 respectively. The RRPs are realistic because Tesla has had significant funding from the US government. But the company insists it will be viable within a few years.

Australian pricing is yet to be confirmed but the top-line Model S will likely cost $80,000 to $100,000.

The company plans to build up to 100,000 electric cars a year, after ramping up to 25,000 in its first full year. Tesla bought an old Toyota factory that was sold cheap in the wake of the Global Financial Crisis. It helps that Elon Musk is friends with Toyota boss Akio Toyoda.

TECHNOLOGY

Tesla has ingeniously integrated the battery pack into the completely flat floorpan, the core structure of the car. The design is likened to a skateboard because it enables Tesla to add other body types to the same simple layout at a later stage (a seven-seat SUV-style vehicle is due next).

The large electric motor fits neatly at the rear and is available with a choice of two power outputs. Three types of battery pack are available for three levels of driving range (260km, 370km, 500km).

Tesla keeps the batteries cool by using smaller lithium-ion cells than other electric cars. But the coolest part of the car has nothing to do with being electric: it's the massive 17-inch touchscreen that's in the dash.

It controls radio, air-conditioning and navigation – which has the option of using Google Earth or a stencil map. Google search will also navigate to the nearest point of interest.
Other cool stuff: the door handles retract when the car is parked and when you're on the move (to reduce wind resistance). The aero rating is an industry-leading 0.24cD, the third best in history and the slipperiest automobile on sale today.
It's other party trick: a "supercharger" that enables the Model S to be topped up in less than an hour. Normal recharging is up to 8 hours.

ACCOMODATION

The Tesla Model S looks small but it's massive inside. The boot (894 litres) is bigger than that of many SUVs.

The big screen TV takes some getting used to but you can dim the display with a few taps of the screen.
On close inspection you can see some component sharing: the indicator and wiper stalks, steering wheel and power windows switches are borrowed from Mercedes-Benz.

SAFETY

It's fellow start-up Fisker, not Tesla, that's in the news for having its electric cars catch fire. That said, Tesla did recall 439 roadsters in 2010 for a potential fire fault – with the standard 12V battery, not the lithium-ion pack that powers the car.

Tesla says it has not had a report of a fire risk since and tests its vehicles to Toyota and Mercedes-Benz standards.
The Model S passes US crash test requirements but is yet to be tested by Euro NCAP. The company forecasts a five-star safety rating based on internal testing. Eight airbags (two front, two knee, two side and two curtains) and stability control are standard.

DRIVING

Here's the big surprise. It goes like a V8 AMG Mercedes, accelerating hard instantly. And then, miraculously, it doesn't run out of puff.
Most electric cars have a bit of zip at first but then suffer an asthma attack. The Tesla Model S feels like it could go forever. Unfortunately, speed limits dictated that we wouldn't find the limit of its potential.
The other thing that had me scratching my head was how well the Model S handled bumps even though it rides on massive 21-inch wheels and low-profile tyres. It felt as smooth as a Rolls-Royce but handled with the finesse of a BMW.
Key to its success is the fact that it has the centre of gravity of a sports-car. Because the battery pack is also the floor, it's barely 12cm off the ground and makes light work of the low-slung aluminum body.
On the California coast road I'm not cursing the traffic, I'm praying for a red light so I can feel the acceleration again. It's epic. AMG and HSV drivers won't know what hit them. When we eventually head for the hills, the handling feels agile, the steering direct.
The brakes, supplied by Brembo, have an impressively normal feel – unlike other electric cars that tend to have an initial dead spot before biting too hard. If Tesla can make decent brakes on an electric car, why can't other manufacturers?
The Model S may seem an oddity to the mainstream but enthusiasts and those with a passing interest in cars should ignore this car at their peril.
If this is the electric car of the future, count me in.
Pricing guides
$65,785
Based on third party pricing data
Range and Specs
| Vehicle | Specs | Price* | |
| --- | --- | --- | --- |
| 60 | —, Electric, 1 SP AUTO | $50,500 – 63,800 | 2014 Tesla Model S 2014 60 Pricing and Specs |
| 85 | —, Electric, 1 SP AUTO | $51,400 – 65,010 | 2014 Tesla Model S 2014 85 Pricing and Specs |
| P85 | —, Electric, 1 SP AUTO | $64,100 – 81,070 | 2014 Tesla Model S 2014 P85 Pricing and Specs |
Disclaimer: The pricing information shown in the editorial content (Review Prices) is to be used as a guide only and is based on information provided to Carsguide Autotrader Media Solutions Pty Ltd (Carsguide) both by third party sources and the car manufacturer at the time of publication. The Review Prices were correct at the time of publication.  Carsguide does not warrant or represent that the information is accurate, reliable, complete, current or suitable for any particular purpose. You should not use or rely upon this information without conducting an independent assessment and valuation of the vehicle.