Tesla Model S sedan 2014 review
The Tesla Model S is the first battery-powered vehicle that actually makes sense
I'm in a carpark in downtown Los Angeles being shown around the Tesla Model S, the electric car from the outfit that made the Tesla Roadster. There are lots of unusual things about this luxury sedan but inside is one thing that has me captivated.
VALUE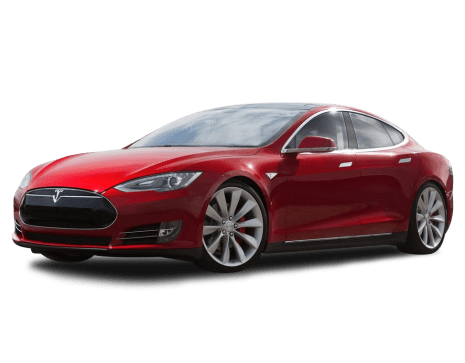 Explore the 2014 Tesla Model S range
It's an enormous screen, easily the largest I've seen in a car, angled towards the driver and looking exactly like an oversize iPad. It controls all the functions; there are no buttons. To open the panoramic glass roof, for example, there's a slider graphic you move with your finger, alongside a crisp overhead image of the car. As the glass opens, so does the roof on the image of the car. There are no predetermined positions -- set it anywhere. It's slick.
Little icons across the top of the screen direct you to other menus. The logic is child's play, there's internet and you can pinch to zoom. It feels Apple to the core, so I ask. Nope. All our own work, says Asia-Pacific director Kevin Yu, who's back home in California for a few days from his post in Tokyo. There's little missing in the car in terms of expected technical features at this level, with adaptive suspension, three grades of steering weight,
TECHNOLOGY
Yu was one of the first customers when deliveries began in June and his car was No 23 off the line. The first 1200 cars delivered in North America are all Signature models, with a high level of specification and the most powerful, 85kWh battery, which gives a range of 480km. Yu's goes one better: its Performance spec is also very quick: zero to 60mph (96.6km/h) in 4.4 seconds and a top speed of 209km/h.
The Signatures have already sold out and Tesla is starting to make standard cars that offer less powerful batteries, although even the 40kWh base car does the sprint in 6.5 seconds and has a 250km range. Tesla is a child of Elon Musk, who created Paypal, and its ethos is shot through with Silicon Valley can-do. Many employees are ex-Paypal, including Yu, and their confidence with the software and battery technology is palpable. "Batteries are a commodity," Yu explains, "and they're going to get cheaper."
It's how you link them, control them, keep them at a constant temperature and exploit their potential that is Tesla's strength, he says. The recharge plug is hidden neatly behind one of the rear lamps and comes with adaptors for virtually any situation. At home, it can be plugged into a 240V socket overnight or charged more quickly via a special wall-mounted unit. The battery pack forms the floor of the car and helps give structural rigidity. The motor is mounted at the rear to drive the rear wheels.
DESIGN
The Model S is a 5m long sedan that weighs 2.3 tonnes. There's cargo space front and rear, and two optional rear jump seats for children mean it can carry seven if required. The Model S, unlike the Roadster, which was a Lotus Elise stuffed full of phone batteries, is unlike anything else on the road. Almost nothing, beyond the window switches and steering column wands that I recognise from Mercedes, is familiar.
Where Silicon Valley know-how was not enough, Tesla spread a global net to recruit talent from across the car industry. The design chief, Franz von Holzhausen, worked for Mazda and GM, and can be credited with making a large sedan almost sexy. The cabin has a modern, architectural feel. The seats, incidentally, are by Australian outfit Futuris. It's a convincing luxury statement with plenty of road presence.
SAFETY
It comes with eight airbags and, I'm increasingly unsurprised to learn, electronic stability control that was done in-house. No job too big.
DRIVING
Its range is such that Yu explains he typically does the 600km from LA to San Francisco with a three-stop strategy, topping up for just 15 minutes at one of Tesla's solar-powered "superchargers", which cost owners nothing. That's no longer than a typical bathroom-and-drinks break. Because the batteries recharge like the ones in a phone, drawing down a lot of juice quickly when they're most depleted, he could skip one of the stops and spend 30 minutes at one of the stations for a half-fill. It all sounds, well, pretty much like what you'd do anyway on a trip of that distance.
But on the stop-start freeway traffic one or two wrinkles do emerge. There's no hill-hold function, so on an incline it will roll back as your foot moves from brake to throttle. At least it doesn't have one yet; when Tesla has written the software, the car will simply download the upgrade from the internet. Another issue at crawling speeds is a stutter when you lift off the throttle. It's the motor reversing polarity, turning into a generator to harvest the deceleration energy. Yu assures me it's noticeable only at 15-20km/h, and when the traffic finally moves it's gone.
There aren't many corners on the way to Hawthorne so I learn little about the car's dynamics, although it does have that weight-in-the-floor feel typical of electric cars and that gives a distinctive quality in bends. But I'd be encouraged to explore its potential on a country road. Acceleration is blistering. Eight-lane freeways can be hectic places when you're unsure if your blind spots are covered and rear visibility isn't a strong point, although not a deal-breaker. The Model S will leap between lanes if needed.
VERDICT
The Model S outperforms any other electric car available on range, yet is bigger and more practical.
Pricing Guides
$73,590
Based on third party pricing data
Range and Specs
| Vehicle | Specs | Price* | |
| --- | --- | --- | --- |
| 60 | —, EV, 1 SP AUTO | $58,520 – 67,320 | 2014 Tesla Model S 2014 60 Pricing and Specs |
| 85 | —, EV, 1 SP AUTO | $77,110 – 88,660 | 2014 Tesla Model S 2014 85 Pricing and Specs |
| P85 | —, EV, 1 SP AUTO | $74,690 – 85,910 | 2014 Tesla Model S 2014 P85 Pricing and Specs |
Pricing Guide
$58,520
Lowest price, based on third party pricing data
View cars for sale
Similar Cars
BMW 5 Series

Mercedes-Benz E-Class

Audi A6

Maserati Ghibli