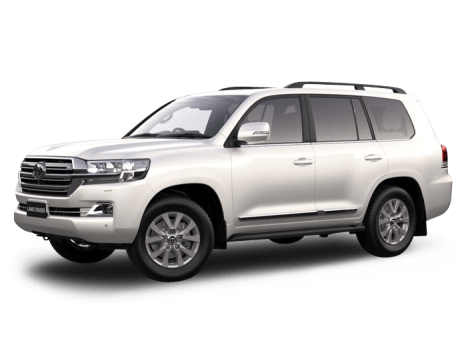 COMPARE
Toyota Land Cruiser
VS
Alfa Romeo Stelvio
Toyota Land Cruiser
Likes
Driving a living legend
Tough-truck looks
Go-anywhere capability
Dislikes
Driving it on anything that's not a mountain
Trying to shut the door
Contemplating the price
---
Alfa Romeo Stelvio
Likes
Sexy design
Sporty handling
Great chassis
Dislikes
Reliability fears of it being Italian
Some cheap feeling touches
Doesn't sound like an Alfa
Summary
Toyota Land Cruiser
Andrew Chesterton road tests and reviews the new Toyota LC70 LandCruiser GX single cab with specs, fuel consumption and verdict.
You take your life into your own hands when you say this, but the 70 Series Toyota LandCruiser isn't perfect. In fact, it isn't perfect in lots of ways.
Explore the 2017 Toyota LandCruiser Range
But such is the burning passion for this Aussie (well, Japanese) icon that any criticism of it, no matter how fair, is greeted with howls of protests by our bearded brethren of the bush, who will accept nothing less than top marks for the mighty 'Cruiser.
And it's hard to blame them: if your morning commute includes cresting glorious mountains and powering through standing water deep enough to swallow a hatchback, you'll find few that do it better than the hard-as-nails Toyota. 
There's a reason people say the 70 Series LandCruiser powers the Aussie bush, and that's because it's the place where this vehicle feels truly at home. When you're thousands of kilometres from anywhere else, durability and reliability count above all. And this tough Toyota offers that in spades.
But… if you live in the city, can see a city from your house, or have ever visited a city (or seen a photo of one), then the 70 Series LandCruiser will feel a touch agricultural. And by that we mean there are forklifts that offer more creature comforts than this thing. 
We spent a week with one of the most utilitarian of the lot - the LC79 GX cab chassis ($64,990) - to see how we'd get along.
| | |
| --- | --- |
| Safety rating | |
| Engine Type | 4.5L turbo |
| Fuel Type | Diesel |
| Fuel Efficiency | 10.7L/100km |
| Seating | 3 seats |
---
Alfa Romeo Stelvio
Just how important are looks, really? Sure, if you're a model, or you're asking Rihanna or Brad Pitt for a date, or you're a sports car, or a super yacht, being attractive is helpful. But if you're an SUV, like Alfa Romeo's new, brand-reshaping Stelvio, does it really matter?
There are some people who believe all SUVs are ugly because they are simply too big to look good, in the same way that all 12-foot tall people, no matter how good-looking, would be undeniably off-putting.
Yet there are undeniably a lot of people who find SUVs, particularly expensive European ones, very much attractive, as well as practical, because how else could you explain the fact that cars like this Stelvio - mid-sized SUVs - are now the biggest-selling premium segment in Australia?
We're set to snap up more than 30,000 of them this year, and Alfa wants to take as much of that tasty sales pie chart as it can. 
If success could be put down to looks alone, you'd have to back the Stelvio to succeed fabulously, because it truly is that rarest of things, an SUV that's actually attractive, even sexy. But does it have what it takes in other areas to tempt buyers into choosing an Italian option over the trusted Germans?
| | |
| --- | --- |
| Safety rating | |
| Engine Type | 2.0L turbo |
| Fuel Type | Premium Unleaded Petrol |
| Fuel Efficiency | 7L/100km |
| Seating | 5 seats |
Verdict
Toyota Land Cruiser
6.5/10
It's loud, rough and so overtly masculine you can feel the hairs growing on your chest as you drive it. And while we couldn't live with it day-to-day, we applaud the fact it exists.
Tell us your best LC70 LandCruiser story in the comments below.
---
Alfa Romeo Stelvio
8/10
Properly beautiful in a way only Italian cars can ever be, the new Alfa Romeo Stelvio really is what the marketeers promise - a more emotional, more fun and better-looking option to the German offerings we've been served up for so long. Yes, it's an Italian car, so it might not turn out to be quite as well built as an Audi, Benz or BMW, but it will definitely make you smile more often. Particularly when you look at it.
Are the Alfa's looks enough to tempt you away from the Germans? Tell us in the comments below.
Design
Toyota Land Cruiser
6/10
Function over form is the order of the day here. Everything that exists on the exterior of the LC79 is there for a reason, from its chunky and thick tyres, the monstrous plastic snorkel or the chicken wire-style mesh that protects the back windscreen like that honky-tonk bar from The Blues Brothers (Bob's Country Bunker - Ed).
There's an undeniable retro-cool to the look (mostly because it is retro, and has barely changed over the years), mixed with a kind of overt masculinity thanks to its bulbous bonnet scoop and a huge bumper bar that juts forth from the grille like Jay Leno's chin.
Inside, it's clean and functional. Expect no touchscreen here. Nor a digitalised driver's binnacle, reversing camera or electric anything. When you leave the car, for example, you need to push down the door-lock button and then hold the door handle up as you slam the door. The last time I remember doing that I think I had a beeper attached to my belt.
Everywhere you turn there are reminders that this car was born in an era when tough mattered. Even shutting the door requires a monstrous effort, with anything but the most brutal of force resulting in a warning light on the dash that serves as a blinking reminder you lack the physical strength to manhandle this car. Needless to say, we saw that light quite a lot.
---
Alfa Romeo Stelvio
9/10
It might be unfair to suggest Italians are more interested in design than anything else, but it would only be honest to suggest that it often feels that way. And when that obsession with making things look good results in a car as curvaceous, sensuous and sporty as this, who could argue that it's a bad thing?
I once asked a senior Ferrari designer why Italian cars, and super cars in particular, look so much better than German ones, and his answer was simple: "when you grow up surrounded by so much beauty, it's natural to make beautiful things".
For Alfa to produce a car, like the Giulia, that reflects its brand's design aesthetic and proud sporting heritage - it is the brand that gave birth to Ferrari, as its spin doctors like to remind us - is almost expected, or predictable.
But to perform the same feat on this scale, on a big, bulky SUV with all of its proportional challenges, is a real achievement. I'd have to say there's not a single angle from which I don't like the look of it.
The interior is almost as good, but does fall down in a few areas. If you buy the 'First Edition Pack', a $6000 cost and one that's only available to the first 300 people to rush in, or the 'Veloce Pack' they'll also offer ($5000), you get really nice sporty seats and shiny pedals, and the panoramic roof, which manages to let light in without cutting your headroom off.
Buy an actual base model, however, for a notional $65,900, and you'll get a lot less class. The steering wheel won't feel as sporty, either, but no matter which variant you buy you're stuck with a slightly cheap and plastic-feeling gear shifter (which is also a bit counterintuitive to use), which is a shame, because it's a touch point you'll use every day. The 8.8-inch screen is also not quite of German standard, and the sat nav can be temperamental.
The cool-steel gear-shift paddles, on the other hand, are absolutely gorgeous, and would feel at home on a Ferrari.
Practicality
Toyota Land Cruiser
7/10
Is your view of practicality being able to drive up practically anything? Then Toyota's got good news for you. Better still, the LC79 GX has a claimed payload of 1235kg and a towing capacity of 3.5 tonnes - both of which are impressive numbers. 
Inside, the basic two-seat layout offers a single cupholder to share between passengers, but a storage bin between the seats comes in handy for securing loose items.
---
Alfa Romeo Stelvio
8/10
We were lucky enough to drive this car early, on a recent family holiday in Italy, and can tell you that the boot (525 litres) can swallow an astonishing amount of poorly packed crap, or a metric tonne of Italian wine and food, if it happens to be shopping day.
The load space is practical and easy to use, and the rear seats are also capacious We may or may not have tried to pack three adults and two kids in there at one stage (not on a public road, obviously, just for fun) and it was still comfortable, while I can easily sit behind my own 178cm driving position without my knees coming close to brushing the seat back. Hip and shoulder room are also good.
There are map pockets in the seatbacks, plenty of bottle storage in the door bins and two American-sized cupholders, and a big storage bin, between the front seats.
Price and features
Toyota Land Cruiser
6/10
Cost of entry for the LC79 GX is $64,490 (the same as the LC76 GXL Wagon), which is no picnic no matter how you shake it. And that spend buys you a fairly sparse product.
All creature comforts are cost extra. Air-conditioning, for example, adds $2761 to the bottom line. The tray, tow bar, and trailer wiring harness add another $4305 (but that's the fitted cost), and our test car also got diff locks, which add another $1500. All of which brings the final number to a touch over $73k, before on-road costs.
For that, you get cloth seats, plastic door trims and a scattering of ashtrays. Your radio is Bluetooth-equipped, your windows are manually operated and your plastics are so hard they could be used to cut diamonds.
But all of that is superfluous, really. What you're buying is a tried-and-tested workhorse, and this one has been put through an extra 100,000kms of what Toyota calls "extreme heavy-duty local testing". Toyota toured mine sites and cattle farms across the country, taking in the red dirt of the outback to the rocky escarpments of alpine country to the towering sand dunes of the northern NSW, feeding that information back to Japan while the LC79 was being developed.
---
Alfa Romeo Stelvio
8/10
If you're buying the absolute base model Stelvio at $65,990, which we'd suggest you shouldn't because it is a far, far better car with the adaptive dampers fitted, you get all those good looks thrown in for free, plus 19-inch, 10-spoke alloys, a 7.0-inch driver instrument cluster and the 8.8-inch colour multimedia display with 3D satnav, Apple CarPlay and Android Auto, an eight-speaker stereo, the 'Alfa DNA Drive Mode System' (which mainly seems to light up some graphics but supposedly allows you to choose between Dynamic, Normal and an eco-friendly option you'll never use.
But wait, there's more, including cruise control, dual-zone climate control, an electric tailgate, front and rear parking sensors, rear camera, hill-descent control, electrically adjusted front seats, leather seats (not the sporty ones, though) and a tyre-pressure-monitoring system. 
It's quite a lot of gear for the cash, but as we say, most people will want to step up to the extras you get - and most tellingly the adaptive dampers - with either the First Edition ($6000) or Veloce ($5000) packs.
Alfa Romeo is keen to point out how keen its pricing is, particularly against German offerings like Porsche's Macan, and it does seem like good value, even at just north of $70k.
Engine & trans
Toyota Land Cruiser
7/10
It's a single-engine offering right across the LC70 range, with a torque-rich 4.5-litre turbo-diesel V8 paired with a five-speed manual transmission the only combo on offer. The engine generates 151kW at 3400rpm, but a very healthy 430Nm from a low 1,200rpm.
Like the rest of the LC70 range, the LC79 has undergone an engine upgrade in line with Euro5 standards (the very standards that saw the demise of the Land Rover Defender and Nissan Pathfinder), with a diesel particulate filter added and a tweaking of the gear ratios to make second and fifth taller for better fuel economy. Stability and traction control were also included for the first time in October last year.
---
Alfa Romeo Stelvio
7/10
Because I am older than the internet, I'm still mildly baffled every time I see that a car company is attempting to fit a four-cylinder engine into a largish SUV like the Alfa Romeo Stelvio, so I'm always politely surprised the first time such a small-engined big car manages go up a hill without exploding.
While bigger, faster Stelvios will arrive later in the year, with the all-conquering QV set to land in the fourth quarter, the versions you can buy now must make do with a 2.0-litre four-cylinder petrol engine making 148kW/330Nm, or the 2.2T diesel with 154kW/470Nm (a 2.0 Ti will also arrive later, with a more fabulous 206kW/400Nm).
It should come as no surprise from those numbers that the diesel is actually the better option to drive, with not only more usable, down-low torque (the max arrives at 1750rpm) but more kilowatts as well. The 2.2T thus gets from 0-100km/h in 6.6 seconds, quicker than the petrol (at 7.2 seconds) and also quicker than competitors like the Audi Q5 (8.4 in diesel or 6.9 petrol), BMW X3 (8.0 and 8.2) and Mercedes GLC (8.3 as a diesel or 7.3 in petrol).
Even more surprisingly, the diesel sounds slightly better, more growly, when you attempt to drive it hard, than the slightly wheezy petrol. On the down side, the 2.2T does sound tractor like at idle in multistorey car parks, and neither engine sounds even vaguely like you would want an Alfa Romeo to.
The diesel is the pick at this level - doing an impressive job despite being asked to do the equivalent of piggybacking Clive Palmer up a hill - but the 2.0 Ti (which will hit 100km/h in a more impressive 5.7 seconds) would be worth waiting for.
Fuel consumption
Toyota Land Cruiser
6/10
The tweaks have seen fuel economy improve by up to 1.2 litres per hundred kilometres, now a claimed/combined 10.7L/100km. CO2 emissions are also a little better, now 281 grams per kilometres - 32 grams less than before.
---
Alfa Romeo Stelvio
8/10
Alfa is also keen to point out that its new Stelvio is class leading when it comes to fuel economy, with claimed figures of 4.8 litres per 100km for the diesel (no one else gets under 5.0L/100km, they say) and 7.0L/100km for the petrol.
In the real world, driven enthusiastically, we saw 10.5L/100km for the petrol and closer to 7.0 for the diesel. The simple fact is you will need, and want, to drive them harder than those claimed figures suggest will be possible.
Driving
Toyota Land Cruiser
7/10
A nightmare on anything even resembling an actual road. The steering is the same soft and spongy experience you'll find in most serious four-wheel drives, while the suspension feels like it sees more travel than your average pilot. 
The turning circle, too, is a curiosity, turning even the most rudimentary U-turns into a three-point effort (if you're lucky). Toyota claims the turning circle figure as 14.4 metres, which is considerably longer than the wagon version. The blame is laid at the feet of the cab chassis' longer wheelbase (3180mm versus 2780mm).
But this is a car set up almost entirely for serious off-road work. And we mean serious. Those who tackle nothing harder than the gravel driveway of a Hunter Valley winery need not apply. The floor matts are constructed from hard-wearing (and easy to hose out) plastic, while the gearing is set up with first gear so short is serves almost no purpose on the tarmac.
Get it moving, and there's heaps of torque available for mid-range acceleration, and it's plenty brisk enough for overtaking, but the ride doesn't inspire confidence on the freeway, and we found ourselves travelling at just below the speed limit instead of on it. At 100km/h, though, it buzzes about, even with Toyota's focus on improved NVH this time around.
But all of that is largely irrelevant. If you're buying this car to navigate sealed roads, then there's probably something quite wrong with you. In fact, even if lightweight 4WDing is in your future, this car is overkill. There are plenty of cheaper options (including those from Toyota) that will tackle some pretty serious terrain, but will do it in what will feel like luxurious comfort by comparison.
If you require the battle-hardened services of a retro-styled legend, however, Toyota's 70 Series LandCruiser is the car for you. In fact, with stricter emission programs spelling the end for Nissan's Pathfinder and the Land Rover Defender, it's just about your only option.
Full disclosure: We didn't venture far off road (we saved that for the LC76 GXL Wagon), but with the same basic architecture, the same 4WD set-up (two-speed transfer case with auto-locking front hubs), and the addition of Toyota's off-road focused 'A-TRC' active traction control (which serves as kind of off-road and digital LSD, preventing wheel spin on low-grip surfaces), we're confident it would shine just as brightly.
---
Alfa Romeo Stelvio
8/10
Much like sitting down to watch the Socceroos lose again, I've learned not to expect too much from the driving experience offered by SUVs, because  the way they drive clearly has little relevance to the way they sell.
The Alfa Romeo Stelvio comes as a genuine surprise then, because it drives, not just like a sports car on slightly rubbery stilts, but like an impressive but high-riding sedan.
Reports about how good the QV version is have been flooding in for some time now, and I've been taking them with large spoonfuls of salt, but it's clear to see how that car can be so sharp and exciting to drive, because the chassis of this car, as well as the suspension set-up (at least with the adaptive dampers) and the steering, are built to cope with far more power and vigour than is on offer in this base model.
That's not to say this version feels horribly underpowered - there are a few times when we were overtaking up a hill that more power would have been welcome, but it was never slow enough to be worrying - just that it's clearly built for more.
In almost all situations, the diesel, in particular, provides enough grunt to make this mid-size SUV genuinely fun. I actually smiled while driving it, several times, which is unusual.
Most of that is down to the way it corners, rather than the way it goes, because this thing really is a light, nimble and enjoyable car on a twisty bit of road.
It feels genuinely involving through the steering wheel and genuinely capable in the way it holds on to the road. The brakes are genuinely good, too, with plenty of feel and force (apparently Ferrari had some involvement here, and it shows).
Having driven a far more basic model, without the adaptive dampers, and being less than impressed overall, I was surprised at how good the First Edition Pack cars we drove on some properly challenging roads were.
This really is a premium mid-size SUV I could almost, just about live with. And, if it's the right sized car for your lifestyle, I'd absolutely understand you wanting to buy one.
Safety
Toyota Land Cruiser
6/10
Part of this latest update saw Toyota upgrade the safety credentials of its LC70 range, and while the wagon variants oddly missed out on some of the changes, the LC79 got the lot. 
The entire range now gets traction control, stability control, hill-start assist, brake assist and electronic brake-force distribution as standard kit, while the single-cab models (including the LC79) got new under-dash padding, new seats and seating frames, and new and stronger body panels.  
The utes also scored three extra airbags (joining the two front bags), including two curtain bags and a driver's knee airbag. The result was a maximum five-star ANCAP safety rating, tested against 2016 criteria.
---
Alfa Romeo Stelvio
8/10
There's much talk from Alfa about how its offering wins on emotion and passion and design, and not being bland and off-white/silver German, but they're also keen on saying that it's a rational, practical and safe alternative, as well.
Alfa claims, yet again, a class-leading safety score for the Stelvio, with a 97 per cent adult occupancy score in Euro NCAP testing (aka a maximum five stars).
Standard equipment includes six airbags, AEB with pedestrian detection, blind-spot monitoring with rear cross path detection and lane-departure warning.
Ownership
Toyota Land Cruiser
7/10
The LandCruiser LC79 GX is covered by a three-year/100,000km warranty, and will require a visit to a service centre every six months or 10,000 kilometres. 
Toyota's capped-price servicing program limits the cost of each service to $340 for each of the first six services.
---
Alfa Romeo Stelvio
8/10
Yes, buying an Alfa Romeo means buying an Italian car, and we've all heard the jokes about reliability, and heard companies from that country claiming those problems are behind them. 
The Stelvio comes with a three-year/150,000km warranty, to make you feel safe, but that's still not quite as good as the Giulia, which is being offered with a five-year one. We'd be pounding the desk and demanding they match that offer.
Servicing costs are another point of difference, the company claims, being cheaper than the Germans at $485 a year, or $1455 over three years, with those services coming every 12 months or 15,000km.