2020 Mitsubishi Pajero
Pricing and Specs
Click here to see 2021 pricing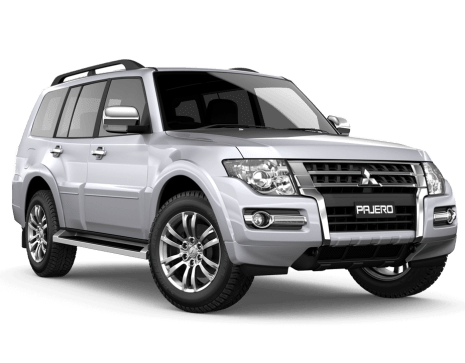 Pricing starts from
$54,490
Based on Manufacturer's Suggested Retail Price (MSRP)
The Mitsubishi Pajero 2020 is available in Diesel.
Interested in a Mitsubishi Pajero?
Request A Brochure
Locate A Dealer
Book A Test Drive

Insurance Quote

Get Secured Car Loan
SUV
Mitsubishi Pajero Models
SPECS
PRICE
Exceeed (4X4) 7 Seat

3.2L

Diesel

Diesel

5 SP AUTO

5 speed automatic

$62,990

GLS (4X4) 7 Seat

3.2L

Diesel

Diesel

5 SP AUTO

5 speed automatic

$59,990

GLS (4X4) 7 Seat (leather)

3.2L

Diesel

Diesel

5 SP AUTO

5 speed automatic

$60,990

GLX (4X4) 7 Seat

3.2L

Diesel

Diesel

5 SP AUTO

5 speed automatic

$54,490

GLX5 (4X4) 5 Seat

3.2L

Diesel

Diesel

5 SP AUTO

5 speed automatic

POA
* Manufacturer's Suggested Retail Price
Mitsubishi Pajero 2020 FAQs
Check out real-world situations relating to the Mitsubishi Pajero here, particularly what our experts have to say about them.
What is causing my 2014 Mitsubishi Pajero to blow black smoke, jolt through gears and only go 60km/h?

The Mitsubishi Pajero is actually regarded as a very reliable vehicle, so your experience is not typical. There are several potential causes for this, but the thing I'd check first would be the air filter. Is it possible this was overlooked during the recent service? A blocked or dirty air filter will certainly make an engine blow smoke and operate poorly.

I'm assuming your vehicle is a diesel, so it would be worth checking the suction-control valve on the back of the fuel pump, too. Also, a stuck injector that is pouring fuel into the engine can also potentially create these symptoms. I've also heard of the Pajero diesel suffering from a build-up of black gunk inside the intake system that can also cause symptoms like the ones you've described.

Show more

Should we replace our Holden Commodore with a Subaru Outback?

A car with a little extra ground clearance is great for camping as it often allows you to get a little farther away from the masses in their caravans who tend to huddle around the shower block at bush campsites.

The Subaru Outback is a good, solid choice and if you can find an independent workshop to service it, you'll avoid the cost of dealership prices. And you're right, the all-wheel-drive would be great for gravel roads. Another vehicle to look at would be a late-model Ford territory diesel which is big and clever inside and has the option of all-wheel-drive. The diesel engine is a plus on the bush where that fuel is more readily available (in really remote areas) and gives you more range for big holidays in the mulga.

Don't rule out things like the Mitsubishi Pajero, either, which won't be as around-town friendly, but is a proven quantity and is absolutely tremendous off-road. The same goes for a Toyota Prado or Nissan Pathfinder prior to the current model (which is a bit less hard-core adventure).

Show more

Mitsubishi Pajero 2002: Is 324,000kms too many?

Engines are amazing things, Renee. Neglected, they can fall to bits in a surprisingly short space of time. But treat them properly with the correct preventative maintenance and you'd be surprised how far they'll go before they wear out.

What you haven't told me is whether your vehicle is diesel or petrol powered. That said, both the diesel and petrol engines fitted to this model Pajero are well regarded in the trade and capable of going the distance if, as you claim, the servicing has been by the book. Over the distance you've quoted, I'd expect the diesel to have needed possibly a new turbocharger and definitely new fuel-injectors, while the petrol V6 can cover this distance without any major work.

But while the engine might, indeed, have lots of life left in it, what about all the other components? The brake rotors, shock absorbers, transmission and many other intrinsic parts of the vehicle wear out, too. So, just because the engine is fit and healthy, doesn't mean the rest of the car will be so tip-top and ready for another 300,000km.

Show more
See All Mitsubishi Pajero FAQs
Disclaimer: You acknowledge and agree that all answers are provided as a general guide only and should not be relied upon as bespoke advice. Carsguide is not liable for the accuracy of any information provided in the answers.
Interested in a Mitsubishi Pajero?
Request A Brochure
Locate A Dealer
Book A Test Drive

Insurance Quote

Get Secured Car Loan