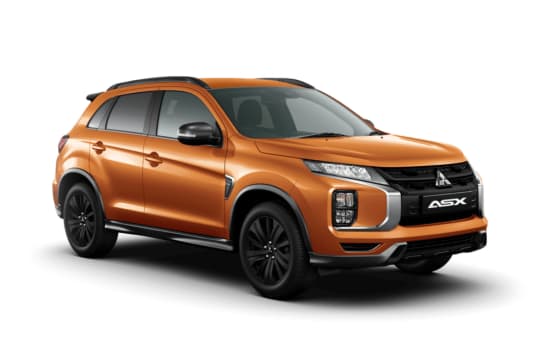 COMPARE
Mitsubishi ASX
VS
Mitsubishi Eclipse Cross
Mitsubishi ASX
Likes
Lots of space
New nose looks better
Apple CarPlay/Android Auto
Dislikes
Buzzy pedals
Lumpy ride in town
Just about everything, actually
---
Mitsubishi Eclipse Cross
Likes
Good interior space
Fuss-free media interface
Choice of 2WD or AWD
Dislikes
Safety reserved for expensive variants
Not overly fun to drive
LED headlights only on top spec
Summary
Mitsubishi ASX
The world is chock-a-block with enduring mysteries. The Loch Ness Monster, people who consider Taylor Swift's anodyne pop 'classic' material and the eternal descent of global politics.
To that I will add (perhaps unkindly), the Mitsubishi ASX. It's old - very old - and competes in a market full of interesting, stylish and gadget-stacked offerings from other makers. Including, oddly enough, Mitsubishi's own Eclipse Cross.
Mitsubishi is having a bit of an Alfa Romeo phase as it seemingly prevaricates and pontificates about what to do next.
Being the newest member of the Renault-Nissan-Mitsubishi Alliance, there's a massive toy box of stuff to pick from before hitting the go button on an ASX replacement. Or, as it turns out, another one.
Thing is, in Australia at least, the ASX doesn't need a replacement, it's walloping everything in its class. For 2020, the evergreen, ever-daggy ASX gets a(nother) facelift, a few spec tweaks and, one expects - nay, hopes - renewed vigour.
| | |
| --- | --- |
| Safety rating | |
| Engine Type | 2.0L |
| Fuel Type | Regular Unleaded Petrol |
| Fuel Efficiency | 7.7L/100km |
| Seating | 5 seats |
---
Mitsubishi Eclipse Cross
The Mitsubishi Eclipse Cross was facelifted and updated for 2021, with a revised look and new tech available across the model range. 
And for 2022 the brand has introduced a high-tech new plug-in hybrid (PHEV) electrified version, giving it an interesting selling point against some of its small SUV rivals.
The Eclipse Cross, however, is hardly the best-known small SUV nameplate for Mitsubishi – that honour clearly goes to the ASX, which still sells in huge numbers despite having been on sale in its current generation guise for more than a decade.
The Eclipse Cross, on the other hand, launched in Australia in 2018, and this facelifted model still retains its eye-catching looks, but tones things down a bit in terms of the design. It's also grown to a length that almost makes it more of a Mazda CX-5 rival than before.
The prices have shot up, too, while the new PHEV model pushes it beyond the "cheap and cheerful" level. So, can the Eclipse Cross justify its positioning? And are there any catches? Let's find out.
| | |
| --- | --- |
| Safety rating | |
| Engine Type | 1.5L |
| Fuel Type | Regular Unleaded Petrol |
| Fuel Efficiency | 7.3L/100km |
| Seating | 5 seats |
Verdict
Mitsubishi ASX
6.5/10
If I seem like I've been too hard on the manual ASX, you may well be right. It's really not my kind of car, but I know Mitsubishi can do better. What winds me up about it is that the company knows it doesn't have to, because the automatic ASX continues to fly off the forecourts.
Of course it doesn't in manual form and it's fairly easy to see why. It's not particularly cheap, doesn't have a lot of stuff (apart from a tonne of space) and I'd be surprised if dealers even mention its existence to shoppers.
If your heart is set on an ASX, skip the manual and use the saved energy to talk a dealer down the extra to get a CVT version. And there's a new mystery to add to the collection - I just recommended a CVT over a manual.
---
Mitsubishi Eclipse Cross
7.4/10
For some buyers the Mitsubishi Eclipse Cross may have made more sense in pre-facelift guise, when it had its clever sliding second row seat. But since then there have been improvements, including better rearward visibility from the driver's seat and the inclusion of a forward-thinking future-ready drivetrain.
The changes have helped keep the turbo-petrol Eclipse Cross competitive, though I'd struggle to suggest it's a better SUV than a number of other really good competitors in this segment. The Kia Seltos, Hyundai Kona, Mazda CX-30, Toyota C-HR, Skoda Karoq and VW T-Roc all come to mind.
With the addition of the PHEV versions of the Eclipse Cross there is a new level of appeal for a certain type of buyer, though we're not sure how many customers there are out there looking for a small SUV from Mitsubishi that costs fifty grand or more. We'll see how the PHEV stacks up soon.
It's an easy choice for which is the best version of the Eclipse Cross – it's the turbo-petrol Aspire 2WD. If you can live without AWD, there's no reason to consider any other grade, as the Aspire has the most important safety items, and a few luxury inclusions, too.
Design
Mitsubishi ASX
The first ASX was a style-free zone. It had virtually no adornments. The styling was detectable only with a device with the sort of sensitivity that can detect an alien burping on a planet circling Alpha Centauri.
Did the job for a few years before another going-over made it look almost contemporary, but it stuck with the gawky profile.
This latest update puts a whole new, ill-fitting front end on the ASX but it looks a heck of a lot better. The 'Dynamic Shield' face from elsewhere in the range makes the car look fresh out of the box from the front, with Triton-esque slim headlights and a properly chunky look.
The new clamshell-style bonnet is nifty, or would be if the panel gaps weren't all over the place.
Then you see the side and rear and realise it's just the same old ASX with a bit of makeup on and new LED tail-lights that, to be completely fair, would look pretty good on any other car.
Amusingly, Mitsubishi has also slapped the Dynamic Shield on the Mirage - it really works on the ASX, it really doesn't on the tiddly hatch.
The cabin is the same old thing, with a natty new pattern on the seats that looks quite fetching, and a couple of new bits of trim here and there.
Ahead of the shifter is a piece of trim with an unexplained circular cut-out that is filled with the same patterned plastic. It really irrirates me and has been there for years, but at least the weird cupholder with a little sign that told you not to use as a cupholder is gone.
---
Mitsubishi Eclipse Cross
7/10
It's certainly a different look to its conventionally boxy small SUV counterparts, and stands as a nice counterpoint to the curvy brigade that also fills a few spots in this part of the market.
But does that design come with compromise? Of course, but not as much as it used to with the pre-facelift model.
That's because the rear end has seen a major change – the blind-spot-inducing strip that ran across the rear glass has been removed, meaning Honda Insight fans will have to, er, buy a Honda Insight instead.
That makes it a better piece of automotive design, because it's easier to see out of. Plus the new-look rear end is attractive, in a "I'm trying to look like a newer X-Trail" kind of way.
But there are some styling elements that remain questionable, like the choice of identical alloy wheels across all four grades. Surely if you're an Exceed buyer, paying 25 per cent more than a base model customer, you'd like that to be seen by the Smiths next door? I know I'd prefer a different alloy wheel design, at least for the top spec.
And there are other things. Those headlights – they're the clusters in the front bumper, not the bits at the top where the headlights usually are. That's not a new phenomenon, and nor is the fact the brand has LED daytime running lights on all grades. But what's not great is the fact there are halogen lights for three out of four grades, meaning you're going to have to spend about $40,000 on the road to get LED front lighting. For context, some rival compact SUVs have LED lighting range wide, and at a lower price.
The 'regular' Eclipse Cross can't really be differentiated from the PHEV model at a quick glance - only the eagle-eyed among us may pick the specific 18-inch wheels fitted to the PHEV versions, while the, ahem, large PHEV badges on the door and boot are also giveaways. The weird joystick gear selector is another giveaway.
Now, calling the Eclipse Cross a small SUV is starting to be a bit of a literal stretch, with this updated model measuring 4545mm long (+140mm) on its existing 2670mm wheelbase, and it's 1805mm wide and 1685mm tall. For reference, a Mazda CX-5 is just 5mm longer, and it's considered a benchmark midsize SUV! 
Not only did the small SUV just push the segment boundaries in terms of size, there's also a questionable design change inside the cabin – the removal of the sliding second row seat.
I'll get to that – and all the other interior considerations – in the next section. That's where you'll also find interior images.
Practicality
Mitsubishi ASX
The one thing right about the Mitsubishi is the space (cue reverb effect).
For a compact SUV, it's huge inside. Front and rear passengers luxuriate in reasonably comfortable seats with plenty of head and legroom. Front and rear rows each have a pair of cupholders but only the front doors will hold a bottle.
Boot space is very generous, starting at 393 litres and with the rear seats out of the way, 1193 litres. If you end up choosing another ASX, be aware that the Exceed's fully-hectic sub-woofer is so fully hectic it swallows up 50 litres to deliver sick beats.
---
Mitsubishi Eclipse Cross
8/10
The interior of the Eclipse Cross used to be more practical.
It's not often you get to a mid-life update of a car and the brand decides to take away one of the best features – but that's what happened with the Eclipse Cross. 
You see, the pre-facelift models had a clever sliding second row seat, which allowed you to apportion space effectively – either for passengers, if you didn't need cargo space, or to the boot, if you had little or no passengers. There was 200mm of actuation to that slide. That's no small amount in a car of this size.
But that's now gone, and it means you miss out on a clever feature that made the Eclipse Cross impressive for its class.
It still maintains some impressive traits, including the fact it has better than average rear seat space, and better than average cargo capacity – even if there's no sliding rear row.
The boot space is now 405 litres (VDA) for the non-hybrid models. That's not too bad compared to some rivals, but in the pre-facelift car you were able to adjust between a big 448L cargo hold, and a 341L storage area if you needed more backseat occupant space.
And in the hybrid models, the boot is small because there is extra hardware under the floor, meaning a cargo hold of 359L (VDA) for PHEV models.
The rear seats still recline, and there's still a space-saver spare wheel under the boot floor as well - unless you choose the PHEV, which doesn't have a spare wheel, instead making do with a repair kit. 
We managed to fit all three CarsGuide hard suitcases (124L, 95L and 36L) in the boot of the non-PHEV version with room to spare.
The back seat is fine for adults and kids alike. Because it shares the same wheelbase as the ASX and Outlander I had enough space for – I'm 182cm or 6'0" tall – to be sat comfortably behind my own driving position.
There's good toe room, decent knee room and good head room – even in the Exceed model, with its double sunroof.
Back seat amenities are fine. The base model has a single map pocket where higher grades get two, and there are bottle holders in the doors, and in LS, Aspire and Exceed models you get cup holders in a flip-down armrest. One thing you might like if you're a backseat regular in the Exceed is the inclusion of second-row outboard seat heating. Shame, though, there are no rear seat directional air vents in any grade.
The front seat area offers good storage for the most part as well, with bottle holders and trenches in the doors, a decent centre console bin, a pair of cupholders between the seats, and a reasonable glove box. There's a small storage section in front of the gear selector, but it's not quite spacious enough for a larger smartphone.
Another thing that makes the ES non-hybrid model feel strange is its manual handbrake, which is enormous and eats into more console space than it really ought to – the rest of the range have electronic park brake buttons. 
There are two USB ports in the front, one of which connects up to the 8.0-inch touchscreen media system. You can use Apple CarPlay or Android Auto smartphone mirroring, or Bluetooth. I had no issues with the connectivity, other than – always having to hit the "Always Enable" button when reconnecting my phone.
The design of the media screen is a good one – it sits up high and proud, but not so high as to intrude on your line of view when driving. There are knobs and buttons to control the screen, and some familiar – but looking old – buttons and controls for the climate system, too.
Another thing showing the age of the underpinnings of the Eclipse Cross is the instrument cluster, and the digital driver info screen too. It doesn't have a digital speedometer readout – an issue in nanny states – so if you want that, you have to get the Exceed model with the head-up display. That screen – I swear it was in a mid-2000s Outlander, it looks that old.
And the overall cabin design, while hardly special, is nice. It's more modern than the current ASX and Outlander, but not nearly as fun or functional as newer entrants in the segment like the Kia Seltos. And nor does it look anywhere near as exceptional as a Mazda CX-30's cabin, no matter which spec you choose. 
But it does its space utilisation well, and that's a good thing for an SUV of this size.
Price and features
Mitsubishi ASX
One of the weirdest things about the ASX is that it's not very cheap, with one exception - the entry-level ES with the manual transmission, landing at $23,990. Or, more accurately, $24,990 drive-away at the time of writing.
I hold a deep suspicion that it won't take much arm-twisting to reduce the price considerably. In fact, a slightly stern look should do it.
The ES spec includes 18-inch alloys (where competitors will sling you steel wheels with hubcaps), a four-speaker stereo, climate control, reversing camera, remote central locking, cruise control, LED headlights, leather wheel and shifter, power folding rear vision mirrors and a space-saver spare. Slim, but useful pickings.
A new 8.0-inch screen sits proudly in a new-looking centre stack with DAB+, Android Auto and Apple CarPlay. The sound is pretty ordinary and the Mitsubishi software has a very 1980s Stranger Things feel about it, but the hardware is okay and works well with smart phones.
You get the distinct impression Mitsubishi has learnt what 'just enough' means for its buyers. That attitude permeates the whole car.
There are seven colours, one free (white), five for a puzzling $740 and one for a scandalous $940. For comparison, Mazda's (beautiful) premium colours are $300 and there are just two of them.
---
Mitsubishi Eclipse Cross
7/10
This revised version of the Mitsubishi Eclipse Cross introduced in 2021 saw a price hike, with cost increases across the entire model range. This part of the story has been updated as a price change came into effect from 1 Oct 2021 for MY22 models.
Per the pre-facelift model, the ES 2WD opens the range priced at an MSRP of $30,990 plus on-road costs.
The LS 2WD ($32,990 MSRP) and LS AWD ($35,490 MSRP) remain the next steps up the range ladder.
There's a new nameplate second-from-top-of-the-turbo-range, the Aspire 2WD which lists at $35,740.
And the flagship turbo-petrol Exceed is still available in 2WD ($38,990 MSRP) and AWD ($41,490 MSRP).
There are also limited-run models - the XLS and XLS Plus grades - and that's not where the pricing story stops. The 2022 Eclipse Cross takes a step into new territory with the brand's new PHEV powertrain. 
The high-tech hybrid drivetrain is offered in the entry-level (read: fleet-focused) ES AWD at $46,490, while the mid-spec Aspire costs $49,990 and the top-end Exceed lists at $53,990. All the powertrain details can be found in the relevant sections below.
As we all know, Mitsubishi plays hardball in the transaction price stakes, so check out the Autotrader listings to see what driveaway prices are out there. Even with stock shortages, let's just say there are deals to be had. 
Next, let's take a look at what you get across the model range.
The ES grade opens things with 18-inch alloy wheels with a space-saver spare wheel, LED daytime running lights, halogen headlights, a rear spoiler, cloth interior trim, manual front seat adjustment, an 8.0-inch touchscreen media system with Apple CarPlay and Android auto, a reversing camera, four speaker stereo, digital radio, climate control air-conditioning, and a rear cargo blind.
Choose the LS and your extra expenditure will net you auto high-beam lights, LED front fog-lights, auto wipers, heated folding side mirrors, black roof rails, privacy glass at the rear, keyless entry and push-button start, a leather trimmed steering wheel, electronic parking brake, rear parking sensors and lane departure warning.
The next step up offers some impressive inclusions, with the Aspire gaining dual-zone climate control, heated front seats, a power-adjustable driver's seat, micro-suede and synthetic leather interior trim, auto-dimming rearview mirror, adaptive cruise control and added safety items – blind-spot monitoring, rear cross-traffic alert and more. See below for full details.
Go for the range-topping Exceed and you get full LED headlights (yes, you've got to spend nearly $40k for those!), a double sunroof, head-up display (making the Exceed the only grade with a digital speedometer, even in the PHEV models!), built-in TomTom GPS satellite navigation, a heated steering wheel, power adjustment for the front passenger seat, and full leather interior trim. You also get rear seat heating.
The colour options for Eclipse Cross models are very limited unless you're willing to pay extra for premium paint. Only White Solid comes at no cost, while the metallic and pearlescent choices add $740 – they include Black Pearl, Lightning Blue Pearl, Titanium Metallic (grey) and Sterling Silver Metallic. Those not special enough? There's also Prestige paint options, by way of Red Diamond Premium and White Diamond Pearl Metallic, both of which cost $940. 
There's no green, yellow, orange, brown or purple options available. And unlike lots of other small SUVs out there, there is no contrast or black roof option.
Engine & trans
Mitsubishi ASX
The dowdy 2.0-litre four-cylinder is unchanged (again) for 2020, with 110kW/197Nm. Those figures are class-competitive because as I always say, there appears to be legislation governing naturally aspirated compact SUV power outputs.
The basest of base specs has a five-speed manual gearbox (they're more common than you think, so I don't have a joke or exclamation of surprise here) driving the front wheels only.
No more all-wheel drive in the ASX, you have to go to the Eclipse Cross for that. Which is a pity, because the AWD ASX was almost compelling.
---
Mitsubishi Eclipse Cross
8/10
All models in the Eclipse Cross get a turbocharged engine that really puts the ASX model below it to shame.
The 1.5-litre turbocharged petrol four-cylinder motor isn't a horsepower hero, but it does offer class-competitive outputs on par with the likes of the Volkswagen T-Roc.
The power output for the 1.5L turbo is 110kW (at 5500rpm), while torque output is 250Nm (at 2000-3500rpm).
The Eclipse Cross is available with a continuously variable transmission (CVT) automatic gearbox only. There is no manual gearbox option, but all variants come with steering wheel-mounted paddle shifters so you can take matters in to your own hands.
It is available in front-wheel drive (FWD or 2WD), and there is the option of all-wheel drive (AWD) in the LS and Exceed variants. Note – this isn't a proper 4WD / 4x4 – there is no low range, but the electronically adjustable drivetrain system has AWD Normal, Snow and Gravel modes to suit the conditions you're driving on.
The plug-in hybrid version runs a larger, non-turbocharged 2.4-litre Atkinson cycle petrol engine, with that four-cylinder unit producing just 94kW and 199Nm. Those are only the outputs for the petrol engine, and don't factor in the additional oomph offered by the electric motors front and rear, and this time around Mitsubishi doesn't offer a maximum combined power and torque output when everything is working together.
But it is backed by two electric motors - the front motor has outputs of 60kW/137Nm, while the rear motor produces 70kW/195Nm. There is a 13.8kWh lithium-ion battery pack good for an electric driving range of 55km based on ADR 81/02 testing. 
The engine can power the battery pack in series hybrid driving mode, too, so if you want to top up the batteries before you get to a city, you can. There is regenerative braking, too, of course. More on recharging in the next section.
Fuel consumption
Mitsubishi ASX
Mitsubishi's official fuel figure weighs in at 7.7L/100km which, as I have discovered in the past, is a long way off reality.
A week in the manual delivered an even worse figure than the CVT I last drove, getting through 12.4L/100km (11.5 for the CVT) in the week I had it.
Granted, it was just me driving it, the usual softening influence of my wife was not available to the ASX.
---
Mitsubishi Eclipse Cross
7/10
Some small SUVs with downsized turbocharged engines stay close to the official combined cycle fuel consumption figure, while others have sticker fuel economy that seems impossible to achieve.
The Eclipse Cross falls into the latter camp. The 2WD models have official fuel use figures of 7.3 litres per 100 kilometres, while the AWD models are said to use 7.7L/100km. 
I drove it in ES FWD guise for a return of 8.5L/100km at the pump, while in the Exceed AWD I tested, the real-world bowser return was 9.6L/100km.
The Eclipse Cross PHEV has an official combined cycle fuel consumption figure of 1.9L/100km. That's astounding, really, but you need to realise that the test calculation is only for the first 100 kays - there's a really good chance your real-world consumption will be a lot higher, as you can only deplete the battery charge once before calling on the engine (and your petrol tank) to juice it back up.
We will see what kind of real-world figure we can achieve when we get the PHEV through the CarsGuide garages. 
It offers AC charging with a Type 2 plug that can fully recharge the battery in as little as 3.5 hours, according to the brand. It is also capable of DC fast charging with a CHAdeMO plug, filling from zero to 80 per cent in 25 minutes. 
If you're just wondering about recharging from a standard 10-amp household plug, Mitsubishi says it should take seven hours. Park it at night, plug it in, charge off-peak, and you could pay as little as $1.88 (based on a 13.6c/kWh offpeak electricity price). Compare that against my real-world average in the petrol-turbo AWD, and you could pay as much as $8.70 to cover 55km.
Of course that calculation is predicated on the notion that you will get the cheapest electricity rate and you will achieve that entire EV driving distance… but you need also consider the additional purchase cost to get into the PHEV model over the regular Eclipse Cross. 
Driving
Mitsubishi ASX
For some reason I was hoping the manual ASX would be a better car to drive than its CVT siblings. That proves two things. The first, is I have a short memory, and the second... I have a short memory.
I last drove a manual ASX five or so years ago. It was not my favourite car then owing to the engine buzz, the long, light clutch and the gear lever stolen from a pole vaulter's kit bag.
And for all the same reasons, some half a decade later, the manual ASX is still not very good.
Adding to the ASX's issues is the fact that having better access to the power and torque means a propensity to spin the inside wheel with moderate steering lock and throttle applied together.
The tyres screech away with entertaining abandon and the traction control light comes on like that flickering, distant lightning 20 minutes after a storm has blown through.
The CVT's torque steer is one of the aforementioned great mysteries - despite not having a huge amount of torque, the auto model still manages to pull the steering wheel under power.
That's all manageable, though. What isn't is the buzzing you get from the pedals. Once you're moving you realise that you don't have your feet planted on the shopping channel vibrating foot thing.
The accelerator, brake and clutch all have a hotline to a beehive. I got out more than once shaking my right leg because it felt like it was asleep.
Once you're over all that, you find that the ASX is a bit lumpy and bumpy around town, despite a multi-link rear end.
Cars like the Hyundai Kona and Nissan Qashqai make the most of that tricky bit of suspension, but not the ASX.
It's weird to ask extra then deliver a ride that isn't demonstrably better than a cheaper torsion beam set-up (sharp speed bumps being the only exception).
The steering is also slow, so you're constantly twirling the wheel when you're moving around the city and the burbs. And the electric assistance is all over the place, making you wonder what you're actually doing.
Slow steering is fine for a car if you can take it off road, but the ASX isn't an off-roader anymore.
And after all of that, the manual shifter is so long that if your grip is anything other than completely orthodox, you can actually trap your hand between the dashboard and the gear knob when you go for third.
I think you've probably got the point. This is not the pick of the ASX range, not by a long way. And the manual makes it worse in the city, not better.
---
Mitsubishi Eclipse Cross
7/10
Don't go thinking that because the Eclipse Cross has a thrusty little turbo engine that it's going to be sporty to drive. It isn't.
But that's not to say it's not rapid in its acceleration. It can get moving pretty quickly, provided you catch the CVT in its sweet spot.
That's the thing with CVTs and turbo engines – sometimes you can have laggy moments that you're not expecting, while at other times, you might be greeted with better response than you think you'll get. 
I found the Exceed AWD to be particularly prone to confusion when it came to acceleration, with some noticeable hesitation and sluggishness compared to the ES 2WD I also drove. The ES felt comparatively rapid, while the (admittedly 150kg heavier) Exceed AWD was lazy.
And when it comes to other driving attributes, the Eclipse Cross is just fine.
The suspension doesn't do anything untoward – the ride is good for the most part, though it can be a bit wobbly in corners and lumpy over bumps. But it's comfortable and could make a great commuter car.
The steering is accurate enough, but it's a bit slow when you're changing direction, meaning you feel like you'd want more aggressive response. That could also come down to the Toyo Proxes tyres – they're hardly sporty numbers.
But at city speeds, when you're parking the car in tight spots, the steering does a good enough job.
And that's actually a pretty apt ending for this segment of the review. Good enough. You can do better – like in a VW T-Roc, Kia Seltos, Mazda CX-30, or Skoda Karoq.
But what about the PHEV? Well, we haven't yet had the chance to drive the plug-in hybrid model, but we intend to see how it stacks up in the near future, with a real-world range test and full detailed driving and charging impressions in our EVGuide part of the site. Stay tuned.
Safety
Mitsubishi ASX
The ASX arrives with seven airbags, ABS, stability and traction controls, forward AEB (up to 80km/h), forward collision warning and that's it.
For a very solid $2500, you can add lane departure warning, auto high beam, reverse sensors, blind spot warning, lane change assist and rear cross traffic alert. There's a catch, though - you can't have it on the manual.
Explore the Mitsubishi ASX in 3D
On top of that, it's a lot when the Kia Seltos (yes, with steel wheels and halogen headlights) already starts with one or two of those features and charges just $1000 for its advanced safety pack.
The Mazda CX-3 is full of safety gear without ticking boxes.
The maximum five-star ANCAP safety rating stretches back to 2014 when the rules were quite different. I won't speculate on what it might achieve in 2020 as-is, but five stars might be tricky.
---
Mitsubishi Eclipse Cross
7/10
The Mitsubishi Eclipse Cross was awarded a five-star ANCAP crash test safety rating in 2017 for the pre-facelift model, but you can bet your backside that the brand isn't anticipating a re-do – so that score still applies across the petrol-turbo and PHEV model range,
The brand does, however, take a different tact to the likes of Toyota, Mazda and other leaders in safety spec. It still has that old world mentality of "if you can afford to pay more, you deserve to be safer". I don't like that.
As such, the range has increasing levels of safety technology the more you spend, and that's the case across the petrol-turbo and the PHEV models.
All versions come with forward autonomous emergency braking with forward collision warning, which operates between 5km/h and 80km/h. The AEB system includes pedestrian detection, too, which works between 15km/h and 140km/h.
All models also come with a reversing camera, seven airbags (dual front, driver's knee, front side, side curtain for both rows), active Yaw control, stability control, and anti-lock brakes (ABS) with brake force distribution.
The base model car misses out on things like auto headlights and auto wipers, and you'll have to get the LS if you want rear parking sensors, lane departure warning and auto high-beam lights.
The step from LS to Aspire is a worthy one, adding adaptive cruise control, blind-spot monitoring, rear cross-traffic alert, and front parking sensors.
And from Aspire to Exceed, there's the addition of the brand's Ultrasonic Misacceleration Mitigation System, which can dull throttle response to prevent potential low speed collisions in close quarters.
Where is the Mitsubishi Eclipse Cross built? The answer is "made in Japan".
Ownership
Mitsubishi ASX
Mitsubishi has a five-year/100,000km warranty with one year of roadside assist in the form of membership to your state or territory's motoring organisation (eg RACV, RACT, NRMA).
The three-year capped price servicing regime is not bad and every service you get at the dealer extends the roadside cover for another 12 months.
A small bit of good news for you - where previously a service was $240, they're now $199 for all three during the program, with the initial 1000km service remaining free (and annoying).
---
Mitsubishi Eclipse Cross
8/10
Here's where Mitsubishi could win over plenty of buyers who aren't sure what small SUV to get.
That's because the brand offers a 10 year/200,000 kilometre warranty plan for its range… but there's a catch.
The warranty is only that lengthy if you maintain your car with Mitsubishi's dedicated dealer service network over the 10 years/200,000km timeline. Otherwise, you get a five-year/100,000km warranty plan. That's still decent.
The PHEV model comes with a caveat - the traction battery is covered for eight years/160,000km, no matter where you have the car serviced, despite Mitsubishi's website stating "it's a good idea to get your Mitsubishi electric or hybrid vehicle serviced at an authorised PHEV dealer to that your vehicle performs at its best".
But why wouldn't you service with the dealer network, given the maintenance costs are pegged at $299 per visit, due every 12 months/15,000km? That's good, and is applicable to the first five services. The maintenance costs vary from six years/75,000km, but even over a 10-year period, the average cost is $379 per service. That's for the turbo-petrol job, anyway.
The PHEV's service costs are slightly different: $299, $399, $299, $399, $299, $799, $299, $799, $399, $799 - making an average cost of $339 for the first five years, or $558.90 per visit over 10 years/150,000kn. That's another reason the PHEV might not make sense for you.
Mitsubishi also gives owners four years of included roadside assist when they service their car with the brand. That's not bad, either.
Worried about other potential reliability issues, concerns, recalls, automatic transmission quibbles, or anything else of that ilk? Check out our Mitsubishi Eclipse Cross problems page.