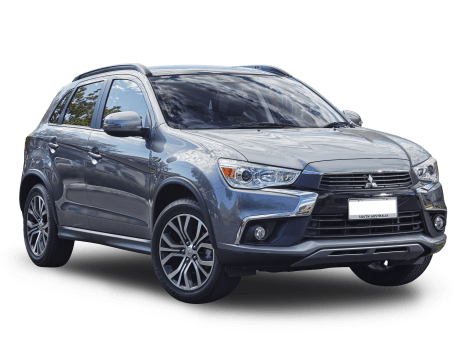 COMPARE
Mitsubishi ASX
VS
Fiat 500X
Mitsubishi ASX
Likes
Cheap
Good safety package
Interior space
Dislikes
Weak engine/transmission combination
Iffy ride and handling
Feeling old
---
Fiat 500X
Likes
Fun looks
Good interior
Great safety package
Dislikes
Iffy transmission
Oddball ride
Slow
Summary
Mitsubishi ASX
You can never be completely sure about the age of a car, but I reckon the Mitsubishi ASX has taken over as the elder statescar after the demise of Holden's Captiva. The old Holden was commissioned by the pharaoh Khufu while the ASX arrived a few years later... in 2009.
Over the last near-decade, the ASX has consistently sold without any major changes. Evolution has been the name of the game (ironically), with now-annual running changes to the ASX to try and keep it fresh.
The compact SUV segment is enormously competitive, with new entrants squeezing the ASX harder than ever. Amazingly, despite being ready for the pension, it still manages to post excellent sales figures when by rights it should be languishing near the bottom - old cars are old news.
| | |
| --- | --- |
| Safety rating | |
| Engine Type | 2.0L |
| Fuel Type | Regular Unleaded Petrol |
| Fuel Efficiency | 7.7L/100km |
| Seating | 5 seats |
---
Fiat 500X
Fiat's indomitable 500 is one of the great survivors - not even VW's recently deceased New Beetle could keep riding the nostalgia wave, partly because it made itself just that little bit out-of-touch by not being a car anyone can buy. The 500 avoided that, particularly in its home market, and is still going strong.
Fiat added the 500X compact SUV a few years ago and at first I thought it was a daft idea. It's a polarising car, partly because some people complain it's capitalising on the 500's history. Well, duh. It's worked out well for Mini, so why not?
I've driven one every year for the last couple so I was keen to see what's up and whether it's still one of the weirdest cars on the road.
| | |
| --- | --- |
| Safety rating | |
| Engine Type | 1.4L turbo |
| Fuel Type | Premium Unleaded Petrol |
| Fuel Efficiency | 5.7L/100km |
| Seating | 5 seats |
Verdict
Mitsubishi ASX
6.3/10
It might be as old as the hills but the ASX keeps going. It's tempting to say it's on life support, but it still does the job, and with the new ADAS package, there's still life in the old dog. It's also cheaper than before, although why you'd want to spend money on the Exceed when you have everything that's worthwhile in the ES ADAS or LS is beyond me. As for the pick of the range, I'd go for the LS - it has the nicer interior trim and better seats.
The ASX will be with us for a while yet - as the newest member of the Renault-Nissan Alliance, whatever was on the way has been delayed. So for now, the ASX is the roomiest, cheapest and among the best-equipped in its class. It's just a shame it has to be so boring.
Does the ASX do what you need or is the old-timer too far off the pace? Tell us what you think in the comments below.
---
Fiat 500X
6.8/10
The 500X is a fun-looking alternative to the various options available from everyone else and is - overall - better to drive than its Renegade twin. 
It packs a very good safety package which you can't ignore but does lose points on the warranty and servicing regime. But it's also built to take four adults in comfort, which not every car in the segment can boast.
Would you choose the Fiat 500X over one its better-known competitors? Tell us in the comments section below.
Design
Mitsubishi ASX
5/10
The early cars were a study in minimalism and looked so bare they could have come straight out of an early Grand Theft Auto game, such was the lack of detailing. These later models feature lashings of chrome and a far less timid approach, on the nose at least. The profile has been the same for the better part of a decade, with just the occasional addition like new wheels or wing mirrors.
The 18-inch wheels give the car a good solid stance and the paint looks pretty good these days. But that's pretty much it. The ASX is a box on wheels with doors that clang when you shut them.
Inside has once again had a going-over. The last proper update to the cabin made it a much better place to be. The part-suede interior of the LS is the one to go for, the Exceed's leather merely adds to the overall cheap-feel. The ASX is entirely unpretentious - no soft plastics, no attempt to cover gaps or blanks (the fifth cupholder is now covered by a dodgy-looking cap) and the switchgear is a mix-and-match arrangement to get the job done. Nothing wrong with that, but it might leave an aesthete twitchy.
---
Fiat 500X
7/10
Look, I like the 500X, but I know why people don't. It's clearly a 500X in the way a Mini Countryman is a Mini. It looks like a 500, but get closer and you see the difference. It's chubby like a $10 weekend market Bhudda statue and has great big googly eyes like Mr Magoo. I find this endearing, my wife does not. The looks aren't the only thing she doesn't like.
The cabin is a bit more restrained and I quite like the band of colour stretching across the dash. The 500X is meant to be a bit more grown up than the 500, so there's a proper dash, more sensible design choices but it still has the big buttons, perfect for the meaty fingers of people who won't be buying this car.
Practicality
Mitsubishi ASX
7/10
Straight up, I'll answer a common question - how many seats? The ASX is as near as you'll get to a five-seater in this segment. Interior photos show generous interior dimensions, its boxy exterior design delivering a good size cabin.
Front seat passengers score a pair of cupholders and a decent-sized central bin with a lid on top doubling as an armrest. Rear seat passengers miss out on many things - there's just one seatback pocket but there are two cupholders in the armrest.
Boot space starts with 393 litres, which is near the top of the class. If it's maximum luggage capacity you're after, drop the 60/40 split-fold rear seat and you'll have 1193 litres.
Despite looking like it's on stilts, the ground clearance is 205mm, which is significantly higher than the segment's low-rider, the Mazda CX-3. As you might expect, if you're this low-slung - and without 4 wheel drive, off-road ability is compromised.
The 4.4m long ASX's turning circle is a small-ish 10.6 metres.
---
Fiat 500X
7/10
At just 4.25 metres, the 500X isn't big, but makes the most of what it's got. The boot impresses at 350 litres and with the seats down, I think you could reasonably expect to triple that figure, though Fiat doesn't have an official number that I can find. For added Italian feel, you can tip the passenger seat forward to get really long things in, like a Billy bookshelf flat pack from Ikea.
Rear seat passengers sit high and upright meaning leg and kneeroom are maximised and with that tall roof, you won't scrape your head. 
The doors each have a small bottle holder for a total of four and Fiat has got serious about cupholders - the 500X now has four.
Price and features
Mitsubishi ASX
7/10
The MY19 upgrade - one of many over the ASX's long and fruitful life - has brought some changes to the price list and a rejig of the available models. There's a new entry-level model, the ES, the mid-point LS and a range-topping Exceed. All pricing is RRP and how much you pay is between you and your dealer. The drive-way price is helpfully listed on the Mitsubishi website, however. Our model comparison features the full price range.
A big change for MY19 is the end of the all-wheel drive (AWD) for the ASX, with just front-wheel drive on offer. So no more AWD option, meaning if you're after an off-road review, you're out of luck.
The new entry-level ES means it's now $1510 cheaper than before for the cheapest ASX.
The ASX now starts at $23,490 for an ES with a manual gearbox and $25,490 for the CVT automatic transmission. The value proposition is pretty reasonable - you get 18-inch alloys, four-speaker stereo, climate control, reversing camera, halogen headlights, leather gear shifter and steering wheel, power folding rear vision mirrors, cruise control, power windows all round, cloth trim and a space saver spare tyre.
The ES ADAS is $26,990 and is essentially the ES with a safety pack, which you can read about in the safety section.
Moving on to the second of the three models, the LS starts at $27,990 and is auto-only - so no manual transmission. To the ES spec you can add keyless entry and start, the 'ADAS' safety package, rear parking sensors, fog lights, auto high beam, auto headlights and wipers and partial leather seats with fake suede inserts (which are rather good, actually).
The $30,990 Exceed adds leather, two speakers to make the speaker number six as well as a sunroof.
The ES and LS comes with a four-speaker sound system while the top of the range Exceed scores six speakers. All of them have the same 8.0-inch touchscreen multimedia system. What is standard across the range is iPhone and Android integration with Apple CarPlay and Android Auto respectively. The new screen looks good and the updated software is easy to use, but it's not very well integrated - for instance, Apple CarPlay's clock disappears off the edge of the screen.
There is no sat nav (hmmm) or CD player (far enough, it's 2018), but there is digital radio, Bluetooth connectivity and a baffling screen that displays your GPS co-ordinates.
There are seven colours available - black, 'Lightning Blue', 'Titanium' (grey, obviously), red, 'Sterling Silver' and 'Starlight' all cost an extra $590 while white is a freebie. Not surprisingly, orange and brown are off the menu.
---
Fiat 500X
7/10
I drove the Pop Star, which is the second of the now-two model "regular" range, the other being the, er, Pop. I drove a Special Edition in 2018 and it's not clear if it is Special as there's also an Amalfi Special edition. Anyway.
The $30,990 (plus on-road costs) Pop Star has 17-inch alloys, six-speaker Beats-branded stereo, dual-zone climate control, reversing camera, keyless entry and start, active cruise control, sat nav, auto headlights and wipers, leather shifter and steering wheel and a space-saver spare.
The Beats-branded stereo speakers are supplied with noise from FCA's UConnect on a 7.0-inch touchscreen. The same system is in a Maserati, don't you know. Offering Apple CarPlay and Android Auto, UConnect loses points by shrinking the Apple interface into a lurid red frame. Android Auto properly fills the screen, for some reason which is ironic given Apple owns the Beats brand.
Engine & trans
Mitsubishi ASX
5/10
The ASX's model simplification extends to the drivetrain. Gone is AWD and diesel, leaving just one petrol engine. The engine specs read fairly adequately - the 2.0-litre naturally aspirated four-cylinder delivers 110kW/197Nm. As with the rest of the segment, engine size and power seems to be legislated to almost these exact specifications.
The 0-100 acceleration performance is best described as leisurely and noisy. The motor, codenamed 4B11, uses a chain rather than timing belt, which should help keep service costs down and improve long-term reliability. The 4B11 is capable of producing a lot more horsepower, but sadly the version of the engine in the Evo X is not available.
On the upside, this simplicity means no turbo problems or diesel problems and in this unstressed spec, engine problems are unlikely to occur with regular servicing.
Power reaches the front wheels through Mitsubishi's ubiquitous continuously variable transmission (CVT). LS buyers can choose a less than bang-up-to-date five-speed manual, but that's probably down to the fact almost nobody buys a manual.
If you're interested in the tank size, oil type and weight, the owners manual lists these things. The CVT seems a hardy if unspectacular unit, so gearbox problems appear unusual in my sweep of the usual internet forums. The CVT's abilities, however, are another thing entirely.
Towing capacity is rated at 750kg unbraked and 1300kg braked.
Just in case you're wondering, there is no LPG (or gas) option.
---
Fiat 500X
7/10
Fiat's rather excellent 1.4-litre turbo MultiAir does duty under the stubby bonnet, making 103kW and 230Nm. Rather less excellent is the six-speed dual-clutch automatic transmission, which sends power through the front wheels only.
It's rated to tow a 1200kg braked trailer and 600kg unbraked.
Fuel consumption
Mitsubishi ASX
6/10
Mitsubishi says the ASX's fuel economy figures are 7.6L/100km of 91 RON petrol. Fuel tank capacity is listed at 63 litres. If you can eke out this sticker figure mileage you could squeeze out nearly 800km of range. We found its real-world fuel consumption is closer to 11.5L/100km in a mix of city and highway driving.
---
Fiat 500X
6/10
Fiat rather optimistically suggest you'll get a combined cycle figure of 5.7L/100km but try as I might, I couldn't do better than 11.2L/100km. What's worse, it demands 98RON fuel, so it's not the cheapest car to run. This figure us consistent with past weeks in the 500X and no, I wasn't thrashing it.
Driving
Mitsubishi ASX
5/10
The ASX is the archetypal appliance on wheels. It's one of the least involving cars you will ever drive. The inconsistently-weighted steering completely insulates you from the road. It seems to need an extra quarter turn to do anything and that gets tired pretty quickly.
The CVT auto is rudimentary at best, completely outclassed by that in the Honda HR-V. The pronounced rubber band feel is something that takes some time to get used to and requires a keen eye on the speedo.
The all-around independent suspension promises much but delivers the workmanlike performance of a bored politician who knows they're resigning before the next election. Sharp bumps resonate through the cabin and body control is lacking - turn the wheel left to right and it ties itself up in knots. But once you're up to speed, it's a comfortable rider.
The safety systems seem to work reasonably well, although we did find the reverse cross traffic alert to have longer range sensors than the Starship Enterprise.
---
Fiat 500X
6/10
Again, I shouldn't like the 500X but I really don't mind it. It's flawed, which might be why.
The dual-clutch transmission is dumber than a box of loose cogs, lurching from start and looking the other way when you expect it to shift. We know the engine is a good one and I think part of the reason it's so thirsty is the confused way the transmission goes about its business. I'd love to drive a manual to see what it's like.
The 500X initially feels worse than its Jeep Renegade sibling-under-the-skin, which is quite an achievement. Part of that is to do with the ride, which is very choppy below 60km/h. The first 500X I drove wallowed about but this one is a bit tauter, which would be good if you weren't punished with this bounciness.
The seats themselves comfortable and the interior is a good place to hang out. It's reasonably quiet, too, which is at odds with the old-school silliness of its conduct. It feels like Labrador let out of after day kept inside.
And that's where the car I shouldn't like is a car I do like - I really like that it feels like you're on Roman cobblestones, the type that make your knees hurt when you walk on them for a day. The steering wheel is too fat and is at a weird angle, but you kind of square up to it and drive the car like your life depends on it. You have to take it by the scruff, correct the shifts with the paddles and show it who's boss.
Obviously, that's not for everyone. If you drive it really gently, it's a very different experience, but that means going slowly everywhere, which is no fun at all and not at all Italian.
Safety
Mitsubishi ASX
8/10
Across the range you get seven airbags, ABS, stability and traction controls, reversing camera and emergency brake assist.
If you need to load up a baby car seat, there are three top-tether anchor points and two ISOFIX anchors.
In the interests of transparency and for an opportunity to self-deprecate for your amusement, about a year ago I wrote that the ASX was missing advanced safety systems and was unlikely to see them anytime soon.
A few weeks later, Mitsubishi released an update which included forward AEB, something that is standard on its CX-3 rival.
That update is called the ADAS package, optional on the ES and the same features are standard on the Exceed. ADAS includes lane departure warning, lane change assist, forward AEB and rear cross traffic alert. You also get auto wipers and headlights and rear parking sensors.
Irritatingly, the LS loses blind spot warning, lane change assist and rear cross traffic alert with no apparent way to get them on that spec. The Exceed's package also picks up automatic high beam.
The ASX has a maximum five-star ANCAP safety rating, awarded in 2014.
---
Fiat 500X
8/10
Out of the box, you get seven airbags, ABS, stability and traction controls, forward collision warning, high and low speed AEB, active cruise control, rollover stability, lane departure warning, lane keep assist, blind spot sensor and rear cross traffic alert. That's not bad for a $30,000 car full stop, let alone a Fiat.
There are two ISOFIX points and three top-tether anchors for baby seats. 
The 500X scored a five-star ANCAP rating in December 2016.
Ownership
Mitsubishi ASX
7/10
The ASX now has a five-year/100,000km warranty with one year of roadside assist in the form of membership to your state or territory's motoring organisation (eg RACV, RACT, NRMA). The three-year capped price servicing regime also includes extending that membership another 12 months.
Each service will cost you $240 which isn't especially cheap nor is it overly-pricey. Annoyingly, the car demands to be returned to the dealer at the 1000km mark for a free look-over.
A quick search reveals an absence of common problems, faults or issues. It seems a pretty solid sort of car, with few common complaints from owners. Resale value is heavily dependent on the model, with early cars not doing as well as later updates.
---