Mild hybrids explained: Everything you need to know about MHEVs in Australia

What does MHEV stand for?
A: A Mild Hybrid Electric Vehicle (MHEV) is a petrol or diesel-powered vehicle that adds in a small motor to provide assistance to the internal-combustion engine (ICE). Unlike full hybrid cars, MHEVs can't be solely powered by the electric motor, as it is solely used to provide improved performance and better efficiency. 
A hybrid vehicle is the safe middle ground between a full electric vehicle (EV) and a petrol-powered vehicle - it features both a battery-powered electric motor and an internal-combustion engine, making it slightly more environmentally friendly vehicle with better fuel consumption than a standard ICE vehicle. 
In much the same way that a mild chilli won't quite have the same kick as the hot variety, a MHEV is like a watered-down, less bold version of a hybrid, where a small electric motor (usually in the form of an integrated starter generator, or ISG) is added to the powertrain for the purposes of both saving on fuel and providing an extra boost when needed. 
The electric motor in a MHEV kicks into action when the vehicle is coasting, braking, or stopped, in which case the ICE is switched off to conserve fuel (mild hybrid technology also helps the engine to restart quickly when required). 
The electric motor can also provide power to assist to the car in certain situations, like when the MHEV needs a boost during rapid acceleration.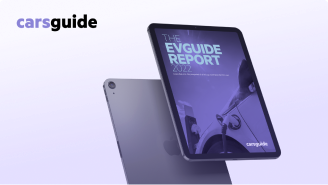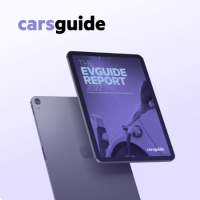 Download the EVGuide Report, 2022
Australia's one-stop snapshot of all things relating to electric cars.
Download for free
Some MHEVs also employ regenerative-braking technology, where kinetic energy that's created when the vehicle slows down is transferred either directly to the electric motor, or to a battery for storage (some MHEVs come with a self-charging battery, but not all). 
Since the electric motor in a MHEV is relatively small and used only to assist, a MHEV is incapable of driving in all-electric mode, which is something most full hybrids can do. 
To make things a little confusing, MHEVs also go by a few other names (although 'mild hybrid' is the most common): chiefly 'power-assist hybrids' and 'battery-assisted hybrid vehicles' (BAHVs). 
A short history of MHEV cars
Way back in 1889, William H. Patton - potentially a pseudonym for Back To The Future's Doc Brown - filed a patent application for a gasoline-electric hybrid rail-car propulsion system (whether it was capable of time-travelling was not documented). 
A decade later, Henri Pieper emerged with the world's first ever petrol-electric hybrid automobile; and he was one-upped a year later, in 1900, by Ferdinand Porsche - yes, the legendary one - who had developed a series-hybrid that set two speed records. 
Victor Wouk earned himself the venerable title of the "Godfather of the Hybrid" thanks to his work on hybrids in the 1960s and '70s with Dr. Charles L Rosen. 
The Toyota Prius, launched in Japan in 1997, was the first mass-produced hybrid and went on to become an enormous success, sometimes topping the sales charts for cars in Japan. 
Early versions of MHEVs include the 1999 Honda Insight, the 2005-07 Chevrolet Silverado in the US, and the 2009 Saturn Vue Greenline.
As of 2021, there are a number of mild hybrid models in Australia.
A selection of MHEVs available in Australia 
Volvo XC60 B5

Price: From $68,540, plus on-road costs 
Volvo's mid-size, all-wheel-drive SUV has ditched the option of a diesel engine in favour of a 48V mild-hybrid system, powered by a regenerative-braking system branded as a Kinetic Energy Recovery System (KERS). The turbocharged XC60 B5 packs a 2.0-litre, four-cylinder engine that produces 183kW of power and 350Nm of torque. 
Audi Q5 40 TDI Quattro 

Price: From $68,900, plus on-road costs
Audi's mid-size luxury AWD SUV comes in a number of variants, including this MHEV that's powered by a 2.0-litre, four-cylinder turbo-diesel engine. The mild-hybrid tech makes this a particularly responsive model, and for those not fond of diesel, there's the 45 TFSI petrol version available for an extra $700. 
Mazda MX-30 G20E Evolve

Price: From $33,990, plus on-road costs
The base model of this MHEV SUV from Mazda has a 2.0-litre, four-cylinder engine and a combined fuel consumption of 6.4L/100km, which isn't a huge improvement on the non-hybrid MX-30, which comes in at 6.5L/100km. There's also an all-electric model, the MX-30 Electric, which goes for $65,490, plus on-road costs. 
Jaguar F-Pace R-Dynamic SE D300

Price: From $95,566, plus on-road costs
It may be at the upper-end of the price range, but what you're getting is a powerful 3.0-litre, six-cylinder turbo-diesel engine that produces 22kW of power and 650Nm of torque, all wrapped up in a package of Jaguar-patented luxury. Standard safety features include AEB, blind-spot assist, lane-keeping assistance and rear cross traffic alert.