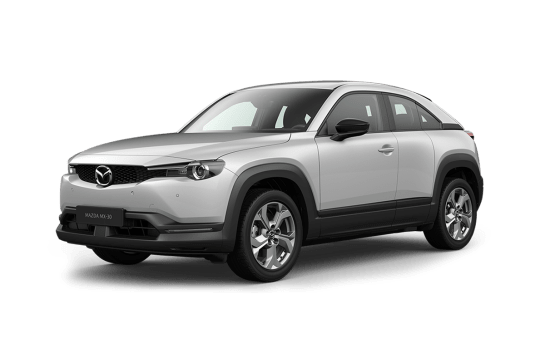 Mazda MX-30 Australia
What's on this page
Mazda MX-30 Models Price and Specs
The price range for the Mazda MX-30 varies based on the trim level you choose. Starting at $33,990 and going to $65,490 for the latest year the model was manufactured. The model range is available in the following body types starting from the engine/transmission specs shown below.
Year
Body Type
Specs
Price from
Price to
2022
SUV
2.0L, Hyb/ULP, 6 SP AUTO
$33,990
$65,490
2021
SUV
2.0L, Hyb/ULP, 6 SP AUTO
$27,900
$71,170
See All Mazda MX-30 Pricing and Specs
Mazda MX-30 Dimensions
The dimensions of the Mazda MX-30 SUV vary according to year of manufacture and spec level.
Year
Body Type
Height x Width x Length
Ground Clearance
2022
SUV
1545x1795x4395 mm
180 mm
2021
SUV
1545x1795x4395 mm
180 mm
See All Mazda MX-30 Dimensions
Mazda MX-30 Colours
The MX-30 Electric's standard colour palette is Ceramic Metallic, Jet Black Mica and Arctic White. Machine Grey Metallic and Polymetal Grey Metallic add $495.
A three-tone paint finish is also available, teaming grey pillars and a black roof with Ceramic Metallic for $995 or Soul Red Crystal Metallic for $1490, while a Polymetal Grey with silver pillars and a black roof combo also costs $1490 extra.
Ceramic Metallic

Jet Black Mica

Arctic White

Machine Grey Metallic

Polymetal Grey Metallic
Mazda MX-30 Interior
From a cabin perspective, you could call Mazda's first EV a tale of two cars.
Up front, it's typical Mazda in its design and layout, but it progresses what the brand has done over recent years, with a palpable up-step in quality and detailing.
There's plenty of room, even for taller people. They can stretch out, on comfortable and enveloping front seats offering a wide range of support. The layered lower centre console – even with its floating-like design – offers up a sense of space as well as style.
The MX-30's driving position is first class; ventilation is ample, storage is adequate and there isn't much that's strange or intimidating in here – and this is not always the case with EVs.
Mazda3/CX-30 owners will recognise the company's latest multimedia system, elegant instrumentation and standard head-up display.
The cork-like trim harks back to the company's distant past, however, while the electronic touch-display climate control system is new for the brand.
But the new electronic shifter – a thick yet stubby T-bar item that requires a hefty sideways shove to slot it from Reverse across to Park – is annoying. And the MX-30's side and rear vision is dreadful.
Which leads us to the back half of the Mazda EV.
Those Freestyle doors make entry and egress delightfully theatrical as the fixed centre (or 'B') pillar is eliminated, but you cannot open the rear doors without first opening the fronts (fiddly on the outside and a real stretch trying from the inside).
The back seat is tight, with limited knee room. And even though you'll find a centre armrest with cupholders, as well as overhead grab handles and coat hooks, there's no lighting back, directional air vents or USB outlets.
At least it's all nicely finished, with interesting colours are textures, briefly distracting you from how cramped and hemmed-in the MX-30 is for an SUV. And you're peering out of porthole windows, which may make it all seem a little bit claustrophobic for some.

Mazda MX-30 Speed
The MX-30 Electric will speed up from standstill to 100km/h in 9.7 seconds, on its way to a (speed limited) 140km/h.
Mazda MX-30 Boot Space
The Mazda's cargo capacity is meagre, being wide but shallow, with just 311 litres to exploit; as per almost every SUV on the planet, the rear seat-backs split and fold down, revealing a long and flat floor. This boosts boot volume to a more-useful 1670L.
Mazda MX-30 Q&As
Check out real-world situations relating to the Mazda MX-30 here, particularly what our experts have to say about them.
What electric car should I buy?

We can understand your feelings about the centrally-mounted screen in the Tesla, though you do get used to it surprisingly quickly.

As for the other models you've mentioned, we've had to get the crystal ball out to attempt to answer you!

The Polestar 2 will be on sale by the end of 2020, if all goes to plan. The company will be pushing hard to make that happen. 

The VW ID3 is likely not going to be here until 2021, likely the mid or latter part of that year. It certainly has a lot of potential, and with pricing set to start below $50,000, it could well be The People's (Electric) Car. 

There are other options coming, though it depends on your diary and your budget.

You could consider the Tesla Model S, which may have been around for a while, but that also means it has a more traceable reliability history. It has a digital instrument cluster in the regular spot as well.

Have you looked at the Jaguar i-Pace? It has a claimed range of 470 kilometres, though it is on the pricey side of the equation, starting from about $125,000.

Indeed, a high price tag is a common theme among those EVs with big battery capacity and expansive driving range, because you're basically covering the cost of the batteries with your money.

For instance, there's the Audi e-tron quattro, which is due here in early 2020. That model will have a range of "more than 400 kilometres", and - we suspect - a price tag above $120,000. 

The Mercedes EQC is about to go on sale, too. Range for that mid-size SUV is pegged at about 450 kilometres, but again, you can expect a high price tag.

If 2021 isn't too long to wait, there's the Volvo XC40 Recharge coming then. Based on our previous experience with Volvo XC40s, it'll be a great small SUV, with predicted range of 400km - though we think that's understating it, because it has a 78kWh battery pack, and it has AWD too.

At the more affordable end - though admittedly still not quite meeting your expectations for range - there's the very impressive Hyundai Kona Electric, which has a WLTP range of 449km, and a price tag of around $65k. It isn't all-wheel drive though.

And MG is about to launch a real upstart in the segment, with the ZS EV hitting showrooms soon for $46,990 drive-away, albeit with a range of 262km. It's also FWD only. 

The Mini Cooper SE will also arrive in mid-2020, with pricing set to be less than $60k. But again, a range of 270km will likely rule it out for your needs, and its 2WD as well.

Another new small EV due next year is the Mazda MX-30. Pricing is still to be confirmed, and range isn't great at about 300km. It's FWD too. 

In short, at this point in time - and out towards the end of 2020 - it looks like you'll either need to spend a big amount of money on a premium EV to get the best range possible, or you'll have to get used to the Model 3's screen. You could always get an aftermarket head-up display fitted…
See All Mazda MX-30 Q&As
Mazda MX-30 Accessories
Among the usual array of luxury, functionality and multimedia features like power windows, keyless entry/start, power folding electric mirrors that dip when put in reverse, Bluetooth audio streaming/telephony and climate control air-conditioning, you'll find adaptive cruise control with full stop/go functionality, auto high beams, 18-inch alloy wheels, a 360-degree view monitor, an electric sunroof, heated and powered front seats, a heated steering wheel and a leather-like synthetic upholstery dubbed "Vintage Brown Maztex".
Buyers will also likely appreciate an 8.8-inch widescreen colour display with Apple CarPlay and Android Auto functionality, a Bose premium audio system with 12 speakers, digital radio, satellite navigation and even a 220V domestic plug outlet (perhaps for a hair dryer?), while an elegant head-up display for speed and GPS info is reflected on the windscreen.

Mazda MX-30 Towing Capacity
The Mazda MX-30 has maximum towing capacity of 800kg for the latest model available.
Year
Body Type
Braked Capacity from
Braked Capacity to
2022
SUV
0kg
800kg
2021
SUV
0kg
800kg
See All Towing Capacity for Mazda MX-30
Mazda MX-30 Seats
The MX-30 Electric's front seats are richly textured, finished in a synthetic leather called Maztex, and feature full electric adjustment, height adjustment and lumbar support. Behind the driver's side backrest are two buttons that the rear occupant can use to move or recline the seat to help egress.
While the MX-30's back area is disappointingly tight for a small SUV, its seats are actually quite comfortable, even if they don't slide or recline like in some rival crossover alternatives. They seat three at a pinch, and have a 60/40 split backrest, for added versatility.

Mazda MX-30 Fuel Consumption
The Mazda MX-30 is available in a number of variants and body types that are powered by Electric and Hyb/ULP fuel type(s). It has an estimated fuel consumption starting from 6.4L/100km for SUV /Hyb/ULP for the latest year the model was manufactured.
Year
Body Type
Fuel Consumption*
Engine
Fuel Type
Transmission
2022
SUV
—
—
Electric
1 SP AUTO
2022
SUV
6.4L/100km
2.0L
Hyb/ULP
6 SP AUTO
2021
SUV
—
—
Electric
1 SP AUTO
2021
SUV
6.4L/100km
2.0L
Hyb/ULP
6 SP AUTO
See All Mazda MX-30 Pricing and Specs for 2022
Mazda MX-30 Wheel Size
The Mazda MX-30 has a number of different wheel and tyre options. When it comes to tyres, these range from 215x55 R18 9 for SUV in 2022.
Year
Body Type
Front Tyre Size
Front Rim
Rear Tyre Size
Rear Rim
2022
SUV
215x55 R18 9
—
215x55 R18 9
—
2021
SUV
215x55 R18 9
—
215x55 R18 9
—
See All Mazda MX-30 Wheel Sizes