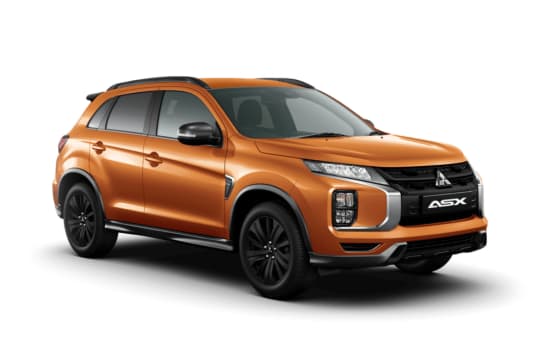 COMPARE
Mitsubishi ASX
VS
Subaru Forester
Mitsubishi ASX
Likes
Lots of space
New nose looks better
Apple CarPlay/Android Auto
Dislikes
Buzzy pedals
Lumpy ride in town
Just about everything, actually
---
Subaru Forester
Likes
Range-wide AEB and active cruise
Lots of kit for your $$$
Real-world practicality
Dislikes
Derivative styling
Engine missing turbo mid-range
Engine line-up has gone from 4-1
Summary
Mitsubishi ASX
The world is chock-a-block with enduring mysteries. The Loch Ness Monster, people who consider Taylor Swift's anodyne pop 'classic' material and the eternal descent of global politics.
To that I will add (perhaps unkindly), the Mitsubishi ASX. It's old - very old - and competes in a market full of interesting, stylish and gadget-stacked offerings from other makers. Including, oddly enough, Mitsubishi's own Eclipse Cross.
Mitsubishi is having a bit of an Alfa Romeo phase as it seemingly prevaricates and pontificates about what to do next.
Being the newest member of the Renault-Nissan-Mitsubishi Alliance, there's a massive toy box of stuff to pick from before hitting the go button on an ASX replacement. Or, as it turns out, another one.
Thing is, in Australia at least, the ASX doesn't need a replacement, it's walloping everything in its class. For 2020, the evergreen, ever-daggy ASX gets a(nother) facelift, a few spec tweaks and, one expects - nay, hopes - renewed vigour.
| | |
| --- | --- |
| Safety rating | |
| Engine Type | 2.0L |
| Fuel Type | Regular Unleaded Petrol |
| Fuel Efficiency | 7.7L/100km |
| Seating | 5 seats |
---
Subaru Forester
If you haven't seen Clint Eastwood's son, Scott, you should Google him - he's a dead ringer for his Dad. But while he might be following in his father's Hollywood footprints, he's of a completely new generation.
A similar story applies with the new fifth-generation Forester. It looks a lot like the model before it, but everything you see is actually new.
That's hardly a new phenomenon, with most previous Foresters representing a blur of evolutionary design. Subaru does this across the board, actually, to protect existing owners from feeling like they're yesterday's news, and to take advantage of feelings of fond familiarity when those owners look to update their cars.
This precludes a lot of the excitement of new design, but Subarus have rarely been about visual appeal (the fourth-gen Liberty is one big exception), rather a quirkiness that stands aside from a lot of the same-same from other mainstream brands, which is paired with the relative USP of all wheel drive.
So there's method to the mimicry, and every conceivable element has been improved. Matt Campbell was impressed after his limited experience at the Forester's international launch in July, but this week's Australian launch gave us the full picture of this latest version of Subaru's mid-size SUV.
| | |
| --- | --- |
| Safety rating | |
| Engine Type | 2.5L |
| Fuel Type | Regular Unleaded Petrol |
| Fuel Efficiency | 7.4L/100km |
| Seating | 5 seats |
Verdict
Mitsubishi ASX
6.5/10
If I seem like I've been too hard on the manual ASX, you may well be right. It's really not my kind of car, but I know Mitsubishi can do better. What winds me up about it is that the company knows it doesn't have to, because the automatic ASX continues to fly off the forecourts.
Of course it doesn't in manual form and it's fairly easy to see why. It's not particularly cheap, doesn't have a lot of stuff (apart from a tonne of space) and I'd be surprised if dealers even mention its existence to shoppers.
If your heart is set on an ASX, skip the manual and use the saved energy to talk a dealer down the extra to get a CVT version. And there's a new mystery to add to the collection - I just recommended a CVT over a manual.
---
Subaru Forester
7.9/10
It remains to be seen whether Scott Eastwood is able to match the cinematic legend of his father, but it's clear that the new Forester is better in every way than the model it replaces. If you were a fan of the old one, you'll love this one, and it's pretty tough to argue against if you're in the market for a mid-size SUV.
If you can live without leather seats, the 2.5i-Premium is probably the sweet spot of the range, given it brings all the safety gear, the bigger multimedia screen and the power tailgate for a list price of under $40,000. Having said that, the top 2.5i-S is also a pretty good deal for just $3000 more.
Would the new Forester tempt you away from a CX-5? Tell us what you think in the comments section below.
Also check out Matt Campbell's review video from the Forester's international launch:
Design
Mitsubishi ASX
The first ASX was a style-free zone. It had virtually no adornments. The styling was detectable only with a device with the sort of sensitivity that can detect an alien burping on a planet circling Alpha Centauri.
Did the job for a few years before another going-over made it look almost contemporary, but it stuck with the gawky profile.
This latest update puts a whole new, ill-fitting front end on the ASX but it looks a heck of a lot better. The 'Dynamic Shield' face from elsewhere in the range makes the car look fresh out of the box from the front, with Triton-esque slim headlights and a properly chunky look.
The new clamshell-style bonnet is nifty, or would be if the panel gaps weren't all over the place.
Then you see the side and rear and realise it's just the same old ASX with a bit of makeup on and new LED tail-lights that, to be completely fair, would look pretty good on any other car.
Amusingly, Mitsubishi has also slapped the Dynamic Shield on the Mirage - it really works on the ASX, it really doesn't on the tiddly hatch.
The cabin is the same old thing, with a natty new pattern on the seats that looks quite fetching, and a couple of new bits of trim here and there.
Ahead of the shifter is a piece of trim with an unexplained circular cut-out that is filled with the same patterned plastic. It really irrirates me and has been there for years, but at least the weird cupholder with a little sign that told you not to use as a cupholder is gone.
---
Subaru Forester
7/10
My first experience with the new Forester actually came the week before the launch, when I overtook one of the launch cars being run-in in country NSW.
It wasn't until I was within two car-lengths that I realised it was the new model, and this was approaching it from its most distinguished angle. The tail-lights are the biggest giveaway, with the slash of body colour eating into each light - as inspired by Subaru's recent Viziv concepts.
Many will probably need to see them parked side by side to pick the exterior from the old one, but the fundamental newness starts with its adoption of the latest Subaru Global Platform, as already seen with the Impreza and XV.
The body is now 53 per cent high-tensile steel, which makes for a stronger chassis that's lighter than it would be otherwise. Despite its growth and expanded list of features, the new Forester is just 26kg heavier as the base 2.5i, and 15kg as the top spec 2.5i-S.
In terms of size and dimensions, the key growth area has been an extra 30mm of wheelbase, which accounts for the lion's share of the extra 33mm between the front and rear seats that represents the biggest gain for interior dimensions.
As you'll see in the video and interior images, the inside is an evolution of the design used in the Impreza and the XV. The dashboard actually appears to be a direct lift from these, and is therefore dominated by vertical vents either side of the multimedia (6.5 inch on the lower two trim levels, 8.0 inch on the upper two) screen. There's a 6.3-inch multifunction display (MFD) atop the dash for monitoring vehicle functions, which is joined by a third screen in the instrument binnacle.
In the upper 2.5i-Premium and 2.5i-S variants (the ones we drove on test, at least), this means a good variety of materials and textures, although the soft golf ball-like surface on the centre console is hard on the door trims. It's also surprising to see leather trim limited to the top 2.5i-S.
Regardless, it all feels like a typical Subaru; good, resilient quality.
Practicality
Mitsubishi ASX
The one thing right about the Mitsubishi is the space (cue reverb effect).
For a compact SUV, it's huge inside. Front and rear passengers luxuriate in reasonably comfortable seats with plenty of head and legroom. Front and rear rows each have a pair of cupholders but only the front doors will hold a bottle.
Boot space is very generous, starting at 393 litres and with the rear seats out of the way, 1193 litres. If you end up choosing another ASX, be aware that the Exceed's fully-hectic sub-woofer is so fully hectic it swallows up 50 litres to deliver sick beats.
---
Subaru Forester
9/10
Real-world practicality has always been a Forester hallmark, and the new model pushes the envelope even further.
Starting up the front, driver visibility has been improved by increasing the gap between the A-pillar and the rear-view mirrors, meaning you can see more through the quarter windows when turning corners or when judging parking situations.
As you'd expect, there are a couple of cup holders in the centre console, plus a 12V charge point in the lidded bin, and another in the centre stack, while the lower two trim levels get one USB port, and the upper two get two. All trim levels get a sunglass holder in the overhead console.
The backseat scores the aforementioned extra 33mm between the front and rear seats, which extrapolates to an extra 65mm of net rear legroom. Shoulder room is up by 20mm and hip room by 15mm, which is well in excess of what's needed for my 172cm frame.
The flat beltline allows big windows to maximise child visibility. All versions get a backseat armrest with two cupholders and two ISOFIX points. Without a sliding rear seat, though, it'll be worth trial-fitting a rear-facing child seat, if that's part of your life, to ensure there's enough room left for front-seat occupants.
The back of the centre console now comes with directional air vents, which sit above two quick-charge USB points.
There are bottle holders in each door, and as a nod to the many Foresters you see wearing roof racks, the rear door sill has been broadened and grip has been added to improve its function as a step ladder when loading something onto the roof.
The upper two trim levels come with a power tailgate that now operates nearly twice as quickly as before (hallelujah!) and locks the rest of the car automatically once it's closed.
The rear opening is nicely squared off and measures 1300mm across, or sufficient dimensions to load a set of golf clubs, width-wise. The boot size is 76 litres bigger with the seats up, now measuring 498 litres, which expands to a luggage capacity or maximum storage space of 1481 litres with the 60/40 rear seatback folded. The top two variants also now score a one-touch electric folding function for the rear seat.
Unless you've suffered the inconvenience of a flat tyre with just a space saver or inflation kit as backup, you won't fully appreciate the fact that the new Forester still packs a full size spare wheel across the line-up. Most of its rivals do not.
The boot area is also adorned with tie-down points, cargo hooks and a third 12V charge point.
If you're looking to tow, all four versions of the new Forester carry a maximum braked towing capacity of 1500kg, with a maximum towball weight of 150kg - which is about average for its class.  We're aiming to bring one to a towing review in the near future.
Price and features
Mitsubishi ASX
One of the weirdest things about the ASX is that it's not very cheap, with one exception - the entry-level ES with the manual transmission, landing at $23,990. Or, more accurately, $24,990 drive-away at the time of writing.
I hold a deep suspicion that it won't take much arm-twisting to reduce the price considerably. In fact, a slightly stern look should do it.
The ES spec includes 18-inch alloys (where competitors will sling you steel wheels with hubcaps), a four-speaker stereo, climate control, reversing camera, remote central locking, cruise control, LED headlights, leather wheel and shifter, power folding rear vision mirrors and a space-saver spare. Slim, but useful pickings.
A new 8.0-inch screen sits proudly in a new-looking centre stack with DAB+, Android Auto and Apple CarPlay. The sound is pretty ordinary and the Mitsubishi software has a very 1980s Stranger Things feel about it, but the hardware is okay and works well with smart phones.
You get the distinct impression Mitsubishi has learnt what 'just enough' means for its buyers. That attitude permeates the whole car.
There are seven colours, one free (white), five for a puzzling $740 and one for a scandalous $940. For comparison, Mazda's (beautiful) premium colours are $300 and there are just two of them.
---
Subaru Forester
9/10
If you're stretching the budget to reach for a Forester, you'll be disappointed to read that the cost of entry has risen by $3250 to $33,490 (MSRP) for the new entry-level 2.5i variant. This is because the previous price-leading 2.0-litre petrol engine has been dropped, in addition to the 2.0-litre turbodiesel and 2.0-litre turbo petrol performance option in favour of an all 2.5-litre petrol line-up.
The absence of the two turbo engines also means the Forester range now tops out $6,250 earlier (for now), and consolidates your options down to just four trim levels. The price list moves from the 2.5i up to the $35,490 2.5i-L, then the $38,490 2.5i-Premium, before the $41,490 2.5i-S at the top of the range.
All told, the range represents pretty stunning value with no shortage of gadgets, and as of this week you'll be able to buy a Forester directly from Subaru online at a drive-away price.
All versions are now equipped with AEB via the EyeSight system, but more on that under Safety.
Apple CarPlay (for iPhone users), Android Auto (for pretty much everyone else), and digital radio (DAB) are also available, and fitted standard across the range for the first time, and if you're not the smartphone-mirroring type, the built-in satellite navigation (GPS) fitted to the top two models is a new TomTom system.
The top three models also come with the new Driver Focus driver-monitoring system which detects drowsiness, but can also recognise the driver's face and adjusts to your preferences when you sit in the driver's seat. Each Forester so equipped enables more preferences to be remembered depending on how much you spend, but the system will remember up to five drivers. In practice, it's pretty amazing technology; the moment you sit down and look forward it gets to work and your settings are restored before you can think about it.
Key standard features for the base 2.5i include a 6.5-inch multimedia touch screen, Harman Kardon sound system with six speakers, dual-zone climate-control air conditioning, leather steering wheel and gearknob, active cruise control, tinted windows at the rear, rain sensing wipers, automatic active LED headlights, daytime running lights and LED tail-lights, front and rear foglights, heated folding door mirrors, keyless entry with push button start, hill start assist, the basic version of the off-road focused X-Mode drive mode, hill descent control, Bluetooth and 17-inch alloys.
The 2.5i-L brings Driver Focus in its most basic form, which includes distraction and drowsiness warnings and will remember your previous climate control settings, along with how you left the dash top and driver instrument screens.
The second-tier model also adds a third camera beyond the EyeSight system, mounted in the grille, which enables the Vision Assist suite of safety features. This is comprised of Front View Monitor (FVM) and Side View Monitor (SVM) collision warnings, Adaptive Driving Beam (ADB) auto high beams. More sensors in the back of the car enables Reverse Automatic Braking (RAB).
The 2.5i-Premium brings dashes of extra chrome to the outside, upgraded cloth seats and dash and door trim, alloy pedals, 8.0-inch multimedia screen with built-in navigation system, eight-way power front seats with memory settings, auto folding door mirrors with dipping passenger mirror, power folding rear seats, power tailgate, and 18-inch rims.
The Driver Focus system also adds driver's seat and door mirror setting recollection.
The top-spec 2.5i-S brings even more exterior and interior garnishes, including leather seats, a panoramic sunroof, eight-speaker Harman Kardon audio plus a subwoofer, and the X-Mode off-road drive program scores two modes to choose from, tailored for either snow/dirt or deep snow/mud.
Engine & trans
Mitsubishi ASX
The dowdy 2.0-litre four-cylinder is unchanged (again) for 2020, with 110kW/197Nm. Those figures are class-competitive because as I always say, there appears to be legislation governing naturally aspirated compact SUV power outputs.
The basest of base specs has a five-speed manual gearbox (they're more common than you think, so I don't have a joke or exclamation of surprise here) driving the front wheels only.
No more all-wheel drive in the ASX, you have to go to the Eclipse Cross for that. Which is a pity, because the AWD ASX was almost compelling.
---
Subaru Forester
7/10
Rather than the four engine choices and manual transmission option of the Forester it replaces, the new model is available with just one of each. That means no turbo diesel and no turbocharged petrol. The 2.5-litre auto was by far the most popular option before, so it's not all fire and brimstone.
This is the first application of the 2.5 motor with direct injection, which is 90 per cent new according to Subaru. The most measurable specifications gain is an extra 10kW and 4Nm, which now totals a decent 136kW/239Nm for this engine size without a turbo.
Max horsepower is developed at the same 5800rpm as before, while max torque now arrives 300rpm later at 4400rpm. Impressively, these numbers are still possible with Regular 91 RON unleaded.
Unlike the Subarus of old, the 2.5 uses a timing chain instead of a timing belt, which is designed to last the life of the engine. The CVT automatic transmission has also been revised, now with a greater spread of ratios, and the manual mode now has seven stages.
Like all Subarus aside from the BRZ, the new Forester drives all four wheels (front wheel drive is not an option) through the tried and tested Symmetrical all-wheel drive system. Therefore, it's the only mainstream mid-size SUV without price-leading front-wheel-drive variants.
Fuel consumption
Mitsubishi ASX
Mitsubishi's official fuel figure weighs in at 7.7L/100km which, as I have discovered in the past, is a long way off reality.
A week in the manual delivered an even worse figure than the CVT I last drove, getting through 12.4L/100km (11.5 for the CVT) in the week I had it.
Granted, it was just me driving it, the usual softening influence of my wife was not available to the ASX.
---
Subaru Forester
8/10
With one engine and transmission across the board, there's just one fuel economy figure to note. The new Forester's official combined petrol consumption figure of 7.4L/100km is 0.7 better than the previous 2.5 auto, and is line-ball with the CX-5 2.5's mileage. It's also within cooee of the diesel fuel consumption figure of 6.4 in the outgoing model.
As mentioned above, it is worth noting that the Forester manages this on Regular 91 RON unleaded fuel, where a lot of its rivals demand more expensive Premium 95 RON to generate decent figures.
The fuel tank size is a generous 63 litres, which suggests a theoretical range of 851km is possible between fills.
Driving
Mitsubishi ASX
For some reason I was hoping the manual ASX would be a better car to drive than its CVT siblings. That proves two things. The first, is I have a short memory, and the second... I have a short memory.
I last drove a manual ASX five or so years ago. It was not my favourite car then owing to the engine buzz, the long, light clutch and the gear lever stolen from a pole vaulter's kit bag.
And for all the same reasons, some half a decade later, the manual ASX is still not very good.
Adding to the ASX's issues is the fact that having better access to the power and torque means a propensity to spin the inside wheel with moderate steering lock and throttle applied together.
The tyres screech away with entertaining abandon and the traction control light comes on like that flickering, distant lightning 20 minutes after a storm has blown through.
The CVT's torque steer is one of the aforementioned great mysteries - despite not having a huge amount of torque, the auto model still manages to pull the steering wheel under power.
That's all manageable, though. What isn't is the buzzing you get from the pedals. Once you're moving you realise that you don't have your feet planted on the shopping channel vibrating foot thing.
The accelerator, brake and clutch all have a hotline to a beehive. I got out more than once shaking my right leg because it felt like it was asleep.
Once you're over all that, you find that the ASX is a bit lumpy and bumpy around town, despite a multi-link rear end.
Cars like the Hyundai Kona and Nissan Qashqai make the most of that tricky bit of suspension, but not the ASX.
It's weird to ask extra then deliver a ride that isn't demonstrably better than a cheaper torsion beam set-up (sharp speed bumps being the only exception).
The steering is also slow, so you're constantly twirling the wheel when you're moving around the city and the burbs. And the electric assistance is all over the place, making you wonder what you're actually doing.
Slow steering is fine for a car if you can take it off road, but the ASX isn't an off-roader anymore.
And after all of that, the manual shifter is so long that if your grip is anything other than completely orthodox, you can actually trap your hand between the dashboard and the gear knob when you go for third.
I think you've probably got the point. This is not the pick of the ASX range, not by a long way. And the manual makes it worse in the city, not better.
---
Subaru Forester
8/10
Matt's number-one question mark over the new Forester from its international launch was how it would handle rough Australian roads, given he only drove it on a billiard table-smooth, road-cycling track in Japan. Matt's concern is underpinned by the fact that the Liberty and Outback's latest suspension revisions lack the poise of the versions they replaced.
Thankfully, there was no shortage of dirt roads for the Australian launch, which was held around the Grampian Mountains in Victoria. I can report that the new Forester is still a dirt-road expert, its off road capability helped by decent suspension travel, body control and the same ground clearance mm (220mm) as before, along with unpainted plastic around its perimeter to mitigate stone damage.
The stability control is well calibrated for dirt, too, although its intervention is rarely required given the all-wheel-drive system's ability to maintain composure and put power to the ground via the front and rear. We didn't get the chance to test its off-road capability properly on launch, but keep an eye out for our Adventure review in the near future.
It offers similar performance on the road, still feeling compact and nimble (10.8m turning circle) for its class, despite the new model's growth, and the steering feel is good for a car of its type.
The 2.5-litre engine will indeed suit most buyers, but it doesn't have the easy low-rev urge or outright refinement of a smaller turbo unit used by the likes of the CR-V, Tiguan or Escape. The Mazda CX-5 is about the same as the Forester in these areas, which doesn't appear to hurt its popularity.
The previous model's automatic transmission was already one of, if not the best, CVT in the business, and it continues to work well, with the characteristic drone only overcoming road noise in the cabin under sustained full-throttle acceleration. Speaking of which, the new model carries a decent 9.5 second 0-100 acceleration claim.
So all told, the new Forester continues its tradition as a nice all-round drive.
Safety
Mitsubishi ASX
The ASX arrives with seven airbags, ABS, stability and traction controls, forward AEB (up to 80km/h), forward collision warning and that's it.
For a very solid $2500, you can add lane departure warning, auto high beam, reverse sensors, blind spot warning, lane change assist and rear cross traffic alert. There's a catch, though - you can't have it on the manual.
The model featured below is the 2020 Mitsubishi ASX GSR
On top of that, it's a lot when the Kia Seltos (yes, with steel wheels and halogen headlights) already starts with one or two of those features and charges just $1000 for its advanced safety pack.
The Mazda CX-3 is full of safety gear without ticking boxes.
The maximum five-star ANCAP safety rating stretches back to 2014 when the rules were quite different. I won't speculate on what it might achieve in 2020 as-is, but five stars might be tricky.
---
Subaru Forester
9/10
Subaru is known to be one of the leaders when it comes to safety, and the new Forester's credentials don't disappoint.
The standard fitment of EyeSight across the range is a key step, as it brings AEB that will automatically detect potential collisions and bring the car to a full emergency stop at speeds up to 40km/h. The system continues to apply lesser drgrees of braking intervention right up to 145km/h.
EyeSight also brings rear cross-traffic alerts, blind spot monitor, lane departure warning and lane change assist across the board, but the active safety list continues on the 2.5i-L with the Vision Assist system.
Using a third camera mounted in the grille, Vision Assist brings a Front View Monitor (FVM) and Side View Monitor (SVM) collision warnings, Adaptive Driving Beam (ADB) auto high beams. Clever parking sensors in the rear bring Reverse Automatic Braking (RAB), which we'd describe as rear AEB.
These active safety features are backed up by dual front and side airbags, curtain airbags covering the front and rear, a driver's knee bag, and stability control (or ESP).
Another noteworthy new feature is the washer that sprays the reverse camera whenever the rear windscreen wiper is activated.
As mentioned above, the rear seat is equipped with ISOFIX child seat anchor points in the outboard positions, while the centre position makes do with just a top tether baby car seat mount.
The new Forester is expected to match the existing model's maximum five-star ANCAP safety rating - and based on more stringent 2018 standards - but this result is yet to be confirmed. Our safety score is based on the assumption it will score five stars, so please double check.
Ownership
Mitsubishi ASX
Mitsubishi has a five-year/100,000km warranty with one year of roadside assist in the form of membership to your state or territory's motoring organisation (eg RACV, RACT, NRMA).
The three-year capped price servicing regime is not bad and every service you get at the dealer extends the roadside cover for another 12 months.
A small bit of good news for you - where previously a service was $240, they're now $199 for all three during the program, with the initial 1000km service remaining free (and annoying).
---
Subaru Forester
6/10
The Forester is covered by Subaru's regular three-year, unlimited-kilometre warranty, which now lags behind the five-year terms offered by most mainstream brands. Subaru has occasionally offered a five-year extended warranty as a limited offer, but is investigating a permanent extension. Watch this space.
The Forester's service intervals have now been brought into line with the Impreza and XV, doubling the scheduled time between services to 12 months, but retaining the same 12,500km distance.
Capped-price servicing is available for the first three intervals, which amount to $346,39, $584.45 and $346.39 respectively, resulting in a total service cost of $1,277.23 over the first three years. Several other brands offer capped pricing beyond the warranty period, and Subaru's scheme is still on the pricey side, but the doubling of the time interval has resulted in a net maintenance cost value improvement over the previous model.
Being an all-new model, the new Forester starts with a clean reliability slate, but any common problems, durability or reliability issues, complaints, faults will likely be revealed in time on our Subaru Forester problems page.