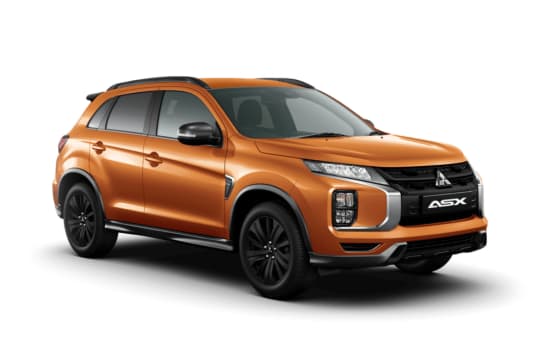 COMPARE
Mitsubishi ASX
VS
Holden Captiva
Mitsubishi ASX
Likes
Lots of space
New nose looks better
Apple CarPlay/Android Auto
Dislikes
Buzzy pedals
Lumpy ride in town
Just about everything, actually
---
Holden Captiva
Likes
It's cheap
It's big
Apple CarPlay and Android Auto
Dislikes
It's old
It's a bit noisy
Lacks the finesse of the competition
Summary
Mitsubishi ASX
The world is chock-a-block with enduring mysteries. The Loch Ness Monster, people who consider Taylor Swift's anodyne pop 'classic' material and the eternal descent of global politics.
To that I will add (perhaps unkindly), the Mitsubishi ASX. It's old - very old - and competes in a market full of interesting, stylish and gadget-stacked offerings from other makers. Including, oddly enough, Mitsubishi's own Eclipse Cross.
Mitsubishi is having a bit of an Alfa Romeo phase as it seemingly prevaricates and pontificates about what to do next.
Being the newest member of the Renault-Nissan-Mitsubishi Alliance, there's a massive toy box of stuff to pick from before hitting the go button on an ASX replacement. Or, as it turns out, another one.
Thing is, in Australia at least, the ASX doesn't need a replacement, it's walloping everything in its class. For 2020, the evergreen, ever-daggy ASX gets a(nother) facelift, a few spec tweaks and, one expects - nay, hopes - renewed vigour.
| | |
| --- | --- |
| Safety rating | |
| Engine Type | 2.0L |
| Fuel Type | Regular Unleaded Petrol |
| Fuel Efficiency | 7.7L/100km |
| Seating | 5 seats |
---
Holden Captiva
Holden wasn't the first manufacturer to find itself bereft of a big SUV when the fuse was lit by BMW and Mercedes as the last millennium came to a close. Ford responded with the Territory while Holden jacked-up a V8 Commodore and slapped the Adventra badge on it. Sadly, it didn't work, and so the Captiva was the next best option, procured from what was then called Daewoo.
As a result of that that little blip on the economic radar, the GFC, and an on-going re-organisation of General Motors, the Korean-built Captiva has lasted rather longer than anyone expected.
It first launched with two bodystyles, but is now down to one, the bigger and more practical seven seat body shell.
| | |
| --- | --- |
| Safety rating | — |
| Engine Type | 2.2L turbo |
| Fuel Type | Diesel |
| Fuel Efficiency | 8.2L/100km |
| Seating | 5 seats |
Verdict
Mitsubishi ASX
6.5/10
If I seem like I've been too hard on the manual ASX, you may well be right. It's really not my kind of car, but I know Mitsubishi can do better. What winds me up about it is that the company knows it doesn't have to, because the automatic ASX continues to fly off the forecourts.
Of course it doesn't in manual form and it's fairly easy to see why. It's not particularly cheap, doesn't have a lot of stuff (apart from a tonne of space) and I'd be surprised if dealers even mention its existence to shoppers.
If your heart is set on an ASX, skip the manual and use the saved energy to talk a dealer down the extra to get a CVT version. And there's a new mystery to add to the collection - I just recommended a CVT over a manual.
---
Holden Captiva
6.3/10
The Captiva is very, very long in the tooth and is heading towards retirement some time in the next twelve months. Before then, it's a lot of car for the money, particularly the seven seat LS. It's not fast, flash or futuristic but it will do the job and with all of the early problems sorted, will probably do it for quite some time.
The Captiva's low scores are mostly to do with the car just being old and feeling it, with dodgier plastics, slightly undercooked ride and handling and a lack of engine and safety tech. It doesn't mean it's a terrible car, because it isn't and Holden papers up the cracks with a low starting price and good after-sales.
Design
Mitsubishi ASX
The first ASX was a style-free zone. It had virtually no adornments. The styling was detectable only with a device with the sort of sensitivity that can detect an alien burping on a planet circling Alpha Centauri.
Did the job for a few years before another going-over made it look almost contemporary, but it stuck with the gawky profile.
This latest update puts a whole new, ill-fitting front end on the ASX but it looks a heck of a lot better. The 'Dynamic Shield' face from elsewhere in the range makes the car look fresh out of the box from the front, with Triton-esque slim headlights and a properly chunky look.
The new clamshell-style bonnet is nifty, or would be if the panel gaps weren't all over the place.
Then you see the side and rear and realise it's just the same old ASX with a bit of makeup on and new LED tail-lights that, to be completely fair, would look pretty good on any other car.
Amusingly, Mitsubishi has also slapped the Dynamic Shield on the Mirage - it really works on the ASX, it really doesn't on the tiddly hatch.
The cabin is the same old thing, with a natty new pattern on the seats that looks quite fetching, and a couple of new bits of trim here and there.
Ahead of the shifter is a piece of trim with an unexplained circular cut-out that is filled with the same patterned plastic. It really irrirates me and has been there for years, but at least the weird cupholder with a little sign that told you not to use as a cupholder is gone.
---
Holden Captiva
6/10
Formerly known as the Captiva 7, the seven seat body has remained mostly the same for its 11 years on sale. The only real changes have been around the front end, with Holden several times fiddling with the grille, lights and bumpers. There's nothing flash about the Captiva, but you know exactly what it is coming at you, with the double grille and big Holden badge.
In profile there's a lot of the original BMW X5 if you squint, right down to the copyright lawyer-dodging shape of the rear quarter window. It also has that X5's big gaps between wheelarch and tyres and a good view of the wheelarch itself. If that's your thing.
Little has changed at the back apart from bumpers and the LED effect lights added in the last update in 2014. It's unlikely you're buying the Captiva as auto haute couture, though.
Inside is basic, and you can place the Captiva's genesis in the mid-2000s, there's a certain generic GM feel to it. The switchgear feels old and clacky, the plastics are hard but do fit well enough. An Audi interior it isn't. The update in 2014 to make the 7.0-inch screen fit in the dashboard is fairly obvious and it's a shame the whole dash couldn't have been replaced. The huge steering wheel surrounds a tightly packed instrument cluster with small dials and a very old-looking LCD panel for trip computer duties.
Practicality
Mitsubishi ASX
The one thing right about the Mitsubishi is the space (cue reverb effect).
For a compact SUV, it's huge inside. Front and rear passengers luxuriate in reasonably comfortable seats with plenty of head and legroom. Front and rear rows each have a pair of cupholders but only the front doors will hold a bottle.
Boot space is very generous, starting at 393 litres and with the rear seats out of the way, 1193 litres. If you end up choosing another ASX, be aware that the Exceed's fully-hectic sub-woofer is so fully hectic it swallows up 50 litres to deliver sick beats.
---
Holden Captiva
7/10
The Captiva's interior dimensions are impressive. In seven seat versions, the boot space starts at 87 litres, expanding to a handy 465 litres with the 50/50 split fold rear row stowed. Flop the middle row forward and you're up at 930 litres, a good size cargo area that could swallow a flat-pack wardrobe. If you snaffle a five-seat version, you can remove the boot floor panels to reveal another couple of hundred litres of hidey holes.
There are cup holders up front (two), in the middle row (two) and in the boot (one, strangely) for a total of five. In the seven seater, two will go thirsty.
Price and features
Mitsubishi ASX
One of the weirdest things about the ASX is that it's not very cheap, with one exception - the entry-level ES with the manual transmission, landing at $23,990. Or, more accurately, $24,990 drive-away at the time of writing.
I hold a deep suspicion that it won't take much arm-twisting to reduce the price considerably. In fact, a slightly stern look should do it.
The ES spec includes 18-inch alloys (where competitors will sling you steel wheels with hubcaps), a four-speaker stereo, climate control, reversing camera, remote central locking, cruise control, LED headlights, leather wheel and shifter, power folding rear vision mirrors and a space-saver spare. Slim, but useful pickings.
A new 8.0-inch screen sits proudly in a new-looking centre stack with DAB+, Android Auto and Apple CarPlay. The sound is pretty ordinary and the Mitsubishi software has a very 1980s Stranger Things feel about it, but the hardware is okay and works well with smart phones.
You get the distinct impression Mitsubishi has learnt what 'just enough' means for its buyers. That attitude permeates the whole car.
There are seven colours, one free (white), five for a puzzling $740 and one for a scandalous $940. For comparison, Mazda's (beautiful) premium colours are $300 and there are just two of them.
---
Holden Captiva
7/10
The Captiva's value is heavily dependent on the model you choose. Standard features across the range (starting with the LS) include a 7.0-inch touchscreen running MyLink, a six-speaker stereo with AM/FM radio, Bluetooth, cruise control, rear parking sensors, reversing camera, auto headlights, leather steering wheel, dual-zone climate control, three 12 volt power outlets, keyless entry and start and a tyre inflation kit in place of an (optional) spare tyre.
No Captiva comes standard with sat nav as they all feature Apple CarPlay or Android Auto, which both use your phone's GPS apps.
There are four models, three 'standard' specifications - LS, LT, and the top of the range LTZ, with a fourth version in the form of the five seat only Active 'special' edition, that isn't. 
Pricing starts at $26,490 for the 2.4-litre LS (with five seats and five-speed manual gearbox), $28,690 for the auto, and the diesel comes in at $31,690. Seven-seat LS pricing ranges from $30,490 for the petrol and $33,490 for the diesel, both six-speed automatics. 
The Active enters the price list at $31,990 drive away. Based on the five-seat petrol LS (to be discontinued in May 2017), the auto-only Active adds 18-inch alloys, textile leather seats and a cargo cover. There's also a similarly specified seven seat version at $33,490.
On to the LT, and the price rises to $37,490 for the petrol and $38,490 for the diesel, both of them seven seaters. Part of the big jump for the LT is explained by the petrol engine switching to Holden's 190kW 3.0-litre V6 and the addition of all-wheel drive (AWD). The LT picks up a sunroof, bigger alloys, side steps, cloth trim with "Sportec" bolsters on the front seats and powered heated mirrors.
The LTZ's pricing is a mixed bag. Ordinarily, the V6-powered version would attract an rrp (carmakers insist we call it MLP, manufacturer's list price) of $40,490, with the diesel adding a thousand dollars to weigh in at $41,490. However, Holden is running a long promotion offering the LTZ V6 at $35,990 drive away with three years of free servicing.
The LTZ has 19-inch wheels, leather-look trim, electric driver's seat and front parking sensors.
You can choose one of seven colours - black, white, red, silver, blue, brown and grey and all but white will cost you $550. Orange is no longer on the menu, no matter how much you want it to be 2007 again.
Engine & trans
Mitsubishi ASX
The dowdy 2.0-litre four-cylinder is unchanged (again) for 2020, with 110kW/197Nm. Those figures are class-competitive because as I always say, there appears to be legislation governing naturally aspirated compact SUV power outputs.
The basest of base specs has a five-speed manual gearbox (they're more common than you think, so I don't have a joke or exclamation of surprise here) driving the front wheels only.
No more all-wheel drive in the ASX, you have to go to the Eclipse Cross for that. Which is a pity, because the AWD ASX was almost compelling.
---
Holden Captiva
6/10
If you like a choice of engine size, you've come to the right place. The Captiva has three engine specs in the range - two petrols and a diesel.
The smaller petrol, a 2.4-litre four-cylinder, produces 123kW at 5600rpm and 230Nm at 4600rpm. Driving the front wheels, this motor is available with choice of gearbox, either a six-speed manual or six-speed automatic. This 2.4 is only available on the LS and Active.
The 24-valve 3.0 SIDI V6 is available on LT and LTZ and produces 190kW at 6900rpm and 288Nm at 5800rpm.
The single diesel is a 2.2-litre iron block with common rail direct-injection and makes 135kW at 3800rpm and a stout 400Nm within a very usable range of 1750-2750rpm. You can have the oil burner in all three trim levels, driving the front wheels in the LS and four-wheel drive in the LT and LTZ.
Both the V6 and diesel are available only with the six-speed automatic transmission. 
Unlike earlier Captiva models, none of these engines feature a timing belt. Those early engines suffered from issues related to the fabric belt while problems with the later timing chain driven engines are less common. Reliability of the V6 is well-proven in the Commodore while later four cylinders also perform well.
Zero to 100km/h performance varies between the engines. The 2.4 will reach 100km/h in around 10.5 seconds while the V6 is rather quicker at 8.6. The diesel falls right in the middle at 9.6 seconds.
We've not yet carried out a towing review, but according to Holden, towing capacity is rated at 750kg for unbraked trailers and 2000kg braked.
Fuel consumption
Mitsubishi ASX
Mitsubishi's official fuel figure weighs in at 7.7L/100km which, as I have discovered in the past, is a long way off reality.
A week in the manual delivered an even worse figure than the CVT I last drove, getting through 12.4L/100km (11.5 for the CVT) in the week I had it.
Granted, it was just me driving it, the usual softening influence of my wife was not available to the ASX.
---
Holden Captiva
6/10
If you're after good fuel economy, the Captiva probably isn't the car for you. 
The 2.4-litre petrol is quoted at 9.7L/100km on the combined cycle but, as we recently discovered, is more likely to return closer to 12.5L/100km.
Diesel fuel consumption on the official combined cycle is listed at 8.5L/100km but our most recent test yielded a slightly startling figure of 12.9L/100km. The diesel's performance, particularly in the gears, is better than either petrol but it appears you'll pay for it.
The big banger V6's official fuel consumption figure is listed at 10.7L/100km, but past CarsGuide reviews suggest 14.0L/100km is a more likely real world figure. As far as fuel economy goes, diesel vs petrol usually falls to the diesel, but not in this case.
Fuel tank capacity is identical across the range at 65 litres.
Driving
Mitsubishi ASX
For some reason I was hoping the manual ASX would be a better car to drive than its CVT siblings. That proves two things. The first, is I have a short memory, and the second... I have a short memory.
I last drove a manual ASX five or so years ago. It was not my favourite car then owing to the engine buzz, the long, light clutch and the gear lever stolen from a pole vaulter's kit bag.
And for all the same reasons, some half a decade later, the manual ASX is still not very good.
Adding to the ASX's issues is the fact that having better access to the power and torque means a propensity to spin the inside wheel with moderate steering lock and throttle applied together.
The tyres screech away with entertaining abandon and the traction control light comes on like that flickering, distant lightning 20 minutes after a storm has blown through.
The CVT's torque steer is one of the aforementioned great mysteries - despite not having a huge amount of torque, the auto model still manages to pull the steering wheel under power.
That's all manageable, though. What isn't is the buzzing you get from the pedals. Once you're moving you realise that you don't have your feet planted on the shopping channel vibrating foot thing.
The accelerator, brake and clutch all have a hotline to a beehive. I got out more than once shaking my right leg because it felt like it was asleep.
Once you're over all that, you find that the ASX is a bit lumpy and bumpy around town, despite a multi-link rear end.
Cars like the Hyundai Kona and Nissan Qashqai make the most of that tricky bit of suspension, but not the ASX.
It's weird to ask extra then deliver a ride that isn't demonstrably better than a cheaper torsion beam set-up (sharp speed bumps being the only exception).
The steering is also slow, so you're constantly twirling the wheel when you're moving around the city and the burbs. And the electric assistance is all over the place, making you wonder what you're actually doing.
Slow steering is fine for a car if you can take it off road, but the ASX isn't an off-roader anymore.
And after all of that, the manual shifter is so long that if your grip is anything other than completely orthodox, you can actually trap your hand between the dashboard and the gear knob when you go for third.
I think you've probably got the point. This is not the pick of the ASX range, not by a long way. And the manual makes it worse in the city, not better.
---
Holden Captiva
6/10
You sit on the Captiva rather than in it, a feeling encouraged by the flat, shapeless seats. It doesn't matter which Captiva you choose, the front seats are not exactly huggy but they'll certainly take people of all shapes and sizes. 
You twist a funny knob where the key barrel used to be to start the engine. The view out front and out the sides is commanding as there is a fair bit of glass all around, with just the view out the rear window restricted as it's quite small. If you've got passengers, forget it, but the reversing camera will save the day there.
The ride is, for the most part, reasonable, but will deteriorate along with the road surface. The suspension isn't very quiet and the overall firm feeling delivers passable handling, which you'd expect from a big heavy machine like this. It doesn't have anything like the finesse of much younger metal from Hyundai, Kia and Mazda.
The diesel specs suggest strong performance and that's exactly what you get. It's by far the torquiest of the three engines and shifts the Captiva's two tonnes with reasonable verve. It's a noisy, grumbly unit but works well with the six-speed auto.
The engine specs of the two petrols don't really tell the story. While the V6 is quicker in a straight line, its extra weight knocks the shine off the torque increase and the engine itself isn't a shining example of modern engine tech. Actually, neither of them are, missing out on stop-start and other goodies.
This isn't an off-road review, but moderately ambitious mud-plugging is doable in the AWD models, with a ground clearance of 200mm but no low range or off-road mode. We even checked the manual to make doubly sure there wasn't a diff lock button hidden somewhere.
As ever, the idea here is that when you're buying a Captiva you're buying a lot of space and a cheap ownership experience.
Safety
Mitsubishi ASX
The ASX arrives with seven airbags, ABS, stability and traction controls, forward AEB (up to 80km/h), forward collision warning and that's it.
For a very solid $2500, you can add lane departure warning, auto high beam, reverse sensors, blind spot warning, lane change assist and rear cross traffic alert. There's a catch, though - you can't have it on the manual.
The model featured below is the 2020 Mitsubishi ASX GSR
On top of that, it's a lot when the Kia Seltos (yes, with steel wheels and halogen headlights) already starts with one or two of those features and charges just $1000 for its advanced safety pack.
The Mazda CX-3 is full of safety gear without ticking boxes.
The maximum five-star ANCAP safety rating stretches back to 2014 when the rules were quite different. I won't speculate on what it might achieve in 2020 as-is, but five stars might be tricky.
---
Holden Captiva
6/10
The Captiva carries six airbags, ABS, traction and stability controls, hill descent control, brake force distribution, active rollover protection, brake assist and three ISOFIX points, in addition to the reversing camera and rear parking sensors. 
The Captiva's maximum five star ANCAP safety rating was awarded in November 2011.
Ownership
Mitsubishi ASX
Mitsubishi has a five-year/100,000km warranty with one year of roadside assist in the form of membership to your state or territory's motoring organisation (eg RACV, RACT, NRMA).
The three-year capped price servicing regime is not bad and every service you get at the dealer extends the roadside cover for another 12 months.
A small bit of good news for you - where previously a service was $240, they're now $199 for all three during the program, with the initial 1000km service remaining free (and annoying).
---
Holden Captiva
6/10
As with all new Holdens, the Captiva owner benefits from a three year/100,00km warranty and lifetime capped price servicing. All prices are available on Holden's website.
Service costs for the diesel are significantly higher than the either of petrols, but do include oil changes.
The standard package also includes a year of roadside assist.
For common faults and complaints, check out our Holden Captiva problems page, which covers known automatic transmission problems, engine problems and diesel problems. There aren't any widespread diesel engine problems with the later version.
Resale value is often a consideration and we've looked at the last major update, released in 2014. 
A seven seat Series II LS from 2014 - the second major update for the Captiva after the 2011 update addressed lingering problems - cost $30,490 when new and will trade at around $13000-$15000, below fifty per cent of the purchase price, with private sales a little higher. 
An LTZ diesel from the same period sold for $41,490 and trades in the 45 to 50 per cent of purchase price and a little over 50 per cent in private sales.