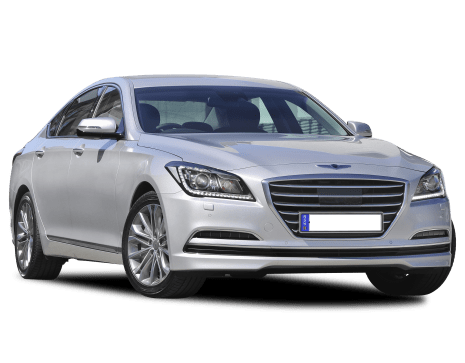 COMPARE
Hyundai Genesis
VS
Mercedes-Benz E63
Hyundai Genesis
Likes
Refinement
Comfort
Spec list
Dislikes
No V8 option
No diesel option
---
Mercedes-Benz E63
Likes
Incredible performance, easily accessed
Amazing duality between performance and luxury
Relatively subtle looks for battling tall-poppy haters
Dislikes
No wagon version for Australia
Summary
Hyundai Genesis
Anybody who doubts that Hyundai is gunning for the number one in the world has rocks in their head. Big heavy ones. Korean companies do not settle for anything less than number one. The second-generation Genesis (our first taste here in the Antipodes as the gen-one had its steering wheel on the wrong side) is proof.
What's different about Hyundai's unstoppable rise is the way they're going about it. They've always done their own thing in Korea, reinventing themselves time and again when they strayed off the beaten path.
The Genesis is a gamble for a Korean company in foreign markets whose default setting for luxury is marked, Britain or Germany. If Hyundai gets the Genesis wrong there will be howls of derision, or at best patronising pats on the back - "Nice try, you'll get there one day". But if they get it right...
| | |
| --- | --- |
| Safety rating | |
| Engine Type | 3.8L |
| Fuel Type | Regular Unleaded Petrol |
| Fuel Efficiency | 11.2L/100km |
| Seating | 5 seats |
---
Mercedes-Benz E63
The faster you go, the less comfortable things become. Any race car will prove this theory, and the current C 63 S AMG also backs it up with its, shall we say, 'performance-focused' package. 
As you'd expect, its mighty E 63 S bigger brother is faster again. But surely it can't afford to be less comfy than its C-Class sibling, particularly when it adds more than $80k to the sticker price and typically appeals to a more mature audience. 
And sure enough, it isn't, but rather than simply becoming the larger equivalent of the C 63 S, the new fastest E-Class somehow has enough bandwidth to satisfy expectations of three-pointed-star luxury and boast more performance than any four-door AMG ever.
Oh, and it's also all-wheel drive (AWD) for the first time in Australia. None of this seems to add up, so how have they done it?  
| | |
| --- | --- |
| Safety rating | — |
| Engine Type | 4.0L turbo |
| Fuel Type | Premium Unleaded Petrol |
| Fuel Efficiency | 9.3L/100km |
| Seating | 5 seats |
Verdict
Hyundai Genesis
8.6/10
The Genesis is not quite a match for cars twice its price but it makes you think what's possible. It doesn't have the dynamic brilliance of a BMW or the self-assured faultless execution of a Mercedes. Lexus ought to be worried, though - why would you have an LS when you could have this? The only answer is 'badge'.
The Genesis is an epoch-making car for the Korean manufacturer. As the company has got better, there are fewer excuses for overlooking it. While the Genesis is pitched into a shrinking market, it's not really meant for the average i30 buyer to buy, but to see.
It's bristling with tech and is not only a halo car but a shot across the bows of both Lexus and the Germans. Attached to that shot is a note: "We're coming for you." In other words, Hyundai got it right.
---
Mercedes-Benz E63
8.1/10
The new E 63 S is proof that you can be supercar quick without having to feel like you're in a racecar all the time. 
It's hard to find a single thing wrong with it once you're past the near-quarter of a million dollar asking price, but even that's more than 10 grand cheaper than before. 
The only thing I'd like to see is the wagon version in Australia, but not enough us want to buy one. 
In my opinion, it's the best four-door AMG you can buy, and the new M5 will have to be pretty amazing to topple it.
Would you be happy to park an E 63 S in your garage, or would you wait to see how good the new M5 is? Tell us what you think in the comments below
Design
Hyundai Genesis
8/10
The Genesis is like no other Hyundai. For a start, it's gigantic - it looks easily as big as a BMW 7 Series (it isn't) with the road presence to match. There's a lot of BMW from most directions, but with a sharper approach to the creasing and character of the sheet metal.
Towards the rear it's more BMW 6 Series Gran Coupe and is all the better for it. The style is understated and technocratic.
The big wheels from the Ultimate pack help make it look lower and sleeker, too.
Inside is also very Germanic, but with a bit more of a Lexus feel. Our car had the lighter leather which meant that the wood and the metal materials didn't necessarily work well together.
The interior is expertly put together and feels like it will last forever.
The only jarring moment is the gear selector is shared with our long-term Hyundai i30 - it looked a bit cheap in what is otherwise a beautifully executed cabin - it needs more heft.
On Australian-delivered cars there is just one Hyundai badge, sitting proudly on the boot - you get the feeling this was debated long and hard and when the decision was made to go for it, a big one was chosen.
However, the winged Genesis branding takes pride of place everywhere else. When you approach the car at night and the puddle lamps come on, the Genesis logo is projected on to the ground, crisp and clear.
---
Mercedes-Benz E63
8/10
Like the C 63 S, the easiest way to pick the E 63 S is by its bespoke front air dam, pumped front guards and the AMG-characteristic double-bulge bonnet. To the uneducated, it looks little more than an AMG-kitted lesser model, but is smartly distinguished from the regular body treatment.
No doubt a lot of $200k-plus performance sedan buyers would prefer it this way, instead of a giant rear wing and a bunch of extraneous vents to underline its supercar-like capabilities.
The wheels are unique to the E 63 S, with the 20-inch cross-spoke forged design measuring 9.5 inches wide up front and a full 10 inches at the rear. That's as wide as Brocky's Group C Torana A9X racer by the way, yet they snugly fit within the standard rear wheel arches.
The interior isn't too far removed from a regular E-Class either - which is already a pretty swish place to be - but gets grippy, hard-backed 'Performance' seats, Alcantara grip sections and a straight-ahead marker added to the AMG steering wheel, plus a smattering of AMG logos. 
Practicality
---
Mercedes-Benz E63
8/10
No supercar will ever be as easy to live with as the E 63 S, with the passenger-car requisite two cupholders front and rear with bottle holders in each door, ample legroom and headroom for rear-seat passengers, and a 40/20/40 split-fold back seat leading to a cavernous 540-litre boot.
The E 63 S's Performance front seats do lose their map pockets, though.
Price and features
Hyundai Genesis
9/10
The only way to describe the Genesis' pricing is aggressive - kicking off at $60,000, it's the most expensive Hyundai money can buy, but with a spec list like this, you won't feel at all short-changed.
Your sixty large buys you a huge cabin with a seventeen speaker stereo, auto headlights and wipers, LED ambient lighting inside and out, dual-zone climate control, keyless entry and start, powered front seats which are heated and cooled, satnav, front and rear parking sensors, and plenty of other bits and pieces.
Our car had the $22,000 Ultimate package, adding 19-inch alloys, blind spot sensor, front and side cameras, around-view display, real leather, more adjustments for the driver's seat, ventilated seats in the front, heated rear seats, panoramic glass sunroof, acoustic glass, heads-up display, powered bootlid and LED foglamps.
You can have a lot of the more useful features in the $11,000 Sensory Pack. It's a good middle ground that, for example, features the excellent heads-up display.
The 9.2-inch screen splits the asymmetric air-conditioning vents. The software is unique to the Genesis and a huge leap forward over the rest of the Hyundai range - classy, smooth graphics, a good responsive screen.
You control the seventeen speaker stereo from here, which kicks out a rich sound and an impressive Bluetooth performance - rear seat passengers can also run the stereo from their armrest. The satnav is detailed and chatty, while the excellent heads-up display shows a configurable information set in strong, clear graphics.
---
Mercedes-Benz E63
7/10
With a list price of $239,611, it's more than 2.5 times the price of a base E200, but Mercedes boasts that it's also more than $10,000 cheaper than the model it replaced in May 2017, with a lot more equipment fitted standard.
This still puts it $82,000 higher than a C 63 S sedan and $80,000 more than the quite-quick V6 E 43, and a full $30,000 more than the regular E 63 that joined the range in December. 
Whether the E 63 S's extra fruit is worth it is up to you, but Mercedes expects most E 63 buyers will opt for the S.  
Its extensive list of standard kit helps to justify its ask somewhat, with the only concession for performance being the deletion of the PRE-SAFE Impulse Side system because of the more sculpted Performance seats. 
Our E 63 S was also optioned with $4200 worth of designo Selenite Grey magno matte paint, and the ceramic composite brakes signified by the gold calipers add a further $9900.
Engine & trans
Hyundai Genesis
9/10
The Genesis is powered by Hyundai's own 3.8-litre V6 developing 232kW and 397Nm, mated to Hyundai's eight-speed automatic transmission.
Despite weighing just under two tonnes, the Genesis completes the dash to 100km/h in 6.5 seconds.
It has a claimed 11.2L/100km on the combined cycle. In what must be a first, we got below that, averaging 10.8L/100km over two weeks. And that's without stop-start fuel-saving to blunt the effect of lot of city driving.
We'd still like to try the V8 - only available in left-hand drive markets - though.
---
Mercedes-Benz E63
9/10
The E 63 has also followed the C 63 in bucking the "no replacement for displacement" adage, dropping 1.5-litres over the model it replaced but gaining 20kW/50Nm for new totals of 450kW/850Nm.
This is thanks to an uprated version of the 4.0-litre twin turbo M177 V8, which is paired to a multi-plate clutch version of the excellent nine-speed auto for the first time. 
Fuel consumption
---
Mercedes-Benz E63
8/10
This area is unlikely to be a top priority if you're shopping for a $240k V8 performance saloon, but the E 63 S's 9.3L/100km official combined fuel figure should catch your eye if it is. We experienced 11.6L/100km on test, which is pretty amazing given how tempting that throttle pedal is. 
Also helping to forgive this temptation is a bigger 80-litre fuel tank (20-litres more than the base E-Class) which promises a comfortable range between fills. 
Driving
Hyundai Genesis
8/10
At five metres long, with a ride firmly pitched in the luxury camp, the Genesis is not going to tempt you into a track day, even with rear wheel drive.
Blindfold your passengers and swap them between a Lexus, a BMW and a Genesis and the overwhelming impression they'll get is one of incredible smoothness.
Sitting in the back of the Genesis, it's easily as good as the German and luxury Japanese competition. The seats are hugely comfortable, there's ample head, leg and shoulder room and it feels lot nicer than anything within a bull's roar of its price.
No matter where you sit, it's an incredibly quiet car. The engine is a distant whoosh, the tyre noise muted and there's almost no wind or ambient noise. It's supremely comfortable and the excellent stereo will wash away what little noise does invade.
It certainly feels its weight from the driver's seat, with a competent, soft turn-in, but if you're wanting sudden movements, this isn't the car for you.
On fast flowing roads you can have some fun, but things will get floaty and that will quickly kill that fun. The ride and isolation from the rest of the world is completely worth it.
---
Mercedes-Benz E63
9/10
Push the start button and the ensuing rumble will annoy your neighbours if you leave for work early. This has come to be an AMG V8 trademark, but even with the exhaust button's ability to liberate a few more decibels, it's still a smidge more discreet than the C 63 S.
Not all AMG exhausts are created equal you see, with the E 63 S's particular flavour sitting somewhere between the C and the SL tune, based on my recent experience.
What you're left with is still up there with the industry best, with the range of tunes from angry burble to pops and cackles on overrun setting the scene well for the E63 S drive experience. 
Range is a key word when it comes to the E 63 S, with an incredible 0-100km/h claim of 3.4 seconds headlining the performance end of its personality. This is a full six tenths faster than the C 63 S sedan, and it feels every bit of it. 
It's difficult to articulate just how fast this is, but bear in mind Ferrari's mid-noughties F1 racer for the road, the Enzo, carried a 3.6 second claim. The E 63 S is 0.2s faster than that!
The AMG's full 850 Newton metres are available from just 2500rpm (to 4500 for the record), making any prod of the accelerator very effective. 
The nine-speed auto doesn't fail to impress either, with fast and responsive shifts in the sportier drive modes, with none of the slow-speed lag or shunting and clunking you tend to get from some rivals' dual-clutch units. 
Helping all those Newtons get to the ground is the fully active AWD system, which has been set up to preserve the AMG-characteristic tailiness with a 31:69 default torque split front to rear. 
Controlling the apportioning of power side-to-side is an electronic rear-axle limited slip differential (as opposed to the regular E 63's mechanical unit), and the net result will let the rear end hang loose just enough before the torque vectoring sends more power to the front to pull you back into line. 
Unlike pretty much every AWD system this side of a ute, the E 63 S is able to send 100 per cent of its power to the rear wheels when 'Drift Mode' is engaged, with Race selected from the drive menu. 
This also means deactivating the stability and traction control altogether, flicking the transmission to manual mode and pulling on the shift paddles, but in the interests of retaining employment and my general wellbeing, we'll save Drift Mode for the race track. 
Another claim we'll have to leave purely theoretical is that the speed limiter has been relaxed by 50km/h to permit a full 300! This is a large four-door sedan, remember. How very German.
The abundance of aluminium in the W213 E-Class shell has led to a feeling of lightness that I feel detracts from the classic E-Class 'bank vault' sensation in the lesser models, but this actually works in the E 63 S's favour. 
At 1955kg, it's a full 300kg heavier than the C 63 S sedan, but doesn't really feel it. Granted, a lot of that weight would be down low, due to the AWD system, but it retains a general feeling of lightness and a willingness to change direction. 
Also helping are bespoke front suspension architecture for a wider track and more hardcore geometry, a unique steering column, and the S also gets hydraulic engine mounts that tighten up to sharpen feel in the more aggressive drive modes. 
Grip from the 265mm wide front tyres and 295mm rears is fantastic, but they will break away gently to give confidence when driving at the limit. This also makes a bit of tail wagging out of corners a lot less nerve-wracking. 
The ceramic composite brakes fitted to our car also do an excellent job of reighning in all that performance quickly and consistently, and unlike a lot of similar setups they don't squeal when cold. 
Beyond this outstanding performance and driver appeal, the E 63 S's trump card is its ability to return to regular E-Class luxury at the flick of a switch - back into Comfort mode. 
The airbag suspension is arguably what is most responsible for this duality, but it's also a sign of all the mechanical components being developed together to work in harmony, with such a spectrum of ability being targeted from the get-go. This is not an E-Class with AMG mods, this is an E-Class that's been designed to be an AMG from the beginning.
Adding a "but wait, there's more" edge to the E 63 S's drive experience is the fact that like all versions of the new E-Class, the active safety systems work together to enable Drive Pilot semi-autonomous driving, which represents Level 2 autonomy. 
This means you can drive down a motorway with only an occasional touch of the steering wheel as an input, and it will even change lanes if the indicators are activated. As amazing as they are, we recommend exercising great caution when using these features, however.
Safety
Hyundai Genesis
9/10
Nine airbags, traction and stability control, lane departure warning, forward collision control, ABS, brake force assist and distribution and traction and stability control bring the ANCAP count to five stars.
The Sensory and Ultimate packs add blind spot sensors and around view cameras.
---
Mercedes-Benz E63
9/10
Like all versions of the W213 E-Class, the E 63 S carries the maximum five-star ANCAP (tested 2016) and EuroNCAP safety ratings. A brilliantly integrated suite of active and passive safety features go well beyond its standard AEB, nine-airbag count, 360-degree parking cameras, rear cross-traffic alerts, and a pedestrian-protecting active bonnet.
The only slight compromise is the deletion of the PRE-SAFE Impulse Side system which moves the occupant away from a collision if a potential side impact is detected. 
This is because of the E 63 S's standard "Performance" front seats, but the system is restored if the less sculpted "sport seats" are optioned through the Active Comfort package.
Ownership
---
Mercedes-Benz E63
7/10
As with all Mercedes passenger cars, the E 63 S is covered by a three-year, unlimited kilometre warranty. Service intervals are either 12 months or 20,000km and the first three services are capped at $736, $1472 and $1472 respectively. 
This compares with $668/$1356/$1356 for the E 43, and 456/912/912 for a base E200, and the latter two models have 25,000km intervals.