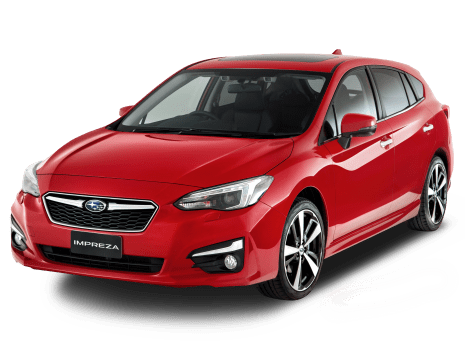 COMPARE
Subaru Impreza
VS
Alfa Romeo Giulietta
Subaru Impreza
Likes
Sturdy road feel
Comfortable, chunky interior
Full safety package
Dislikes
Could do with more power
A bit thirsty
Needlessly complicated interior
---
Alfa Romeo Giulietta
Likes
Stunning looks
Great engine
Big boot
Dislikes
Poor cabin storage
Turbo lag
No reversing camera
Summary
Subaru Impreza
There's a lot to admire about Subaru.
For one, the brand is hell-bent on committing to all-wheel drive across its range where its major competitors benefit from selling (often cheaper to manufacture) front-drive cars, plus its current safety push is admirably reminiscent of Volvo's efforts in the field.
Subaru's stalwart hatch and sedan, the Impreza, can't afford to let up, though. In a world where some of Japan's most beloved nameplates are losing ground to SUVs in a big way, can the fifth-generation Impreza still hold its own in 2019?
We've spent a week in the top-spec 2.0i-S hatch to find out.
| | |
| --- | --- |
| Safety rating | |
| Engine Type | 2.0L |
| Fuel Type | Regular Unleaded Petrol |
| Fuel Efficiency | 7.2L/100km |
| Seating | 5 seats |
---
Alfa Romeo Giulietta
Richard Berry road tests and reviews the new Alfa Romeo Giulietta Veloce hatch with specs, fuel consumption and verdict.
Nobody just buys an Alfa Romeo, in the same way that nobody goes out and just buys a top hat. Yes it's functional and yes you'll looking amazing in it whether you're male or female, and people will pay you compliments - possibly question your judgement, too, but it's not the obvious choice and buying one is a conscious decision. See, you don't even know if I'm talking about the top hat or the Alfa any more.
At backyard barbecues and dinner parties throughout Australia you'll overhear people saying: "My heart says yes but my head says no." They're not discussing robbing the convenience store on the corner after dessert, but they're more likely to be talking about buying an Alfa Romeo. See Alfas are famous for their stunning beauty, their racing pedigree and their performance, but in the past they've been infamous for their reliability issues. You knew that, right?
The top-of-the-range Giulietta Veloce with the dual-clutch auto is the best reference to the brand's performance pedigree. This version has only just arrived on the market, and follows a major styling and technology update to the Giulietta in 2015.
Like most test cars, we lived with it for a week. Is it too small to be a family car? What's wrong with the glovebox? Is it as racy as it looks? What's with all the water? And is it just me or are my hands too small to drive this car? We'll even be able to point you in the right direction for a guide to Giulietta's reliability.
| | |
| --- | --- |
| Safety rating | |
| Engine Type | 1.7L turbo |
| Fuel Type | Premium Unleaded Petrol |
| Fuel Efficiency | 6.8L/100km |
| Seating | 5 seats |
Verdict
Subaru Impreza
7.3/10
The Impreza 2.0i-S is packed with safety and luxury features and offers fantastic value by flying under the asking price for most equivalent high-spec competitors.
Because it has been built for a world where SUVs dominate, it's a better commuter car than ever before, just don't expect it to have that wild rally spark from days past…
Is there a place for the humble hatch in a world of small SUVs? Tell us what you think in the comments below.
---
Alfa Romeo Giulietta
6.3/10
So much right and some things not quite right – the Giulietta has the Alfa Romeo mix of highs and lows which the brand is famous for. There's no mistaking that this is a unique and sexy looking car, with the practicality of a five-door hatch plus impressive handling and performance.  More heart than head decision here though it seems, but romantic Alfa enthusiasts should adore it.
Have you got a 'classic' Alfa Romeo experience, good or bad? Tell us in the comments below.
Design
Subaru Impreza
7/10
When the fifth-generation Impreza launched three years ago, it was the first car in Subaru's range to debut a styling language which it calls 'Dynamic x Solid' and, well, there isn't much arguing with that description (depending on how you define "dynamic"...)
The Impreza owns Subaru's signature chunky styling with plenty of hard lines and angles, and squared-off light fittings with bumpers which give it a wide stance.
On the 'dynamic' side of things, there are delicate light fittings, a gently executed grille and swoopy sculpting down the sides which help to class the usually tough hatch up a little. Apart from the giant alloys, the only thing setting the 2.0i-S apart from the rest of the range are the LED light fittings and chrome garnish bits strewn about.
The look isn't as controversial as the Civic's angular assault, nor perhaps as forward-thinking as the swoopy curves of the incoming Mazda3. To many, the more conservative style of the Impreza will be exactly what they're looking for.
Inside is plush, if a little SUV-like. If you've driven any of Subaru's recent range you'll know how familiar all the interior fittings are, for better or worse. Everything is nicely finished, with high-quality soft-touch plastics and tasteful matte or chrome highlights. It's all very chunky and on-brand.
I'm a particular fan of the super-satisfying bumper-car steering wheel. It's cladded in nice leather, although I'd argue there are a few too many buttons on it (15 plus two toggles…).
The media screen is a fantastic bit of hardware. It's fast, has a fantastic resolution and syncs with Apple CarPlay and Android Auto fairly easily. The way it protrudes from the dash also makes it easy to use for the driver and front passenger. While the gloss finish is a posh look, it's a nightmare to keep clean.
Also, there's a second screen embedded atop the dash. Why? It needlessly overcomplicates an otherwise slick interior. Yes, it cycles through status readouts for the car, but that could easily have been integrated into either the dashboard's multifunction display or the big media screen.
The Impreza's seats are best here in the 2.0i-S, as the leather has a decent thickness and the seats offer a bit more support than cloth-clad versions in lesser models. Subaru has come a long way in that department compared to earlier-generation cars.
---
Alfa Romeo Giulietta
8/10
Alfa Romeo couldn't design a boring car even if it was handed a picture of a Toyota Camry and told to copy it or else. The Giulietta is no exception.
There's the deep 'V' grille shared with the new Giulia sedan and 4C sports cars that make up the current Alfa model line-up. There's the bug-eye headlights with pretty inset LEDs and the chiselled bonnet, a side profile which looks like that of a mini Porsche Cayenne and a cute-but-tough bottom with its elegant taillights and twin exhausts.
The latest update brought a honeycomb mesh grille and a slightly different design to the headlight and LED foglight surrounds. The tail pipes were also given a styling tweak, so too were the alloy wheels.
The cabin saw new materials and finishes added. The Veloce had the Alfa Romeo logo stitched into the integrated headrests, shiny sports pedals, and lashings of faux carbon fibre trim on the doors and dash.
You can tell a Veloce from the outside by the red Brembo brake calipers behind the front wheels, 18-inch alloys, its chunkier exhaust tips poking out of the diffuser, red pin-striping to the front and rear bumpers, and the black window surrounds.
Okay, how big or small is it? Here's some dimensions for you. The Guilietta is 4351mm long, 1798mm wide, 1465mm tall and the Veloce with its sports suspension is 9mm lower than the others with 102mm of ground clearance.
Compared to say a Mazda3 hatch the Giulietta is 109mm shorter end-to-end and only 3mm wider. But if you're considering an Giulietta why are you looking at the Mazda3 anyway? That would be sensible - Like comparing Cancer Council hats to top hats.
Practicality
Subaru Impreza
7/10
The Impreza's interior offers up plenty of space courtesy of its wide dimensions. You'll never be lacking for room in the front seats, with ample leg and headroom despite the sunroof. There's also plenty of space between you and your passenger and plush leather surfaces for your elbows on both doorcards and the wide centre console box.
Deep bottle holders also feature in the doors, and there's a decently-sized trench in front of the gearknob which hosts two USB ports. The cabin features two more USB ports in the console box and two 12-volt outputs, so there's no shortage of power outlets for you and your passengers.
The rear seat offers excellent amounts of room. Behind my own driving position (I'm 182cm tall), there's plenty of airspace for my knees, plus the seats and doors are finished in plush matching leather trim, and there's a drop-down armrest. On the downside, the back seat lacks amenities of any kind. There are no adjustable vents or power outlets in the back of the centre console box, and the centre seat has limited legroom thanks to the presence of a tall transmission tunnel – a necessary downside of all-wheel drive.
Headroom is also brought down by the presence of a sunroof in the back seat.
Boot space comes in at 345-litres for the hatch, spanning to 795L with the rear seats down. This just pips the Honda Civic RS hatch (330L), Corolla ZR (333L) but is easily bested by the Hyundai i30 (395L) and massive Kia Cerato (428L).
There is a space-saver spare underneath the boot floor.
---
Alfa Romeo Giulietta
5/10
Beautiful things tend to favour form over function. The Giuletta tries to do both and succeeds…but also fails in places.
Successes first: despite its coupe looks it's actually a five-door hatch with 'hidden' handles for the rear doors placed up at window level near the C-pillar. So good is the two-door disguise that our photographer climbed into the back seat through the front door.
Rear legroom is a bit tight back there and at 191cm I can sit behind my driving position but I'd hate for me to be sitting behind me because my knees are digging hard into the seat back.
Headroom isn't much chop either and I literally can't sit in the back seat and hold my head high – a combination of that sloping roofline and the optional double sunroof reduces the head space.
A major practicality fail is the lack of storage throughout the cabin.
My wife's phone kept mysteriously appearing in the footwell every time we left it in the glove box, like there was a tear in the time-space fabric, but then we realised it was slipping through a gap.
There's no centre armrest storage bin in the front – actually there's no centre armrest. There is a pop-up hidey-hole on the dash but with only enough room for a pair of sunglasses.
The two cup holders in the front are small. It's safe to say that unless you have somebody with hands at the ready, ordering drive-thru is possibly out of the question.
Or if you have long arms and can reach the fold down armrest in the back there are two decent sized cup holders along with a small storage space. There are no bottle holders any of the doors, but there is fortunately room for a phone and wallet because there isn't space for them anywhere else.
But wait, the Giulietta is saved from a total storage fail by a large-for-the-class 350-litre boot. That's 70 litres bigger than a Toyota Corolla's and only 14 litres less than the Mazda3.  We could fit the pram, the shopping and the rest of the gear which goes with a military operation such as a trip to the park with a toddler in there.
Price and features
Subaru Impreza
8/10
I miss the days when Subaru's variant names made more sense as you worked your way from GX up to WRX in a sensible order.
We're in a different time now, though, and just like most other Japanese brands, the Impreza has a focus on luxury and spec items over sportiness. So much so that the WRX isn't even an Impreza any more... But I digress. What's actually important is the 2.0i-S hatch is the most expensive Impreza you can buy at $29,740 before on-roads.
This bodes well for Subaru, because it's relatively well equipped and cheaper than the top-spec cars from its traditional Japanese opponents.
The Civic VTi-LX for example comes in at $33,690, the top-spec Corolla ZR Hybrid comes it at $31,870, and the incoming new-generation Mazda3 SP25 will come in at a bold $37,990.
Suddenly the Subaru's $29,740 starts to look pretty good. Especially since it's the only car on the list with all-wheel drive.
What else is in the box? The 2.0i-S comes standard with 18-inch alloy wheels, heated and power-folding wing-mirrors, a sunroof, full LED (and steering-responsive) front lighting, dual-zone climate control, rain-sensing wipers, leather upholstery, and heated front seats with eight-way power adjust on the driver's side.
Still with me? Okay, on the muiltimedia front there's a massive, bright 8.0-inch touchscreen with Apple CarPlay & Android auto, DAB+ digital radio, Bluetooth connectivity and built-in nav, which is mated to a six-speaker audio system.
Missing is a branded premium audio system and a digital dash, which are available in some competitors. A power-adjustable passenger seat would be nice, but other than that there's not much missing from the 2.0i-S' arsenal.
To boot, it gets Subaru's impressive full safety suite, but more on that in the safety section later in this review.
---
Alfa Romeo Giulietta
5/10
The 2016 update saw the Giulietta variants renamed. There's the entry grade $29,990 Super Manual which has a six-speed manual gearbox, then buyers can step up to the Super TCT with a six-speed dual clutch automatic transmission for $34,900 and then there's our test car – the Veloce for $41,990. There's 10 paint colours at your disposal from the colour of our car (Alfa Red) to Perla Moonlight. Only Alfa White comes at no extra cost, the rest are a $500 option.
The Veloce collects the same features as the Super TCT such as a 6.5-inch touch screen, with sat nav, front and rear parking sensors, three drive modes and then adds bi-xenon headlights, 18-inch alloys, leather and Alcantara seats, a flat-bottomed steering wheel, the big exhaust tips and the sports diffuser, tinted rear glass and then less cosmetic features such as sports suspension and launch control.
There's no reversing camera which is disappointing, considering they come standard on some cars half the price.
At this price you'd shop the Veloce against a BMW 120i hatch for $41,900, a Volkswagen Golf GTI for $43,490 or possibly a high-end Mazda3 SP 25 Astina for $37,040.
Engine & trans
Subaru Impreza
6/10
Here's one of the main downsides for the Subaru. Competitors are now mostly running improved low-capacity turbocharged engines, but Subaru has overhauled – and so doubled-down on – its non-turbo 2.0-litre four cylinder 'boxer' engine.
This engine produces an average-looking 115kW/196Nm. Sure enough, under heavier acceleration, it feels lacking, especially considering this Impreza's almost 1400kg kerb weight.
Peak torque doesn't arrive till 4000rpm, so you're left waiting a little while for it to get there for overtaking. A turbocharger could easily rectify the situation.
On the upside, the changes to this engine mean the annoying six-month service intervals have been pushed out to a year and it happily drinks 91RON unleaded.
The Impreza is available with just one transmission – a continuously variable automatic. There's no manual.
---
Alfa Romeo Giulietta
7/10
The Giulietta Veloce has a 1.75-litre four-cylinder turbo-petrol engine which produce 177kW of power and 340Nm of torque. It's a great engine that lets loose a wonderful scream when pushed hard and the little grunts it makes when it changes gear when driving around normally sound like a giant enjoying his food.
The transmission is a dual-clutch auto which Alfa calls a TCT or twin-clutch transmission. I'm not a fan of them regardless of the brand of car they're in but the Alfa version is better than most of the others in its smoothness at lower speeds and decisiveness.
What about the Giulietta's reliability over time? This version of the car is less than two months old so we can only comment on what it offers as a brand-new vehicle, but you'll find good context in our used review of the earlier 2011-2014 Giulietta.
Fuel consumption
Subaru Impreza
7/10
The 2.0i-S has a claimed/combined fuel usage number of 7.2L/100km. Over my week of testing in mainly urban scenarios, I landed on 9.1L/100km which is bang on Subaru's 'urban' estimate.
It's at least a litre more than I usually expect out of lower-capacity turbo engines in the competition.
If you really want to save on petrol, the Prius-derived tech in the Corolla ZR is has a claimed usage number of 4.2L/100km.
Subaru's raft of improvements to this engine allow you to fill its 50L tank with base-grade 91RON unleaded.
---
Driving
Subaru Impreza
7/10
The Impreza feels solid on the road. Part of this is down to the hefty kerb weight, and a great deal of it is down to the all-wheel drive system.
You have a sense of security behind the wheel that's not quite there in many competitors. The flipside to this is the Impreza seems to have lost a lot of its, well, character.
I'll explain. Older versions of this car were not as well built or as slick to drive, but they had a bit of a wild streak for those who wanted to push them, with just a little bit of the WRX's character found in every variant. Now, though, this Impreza seems a bit sanitized.
If you've driven any of the rest of Subaru's range, its easy to see how the Impreza has arrived at this point. Remember how I mentioned that it shares much of the switchgear of the SUV range? Well, it feels like an SUV to drive, too. It's got that kind of weight to it, and the engine and transmission combination hardly lends it extra agility.
Put simply, the fifth-generation Impreza seems to be built to be the basis of the XV, rather than the WRX.
That might seem like harsh criticism, but I should be clear. For many people, the extra heft and SUV-like security which this Impreza brings will feel great, especially in a plush top-spec hatch like this.
It brings other benefits, too. The 2.0i-S is quiet. Despite the huge wheels, road noise (previously a sore spot for the brand) is surprisingly low and not much can be heard out of the engine and transmission below 4000rpm.
The Impreza might have lost its rally derived sporty soul, but for most buyers, it's a far better commuter car than ever before.
---
Alfa Romeo Giulietta
6/10
There's so much potential here for a great driving experience such as the accurate and direct steering and great suspension which provides a comfortable ride and great handling, only for all to be let down by turbo lag which kills the responsiveness in the car.
Of the three steering modes: Dynamic, Natural and All Weather, the Dynamic setting was kept on almost always with the other two just feeling too lethargic.
The Giulietta is front-wheel drive and there's a lot of torque being sent to those wheels, but unlike a stack of Alfas in the past there's next to no torque steer. That said, our hill start test on a wet night saw those front wheels scrambling for traction as it accelerated up the slope. Cornering grip from the tyres is excellent, however.
There's some Alfa Romeo ergonomic issues in the cabin we've gotten used to over the years, but just because you're accustomed to something doesn't mean it's okay. For example, the cramped driver's footwell with the brake and accelerator pedals so close that it's easy to hit both at the same time.
The indicator and wiper stalks are also so far from the steering wheel rim that they're almost out of reach – I don't think I have small hands, nobody's ever pointed them out or laughed at them.
And speaking of wipers, the Giulietta is obsessed with keeping itself clean. Pull the wiper stalk towards you to clean the windows and such is the intensity of the spray from both the window washer and the headlight washers it's like you're captaining a fishing trawler that's hit a massive wave at sea. Put the car into reverse and the rear wiper starts squirting and washing.
For Christmas I want Alfa to upgrade their media unit or bin it – the UConnect system disconnected my phone without prompting and isn't intuitive to use.
Safety
Subaru Impreza
9/10
Apart from the base-model Impreza, which misses out on the 'EyeSight' dual-camera suite, the rest of the range is well equipped.
Included from 2.0i-L up is auto emergency braking (AEB) with brake light recognition, lane keep assist (LKAS) with lane departure warning (LDW), lead vehicle start alert (lets you know when the vehicle in front has moved off), and adaptive cruise control.
But wait. The 2.0i-S adds even more to the active suite, with blind spot monitoring (BSM), lane change assist, rear cross-traffic alert (RCTA) and AEB which works in reverse to stop you from having an embarrassing parking accident.
The 2.0i-S is also the only Impreza with active torque vectoring which monitors and controls the amount of power going to any given wheel to maximise traction.
This is one of the most comprehensive safety offerings in the segment at a price that's less than most of its top-spec competitors.
All Imprezas have seven airbags and carry a maximum five-star ANCAP safety rating as of 2016. There are also three top-tether and two ISOFIX child-seat mounting points across the rear seats.
---
Ownership
Subaru Impreza
7/10
Subaru has recently brought its warranty offering up to the competitive standard of five years/unlimited kilometres. Much better than the previous lackluster three-year offering.
The brand's capped-price-servicing program has also been updated to match the length of the warranty, with the Impreza costing a not-particularly-cheap average of $481.53 per year for five years.
The Impreza requires servicing once a year or every 12,500kms.
---
Alfa Romeo Giulietta
6/10
The Giulietta is covered by Alfa Romeo's three year/150,000km warranty. Servicing is recommended at 12month/15,000km intervals with a major service every two years. Alfa Romeo doesn't have capped price servicing but there is Mopar Vehicle Protection which customers can purchase with the vehicle for $1995.