19 October 2018
What we learned spotting cars on the streets of South Korea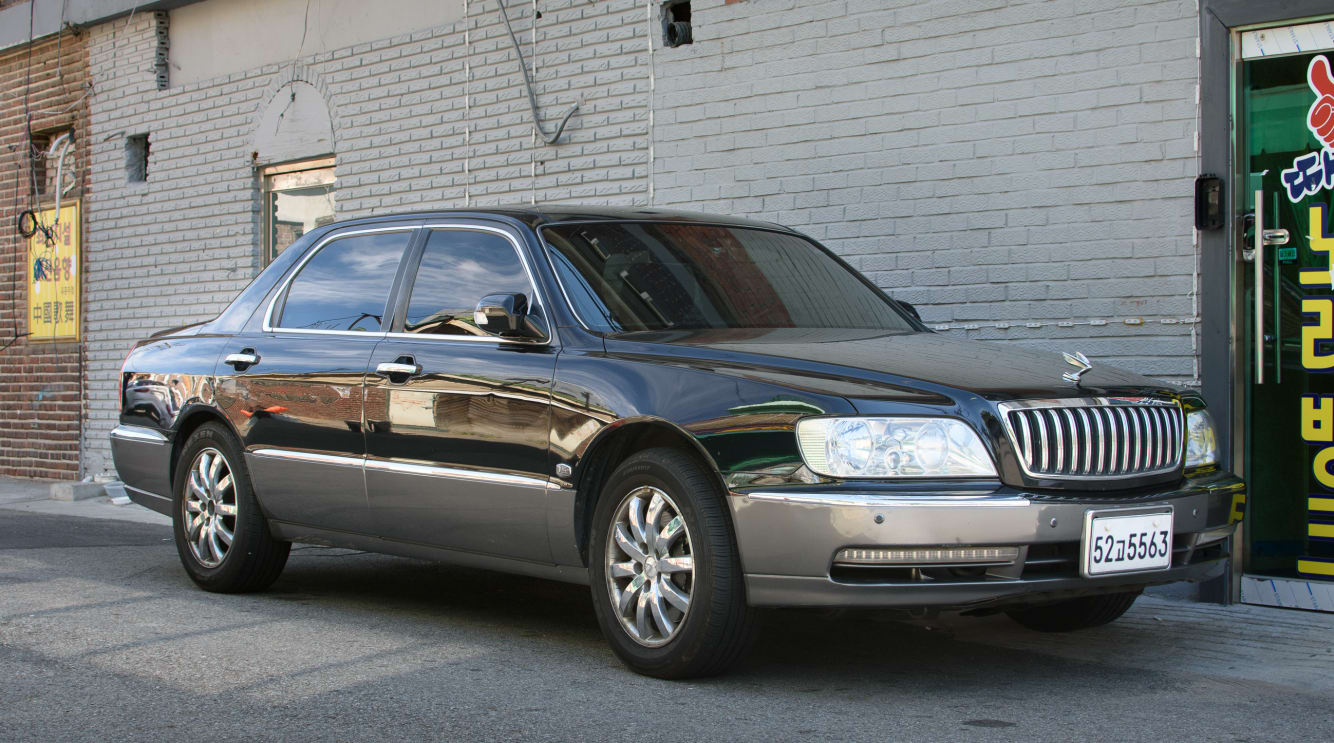 You can learn a lot about a local car culture just by walking the streets.
Australia, for example, would be pretty interesting for visitors thanks to the sheer number of makes sold here (amongst the highest in the world) and the fact the Falcon and Commodore were barely exported.
But as a car enthusiast overseas, I can't help but nerd out over even ordinary cars trying to figure out local tastes and trends.
I was lucky enough to spend a week travelling around South Korea. So, here's what I took away from my car spotting activities there.
Luxury is king

Casual car culture in Korea is all about appearances, and luxury is more important than performance.
Of prime importance to Koreans is luxury. "It's all about appearances" my contact tells me when I ask about the luxury cars littering the streets. "Many people would rather have a nice car than a good apartment".
There are diesel BMWs everywhere. Richer areas have (what I can only assume are crazy expensive) imports like Maseratis and Bentleys. My contact lets me know it's the import taxes, colloquially known as the "Kimchi premium", that makes import cars much more expensive than local alternatives.

BMW seems to have unprecedented market penetration. Most of them are diesel.
"Diesel is much more economical" I'm told when I ask about the hundreds of BMW 530d sedans on the streets of Seoul.
One of the guys at a BMW club meet says local BMW enthusiasts are fascinated by his USDM petrol 3.0-litre X5 because the X5 was only sold locally as a diesel.
KDM Luxury is the choice of business

The conservative choice of business folk is the Hyundai Equus. They are everywhere in Seoul. Apparently the 'Equus' badge carries much prestige locally.
On the streets of Seoul in particular, the KDM Hyundai Equus luxury sedan and its long-wheelbase versions are everywhere. They are mainly V6 powered and, apart from the first-generation, are rear-wheel drive.
This is especially interesting to me, as the Equus never made it to Australia. They remind me of modern Korean versions of the Toyota Crown. The Equus is almost always black, silver or white. Thanks to a low crime rate, they can also afford to have hood ornaments because nobody would steal them.

Hood ornaments were common on luxury Korean brands like the Equus and Renault Samsung's SM7 sedan.
I ask my contacts about the popularity of the Equus. They tell me back when the older Equus was launched, Hyundai ran an incredibly successful marketing campaign targeting business executives. The car became known as a cost-effective and conservative alternative to BMW or Mercedes in business culture.
It was important that the Equus had plain styling, as to show up to a business meeting in a flashy car is seen as culturally inappropriate. Suddenly the Equus popularity makes a lot of sense.
Sedans, especially local ones, are still the most popular bodystyle in Korea

While SUVs are making headway, locally built sedans like the Hyundai Avante (Elantra), Sonata and Grandeur (pictured) were still the most popular choice with the locals.
My contacts tell me it's much cheaper to buy local and it shows. Avantes (we know as Elantras) are everywhere, the same goes for the slightly bigger Sonata, and the slightly bigger again Grandeur, which is kind of neat with its Dodge-esque rear-end.
Having three sedans in the same market segment would never fly in Australia.
Hatchbacks are just not a thing at all. Ironically, despite the popularity and warm reception of the i30 in the western world, we only see a handful on Korean streets.

Renaults and Nissans are sold under the local badging of Renault-Samsung. This one is a Renault Fluence disguised as an 'SM3'. Sedans like this are way more popular than hatchbacks.
"Hatchbacks aren't seen as a smart family choice" my interpreter tells me. "People find sedans or SUVs more sensible," he explains.
Makes sense. Although, we do see a lot of old Kia Morning (Picanto) hatchbacks which are described to me as "cheap cars", and the Kia Ray which is reminiscent of box cars from Japan.

Hatchbacks weren't popular, but the weird lookin' Kia Ray certainly was.
"The Ray is considered a smart family car" my translator says when I quiz him. Weird. It's not really much bigger than a regular hatchback.
Oh, and Koreans have a similar penchant for people movers as the Japanese. The Kia Carnival can be spotted regularly, in luxurious KDM trims (some wear 'limousine' badges).

Much like the Japanese, the Koreans love their people movers.
I assume this has to do with the similar freeway system and attitude toward luxury and family vehicles. We even spot a hotted up one in the Inje circuit car park.
Old cars are basically extinct

The second-gen Korando was one of the few popular 'old' cars on the road. Did you know the first-gen was a badge engineered version of the CJ-7 Jeep? The second-gen shares nothing in common, but continues the tough look.
It took a while to get to the bottom of this one. Old cars in Korea are basically not a thing at all, aside from certain models which seem to hold on.
For reasons none of my contacts can explain, the second-generation Ssangyong Korando with its strange Jeep Wrangler-esque styling is pretty popular for an older vehicle. We spot them all over the countryside and in the streets of Seoul.

The only popular hatchback we saw was the older Kia Morning (Picanto) described to me as a "cheap car" for people who "didn't care".
Aside from that, most of the cars are built after at least 2005. I fish around, and my contacts all suggest that a high rate of consumerism in Korea makes it culturally important to have a new car every few years.
I also eventually manage to confirm that many second-hand vehicles in South Korea are cheaply exported to other LHD markets like Russia (in fact, Russians love the Equus so much that Hyundai built them for the Russian market in Kaliningrad).
Taste in imports is mostly German and American

Cadillac has experienced a bit of success in Korea with cars like the CTS matching up with the local taste for luxury.
You see a few outliers. My contacts at the BMW club note that while you don't see many on Seoul streets, among enthusiasts, the Toyota 86 is popular, as it is around the world.
Mostly though, US imports are popular. Being a LHD market, Koreans have access to American badges never widely sold in Australia.

Even ugly-ass Lincolns litter the city streets.
Luxury prevails for the most part, with the Lincoln brand having a decent representation, and Cadillac with its ATS and CTS series experiencing one of the strongest sales gains among import automakers in recent years.
In ultra-upmarket Gangnam we spot a few Chevy Camaros, and in student-haven/shopping mecca Hongdae we spot a sole Dodge Challenger.

I was honestly surprised to see the definitely-not-conservative Dodge Challenger.
Here's a lonely Chrysler 300C we spotted in the countryside:

Despite the taste for luxo-barges, we only saw one 300C the whole time we were there.
It's the only one we saw the whole trip.
SUVs are making headway, but with a local focus

Newer Ssangyongs like the Rexton here seemed to be gaining popularity, and stood out for their sheer size as they towered over the more popular sedans.
Ssangyong has huge representation in the SUV stakes, party because their wack styling sticks out in a sea of ordinary looking Tucsons, Santa Fes and Sportages.
Smaller SUVs are not as popular as you might imagine, like this Kia Stonic. We only spot a few of these and Hyundai Konas on the whole trip.

It's a story of 'park anywhere you like' on Korean streets. Small SUVs like the Kia Stonic (pictured) or the Hyundai Kona were not that popular.
I'd assume this has to do with the Korean distaste for hatchbacks. Small SUVs are probably in the same boat.
We saw a disproportionate number of Kia Sportages with aftermarket wheels like this one.

Some locals liked to put the 'sport' back into 'Sportage' with aftermarket mods.
Not sure why.
Commercial vehicles are colourful

Why are most of the commercial vehicles this random blue colour? We couldn't figure it out.
You know how I was saying before that most of the most popular cars are white, black or silver? Not so much for the commercial vehicles of Korea.
The Hyundai Porter (and it's Kia Bongo equivalent) is everywhere, and smaller than most light commercial vehicles in Australia. It occupies the space between what Australians would consider a 'ute' and a small truck.

Here's a rare older version of the Hyundai Porter we spotted in the countryside. Look at its quaint face.
It appears to be all Koreans need, and also almost always appears in this blue colour. Nobody can seem to tell me why this is the case. "I'd never actually noticed that before…" one of my contacts says.
The Musso with its ute body is also reasonably popular along with its Rexton SUV counterpart, but my favourite Ssangyong is the national tow-truck of Korea, a cropped-wheelbase Musso with a tow-rig out the back.

The tow-truck of Korea is what appears to be a cropped-wheelbase Musso with a towing rig out the back. Neat.
Then there's the Daewoo Damas van. These can be spotted in almost every alleyway in the city as the delivery van of choice (and again, for some strange reason, almost always in blue).

The Daewoo Damas is indeed a re-badged kei van from Japan.
It looks suspiciously similar to the 'kei' class vans of Japan, and some digging reveals that the Damas is a badge-engineered Suzuki Carry complete with its 800cc three-cylinder engine.
Extra oddities
Here's the Kia Opirus, a retro-styled luxury car, powered by a V6 and front-wheel drive. They were mainly used as executive cars or upscale taxis and were either black or silver:

The quaint Opirus has since been replaced by the rear-wheel drive Kia K900.
Most taxis are Hyundai Sonatas. They are sold as taxis complete with 2.0-litre LPG engines straight from the factory.

Most cabs were seventh-gen Sonatas. Drivers were quite happy to go 100km/h in a 60 zone. "They almost never measure for speed" one driver told us.
Here's another Renault Samsung. Another one of those old cars that seemed to buck the trend for popularity. This one is an 'SM5'.

Yes, this old SM5 is a re-badged Nissan Maxima. Note the hood ornament.
Japanese cars were kind of a thing, but were nowhere near as popular as their Korean equivalents. Here are a few we spotted (albiet, at a motorsport event...)

Hah! There's no escaping 'Initial D' even in Korea!
Lexus had some mild representation. Here's a hotted up one.

While we spotted this hotted-up IS250 at Inje Speedium, it seemed most locals would rather drive a local equivalent like the Genesis G70.
What do you think of everyday Korean car culture? Give us your take in the comments.
This is part of a series on Korean car culture. Read more here:
Hyundai's Motorstudio in Goyang is an unusual automotive experience
We were invited to take a rare look into Korean tuning car culture
We investigated the 24hr self-serve carwash phenomenon in Korea
Bimmerwerks is a Korean car club on an unprecedented scale
The Hyundai Pony: Korea's first home-grown car
While Australia celebrated the Bathurst 1000, I went to see what the Korean equivalent was like