19 October 2018
We investigated the 24hr self-serve carwash phenomenon in Korea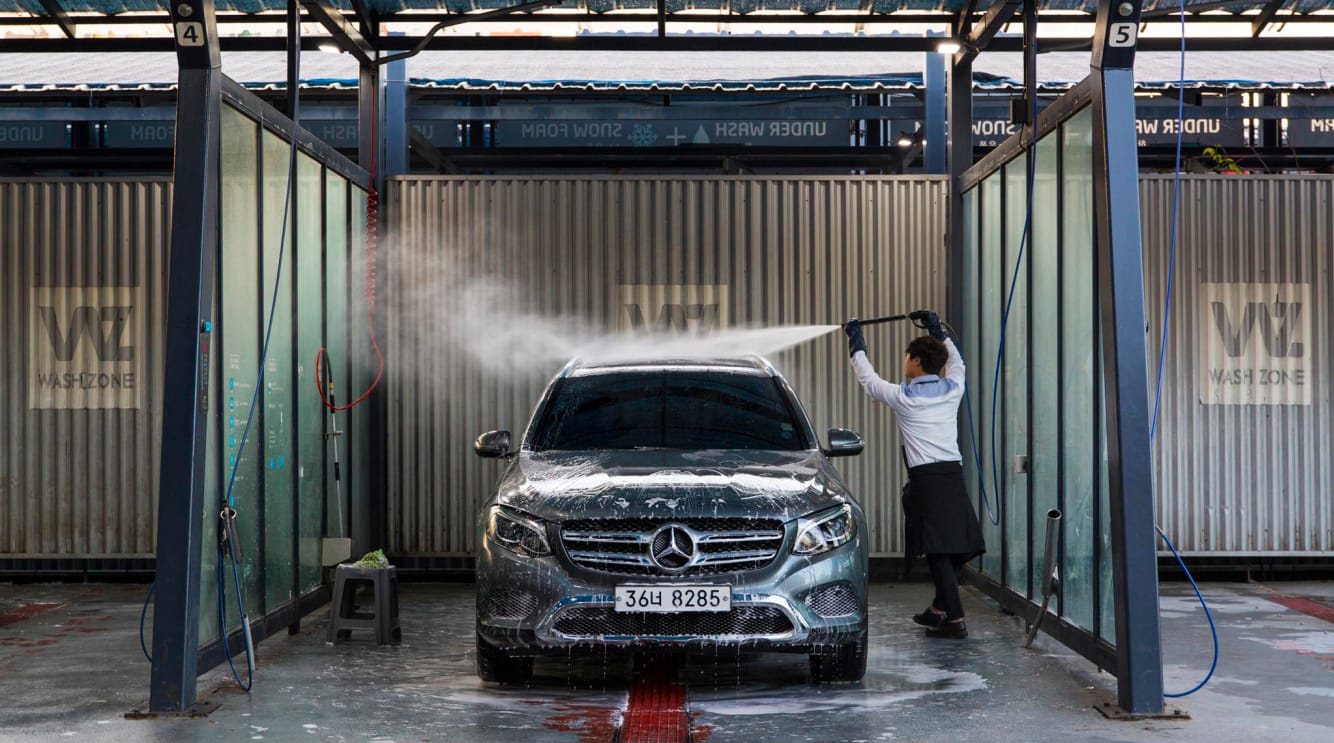 ​When I asked my contacts what sorts of activities are synonymous with Korean car culture, self-serve car wash was always one of the first things to come up.
Dotted all over Seoul, the do-it-yourself carwash is popular, and they operate 24 hours a day. Sure, some exist in Australia, but not anywhere near the same scale and popularity as these Korean ones. We went to check one out to find out what the fuss was.
"Everyone lives in apartments, where it's not just impractical to wash your car, it's actually illegal." My interpreter explained. "Cars park tightly together, and there's no plumbing, It's a real problem, we lost a lot of vehicles to flooding a few years ago."
After a few enquiries, we were invited to take photos and talk to the manager of a popular car wash chain, Wash Zone.

Wash Zones are huge multi-bay facilities. It's more than just washing cars, providing an after-work social event for some.
We're told Wash Zone is the original do-it-yourself carwash service in Korea. Founded in 1989, the company is now so successful it has developed it's own machinery, like a no-contact auto-washing bay set to be rolled out across their operations soon.
Under it's previous name of Goldenself, the brand once operated over 800 self-washing businesses on the peninsula. Under it's new premium brand of Wash Zone it's added a further 87 to the nation's total, and that's not including the hundreds operated by three major competitors.
We arrive at the company's biggest facility, which takes up a fair bit of land and has 15 self-washing bays.

Normally it's even busier than this, with a waiting line around the block for bays.
There's a bit of bustle about. We asked the manager why self-wash was overwhelmingly popular compared to paying someone to wash your car, as is most popular in Australian cities.
He explained self-washing is simply a part of the Korean car ownership ethos.
Koreans take personal pride in their cars. Many of the younger generation would rather own a nice, new car than try to save for expensive property in Seoul. The car becomes their primary asset and display of wealth, so they become fastidious about its condition.
"It's a social activity here. Friends will come here together after work or on the weekend and spend time washing cars and hanging out" he continued.

The Starbucks-style cafe is all part of the social aspect of self-car washing chains in Korea.
We hadn't really noticed until our journey to Wash Zone that almost every car spotted around the streets of Seoul was spotless, save for the hard-working Hyundai Porter trucks.
He says services do exist for people to pay others to wash their cars, but mostly people in the "older generation" use these.
The self-service wash requires you to buy a membership card, which can then be loaded with a balance, not unlike a transport card. It costs just over the equivalent of an Australian dollar per minute to use the hoses, and activating the bay carries a minimum charge of roughly AU$5.

People will spend hours in the detailing bay. It's relatively unusual to see a dirty car on the streets of Seoul.
I asked how busy these places get, and the manager explains that at their largest branch, the one we first visited would have a line of cars extending around the block during busy times after work or just before public holidays.
Wash Zone works on a first-come first-served basis, but has plans to roll out an app for securing a bay in the future. The manager was keen to show us the newest venue nearby, so we hopped in his car, a BMW M550d.

The manager's car was an M550d, he says people into cars in Korea pick diesel as it is economical, and most people only drive in traffic anyway, so the performance was less important than the look.
Clearly he was into his cars, so through our interpreter we talked about car culture in Australia and Seoul. I was curious to know why diesel was so popular, especially for BMWs like this one. "It's economical in Korea" he said. "Most people only drive in traffic, so even for enthusiasts diesel in more luxurious cars is considered fine."
By the time we arrived at the second venue, the manager had warmed up to us, and was keen to let us have a go cleaning his car. He set up a bay for us to use and let us do whatever we wanted.

Self wash is seriously fun. It's a wonder we don't have more of them in Australia.
It was serious fun. There are two main wide-angle hoses, one gurney-style pressure-hose, and one that spits out detergent in a wide arc. Wash Zone uses its own signature detergent formula that has never been exported.
The detergent hose in particular was immensely satisfying to use, and slicing it away with pressurised water was a therapeutic experience.
He also showed us the feature that blasts water up from underneath the vehicle. "This feature is popular in winter when it snows, they salt the road here, so it prevents rust." He told us.

This feature is important for winter climates. The roads are salted to keep ice off of them, so cleaning the undercarriage of cars is important for preventing rust.
How long do people spend here? I ask, while watching a family making an activity out of washing their Daewoo Windstorm (Holden Captiva).
"Roughly 30 minutes from when they roll in" he said, "Some stay for a long time after that, either chatting with friends or putting the final touches on their cars. To see people spend up to five hours in the detailing area is not uncommon."
Every facility has a Starbucks-style café that's open for most of the day, with funky styling and areas for people to congregate.

Just like car wash, coffee chains are a big deal in Korea. Makes sense that they should go hand-in-hand.
We asked if the brand had plans to expand overseas. "They would like to expand" my interpreter relayed, "they are worried that businesses overseas will copy their model otherwise. It has already happened in Europe."
Do Korea's self-wash stations look as much fun as they are? Tell us what you think in the comments.
This is part of a series on Korean car culture. Read more here:
Hyundai's Motorstudio in Goyang is an unusual automotive experience
We were invited to take a rare look into Korean tuning car culture
Bimmerwerks is a Korean car club on an unprecedented scale
What we learned spotting cars on the streets of South Korea
The Hyundai Pony: Korea's first home-grown car
While Australia celebrated the Bathurst 1000, I went to see what the Korean equivalent was like