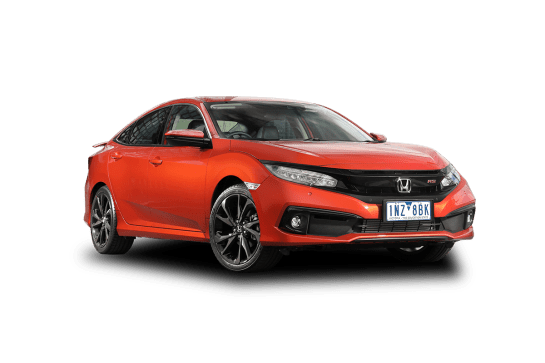 COMPARE
Honda Civic
VS
Volvo V40
Honda Civic
Likes
Looks are good (or bad)
Suspension and steering are both terrific
Plenty of legroom in the rear seat
Dislikes
CVT drones at pace
Standard safety lacking on base models
RS is noisy on the wrong road surfaces
---
Volvo V40
Likes
Great looks
Responsive, torquey engine
Simple to use interior controls
Dislikes
Small boot
Limited rear legroom
No Apple CarPlay
Summary
Honda Civic
If you think the new Civic Hatch looks a little lower-slung than its sedan sibling, that can likely be attributed to the crushing weight of expectation placed on its little metal shoulders.
See, this 10th-gen Civic might be the most important car Honda has ever made. While most manufacturers were pouring funds into their SUV ranges, Honda was diverting a huge chunk (heavily tipped to be a whopping 35 per cent) of their research and development budget into the Civic, using the evergreen nameplate as a key pin in their Australian comeback.
And with that much riding on it, it had to be good. In sedan form, which launched here last year, it mostly lived up to the hype, with Honda shifting more than 800 units per month. And with the Civic hatch finally touching down in Australia, Honda is hoping to add 1000 sales to the tally. 
So the question now is, does this new hatch version shine, too?
| | |
| --- | --- |
| Safety rating | |
| Engine Type | 1.8L |
| Fuel Type | Regular Unleaded Petrol |
| Fuel Efficiency | 6.4L/100km |
| Seating | 5 seats |
---
Volvo V40
I miss my old phone. Sure, my new phone has a bigger screen and it's smarter and faster, but my previous phone was smaller and easier to use, and now when I go to do a screen shot I accidentally hit the volume button every time. 
What I really want in a phone is a new version of the old one – and I have a feeling people may feel the same way about the 2018 Volvo V40. 
Some time next year the completely new generation V40 is expected to arrive and there will be some things I'll miss about the old one. So, this really is your last chance to buy a new 'old' Volvo V40.
In a last-hurrah review, I road tested the V40 in the Inscription grade with the T4 petrol engine. What's so 'missable' about it? Read on to find out.
| | |
| --- | --- |
| Safety rating | — |
| Engine Type | 2.0L turbo |
| Fuel Type | Premium Unleaded Petrol |
| Fuel Efficiency | 5.6L/100km |
| Seating | 5 seats |
Verdict
Honda Civic
7/10
Energetic and engaging (if not quite sporty), the Civic hatch is quiet and comfortable around town, but it can more than hold its own on a twisting backroad, too. It's looks will either appeal or not, but a lack of comprehensive safety equipment on the cheaper models is sure to ruffle some feathers.
For us, the cheapest way into the turbocharged engine forms the pick of the bunch, so we'd call the VTi-L the sweet spot. 
---
Volvo V40
7.5/10
I'm going to miss this V40 like I do my old phone, and for many people this hatch really could really be close to perfect: excellent safety equipment, enjoyable to drive, cool prestige styling and some lo-fi buttons and dials that are far easier to use than swiping a screen. This is your last chance to own an old, new V40.
Would you wait for the new V40 to arrive or would you prefer the current version? Tell us what you think in the comments below.
Design
Honda Civic
8/10
The word 'polarising' is usually a thinly disguised way of saying 'lots of people don't like it'. And the all-new Civic sedan was, well, very polarising. A glance at this new hatch version shows it hasn't strayed too far from that design approach, either.
It's as understated as a snakeskin suit in all grades, but nowhere is it quite so busy as in the RS trim level, in which the sporty trimmings jump out from every possible angle. Strangely, though, we quite like the way it looks, and it's undeniably an individual in the small car segment. 
Inside, Honda has produced the comfortable and tech savvy interior that was missing from the outgoing model, but the sense of well executed semi-premium fades as you approach the spartan rear seat.
---
Volvo V40
8/10
The V40 has been around forever (well, since 2012) but somehow it still looks great – it's the Nicole Kidman/Rob Lowe of cars.
The thing is Volvo's new-generation vehicles now have a different look, which will be worn by the next V40, and that seriously dates the current car.
Sure, in 2016 this V40 was updated and given 'Thor's Hammer' LED running lights like the new-gen cars, but it's clear the V40 has the old look.
The question is: are you the type of person who would be annoyed if this time next year somebody in the latest 'new-look' V40 pulled up beside you at the lights. If yes, then stop reading now… we'll just wait a moment for you to leave.
Okay, it's just us now. We don't need those shallow people anyway, right? They don't know what they're missing out on – like an interior with lots of buttons. I'm serious the centre console actually has a numerical key pad for making phone calls. There are also lots of dials for the climate control and seat warmers and for the auto parking system.
All of these buttons will be replaced by a sexy, large touchscreen in the new V40, which will make the screen in the current one look like the slot in Ned Kelly's helmet. Wait, don't leave. See, I've road tested the new X60 and I missed just flinging a dial to make the cabin's temperature cooler, instead I had to go into the screen's menu, find the climate functions, and then slide my finger down a little digital ladder until I found 21 degrees. It's a frustrating design and potentially distracting in that it takes your eyes off the road longer than twisting a dial does.
I'll stop the rant. So, yes, the interior of the new V40 will look so sleek and minimalist, decluttered of its buttons and sporting a large vertical screen, but there are functional advantages to keeping it simple.
That said the current V40's cabin is still special and elegant. The Inscription grade brings milled aluminium trim to the centre console and that leather steering wheel. Volvo owners would be aware of that solid, well-built feeling with a high-quality fit and finish.
What are the V40's dimensions? Compared to the Audi A3 Sportback the V40 is 59mm longer at 4369mm end-to-end, 72mm wider at 1857mm across, and 5mm shorter in height at 1420mm.
Practicality
Honda Civic
7/10
The Civic hatch is surprisingly spacious in the cabin, where up front the two seats are split buy a central bin housing two of the fattest, deepest cupholders we've ever seen (that would be America's 'Big Gulp' influence on the Civic's design), along with a hidden USB and power source that sits behind the centre console, hiding the ugly chords while you're plugged into touchscreen unit.
The back seat, is plenty spacious in the longer and wider hatch - which also sits on a 30mm longer wheelbase than the outgoing car - with more shoulder, leg and knee room for backseat riders.
Which is just as well, as there's not much else happening back there, with no air vents, power outlets or USB points on offer, with just the two cupholders housed in a pulldown divider that separates the rear seat.
Boot space is pegged at 414 litres with the 60/40 split rear seat in place, which is enough to give the Civic hatch the edge over its direct competitors in the Hyundai i30, VW Golf and Mazda3.
---
Volvo V40
6/10
Umm, next question. Okay, the V40 is not very practical. Those small rear doors don't open wide, making entry and exit potentially difficult for older or less limber folks.
Legroom in the back is limited – although at 191cm I can just sit behind my driving position and headroom is getting tight, too – but still there's just enough room for me.
The V40's cargo capacity is 335 litres and that's smaller than the A3 Sportback's boot space (380 litres) and the BMW 1 Series's luggage capacity (360 litres). The aperture of the boot itself is also small.
There's even a practicality issue with the driver's doorway – that windscreen is so slanted that the A-pillars either side of it are hard to dodge for taller people when trying to get in, but especially when climbing out.
Price and features
Honda Civic
6/10
Thanks to what Honda refers to as its "One Civic" philosophy, this new hatch lineup perfectly mirrors the sedan range that was launched here last year, with the only major change being the 'Ring-burning Type R, which will be hatch-only when it arrives later in 2017.
And that means the five-strong Hatch range kicks off with the entry-level VTi ($22,390) before stepping up to the VTi-S ($24,490) and the VTi-L ($27,790). Next up is the sport-sprinkled RS ($32,290), before the range tops out with the high-flying VTi-LX ($33,590).
Entry-level shoppers will make do 16-inch steel wheels, fabric seats and single-zone climate control, but there are some nice and premium-feeling flourishes, like LED DRLs, a 7.0-inch touchscreen that's now Apple CarPlay and Android Auto-equipped and a second colour screen in the driver's binnacle for your trip information.
Stepping up to the VTi-S adds 16-inch alloy wheels, integrated LED indicators in your wing mirrors and proximity locking and unlocking, along with some clever safety stuff we'll come back to under the Safety heading.
Along with a better engine (more on that in a moment), springing for the VTi-L will earn you 17-inch alloy wheels, twin-zone climate control and automatic windows in both rows, while the sporty-flavoured RS adds LED fog and headlights, along with a hearty dose of sporty styling courtesy of a bumper kit, skirting and a liberal splashing of piano black highlights.
Inside the RS gets leather trimmed seats, a better 10-speaker stereo and and a standard sunroof, too. 
Finally, the range-topping Civic - the VTi-LX - gets satellite navigation, and a fairly comprehensive suite of safety kit.
---
Volvo V40
8/10
The Volvo V40 in the mid-range Inscription grade with the T4 engine lists for $43,990. When I road tested it for the first time five years ago (in 2013) it was $45,990, and it's a better car now than it was then, with more standard features.
The list includes a 7.0-inch touchscreen with reversing camera, sat nav, eight-speaker sound system with CD/DVD player, digital radio, and internet connectivity – but no Apple CarPlay or Android Auto. 
Also standard are front and rear parking sensors, an auto parking system, plus power adjustable driver and front passenger seats. There's also leather upholstery, leather-trimmed steering wheel, dual-zone climate control, 17-inch 'Sarpas' alloy wheels and proximity key entry.
The safety equipment list is impressive, too – you can read all about what's looking after you in the safety section below.
If you wanted a model comparison, then also look at the BMW 1 Series 18i M-Sport for $43,890 or the Audi A3 Sportback 2.0TFSI for $46,400 or Mercedes-Benz A200 for $44,300.
Also, don't forget that because the current V40 is due to be replaced, dealers will be keen to move their stock to make way for the new one and that means you should be able to get yourself a bargain.
Engine & trans
Honda Civic
7/10
Like the sedan version, there are two engine choices on offer, with the cheaper option a 1.8-litre petrol engine, good for 104kW at 6500rpm and 174Nm at 4300rpm found in the VTi and VTi-S trim levels.
The better option, though, is a perky turbocharged 1.5-litre petrol engine that will push 127kW at 5500rpm and 220Nm at 1700rpm to the front tyres.
Both engines are partnered with a CVT automatic transmission, with or without wheel-mounted shifters, depending on the trim level.
---
Volvo V40
8/10
The V40 line-up has three petrol engines to pick from and the T4 sits right in the middle between the most powerful T5 and the least grunty T3. A 2.0-litre four-cylinder turbo-petrol engine the T4 makes 140kW/300Nm and delivers it through a smooth six-speed automatic.
That engine is up there with my favourite things about the V40 Inscription. The power figure isn't huge but 300Nm of torque provides decent shove. A 0-100km/h time of 6.9 seconds isn't at all slow.
Fuel consumption
Honda Civic
8/10
Fuel use is pretty impressive across the board, with the 1.8-litre engine sipping a claimed combined 6.4-litres per hundred kilometres, while the turbocharged version needs just 6.2 litres on the same cycle. 
Emissions are pegged at 150 and 142 grams per kilometre of C02 respectively.
---
Volvo V40
7/10
Volvo says the V40 should use 5.6L/100km of premium unleaded fuel over a combination of open and urban roads.
If you're only going to stick to urban areas you'll see higher usage – our trip computer was reporting an average of 14.9L/100km on a regular peak hour commute, but motorways drop the figure to about 8.0L/100km.
Driving
Honda Civic
7/10
Honda struggles a little in explaining  exactly what its new 1.5-litre turbo-powered Civic is.
Is it a hot hatch? Nope, the incoming Type R will handle those duties. Oh, so it's a warm hatch, then? Not really - it's mechanically identical (same engine, gearbox and suspension) to the other, top-tier Civics. In fact, only the brand of tyres seperate the RS from the more luxurious VTi-LX.
"We would say it's a 'sporting hatch'," says Honda's head honcho, Stephen Collins.
And sporting it is, with its clever turbocharged 1.5-litre engine a willing and perky unit, delivering plenty of oomph all over the rev range and with no noticeable, soul-destroying lag in its power delivery. 
The steering, too, has a sporty flavouring, it's super direct, and offers such crisp direction changes that you have to pay keen attention driving, as even the slightest input will see you steering out of your lane. And while the ride is a little crashy through bumps, it pays you back with composed cornering antics that see the front wheels hanging on to the tarmac for much longer than you might expect.
But the best trick of the 1.5-litre engine is that it doesn't require much accelerator to make it move, which means there's never too much strain on the CVT auto in town. And, given the auto is both loud and intrusive when you ask too much of it, that can only be a good thing.
Like most CVT 'boxes, it's quiet and composed in city driving, but loud and with a tendency to surge when you start to test it. So much so that heavy acceleration requires a kind of lucky dip as to when to back off the throttle, with the Civic continuing to accelerate for a moment or so even once you get off the gas.
Happily, then, the 1.8-litre models are much easier to classify. They're the cheap ones.
It's a a simple, honest and hardworking engine that feels both slower and slower to respond than its newer, turbocharged sibling, but is more than capable of getting up to speed, even if it struggles to add pace from the mid-range onward.
---
Volvo V40
7/10
That grunty 2.0-litre engine teamed with that smooth six-speed transmission goes a long way to making the V40 Inscription T4 an enjoyable car to drive.
Good handling and a fairly comfortable ride complete a prestige and easy-to-drive package that's only really let down by heavy steering and slightly noisy suspension. That heavily sloped windscreen does present some visibility issues, but it's not a deal breaker.
Safety
Honda Civic
6/10
While some of its key competitor are throwing safety functions at all trim levels, with Honda it's still sadly a case of you get what you pay for.
The entry-level VTi, for example, makes do with six airbags (front, front-side and curtain) and a 180-degree reversing camera, opting for the VTi-S, VTi-L or RS adds front and rear parking sensors and Honda's cool 'LaneWatch' (with activates a side-mounted camera when you indicate, beaming an image of the lane running alongside the lefthand-side of the car up onto the 7.0-inch screen).
Spring for the top-spec VTi-LX, however, and Honda's complete 'Sensing Suite' arrives as standard, adding AEB, Lane Departure Warning with Lane Keep Assist and active cruise control.
The entire Civic range was awarded the maximum five-star ANCAP safety rating.
---
Volvo V40
9/10
First tested in 2012, the V40 the achieved one of the highest-ever scores awarded by EuroNCAP and saw ANCAP give it the maximum five-star rating in Australia. Back then the V40 came standard with advanced safety equipment only making it onto cars these days such as AEB, it also had the world's first pedestrian airbag, which inflates to protect people from hitting the A-pillars and windscreen.
The 2017 update added blind-spot warning as standard on the Inscription grade. A $1300 option package brings Lane Departure Warning, Lane Keeping Aid, Active High Beam Control, Forward Collision Warning and Road Sign Information. A $3000 package brings adaptive cruise control, collision warning with full auto braking, plus pedestrian and cyclist detection.
ABS, EBD, traction and stability control are of course there to step in should you need it, too. You'll find three top tether and two ISOFIX points in the second row for child seats. A space-saver spare is under the boot floor.
Ownership
Honda Civic
7/10
The Honda Civic is covered by the brand's three year/100,000km warranty, requiring servicing every 10,000km or 12 months, Your annual service cost is capped at $843 for the first three years.
---