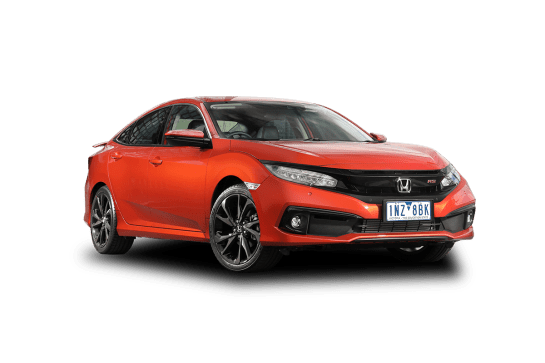 COMPARE
Honda Civic
VS
Subaru WRX
Honda Civic
Likes
Looks are good (or bad)
Suspension and steering are both terrific
Plenty of legroom in the rear seat
Dislikes
CVT drones at pace
Standard safety lacking on base models
RS is noisy on the wrong road surfaces
---
Subaru WRX
Likes
Terrific engine
Surprisingly livable ride
Unusual and great hydraulic steering
Dislikes
No Apple CarPlay/Android Auto
Spec.R value questionable
Lack of AEB/rear parking sensors
Summary
Honda Civic
If you think the new Civic Hatch looks a little lower-slung than its sedan sibling, that can likely be attributed to the crushing weight of expectation placed on its little metal shoulders.
See, this 10th-gen Civic might be the most important car Honda has ever made. While most manufacturers were pouring funds into their SUV ranges, Honda was diverting a huge chunk (heavily tipped to be a whopping 35 per cent) of their research and development budget into the Civic, using the evergreen nameplate as a key pin in their Australian comeback.
And with that much riding on it, it had to be good. In sedan form, which launched here last year, it mostly lived up to the hype, with Honda shifting more than 800 units per month. And with the Civic hatch finally touching down in Australia, Honda is hoping to add 1000 sales to the tally. 
So the question now is, does this new hatch version shine, too?
| | |
| --- | --- |
| Safety rating | |
| Engine Type | 1.8L |
| Fuel Type | Regular Unleaded Petrol |
| Fuel Efficiency | 6.4L/100km |
| Seating | 5 seats |
---
Subaru WRX
It's funny how some brands break through into the collective consciousness. Subaru Technica International could be absolutely anything, really, but thanks to the efforts of a few chaps flinging WRXs down muddy forest roads and the PlayStation juggernaut that is Gran Turismo, just about everyone has at least heard of STi, and knows it means something fast and furious.
As part of this year's facelifted range of six WRXs, Subaru has presented us with the WRX STi Spec.R. Before you get too excited and start looking for phrases like "power is up..." or "weight is down...", the Spec.R is an STi with Recaro seats and a big wing. That doesn't mean it's not worth reading on, however, because an STi badge is never anything less than interesting. And invigorating.
| | |
| --- | --- |
| Safety rating | |
| Engine Type | 2.0L turbo |
| Fuel Type | Premium Unleaded Petrol |
| Fuel Efficiency | 9.2L/100km |
| Seating | 5 seats |
Verdict
Honda Civic
7/10
Energetic and engaging (if not quite sporty), the Civic hatch is quiet and comfortable around town, but it can more than hold its own on a twisting backroad, too. It's looks will either appeal or not, but a lack of comprehensive safety equipment on the cheaper models is sure to ruffle some feathers.
For us, the cheapest way into the turbocharged engine forms the pick of the bunch, so we'd call the VTi-L the sweet spot. 
---
Subaru WRX
7.3/10
Is the Spec.R worth the extra few grand over the Premium? Not really, but it's not like you're buying an STi with your accountant's blessing. The Recaros are good but they aren't amazing and the whopping rear wing is a little embarassing if you want to keep a low profile. But if you must have the top of the range, the STi is certainly far better than the WRX on which it's based and worth the extra dollars and thirst for 98 RON fuel. It's easier to live with and more fun to drive, something I'm still questioning as I type it. I expected the latter but not the former.
You can get the "basic" STi for almost $10,000 less and still get pretty much the same effect, but you'll have to move the seat yourself, live without a few luxuries and go without Battlestar Galactica glued to the bootlid.
Is the STi on your list or does the the all-wheel drive Euro set have its fingers on your money?
Design
Honda Civic
8/10
The word 'polarising' is usually a thinly disguised way of saying 'lots of people don't like it'. And the all-new Civic sedan was, well, very polarising. A glance at this new hatch version shows it hasn't strayed too far from that design approach, either.
It's as understated as a snakeskin suit in all grades, but nowhere is it quite so busy as in the RS trim level, in which the sporty trimmings jump out from every possible angle. Strangely, though, we quite like the way it looks, and it's undeniably an individual in the small car segment. 
Inside, Honda has produced the comfortable and tech savvy interior that was missing from the outgoing model, but the sense of well executed semi-premium fades as you approach the spartan rear seat.
---
Subaru WRX
7/10
Well, yes. That rear wing really dominates the STi, hanging off the back like it's searching for aliens, so they can land their spaceships on it. It's a hefty-looking unit but is actually so big that it does little to ruin rearward vision. You certainly make an entrance in a Spec.R.
The rest of the car is fairly conventional WRX - pumped and vented front guards, big but not stupid-big wheels and blacked out front and rear splitters.
Practicality
Honda Civic
7/10
The Civic hatch is surprisingly spacious in the cabin, where up front the two seats are split buy a central bin housing two of the fattest, deepest cupholders we've ever seen (that would be America's 'Big Gulp' influence on the Civic's design), along with a hidden USB and power source that sits behind the centre console, hiding the ugly chords while you're plugged into touchscreen unit.
The back seat, is plenty spacious in the longer and wider hatch - which also sits on a 30mm longer wheelbase than the outgoing car - with more shoulder, leg and knee room for backseat riders.
Which is just as well, as there's not much else happening back there, with no air vents, power outlets or USB points on offer, with just the two cupholders housed in a pulldown divider that separates the rear seat.
Boot space is pegged at 414 litres with the 60/40 split rear seat in place, which is enough to give the Civic hatch the edge over its direct competitors in the Hyundai i30, VW Golf and Mazda3.
---
Subaru WRX
7/10
It's classic Impreza in here, so it's not a bad place for you and your things. Front and rear headroom are good and, for this segment, rear accommodation isn't bad at all, even if it lacks its own set of air-con vents.
The boot will take 460 litres, with the rear seats folding in the usual 60/40 fashion. Front and rear passengers each have two cupholders and two bottle holders, bringing the totals to four apiece.
Price and features
Honda Civic
6/10
Thanks to what Honda refers to as its "One Civic" philosophy, this new hatch lineup perfectly mirrors the sedan range that was launched here last year, with the only major change being the 'Ring-burning Type R, which will be hatch-only when it arrives later in 2017.
And that means the five-strong Hatch range kicks off with the entry-level VTi ($22,390) before stepping up to the VTi-S ($24,490) and the VTi-L ($27,790). Next up is the sport-sprinkled RS ($32,290), before the range tops out with the high-flying VTi-LX ($33,590).
Entry-level shoppers will make do 16-inch steel wheels, fabric seats and single-zone climate control, but there are some nice and premium-feeling flourishes, like LED DRLs, a 7.0-inch touchscreen that's now Apple CarPlay and Android Auto-equipped and a second colour screen in the driver's binnacle for your trip information.
Stepping up to the VTi-S adds 16-inch alloy wheels, integrated LED indicators in your wing mirrors and proximity locking and unlocking, along with some clever safety stuff we'll come back to under the Safety heading.
Along with a better engine (more on that in a moment), springing for the VTi-L will earn you 17-inch alloy wheels, twin-zone climate control and automatic windows in both rows, while the sporty-flavoured RS adds LED fog and headlights, along with a hearty dose of sporty styling courtesy of a bumper kit, skirting and a liberal splashing of piano black highlights.
Inside the RS gets leather trimmed seats, a better 10-speaker stereo and and a standard sunroof, too. 
Finally, the range-topping Civic - the VTi-LX - gets satellite navigation, and a fairly comprehensive suite of safety kit.
---
Subaru WRX
7/10
The STI range kicks off at $51,190, climing to $55,490 for the Premium and then on to $57,690 for the Spec.R. I had the all-singing and dancing Spec.R for a week.
Based on the Premium's specifcation, the R arrives with 19-inch alloys wrapped in Yokohama Advan tyres, bright yellow six-pot Brembo calipers gripping drilled discs, an eight-speaker Harmon Kardon stereo, dual-zone climate control, front, side and rear vision cameras, keyless entry and start, auto wipers, active auto LED headlights, cruise control, sat nav, partial leather trim, power everything, sunroof and a space-saver spare.
The R in Spec.R stands for Recaro, the famous bottom-holding company supplying the heated front seats in part leather, part alcantara. Irritatingly, the seats don't fix the too-high positioning of the WRX's front pews, but you can't have everything. The R could also stand for ruddy great rear wing, which comes as standard and is as impressive/obnoxious as ever (delete where appropriate). 
The eight-speaker stereo is a vast improvement on the six-speaker unit in the WRX (which is tinny) but the Starlink screen (all 5.9-inches of it) still doesn't feature Apple CarPlay or Android Auto. The sat nav is welcome, though, and means the lack of proper smartphone integration isn't as annoying.
Engine & trans
Honda Civic
7/10
Like the sedan version, there are two engine choices on offer, with the cheaper option a 1.8-litre petrol engine, good for 104kW at 6500rpm and 174Nm at 4300rpm found in the VTi and VTi-S trim levels.
The better option, though, is a perky turbocharged 1.5-litre petrol engine that will push 127kW at 5500rpm and 220Nm at 1700rpm to the front tyres.
Both engines are partnered with a CVT automatic transmission, with or without wheel-mounted shifters, depending on the trim level.
---
Subaru WRX
8/10
The STi continues with the larger 2.5-litre turbo boxer four, producing an unchanged 221kW (at 6000rpm) and 407Nm. Power hits the road via all four wheels in a fairly attacking fashion, with the centre differential switched out from the viscous coupled one in automatic to a driver-configurable version called "DCCD".
The 0 to 100km/h sprint for the 1572kg STi is dispatched in 5.2 seconds, lopping 0.8 seconds off the standard car's time, which is significant.
Fuel consumption
Honda Civic
8/10
Fuel use is pretty impressive across the board, with the 1.8-litre engine sipping a claimed combined 6.4-litres per hundred kilometres, while the turbocharged version needs just 6.2 litres on the same cycle. 
Emissions are pegged at 150 and 142 grams per kilometre of C02 respectively.
---
Subaru WRX
7/10
Subaru claims a combined figure of 11.2L/100km and I managed...well, here's the thing, 11.3L/100km. Truth in fuel consumption? Well, I never.
While the WRX drinks 95, the STi demands 98.
Driving
Honda Civic
7/10
Honda struggles a little in explaining  exactly what its new 1.5-litre turbo-powered Civic is.
Is it a hot hatch? Nope, the incoming Type R will handle those duties. Oh, so it's a warm hatch, then? Not really - it's mechanically identical (same engine, gearbox and suspension) to the other, top-tier Civics. In fact, only the brand of tyres seperate the RS from the more luxurious VTi-LX.
"We would say it's a 'sporting hatch'," says Honda's head honcho, Stephen Collins.
And sporting it is, with its clever turbocharged 1.5-litre engine a willing and perky unit, delivering plenty of oomph all over the rev range and with no noticeable, soul-destroying lag in its power delivery. 
The steering, too, has a sporty flavouring, it's super direct, and offers such crisp direction changes that you have to pay keen attention driving, as even the slightest input will see you steering out of your lane. And while the ride is a little crashy through bumps, it pays you back with composed cornering antics that see the front wheels hanging on to the tarmac for much longer than you might expect.
But the best trick of the 1.5-litre engine is that it doesn't require much accelerator to make it move, which means there's never too much strain on the CVT auto in town. And, given the auto is both loud and intrusive when you ask too much of it, that can only be a good thing.
Like most CVT 'boxes, it's quiet and composed in city driving, but loud and with a tendency to surge when you start to test it. So much so that heavy acceleration requires a kind of lucky dip as to when to back off the throttle, with the Civic continuing to accelerate for a moment or so even once you get off the gas.
Happily, then, the 1.8-litre models are much easier to classify. They're the cheap ones.
It's a a simple, honest and hardworking engine that feels both slower and slower to respond than its newer, turbocharged sibling, but is more than capable of getting up to speed, even if it struggles to add pace from the mid-range onward.
---
Subaru WRX
8/10
There are a number of significant differences between the basic WRX and the STi. For a start, the steering in the STi is old-school hydraulic, and it shows. While it might follow ruts a little more assiduously than I'd like, it's much better than the electric rack in the WRX. 
The engine is half a litre bigger, with 221kW and 407Nm, the centre diff is driver controllable, the gear ratios are different and there is a shorter final drive for extra punch. The all-wheel-drive grip is further augmented with a set of delightfully sticky Yokohama tyres wrapped around 19-inch alloys.
If you want, you can also have a ludicrously large rear wing. Well, on the Spec.R, you've got it as standard. If you're a bit of a wallflower, you might want to delete that. There are also a set of bright yellow six-pot Brembo brakes, properly high-vis yellow, gripping drilled discs. 
The standard WRX was a hard-rider, with a difficult clutch and gearshift. Surely the harder, more focused STi will be a less appealing day-to-day machine?
Nope. I know, it makes no sense, but it's true.
The real revelation is the ride. The WRX's disjointed suspension setup makes for an unholy experience on poor suburban roads while (mercifully) delivering in the twisty stuff. Both the city and getting-up-to-mischief rides in the STi are excellent. It's not soft, but the concretey feel of the WRX has been replaced with a more compliant, less busy ride. And that's despite bigger wheels and lower-profile tyres and a bit more weight.
On top of that, the hydraulic steering is way better, with more feel, more communication and more precision, apart from a slight wooliness a couple of degrees either side of dead-ahead. While the WRX is better in the faster stuff than the slow, the STi is more comfortable and usable everywhere. The extra power and torque is easy to feel and use and the clutch and gearbox are much more interested in not making you look like a goose.
The torque curve does seem a bit different to the 2.0-litre machine - you can't bumble along in a high gear, you will have to keep the left arm and leg working to maintain stately forward progression. Get lazy and you'll be bumping and shunting a bit, but again, the shift and clutch are far less obstreperous. And this is a car for people who want to drive, and be involved, anyway.
In the fun stuff, the STi is a joy. It really hooks up and you don't need to fiddle with the diff setting, which seems like a silly gimmick. Just leave it in auto and enjoy the taut, responsive chassis, the way it grips and grips and grips, and with a bit of power shuffling, resists understeer like a vegan fails to resist telling you about their veganism.
Safety
Honda Civic
6/10
While some of its key competitor are throwing safety functions at all trim levels, with Honda it's still sadly a case of you get what you pay for.
The entry-level VTi, for example, makes do with six airbags (front, front-side and curtain) and a 180-degree reversing camera, opting for the VTi-S, VTi-L or RS adds front and rear parking sensors and Honda's cool 'LaneWatch' (with activates a side-mounted camera when you indicate, beaming an image of the lane running alongside the lefthand-side of the car up onto the 7.0-inch screen).
Spring for the top-spec VTi-LX, however, and Honda's complete 'Sensing Suite' arrives as standard, adding AEB, Lane Departure Warning with Lane Keep Assist and active cruise control.
The entire Civic range was awarded the maximum five-star ANCAP safety rating.
---
Subaru WRX
7/10
The WRX has seven airbags, ABS, stability and traction controls, reversing camera and brake assist. The STi picks up lane departure warning, rear cross traffic alert, lane change assist and high beam assist. There's also a camera that looks forward down the side of the car to help you park  and a front-facing camera.
ANCAP awarded the WRX a five star ANCAP safety rating in March 2014.
EyeSight is not available on manual WRXs and you can't get a CVT STi, so no camera-based cleverness for you. 
The front-facing camera hangs off the left-hand door mirror and for some reason points forward. It's not especially helpful for parking.
Ownership
Honda Civic
7/10
The Honda Civic is covered by the brand's three year/100,000km warranty, requiring servicing every 10,000km or 12 months, Your annual service cost is capped at $843 for the first three years.
---
Subaru WRX
7/10
Subaru offers a three year/unlimited kilomtre warranty with matching roadside assist.
Servicing is capped for the first three years/75,000km on the WRX (Subaru appears to be in some kind of transition to a different style of service pricing). Intervals weigh in at six months/12,500km with prices ranging from $302 to $604 for a total service bill of $2295.72 or $765.24 per year. Oddly, the STi's service pricing is slightly cheaper than the base WRX.