Hyundai Sonata four-cylinder and V6 2005 review

Only the icing is missing.
From the outside, the new NF Sonata is much more refined and understated as a luxury pretender should be. Gone are the days of the Korean chrome "bling" to tart up an otherwise dowdy design.
Hyundai is very much orientated toward the American market, but has resisted the temptation to chrome this one up as the Yanks like. The result is very tasteful.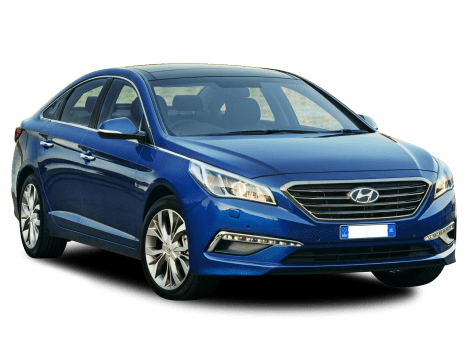 Explore the 2005 Hyundai Sonata range
It looks much better in dark rather than lighter colours — more civilised if a little impractical in our heat.
But as tidy as the new design is, it just lacks inspiration and sparkle. There is no icing.
Over two weeks recently, I drove the four-cylinder and V6 versions of this new model from Korea.
First up was a top-spec four-cylinder model with leather and all the appointments. At first I thought I had taken delivery of the V6, the little four was so lively and responsive.
The V6 is another animal altogether with more power and even better appointments.
Both cars deliver power in a muted way. They don't stomp it out in traffic-light drag races.
Instead, you tickle the throttle for best results, allowing the revs to climb before you feel the boost.
It's good power, without any real sporty sparkle. A great cake, but still no icing.
It is married to a sequential automatic transmission that is as smooth, quiet and efficient as any commuter would want.
Yet when you plant your foot, it takes its time before it kicks down. It's a great cake, but again no icing.
Inside, the driver and passengers could not ask for more creature comforts. Everything is there and all in its rightful place. There is no need to hunt down the instruction manual. All controls are intuitive to work.
The audio and cruise controls are on the steering where they should be and work just fine.
However, you do have to fish around the back to turn the cruise on and off and to change between radio and CD functions. But these fall easily to hand.
The seats are comfortable and supportive, and there is plenty of shoulder, leg and headroom.
Trim is good quality, with some tasteful touches, again without resorting to "bling" to tart things up.
Yet there is no icing on this cake. It looks for all the world inside like a rent-a-Camry. Even the leather looks like vinyl.
Driving characteristics are predictable. The front steerer allows a little bit of safe understeer and has minor pitch and roll.
The ride is civilised, although the first part of the stroke can be slightly unnerved along the sharp bumps and grinds of Milton Rd in Brisbane.
For a medium-to-large car, it rides smoothly enough not to annoy passengers nor trade off on driving characteristics.
Yet if you want to give it something extra, the handling is on the soft and doughy side. A great cake, but without any icing.
Where this cake does tickle the tastebuds is in the price which compares more than favourably with four-cylinder rivals from Mazda, Honda and Toyota and V6 contenders such as Commodore, the new BF Falcon and the new 380 from Mitsubishi which replaces the Magna.
Pricing guides
$3,900
Based on 11 cars listed for sale in the last 6 months
Range and Specs
| Vehicle | Specs | Price* | |
| --- | --- | --- | --- |
| (base) | 2.4L, ULP, 5 SP MAN | $2,290 – 3,490 | 2005 Hyundai Sonata 2005 (base) Pricing and Specs |
| Elite | 2.4L, ULP, 4 SP SEQ AUTO | $3,900 – 5,995 | 2005 Hyundai Sonata 2005 Elite Pricing and Specs |
| GL | 2.4L, ULP, 4 SP | $1,990 – 3,950 | 2005 Hyundai Sonata 2005 GL Pricing and Specs |
Pricing Guide
$2,290
Lowest price, based on 3 car listings in the last 6 months
View cars for sale
Similar Cars
Hyundai Tucson

Genesis G70

Tesla MODEL 3

Kia Optima