Hyundai Sonata V6 2005 review
This is no rehash, but a totally new redesign. In Hyundai's own words, the NF boasts "European-influenced styling and dynamics".
True, you can see a touch of Audi, but also more than a passing resemblance to Subaru's Liberty (at the front) and Honda Accord (rear). What do you think?
There is a choice of two all-new, all-alloy engines – 3.3 litre Lambda V6 and 2.4 litre four-cylinder.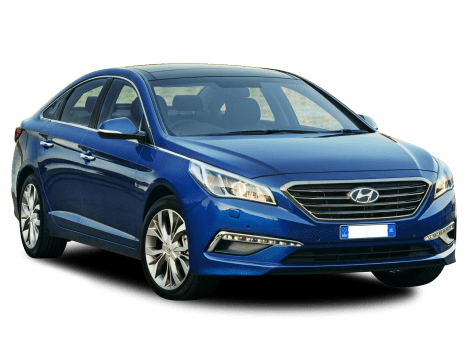 Explore the 2005 Hyundai Sonata range
The 173kW (at 6000rpm) V6 has 32 kW more than Camry V6, is 18 kW up on Magna V6 and gets within 2 kW of Commodore; and its 304 Nm of torque (at 3500rpm) is 17 Nm better than Accord V6.
Hyundai claims a combined city/highway fuel consumption of 10.1 litres/100km, 1.1 better than Camry V6 and 0.5 better than Honda Accord V6.
Electronic Stability Program (ESP) and Traction Control come with the V6 and ABS, six airbags, active front head restraints are all standard.
As its initials imply, ESP provides an "extra sensory perception" to help the driver.
Sensing in real time wheel rotation speeds, deceleration speeds, yaw movement and steering wheel angles, ESP monitors the driver's inputs through the throttle and brake to help in unstable driving conditions by controlling braking and engine outputs.
And there's room to move – Hyundai reckons it is the widest medium car, offering more front leg and head room than Commodore or Falcon.
And Sonata has a 462 litre boot – 16 per cent up on the previous model – capable of stowing three golf bags with space to spare.
It goes, too. HMCA chose Hobart for its national launch, which opened the door to tackling some of the best driving roads anywhere, including Targa Tasmania stages.
Hyundai claims a 0-100kph time of 7.7 seconds and 0-400m in 15.6 seconds from the V6, driving through its five speed Selectronic auto, and the surge that comes when being punted hard around the Tasmanian back roads suggested this was spot on.
The new Theta 118 kW 2.4-litre twin-cam four-cylinder – offered with five speed manual or upgraded Selectronic auto – is also a good bit of gear, even tested back-to-back with its more powerful V6 sibling.
Maximum power is 118kW at 5800rpm and maximum torque 219 Nm at 4250rpm. – 6 kW more than Camry's 2.4, 17 kW more than Subaru Liberty 2.0 and 10 kW more than Vectra CD 2.2.
The 2.4 manual gives a claimed 8.3 litres/100km and the auto 8.8 l/100km is said to better automatic Camry's 9.8, Mazda6's 9.5, Accord VTi's 9.3 and Vectra 2.2's 9.1.
Prices start at $25,490 for the five speed manual 2.4 through to the top of the range V6 Elite for $34,490 – which seems a lot of car, for little money.
"If Australian car buyers seriously and without bias look at this new Sonata and rigorously compare it with other contenders in its segments, I think they will see its absolute excellence and competitiveness, even aside from its exceptional value for money," HMCA CEO B. G. Lee said.
It's hard to argue.
Pricing guides
$3,880
Based on 13 cars listed for sale in the last 6 months
Range and Specs
| Vehicle | Specs | Price* | |
| --- | --- | --- | --- |
| (base) | 2.4L, ULP, 5 SP MAN | $2,290 – 3,490 | 2005 Hyundai Sonata 2005 (base) Pricing and Specs |
| Elite | 2.4L, ULP, 4 SP SEQ AUTO | $3,500 – 5,999 | 2005 Hyundai Sonata 2005 Elite Pricing and Specs |
| GL | 2.4L, ULP, 4 SP AUTO | $2,860 – 4,400 | 2005 Hyundai Sonata 2005 GL Pricing and Specs |
Pricing Guide
$3,500
Lowest price, based on 6 car listings in the last 6 months
View cars for sale
Similar Cars
Genesis G70

Toyota Camry

Hyundai Tucson

Toyota Corolla