Peugeot 4008 2012 review: road test

The first thing the other half said when he first saw Peugeot's new SUV was: "Gee, it looks like that Mitsubishi ASX." He'd be right. And unsurprisingly, the next question was the one on everyone's tongue: "Why would you buy the same car with a different badge?"
Why indeed. For $3000 less, you can get the shared chassis/engine/gearbox combination from Mitsubishi. In a few more months, you will be able to buy yet another version with a Citroen badge on its bonnet. But as it turns out, three grand buys you more than a badge and the cachet that comes with it. And in the competitive compact SUV market, it's the fruit inside and out that wins the buyers, not its beating heart and bone structure.
VALUE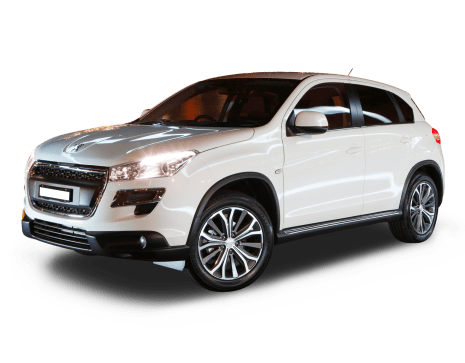 Explore the 2012 Peugeot 4008 range
For a Euro SUV, the price point is pretty impressive. The base Active manual starts at $28,990 in 2WD form, with a continuously variable transmission (CVT) costing $2500, and on-demand, lockable 4WD a further $2000. Standard features include cruise control, dual-zone air-con and air-cooled glove box, parking sensors and a reversing camera which flashes up in the rearview mirror, and a six-speaker stereo with steering wheel buttons, Bluetooth and auxiliary connections.
It sits on 16-inch alloys, but for $1000, the Active can be optioned with the Allure's two-tone 18-inch alloys and chrome side skirts; a pretty persuasive argument. The Allure is available in 4WD with CVT only for $38,490 - almost $10K more. It strangely misses out on standard sat-nav, but gets leather electric and heated seats and trim, chrome highlights, piano black trim on the doors, and those huge 18-inch alloys.
The only options available are metallic or pearlescent paint ($800/1300), leather trim and electric heated seats on the Active ($3500), and the centre-mounted sat-nav and multimedia centre on both models ($1495). Peugeot Oz is also offering a capped price service plan that stays with the car, not the owner; $330 a year for three years or 60,000km.
TECHNOLOGY
Unfortunately, there's nothing new about the Mitsubishi-sourced 2.0-litre four-cylinder; the manual is only a five-speed, and the on-demand AWD system, which switches quickly enough, still has overt front-wheel-drive characteristics. Peugeot is lauded for its diesel technology, so why a conventional 2.0-litre four? Simple: no auto. Not yet, anyway. The excellent Peugeot RCZ coupe has both options, but the manual-only diesel accounts for just 10 per cent of sales. Plus, compact SUV sales are about 80 per cent automatic. So Peugeot saw no reason to offer the engine here - yet. We should see a diesel and six-speed auto in about a year's time.
DESIGN
The 4008 is quite sleek and resolved, while retaining a French essence and air through individual and up-spec treatments both inside and out. Look a little closer, and the design lines such as squared-off wheel arches, relocated license plate recesses and soft-touch interior panels and trim set it apart from the Mitsubishi. In fact, only the door panels, roof and rear glass are carried over from the ASX; everything else is pure Pug. It also manages to avoid that 'adolescent kid with braces' look of some of its stablemates, such as the polarizing 3008 people-mover/crossover, or the bulky imposition of the outgoing Outlander-based 4007 mid-sized SUV.
SAFETY
For its five star rating, the Pug works with seven airbags, a well-calibrated ABS and traction/stability control, hill holder, rear parking sensors and reversing camera. The ABS is sharp, but the stability control is buried pretty deep, and didn't dull all engine power delivery for seconds after coming on either - all good attributes in off-road applications. There is also a full-sized spare, though the 16-inch steel wheel is rated to 80km/h in the 18-inch shod cars.
DRIVING
Given those 18-inch rims, firmer spring and damper rates and recalibrated ABS and steering, we were a touch skeptical when turning off the beaten track and onto potholed, corrugated dirt roads south of Sydney on the local launch earlier this week. Only a few years ago, one wouldn't dream of taking an 18-inch-shod softie onto unsealed roads covered in potholes and cut up by causeways.
But surprisingly, the car is quite deft both on and off the road with more speed than would be typically used by its buyers, provided you set it up and balance it for each corner. Body control is admirable, and while the steering is a little artificial in its speed detection, it is easy to drive if you drive it smoothly without any sudden jerky moves. The paddle-shifters on the CVT are easy to use, and the manual has a nice throw and seemed well-geared.
In fact, the limiting factor to its cornering dynamics seemed to be the all-terrain tyres; simply not bitey enough on the hard-packed dirt with a layer of dust, and tending to give up a little at the front in faster corners. The trade-off on tarmac is a tendency is to push incrementally, not squeal or fold under, and the 225/55 profile has enough rubber to absorb without extricating mercury from molars. The 16-inch alloys and 215/70 rubber were not available to test, and will likely dull the steering and handling, but possibly offer more front-end bite on dirt depending on the rubber.
While the ride and handling is a pleasant surprise, the drivetrain is disappointing in contrast. Neither the manual nor the CVT can hide the obvious hole in the torque, which leaves the car slowly building speed, brick by boring brick, until it climbs over the 3500rpm wall. It does acquit itself well once the wheels are rolling, but in this era of turbocharging small fours and excellent diesels with mounds of low-down torque, the conventional two-litre with a relatively peaky power and torque band (110kW at 6000rpm, and 197Nm at 4000rpm) is frustratingly weak from standstill or on steep inclines.
Add four or five passengers and some luggage to its 1375kg - 1470kg kerb weight, as is this car's demographic, and your ears will no doubt fill with the whine from both engine and gearbox as they nab power from the peak, and no extra Pug padding in the uprated cabin will stifle it. You could add double-figure fuel use to that mix as well. But in the end, some may not notice nor care about such things. The downsides of slower initial acceleration can be countered by lofty specification and equally down-to-earth pricing, making the once unattainable Euro SUV a genuine proposition.
VERDICT
A solid SUV with decent spec and a distinctive look. It's no revolution, French or otherwise, to the compact SUV segment, but a diesel auto would be - will be - a different story.
Pricing Guides
$12,694
Based on 12 cars listed for sale in the last 6 months
Range and Specs
| Vehicle | Specs | Price* | |
| --- | --- | --- | --- |
| Active (4x2) | 2.0L, PULP, CVT AUTO | $9,020 – 12,650 | 2012 Peugeot 4008 2012 Active (4x2) Pricing and Specs |
| Active (4x4) | 2.0L, PULP, 5 SP MAN | $9,800 – 14,990 | 2012 Peugeot 4008 2012 Active (4x4) Pricing and Specs |
| Allure (4x4) | 2.0L, PULP, CVT AUTO | $13,450 – 13,944 | 2012 Peugeot 4008 2012 Allure (4x4) Pricing and Specs |
Pricing Guide
$9,800
Lowest price, based on 12 car listings in the last 6 months
View cars for sale