Lexus GS 2012 review: road test
A top-secret Lexus in a burqa is not the sort of car you get to drive every day. When that Lexus drive time is also more than six months ahead of the car's showroom start, and even two months in advance of its first public appearance, things take on a very different slant.
That's because Lexus knows its all-new GS, the car you cannot actually see beneath the full-coverage black camouflage, has to work. The newcomer is aimed at the same sort of people who were expected to buy the current car - successful 30-40 year-olds who might usually favour a BMW 5 Series or E-Class Mercedes - but drove away in droves.
In fact, even Lexus now admits the GS is a failure at all levels - from driving enjoyment to sales. "Giving the new GS a more fun-to-drive character was the prime objective. We wanted a more fun and rewarding drive," Koji Sato, deputy chief engineer on the GS, tells Carsguide during an exclusive preview drive at Pasadena on the outskirts of Los Angeles. "We have created a sharp and responsive driving experience. There is a more connected driving experience," he promises.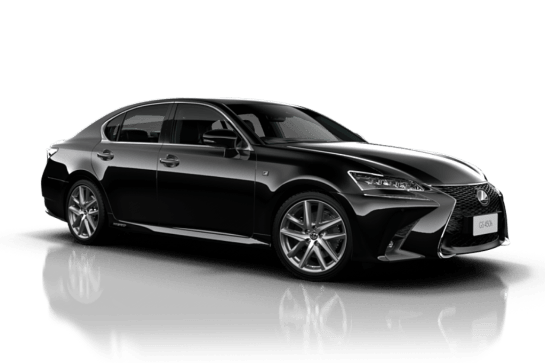 Explore the 2011 Lexus GS range
So the new GS is intended to deliver for people who want more than just a pair of automotive slippers for their retirement years, and Lexus is calling 11 journalists from around the world for an early taste test. It has fingers crossed for ticks in boxes.
The plan is simple: a background briefing and then a fling around a carpark test course before several hours of on-road driving that varies from typical California freeways to give-and-take canyon roads which are fun driving and expose the weaknesses in most cars. But first - time in the current GS. The reminder driver is a refresher on a car that's a Camry in a formal suit.
It drives more like a boat than a car, is quiet but not particularly comfortable, and ticks all the expected luxury boxes without having any personality. To sum up, today's Lexus GS is a yawn. And then I catch sight of the two burqua-wrapped prototypes promising the biggest change at Lexus since the arrival of the original compact IS.
Value
It's hard to rate a car so far from showrooms, but Lexus promises a sharper price than today's GS. The current lineup starts with the GS300 Sports from $97,814 but Carsguide is expecting the newcomer - even with a larger 3.5-litre V6 engine - to drop into the eighty-something price bracket.
Value will also be boosted by everything from an 18-way electric adjustable driver's seat to what is claimed as the biggest full-colour display screen in the car business today. The California drive points to an extension of the current two-model run with the GS300 - sports and luxury, with the sports model getting a bunch of new stuff including active rear-wheel steering - with a run of other models to come including a new 450h hybrid and an F-Sport sports hero.
Technology
The remake of the GS goes right down to the chassis, which is more rigid in the new model for improved safety and a better suspension platform. Lexus is keeping quiet on the finer details, but the California cars come with new suspension, upgraded 3.5-litre V6 engines - most likely with around 233 kiloWatts - and everything from adaptive variable suspension to dynamic handling with rear-wheel steering, and a stability control system that can be turned off.
There is also a new exhaust system that's claimed to be noisier and a slipperier body. But the biggest driver benefit is Drive Mode Select - a bit like the switchable chassis-engine control we've seen from Subaru - that has three settings from maximum comfort through to maximum grip and feedback.
Design
We've seen the Lexus GS concept, which is Carsguide Car of the Show from the Australian International Motor Show at the start of the month, which gives a close pointer to how the production car will look. But the California burqa, and a bunch of other cabin camouflage, means we cannot give any sort of on-the-spot assessment. When I try to zip back part of the burqa body panels, briefly catching a glimpse of a dark-blue guard, a Japanese security guard rushes in to stop me.
I know the car has a clock in the centre of the dash, with a new-age sound system, but everything that's remotely interesting is covered in thick black tape. Still, the boot is now a giant and handles four golf bags - up from two - and even the driver's footrest has been enlarged. The security measures on the GS run deep, and we cannot even begin driving until flaps over the door handles are locked down. When an inquisitive Californian stops to ask what movie we're filming, he is nearly mobbed by the over-eager protection team.
Safety
The new GS is certain to be a five-star car, but there are none of the high-tech safety systems promised by Toyota in the past week. So the GS gets past with things like cabin airbags, ABS and ESP and brake assist, and probably with active cruise control, but not the radar or laser-guided pedestrian protection and anti-crash systems first seen at Volvo and Mercedes-Benz and coming soon in the EyeSight package at Subaru.
Driving
The back-to-back comparison between the current and future GS cars shows the difference between how the car is, and how it was supposed to be. And will be. The newcomer is sharper in every way, from the driving position - which finally gets you down lower into the car with more support for corners - to the steering response and even the ride.
There is more control, more feedback and - consequently - more enjoyment. Is the GS a real rival for the 5 Series, our current class benchmark? We will not know until a Carsguide drive on familiar roads, but the signs are good.
The new GS sprints around the handling course at Pasadena and can even be pushed into a full-on drift through corners. That's new for any Lexus short of the IS-F hotrod. The car with rear steering goes even further, with BMW-style response to the steering, great balance under brakes, and a can-do attitude that makes driving fun. It definitely can handle more punch than I'm getting from the 3.5-litre V6.
Out on canyon roads, the rear-steer car is really sporty and quicker than I expect after earlier GS experiences. It's a car with surprise and delight. The 'standard' car, most likely the Luxury model for Australia, is less enthusiastic but better than today's Sports model. It needs to be eased along, but is nice enough.
There are lots of things to really like in the new GS - from the chassis balance to the giant colour display screen and a huge boot - although the seats could still be better and Lexus has failed to deliver the claimed exhaust rort. If Lexus Australia can hit the right price then the GS will be back from the dead.
Verdict
Even without seeing the final styling - or the cabin finish, for that matter - the new GS is impressive. It has hit almost every target set by Lexus for potential buyers, and gets a Carsguide tick. But it's only a three-star car until we can get it home for a real drive, and some comparison work against BMW and Benz. It could improve and it's very unlikely to slide. What's best is that Koji Sato is passionate about the GS and building a car that is rewarding to drive, not just another automotive appliance that keeps you cool but leaves you cold.
Pricing guides
$21,300
Based on third party pricing data
Range and Specs
| Vehicle | Specs | Price* | |
| --- | --- | --- | --- |
| GS450H Hybrid | 3.5L, Hyb/PULP, CVT AUTO | $16,000 – 22,330 | 2011 Lexus GS 2011 GS450H Hybrid Pricing and Specs |
| GS300 Sport | 3.0L, PULP, 6 SP SEQ AUTO | $14,000 – 19,800 | 2011 Lexus GS 2011 GS300 Sport Pricing and Specs |
| GS460 Sport Luxury | 4.6L, PULP, 8 SP SEQ AUTO | $21,100 – 28,600 | 2011 Lexus GS 2011 GS460 Sport Luxury Pricing and Specs |
| GS300 X Sport | 3.0L, PULP, 6 SP SEQ AUTO | $14,300 – 20,130 | 2011 Lexus GS 2011 GS300 X Sport Pricing and Specs |
Pricing Guide
$14,000
Lowest price, based on third party pricing data
View cars for sale
Similar Cars
Infiniti Q50

Toyota Camry

Audi A4