Maserati Ghibli S 2014 review
Luxury maker Maserati is rolling the dice with the more affordable Ghibli. This four-door coupe, the same size as a BMW 5 Series, is the cheapest Maserati yet, starting at $138,900, or scores of thousands less than the next model in the line-up.
At risk is the Maserati mystique, borne of its exclusivity, which could take a hit when more of its cars are spotted on the street. The reward would be a dramatic boost in sales and profits. Maserati sold just 6300 cars around the world in 2012, but is aiming to move 50,000 next year. The Ghibli (pronounced Gibbly) is right at the centre of the plan.
Maserati's new coupe will quickly become the brand's best seller in Australia but in turn it is expected to be outsold by a new Maserati SUV called the Levante, which will cost a similar amount when it arrives in 2016. For its part Maserati argues that the new, more affordable, models won't hurt the brand because sightings on Australian roads will still be rare.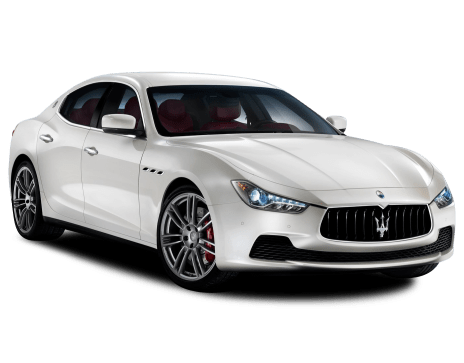 Explore the 2014 Maserati Ghibli range
Even if Maserati sells 1500 cars a year locally after the Levante arrives, spokesman Edward Rowe says: 'That is still a small number when you consider the new car market in Australia is one million cars a year." The Ghibli takes its name from a prevailing wind in Syria. Maserati first used the name in 1963 then reprised it in 1992.
The new car is essentially a downsized Quattroporte, although it might be rude to point that out to someone who has shelled-out more than a quarter of a million dollars on the larger model. Firstly, it looks like a Quattroporte, with the same aggressive nose and sloping coupe profile but the smaller proportions mean it looks better than its big brother.
Plainly it isn't as expensive as the Quattroporte nor does it have quite the same presence, but most people will assume it costs more than it does. The Ghibli is also built on a shortened version of the Quattroporte platform and even employs the same suspension design.
When it comes to engines, yep, you guessed it, they are from the Quattroporte too. The most affordable Ghibli costs $138,900. This uses a 3.0-litre turbo diesel V6 from VM Motori, which is also available in the Jeep Grand Cherokee. This example has a unique Maserati tune for outputs of 202kW/600Nm, so it doesn't mess about when you jab the accelerator.
Next up is the "standard" petrol engine, a 3.0-litre direct injection V6 with two intercooled turbochargers, developed in conjunction with Ferrari and built in Maranello. It costs $139,990 and it has a 243kW/500Nm version of the engine under its long bonnet.
A warmer version, with more aggressive engine management software that increases the outputs to 301kW/550Nm, tops the current range at $169,900. For the record, Maserati says a high-revving V8 and an even more powerful V6 are planned for the Ghibli at some stage in the next few years.
Driving
Carsguide drove the more powerful V6 at the launch near Byron Bay this week and came away pondering: 'Why would anyone buy the more expensive Quattroporte?" For its part, Maserati reckons customers who want a larger limousine with more interior space will be happy to hand over the additional cash for the bigger car.
Regardless, the Ghibli is a great performance sedan that looks beautiful, stands out on the road and goes mighty fast when required (0-100km/h in 5.0 seconds).
It handles extremely well and its hydraulic steering (not electric as in almost all other new cars) is wonderfully involving. The ride of our test car was uncomfortably harsh but it was running optional 20-inch wheels ($5090). It should ride better on the standard 18s.
Surprisingly, there is some turbo lag but the engine is remarkably strong when the turbos start spinning. You better pay attention because the revs build extremely quickly.
The V6 has a meaty sound, which is louder in Sport mode, does a great "thrump" on gear changes - but doesn't sound as good as a V8.
All Ghiblis get an eight-speed automatic, a regular torque converter type, which swaps cogs quickly and without fuss and it can be controlled via paddle-shifters on the steering column. Selecting reverse, park or neutral via the centre-mounted gear shifter can be frustrating as the design is surprisingly poor.
This is a rare negative in what is an excellent interior.
The cabin not only looks smart and expensive, but the controls and easy to use. There is plenty of space for four adults, sitting on sculpted seats trimmed with soft leather and it has as a decent boot. Small items, such as USB charger and 12V charger ports in the rear centre armrest show Maserati has put in a lot of thought.
Verdict
The impact of the more affordable models on the Maserati brand long term being uncertain, the Ghibli is almost certain to deliver a short-term hit. Some will buy it just for the badge, while others will do so because it is actually a fine performance-luxury car.
Pricing guides
$64,995
Based on 8 cars listed for sale in the last 6 months
Range and Specs
| Vehicle | Specs | Price* | |
| --- | --- | --- | --- |
| (base) | 3.0L, PULP, 8 SP AUTO | $58,990 – 83,139 | 2014 Maserati Ghibli 2014 (base) Pricing and Specs |
| D | 3.0L, Diesel, 8 SP AUTO | $56,760 – 65,230 | 2014 Maserati Ghibli 2014 D Pricing and Specs |
| S | 3.0L, PULP, 8 SP AUTO | $69,888 – 69,990 | 2014 Maserati Ghibli 2014 S Pricing and Specs |
Pricing Guide
$58,990
Lowest price, based on 8 car listings in the last 6 months
View cars for sale