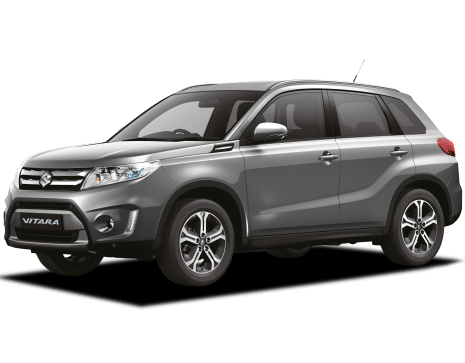 COMPARE
Suzuki Vitara
VS
Hyundai Tucson
Suzuki Vitara
Likes
Good interior space
Reasonably priced
Apple CarPlay/Android Auto
Dislikes
Engine
Lack of advanced safety
Servicing
---
Hyundai Tucson
Likes
Exterior styling is aging well
A conveniently small mid-size SUV
New safety equipment in 2020 update
Dislikes
Cabin is a bit plain
Dual-clutch can be jerky in traffic
Diesel is a bit noisy
Summary
Suzuki Vitara
Suzuki's much-loved Vitara returned in 2015 and it was a happy day for people over a certain age. Over the years, Suzuki has tweaked and trimmed the range, ditching the diesel (much to the chagrin of towing fans) and leaving us with three Vitaras with the subtly updated 2019 model - the entry-level, the Turbo and the Turbo Allgrip.
The entry-level Vitara is a lot of car for the money but there is a small catch - instead of the excellent 1.4-litre turbo engine of the other two, it ships with a 1.6-litre naturally-aspirated engine that has significantly less power than anything else in the segment.
That doesn't seem to bother the target market, though - the base Vitara is by far the biggest seller in the range.
| | |
| --- | --- |
| Safety rating | |
| Engine Type | 1.6L |
| Fuel Type | Regular Unleaded Petrol |
| Fuel Efficiency | 6.2L/100km |
| Seating | 5 seats |
---
Hyundai Tucson
The Hyundai Tucson is one of the go-to mid-size SUVs in Australia, along with the Mazda CX-5, Toyota RAV4 and Nissan X-Trail. So, what makes it so popular, what do you get for your money, and what extra features have been added in this 2020 update?
Let me be your Tucson tour guide. Having been in and out of a stack of Tucsons, and having clocked up thousands of kilometres in them, I'm familiar with their great points and have discovered a few of their shortcomings, too.    
| | |
| --- | --- |
| Safety rating | |
| Engine Type | 2.0L |
| Fuel Type | Regular Unleaded Petrol |
| Fuel Efficiency | 7.8L/100km |
| Seating | 5 seats |
Verdict
Suzuki Vitara
6.4/10
It's frustrating that the Vitara is a good car fitted with such a weak engine. It's got great interior space for less money than a Qashqai, a big boot and some nice touches.
The ledger for the base model Vitara is more balanced than the higher grades. While the turbo-engined machines get along very nicely, the ride and handling are great and all the Vitara's strengths are magnified, the entry-level struggles against similarly-priced competition.
The Vitara Turbo is the one to get if you can stretch to it. The Vitara isn't ruined by this engine, but it is compromised. 
Is engine power a big deal for you? Or is the Vitara's lack of pace and refinement secondary to its undeniable charms? Let us know in the comments below.
---
Hyundai Tucson
7.3/10
The changes to the 2020 Tucson are few, but important – the extra safety equipment added to the lower grades is great news.
Despite being a few years old and a new-generation Tucson coming by 2021-ish, the current SUV is a great workhorse that has served my family well in the form of a long-term test car, and more recently in these week-long stints in the updated model.
Parents will like the hard-wearing materials and wipe-clean surfaces, and I reckon everybody will appreciate the city-friendly size while staying fairly spacious on the inside.  
Design
Suzuki Vitara
7/10
Not everyone is a fan of the new Vitara's looks, but I am. Most of the colours are fairly vivid and everyone seems to buy it in metallic green, so it was nice to have it in this grey/silver (optional) colour.
The chrome grille can be a little bit much, but I really like the purposeful, chunky profile. Wasn't sure about the new rear lights at first, but as I said in the Allgrip review, they had already grown on me.
The Vitara's interior isn't going to win any materials quality awards, but it seems like it will last a long time. There's nothing amazing about it apart from the fact it's roomy and everything looks and feels honest.
---
Hyundai Tucson
7/10
There's a new-generation Tucson on the horizon, but we won't be able to buy it for a couple of years yet. But rest assured Hyundai is cooking it up in its laboratories as you read this.
Can't wait until around 2021 (probably)? Well, in the meantime this current generation still looks stylish even if it's been here since 2015.
There have been some cosmetic upgrades over the years to freshen up the Tucson's look, with Hyundai giving it a new grille and redesigned headlights in 2018. Same for the cabin which was also given a design revamp.
I'm a fan of the exterior and think it's aged well, with its tough-looking face and elegant side profile. This sounds super nerdy, but I also like the shape of the tailgate with its little 'lip edge' and those taillights.
Even in the 'government issue' standard white paint worn by the Active X I tested (see the images), the Tucson still looks mighty fine. And it has to, the competition is a good-looking bunch – as a model comparison there's the Mazda CX-5, Toyota RAV4 and Kia Sportage all on the rival list.
Talking of paint, the colour palette is limited to Phantom Black, Gemstone Red, Pepper Grey, Platinum Silver, Aqua Blue, Pure White, Sage Brown, Dusk Blue and White Pearl. Yep, no gold, orange, green or purple here I'm afraid.
The Tucson's insides get fewer design accolades, with its fairly plain styling and there's not a great deal of difference in look and feel between the cabin of an Active X and that of the Highlander - apart from the electric handbrake and dual-zone climate. Have a look at the interior images to see what I mean.
Spotting the difference between the grades from the outside isn't easy: if the Tucson has dual exhausts it's a Highlander, but if it doesn't and it has chrome around the windows then you're looking at an Elite, while an Active X has bigger wheels than the Active.
Now the dimensions. The Tucson is 4480mm end to end, 1850mm wide and 1660mm tall. That makes it 120mm shorter than a RAV4 and 70mm shorter than a CX-5. So, the Tucson is a smaller mid-sized SUV but that will suit many families in the city well.
Practicality
Suzuki Vitara
7/10
Passenger space in the Vitara is excellent for a compact SUV. Part of the reason back seat occupants do so well is because the roof is high, the doors aren't very thick and the seat is a long way off the floor, meaning the distance between the front and rear seats isn't made smaller by angled legs. It's comfortable, too.
Which is lucky because you won't have anywhere to put your drinks or phones or your inboard elbows, which is a shame.
Front seat passengers have somewhere to put their elbows and there are two cupholders. All four doors have a bottle holder.
The boot has a false floor under which you can hide a decent amount of stuff, including small bags. Its volume starts at a decent 375 litres (beaten only by Honda's HR-V and Nissan's Qashqai). Drop the rear seats and space increases to 1120 litres.
---
Hyundai Tucson
7/10
The Tucson is a five-seat SUV and there's no option to get a third row to make that seven. If you do need more seats and want to stay with Hyundai then the larger Santa Fe is what you're looking for.
The Tucson's size is an advantage in that, at less than 4.5m long, it's easy to park, but the trade off is that the interior isn't overly spacious. Still, even at 191cm tall I can fit behind my driving position in the second row with about 20mm to spare between my knees and the seatback. Headroom is also good, even with the sunroof in the Highlander which lowers the ceiling slightly.
Up front there are the big seats and good head, leg and elbow room.
What about boot space? The cargo capacity of the Tucson's boot with the seats up is 488 litres. That was enough room to fit the CarsGuide pram and Kim Kardashian's big suitcase (see the video), both at the same time. With the seats folded you'll have 1478 litres to help you move house or pick up that thing you bought online. Not the biggest boot size in the class, but not the smallest.
Cabin storage is pretty average – there's a deep, but narrow, centre console storage bin, door pockets, a standard glovebox and four cup holders (two up front and two in the back).
Price and features
Suzuki Vitara
7/10
Engine aside, there is much to like about the base model Vitara - in fact any Vitara - and this one is a pretty decent $24,990.
That lands you, all the way from (somewhat unexpectedly) Hungary, 17-inch alloys, climate control, reversing camera, keyless entry and start, sat nav, leather steering wheel, cloth trim, power windows, four-speaker stereo and a space-saver spare.
Perhaps the only complaint about the price is that similar competition from Hyundai and Mazda come fitted with a few more safety features.
That four-speaker stereo is run from the same touchscreen found in pretty much every Suzuki. The basic software is okay but the hardware itself is a bit iffy. Cleverly (and unlike Toyota), Suzuki knew an easy fix for that is to throw in Apple CarPlay and Android Auto. Sorted.
---
Hyundai Tucson
7/10
The Tucson range has four grades: Active, Active X, Elite and Highlander. There used to be a grade called Go, but it's now gone, replaced by the Active.
The most affordable Tucson is the front-wheel-drive petrol Active with a manual gear box that lists for $29,290 (add $2500 for the auto), but if you want all-wheel drive you'll need the diesel engine with the auto for $37,090. That escalated quickly, eh?
Next step up is the Active X, which lists for $32,290 in front-wheel drive, manual guise (and $34,790 for the auto), and the diesel auto all-wheel drive in this grade is $40,090.
Now we're getting into the auto-transmission-only upper echelons of the range, with the Elite coming in three variants. The first variant uses the same petrol engine as the lower grades with front-wheel drive for $37,850, then there's a turbo-petrol with all-wheel drive for $43,150, and the diesel all-wheel drive for $43,150.
Lording it over the range is the Highlander (which I always read with a Scottish accent in my head). There's two to pick from and both are all-wheel drive with automatic transmissions. The turbo-petrol Highlander lists for $46,500 and the diesel is $48,800.
So, with almost $20K separating the top and bottom of the range let's look at what you get for your money.
The Active comes standard with 17-inch alloy wheels, LED running lights, a seven-inch screen with Apple CarPlay and Android Auto, a six-speaker stereo, single-zone air conditioning, rear parking sensors, a leather steering wheel and roof rails.
The Active X has larger 18-inch alloy wheels, sat nav, an eight-inch screen, an Infinity eight-speaker stereo system, digital radio, leather seats and heated and power-folding mirrors.
The Elite is the sweet spot the range and scores proximity unlocking with push-button start, rear privacy glass, a power-adjustable driver's seat and dual-zone climate control.
The Highlander has all the Elite's features but adds 19-inch rims, LED headlights and taillights, a panoramic sunroof, ventilated and heated front seats, auto tailgate, wireless charging, a heated steering wheel and a powered front passenger seat. 
The Highlander's tailgate is an automatic one which will open if you stand next to it with the key fob for three seconds. It works a bit too well, and I found myself often opening the boot unintentionally.
The big news for this 2020 model year Tucson, however, is that the lower grades have been given more safety equipment. You can read all about this a bit further on.
Engine & trans
Suzuki Vitara
5/10
The 1.6-litre naturally-aspirated engine in the base Vitara wheezes up just 86kW and 156Nm, easily the least-powerful in its class, and by some margin.
I often joke that it's almost like there is legislation about how much power a compact SUV must have. The Vitara is proof there isn't. The $29,990 Turbo has 102kW/220Nm, for comparison.
As with the turbo cars, the 1.6 has a proper six-speed automatic driving the front wheels. You can also get a five-speed manual for $23,990. Luckily it weighs bugger-all at 1180kg.
The Vitara offers 1200kg towing for braked trailers and 400kg unbraked.
---
Hyundai Tucson
7/10
There are three engines in the Tucson range: a 2.0-litre petrol making 122kW and 205Nm; a 1.6-litre turbo petrol making 130kW and 265Nm; and a 2.0-litre diesel with an output of 136kW and 400Nm. All are four-cylinder engines.
A six-speed manual can only be had with the 2.0-litre petrol engine, but for a bit more money you can swap that for a six-speed auto instead. The 1.6-litre petrol engine only comes with a seven-speed dual-clutch auto and the diesel is teamed up with an eight-speed auto.
There are pros and cons with each engine: the 2.0-litre petrol feels a bit under powered, but the transmission is smooth; the 1.6-litre petrol is punchy off the line but at low speeds the dual-clutch can make acceleration a bit jerky; while the diesel's eight-speed is excellent, and so is the torque from the engine, but it sounds a little bit like farm equipment.
Fuel consumption
Suzuki Vitara
6/10
The non-turbo Vitara clocks up an official combined cycle fuel consumption rating of 6.0L/100km, 0.1L/100km worse than the Turbo.
My week with the car saw an indicated 9.2L/100km which is almost a litre worse than the Turbo Allgrip I last tested, and a whole lot less fun.
---
Hyundai Tucson
7/10
If you're choosing the engine based on fuel efficiency, then don't. Unless you're picking the diesel, because it is considerably more fuel efficient than the petrols. Hyundai says that after a combination or open and urban roads the diesel engine will have used 6.4L/100km. My own testing in the Elite with the diesel supported the frugality of the engine with our test car recording 6.9L/100km.
According to Hyundai, the 2.0-litre and 1.6-litre turbo-petrol engines - regardless of transmission or gearbox - will get within 0.2L/100km of each other. So, after a combination of open and urban driving the 2.0-litre with the manual will use 7.8L/100km while the auto needs 7.9L/100km. The 1.6-litre with the dual-clutch is more economical, but only just, at 7.7L/100km.
My own testing saw me use an average of 9.2L/100km in the 1.6-litre Highlander and 10.3L/100km in the 2.0-litre Active with the auto. 
More good news is you'll only have to feed the petrol engines cheaper, 91 RON fuel.
Driving
Suzuki Vitara
6/10
As has been the case since the Vitara's re-emergence a few years ago, it's a good car to drive. Light steering, supple ride and good body control mean progress is smooth and, if you're going downhill, fun.
For a modern car, it's a featherweight, but without the bounciness of some other cars of this weight. It's also quite maneuverable and is unexpectedly slim, meaning you can thread it around easily and it's not a bother in car parks or tight city streets.
It's good on urban streets, too, because it soaks up bumps and lumps very well. 
I've said it before and I'll say it again - the Vitara is a good car. But in this spec, it's a good car with a deeply ordinary engine.
It's noisy, which wouldn't matter except to get anything like decent movement, you have to rev it. If you use anything more than quarter throttle - and you really have to - the transmission kicks down to try and find the scraps of torque on offer. It might be light, but the torque figure just isn't enough to move the Vitara with any urgency.
The base Vitara is slow and noisy and from that perspective is no match for its similarly-priced competition. Compounded by a lack of refinement from both engine and transmission, it highlights what a good engine is the 1.4-litre turbo.
The Vitara is slow and noisy, and from that perspective is no match for its similarly-priced competition.
---
Hyundai Tucson
7/10
There's a lot to like about the way the Tucson drives, but there are some areas where rivals do better.
I tested the Highlander grade with the 1.6-litre turbo-petrol engine and seven-speed dual-clutch, followed by the Active X with the 2.0-litre engine and six-speed automatic, and then I drove the Elite with the diesel engine and an eight-speed auto.  
In one week I put more than 500km on the clock of the Active X, using it as a family car for the preschool drop-offs and grocery shopping in Sydney, with a trip away to see the grandparents on the weekend up in Newcastle. That gave me a combination of inner-city grind and open motorways.
I put about 300 kilometres on the Highlander and most of those were suburban and city kays, with some motorways thrown in, too.
Both have their merits. For the city I preferred the six-speed automatic in the Active far more than the seven-speed dual-clutch in the Highlander, especially in hilly areas. Traffic and intersections are the enemy of that dual-clutch which cause a lurching motion as you come off the brake and onto the throttle. Yes, there is a hill-hold button but activating it adds a 'sticking' sensation that does stop roll-back but does nothing for smoothness.
The six-speed auto meant smooth motion in low speed traffic and assured no roll back on hills.  
As for the engines, the 2.0-litre is fine. You're not going to break any land speed records, or maybe not even any speed limits because acceleration is definitely not rapid, but it's more than adequate.
The 1.6-litre turbo engine is peppy at lower speed, but as you start to push it harder it does feel like it runs out of puff. Being a turbocharged engine, the delivery of the grunt feels different to the naturally aspirated 2.0-litre. If you've driven turbo cars before you'll know the 'whooshy' feel they have as the turbo winds up and you're catapulted away.
On the open road, the dual-clutch is magnificent, changing fast and smoothly. Whereas the six-speed auto doesn't seem to be enjoying itself anywhere near as much as it DCT sibling.
So, if you're a passionate driver, then go the dual-clutch which, combined with the 1.6-litre engine, provides a more engaging drive. But if this SUV is just to get you around town then I reckon you'll be happier with the 2.0-litre. Forget fuel economy - there's nothing in it between them.
But wait, there's something you should know. The diesel is my pick of all the variants as the best to drive both in the city and country. I tested the Tucson Elite with the diesel engine and eight-speed automatic and while it does sound like a delivery truck, that 400Nm of torque is fantastic for being able to move quickly when you need to, without much in the way of turbo lag. 
As for ride and handling all Tucsons have the same suspension set-up: MacPherson struts at the front and a multilink in the rear, which provides comfort and good cornering for the class.
Hyundai has tuned the suspension in the Tucson for Australian roads – a lot of car companies don't do this.
The Tucson isn't a large SUV (it's only 140mm longer than an i30 hatch back) and that makes piloting it into parking spaces and in narrow streets easy. Visibility is hindered by thick A-pillars either side of the windscreen and seeing out the back small windows is tricky, but the reversing camera helps here.
If you're planning to tow, you'll need to know the braked towing capacity of all Tucsons is 1600kg.
And while all-wheel drive isn't four-wheel drive, the Tucson's ground clearance of 172mm is higher than a normal car and will mean you can go a little bit further off the bitumen.
Safety
Suzuki Vitara
6/10
On board are seven airbags, ABS, stability and traction controls. And that's it. If you want advanced safety, step up to the Vitara Turbo.
The Vitara scored a maximum five ANCAP stars in July 2016.
---
Hyundai Tucson
7/10
While the Tucson's styling hasn't changed in this 2020 update, the safety equipment list has in that the lower grades now come with more life-saving tech as standard.
New safety tech on the Active and Active X grades includes AEB that operates at city and urban speeds and lane keeping assistance. That's in addition to rear parking sensors, rear view camera, and six airbags.
The Elite and Highlander have even more safety equipment such as blind spot warning, AEB which works at higher speeds and can detect pedestrians, rear cross-traffic alert and adaptive cruise control.
For child seats, all Tucsons have three tether points and two ISOFIX mounts across the second row. A full-sized alloy wheel is located under the boot floor.
The Tucson scored the maximum five-star ANCAP rating when it was tested in 2016.
Ownership
Suzuki Vitara
7/10
Suzuki offers a three year/100,000km warranty, but there's a small catch. If you continue to service it at Suzuki dealer every six months/10,000km, you're extended to five years/100,000km. That seems like a decent deal. 
Somehow, the 1.6 costs more to service than the more complex 1.4-litre turbo, working out at an average $516 per year over the first 60 months.
---
Hyundai Tucson
9/10
The Tucson is covered by Hyundai's five-year, unlimited-kilometre warranty. Servicing is recommended every 12 months/15,000km. For the 2.0-litre petrol Tucson you can expect to pay $280 for each of the first three services, while the 1.6-litre is a smidge more at $295.
The diesel is more expensive to service – you can expect to pay $390 for each of the first three services, and also at 12 month/15,000km intervals.