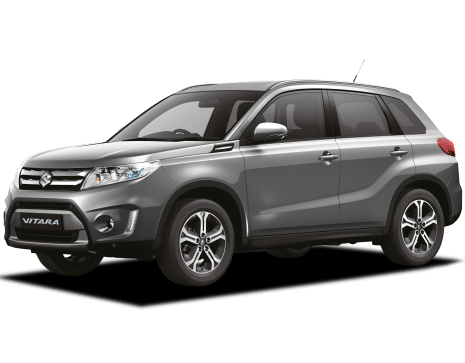 COMPARE
Suzuki Vitara
VS
Suzuki S-Cross
Suzuki Vitara
Likes
Good interior space
Reasonably priced
Apple CarPlay/Android Auto
Dislikes
Engine
Lack of advanced safety
Servicing
---
Suzuki S-Cross
Likes
LED headlights
Easy and fun to drive
Leather seats
Dislikes
That face
No AEB
Same engine as the base grade
Summary
Suzuki Vitara
Suzuki's much-loved Vitara returned in 2015 and it was a happy day for people over a certain age. Over the years, Suzuki has tweaked and trimmed the range, ditching the diesel (much to the chagrin of towing fans) and leaving us with three Vitaras with the subtly updated 2019 model - the entry-level, the Turbo and the Turbo Allgrip.
The entry-level Vitara is a lot of car for the money but there is a small catch - instead of the excellent 1.4-litre turbo engine of the other two, it ships with a 1.6-litre naturally-aspirated engine that has significantly less power than anything else in the segment.
That doesn't seem to bother the target market, though - the base Vitara is by far the biggest seller in the range.
| | |
| --- | --- |
| Safety rating | |
| Engine Type | 1.6L |
| Fuel Type | Regular Unleaded Petrol |
| Fuel Efficiency | 6.2L/100km |
| Seating | 5 seats |
---
Suzuki S-Cross
Suzuki is a well-known brand that makes some of Australia's favourite cars. There's the Vitara, the Swift, and the Jimny, but what the heck is an S-Cross?
The S-Cross is a less familiar car that once went by the SX4 name and the Turbo Prestige, which I tested, is the top-of-the-range grade.
So, has this forgotten Suzuki missed out on the 'magic dust' the Japanese brand seems to sprinkle on many of its cars to make them pleasantly surprising to drive?
I found out when one came to live with my family for a week.
| | |
| --- | --- |
| Safety rating | — |
| Engine Type | 1.4L turbo |
| Fuel Type | Premium Unleaded Petrol |
| Fuel Efficiency | 5.9L/100km |
| Seating | 5 seats |
Verdict
Suzuki Vitara
6.4/10
It's frustrating that the Vitara is a good car fitted with such a weak engine. It's got great interior space for less money than a Qashqai, a big boot and some nice touches.
The ledger for the base model Vitara is more balanced than the higher grades. While the turbo-engined machines get along very nicely, the ride and handling are great and all the Vitara's strengths are magnified, the entry-level struggles against similarly-priced competition.
The Vitara Turbo is the one to get if you can stretch to it. The Vitara isn't ruined by this engine, but it is compromised. 
Is engine power a big deal for you? Or is the Vitara's lack of pace and refinement secondary to its undeniable charms? Let us know in the comments below.
---
Suzuki S-Cross
7/10
I thought I didn't really understand the S-Cross. Was it an SUV or just a tall car? How can it exist in a line-up where the Vitara can already do the same job really well? Why does it still wear an SX4 badge? Why does it have that face? The answers are pretty obvious to me now – it fits nicely into that zone of having the high driving position of an SUV without being a thirsty little off-roader, yet still offers the space and practicality of one.
Combine that with being enjoyable and easy to drive and it's hard to understand why sales of it aren't as high as they should be. Maybe it's that face? As for the SX4 badge, I'm waiting to hear back from Suzuki on that one.
Is Suzuki a brand that excites you, or just not on your radar? Tell us why in the comments section below.
Design
Suzuki Vitara
7/10
Not everyone is a fan of the new Vitara's looks, but I am. Most of the colours are fairly vivid and everyone seems to buy it in metallic green, so it was nice to have it in this grey/silver (optional) colour.
The chrome grille can be a little bit much, but I really like the purposeful, chunky profile. Wasn't sure about the new rear lights at first, but as I said in the Allgrip review, they had already grown on me.
The Vitara's interior isn't going to win any materials quality awards, but it seems like it will last a long time. There's nothing amazing about it apart from the fact it's roomy and everything looks and feels honest.
---
Suzuki S-Cross
6/10
I like quirky-looking cars, but the styling of the S-Cross, in places, challenges even me. I'm talking about that gleaming grille, which looks like a big, shiny metal mouth full of teeth (even though its plastic).
Then there are those is-it-an-SUV-or-not looks. The answer is in the name: the S-Cross is a crossover between a hatchback and an SUV. It's not offensive looking by any means, if anything the S-Cross is quite stately and premium in style – it's just that face I have trouble moving past.
What's the SX4 badge doing on the back? Well it's a mystery. The S-Cross used to be called the SX4, but Suzuki kept the badge, even after it renamed the car. Strange but true. Interestingly, the same SX4 and S-Cross double badge is also worn by the car in Italy, but not India. That bit of dinner-party ammo will be sure to impress your friends. Also interesting is that the S-Cross is front-wheel-drive only – despite what SX4 might suggest.
What are the S-Cross's dimensions? It's not big, at 4300mm long, 1785mm wide and 1585mm tall. That fairly diminutive size made the S-Cross easy to park in city streets and also hassle free to pilot in tight laneways.
Practicality
Suzuki Vitara
7/10
Passenger space in the Vitara is excellent for a compact SUV. Part of the reason back seat occupants do so well is because the roof is high, the doors aren't very thick and the seat is a long way off the floor, meaning the distance between the front and rear seats isn't made smaller by angled legs. It's comfortable, too.
Which is lucky because you won't have anywhere to put your drinks or phones or your inboard elbows, which is a shame.
Front seat passengers have somewhere to put their elbows and there are two cupholders. All four doors have a bottle holder.
The boot has a false floor under which you can hide a decent amount of stuff, including small bags. Its volume starts at a decent 375 litres (beaten only by Honda's HR-V and Nissan's Qashqai). Drop the rear seats and space increases to 1120 litres.
---
Suzuki S-Cross
8/10
Small on the outside, pretty big on the inside. That is one of the S-Cross's strong points. Even at 191cm tall I can sit behind my driving position with about 20mm of space between my knees and the seatback. Head room back there is getting a little tight for me, though.
The S-Cross is a five-seater but being in the middle in the back isn't the best seat in the house – then again, I've yet to review a single car where it is.
The cargo capacity of the boot in the S-Cross is an excellent 430 litres with under floor storage and two side wells to pop small items that might be wet or things you don't want to roll around. With the rear seats down that expands to 875 litres to the window line or 1269 litres to the roof.
Cabin storage in the S-Cross Turbo Prestige is great with two cupholders in the fold-down rear armrest and another two up front. There's a deep centre-console bin with a USB port, another deep bucket in front of the shifter housing a 12V outlet; and big bottle holders in the doors.
Price and features
Suzuki Vitara
7/10
Engine aside, there is much to like about the base model Vitara - in fact any Vitara - and this one is a pretty decent $24,990.
That lands you, all the way from (somewhat unexpectedly) Hungary, 17-inch alloys, climate control, reversing camera, keyless entry and start, sat nav, leather steering wheel, cloth trim, power windows, four-speaker stereo and a space-saver spare.
Perhaps the only complaint about the price is that similar competition from Hyundai and Mazda come fitted with a few more safety features.
That four-speaker stereo is run from the same touchscreen found in pretty much every Suzuki. The basic software is okay but the hardware itself is a bit iffy. Cleverly (and unlike Toyota), Suzuki knew an easy fix for that is to throw in Apple CarPlay and Android Auto. Sorted.
---
Suzuki S-Cross
8/10
The Suzuki S-Cross comes in two grades: the entry-level Turbo for $27,990 and the top-of-the-range Turbo Prestige, which we tested, that lists for $29,990.
Turbo Prestige; sounds fast and fancy. So, is it worth parting with $2K more, and what's prestige about it?
Two grand is a lot at this price point, and seeing as you get the same engine, same safety and same in-car tech in both grades, it's fair to say that if spending the extra dough for the Turbo Prestige is going to break the budget, you shouldn't fret.
That said, there are three good reasons for stepping up to the Turbo Prestige: rear parking sensors, auto LED headlights and leather seats. There are also the 17-inch polished alloy wheels, daytime running lights and rain-sensing wipers as part of the step up.
Other standard features on the Turbo Prestige include a touchscreen with sat nav, Apple CarPlay, a six-speaker stereo, Bluetooth connectivity, dual-zone climate control and roof rails. Those features, by the way, are all standard on the Turbo, too.
Either way, the S-Cross is good value regardless of which of the two grades you buy.
Rivals? Honda's HR-V, Mitsubishi's ASX, Mazda's CX-3 provide some healthy competition, so check them out, too.
Engine & trans
Suzuki Vitara
5/10
The 1.6-litre naturally-aspirated engine in the base Vitara wheezes up just 86kW and 156Nm, easily the least-powerful in its class, and by some margin.
I often joke that it's almost like there is legislation about how much power a compact SUV must have. The Vitara is proof there isn't. The $29,990 Turbo has 102kW/220Nm, for comparison.
As with the turbo cars, the 1.6 has a proper six-speed automatic driving the front wheels. You can also get a five-speed manual for $23,990. Luckily it weighs bugger-all at 1180kg.
The Vitara offers 1200kg towing for braked trailers and 400kg unbraked.
---
Suzuki S-Cross
7/10
The S-Cross Turbo Prestige has a 1.4-litre turbo-petrol engine making 103kW and 220Nm, which is a decent amount of mumbo for a sedate-looking car like this.
That's the only engine on offer for the entire S-Cross range, so don't think you're getting more grunt just by steeping up to the king-of-the-castle Turbo Prestige. Likewise, the six-speed automatic is shared across both grades and while it isn't spectacularly sporty, it's a million times better than any personality-free CVT automatic that other car companies tend to put in SUVs like this.
Fuel consumption
Suzuki Vitara
6/10
The non-turbo Vitara clocks up an official combined cycle fuel consumption rating of 6.0L/100km, 0.1L/100km worse than the Turbo.
My week with the car saw an indicated 9.2L/100km which is almost a litre worse than the Turbo Allgrip I last tested, and a whole lot less fun.
---
Suzuki S-Cross
7/10
After 177km I measured the S-Cross Turbo Prestige's fuel consumption at the petrol station and found its mileage to be 7.3L/100km. Not bad considering that while some of that was free-flowing motorways, there were many slow kilometres of peak-hour traffic in there, too.
Driving
Suzuki Vitara
6/10
As has been the case since the Vitara's re-emergence a few years ago, it's a good car to drive. Light steering, supple ride and good body control mean progress is smooth and, if you're going downhill, fun.
For a modern car, it's a featherweight, but without the bounciness of some other cars of this weight. It's also quite maneuverable and is unexpectedly slim, meaning you can thread it around easily and it's not a bother in car parks or tight city streets.
It's good on urban streets, too, because it soaks up bumps and lumps very well. 
I've said it before and I'll say it again - the Vitara is a good car. But in this spec, it's a good car with a deeply ordinary engine.
It's noisy, which wouldn't matter except to get anything like decent movement, you have to rev it. If you use anything more than quarter throttle - and you really have to - the transmission kicks down to try and find the scraps of torque on offer. It might be light, but the torque figure just isn't enough to move the Vitara with any urgency.
The base Vitara is slow and noisy and from that perspective is no match for its similarly-priced competition. Compounded by a lack of refinement from both engine and transmission, it highlights what a good engine is the 1.4-litre turbo.
The Vitara is slow and noisy, and from that perspective is no match for its similarly-priced competition.
---
Suzuki S-Cross
7/10
If cars looked as good as they drove, the S-Cross would be a lot sexier to look at. The engine, the transmission, the balance and feel are far better in the S-Cross than you'd expect or hope for in a car from this segment. Don't get too excited, it's no sportscar or limo, just more of a pleasant surprise.
Good visibility through those large windows and a high driving position made the S-Cross easy to pilot through carparks and in traffic. Comfortable, supportive seats, great pedal feel from the brakes underneath my foot, a responsive engine with good torque, plus steering with great feel complete a package that pleased this tester.
That said, I'm not giving it an eight out of 10, because a score like that is reserved for something approaching superb on-road performance.
Safety
Suzuki Vitara
6/10
On board are seven airbags, ABS, stability and traction controls. And that's it. If you want advanced safety, step up to the Vitara Turbo.
The Vitara scored a maximum five ANCAP stars in July 2016.
---
Suzuki S-Cross
6/10
The S-Cross received the maximum five-star ANCAP rating when it was tested in, wait for it… 2013. It's now 2019 and there's no way the S-Cross would be given that score now. I'm not saying it's unsafe - far from it - all the S-Cross is now missing is the advanced safety equipment which has become part of the essential criteria of attaining that maximum score in 2019. I'm talking about auto emergency braking (AEB) with pedestrian and cyclist detection and other systems such as blind-spot warning and rear cross-traffic alert.
That said, the S-Cross has seven airbags, plus ABS, traction and stability control. Just keep in mind that there are other cars for this price with more advanced safety tech.
I trusted the S-Cross with my own child's life without any hesitation, and you can, too, with three top-tether points and two ISOFIX mounts across the second row for child and baby seats.
Ownership
Suzuki Vitara
7/10
Suzuki offers a three year/100,000km warranty, but there's a small catch. If you continue to service it at Suzuki dealer every six months/10,000km, you're extended to five years/100,000km. That seems like a decent deal. 
Somehow, the 1.6 costs more to service than the more complex 1.4-litre turbo, working out at an average $516 per year over the first 60 months.
---
Suzuki S-Cross
7/10
Suzuki automatically covers the S-Cross with a three-year/100,000km warranty, but if you service it every six months for five years with the capped-price program, you'll be eligible for a five-year/140,000km warranty. Check with your dealer regarding the ins and outs of this, however.
According to Suzuki, you can expect to pay $175 each time for the first three services (at six months/10,000km intervals) then $359 for the next, then $175 for the 30-month service.