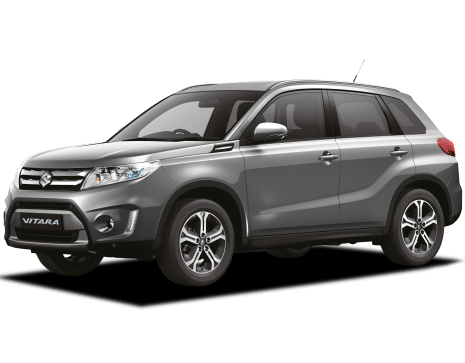 COMPARE
Suzuki Vitara
VS
Mitsubishi Outlander
Suzuki Vitara
Likes
Good interior space
Reasonably priced
Apple CarPlay/Android Auto
Dislikes
Engine
Lack of advanced safety
Servicing
---
Summary
Suzuki Vitara
Suzuki's much-loved Vitara returned in 2015 and it was a happy day for people over a certain age. Over the years, Suzuki has tweaked and trimmed the range, ditching the diesel (much to the chagrin of towing fans) and leaving us with three Vitaras with the subtly updated 2019 model - the entry-level, the Turbo and the Turbo Allgrip.
The entry-level Vitara is a lot of car for the money but there is a small catch - instead of the excellent 1.4-litre turbo engine of the other two, it ships with a 1.6-litre naturally-aspirated engine that has significantly less power than anything else in the segment.
That doesn't seem to bother the target market, though - the base Vitara is by far the biggest seller in the range.
| | |
| --- | --- |
| Safety rating | |
| Engine Type | 1.6L |
| Fuel Type | Regular Unleaded Petrol |
| Fuel Efficiency | 6.2L/100km |
| Seating | 5 seats |
---
Mitsubishi Outlander
On the face of it, the Audi Q7 and Mitsubishi Outlander have few things in common. They're both (mostly) seven seat SUVs and that's pretty much where they part company. Except if you have a poke around the spec sheets of both ranges, you'll find something quite interesting.
Both are offered as five seat plug-in hybrids because the batteries take up the space of the third row.
But, once again, here is where they depart because the cheapest PHEV (Plug-In Hybrid Electric Vehicle) starts at an absurdly reasonable (for a PHEV) $45,990.
| | |
| --- | --- |
| Safety rating | |
| Engine Type | 2.0L |
| Fuel Type | Hybrid with Regular Unleaded |
| Fuel Efficiency | 1.7L/100km |
| Seating | 5 seats |
Verdict
Suzuki Vitara
6.4/10
It's frustrating that the Vitara is a good car fitted with such a weak engine. It's got great interior space for less money than a Qashqai, a big boot and some nice touches.
The ledger for the base model Vitara is more balanced than the higher grades. While the turbo-engined machines get along very nicely, the ride and handling are great and all the Vitara's strengths are magnified, the entry-level struggles against similarly-priced competition.
The Vitara Turbo is the one to get if you can stretch to it. The Vitara isn't ruined by this engine, but it is compromised. 
Is engine power a big deal for you? Or is the Vitara's lack of pace and refinement secondary to its undeniable charms? Let us know in the comments below.
---
Mitsubishi Outlander
6.6/10
Like most Mitsubishi models, the base model has all the good stuff of the top-of-the-range, although I'd skip the ES and go for the ES ADAS. For all the extra cash, you don't really get that much more in the Exceed because there's not much in Mitsubishi's grab bag. There's almost nothing to commend the Exceed over the LS.
As a city car, the PHEV is quite good as long as you don't ask too much of it. The electric range is useful for school runs or shortish commutes (if you can park near a power point) and when you're flat, the engine sorts you out.
Like the rest of the Outlander range, it's honest transport and not much else. The PHEV, though, proves that when Mitsubishi puts its mind to something, it can turn out quite alright.
Is the fact it's a plug-in hybrid enough to tempt you out of a conventionally-powered car or does the extra expense make it a weird choice?
Design
Suzuki Vitara
7/10
Not everyone is a fan of the new Vitara's looks, but I am. Most of the colours are fairly vivid and everyone seems to buy it in metallic green, so it was nice to have it in this grey/silver (optional) colour.
The chrome grille can be a little bit much, but I really like the purposeful, chunky profile. Wasn't sure about the new rear lights at first, but as I said in the Allgrip review, they had already grown on me.
The Vitara's interior isn't going to win any materials quality awards, but it seems like it will last a long time. There's nothing amazing about it apart from the fact it's roomy and everything looks and feels honest.
---
Mitsubishi Outlander
The Outlander's fresh nose from a year or so back is leaps and bounds from when the car first landed in 2012. While there is a bit more chrome than I consider strictly necessary, the PHEV's face is no different to other cars in the range.
What is different is idiotic, over-sized PHEV badges on the car's flanks. They look crooked, too, which is a bit disheartening. But at least onlookers will know you care.
The car is otherwise quite conventional to look at. The dinky wheels have too many spokes and belong on a Toyota Crown and there's little in the way of flair. But this car is not about flair, so that's fine.
Inside is also fairly dull, but does the job. The new touchscreen integrates nicely, though and everything seems to fit. Some of the switches look like they're from Jaycar - the heated seat switches for example - but it all seems solid enough.
Every time I drive an Outlander, I think the interior will take a pretty good hammering, which is reassuring. The flimsy-feeling action on the door handles is less so.
Oddly, the full leather of the Exceed isn't as nice as the leather/micro-suede of the LS.
Practicality
Suzuki Vitara
7/10
Passenger space in the Vitara is excellent for a compact SUV. Part of the reason back seat occupants do so well is because the roof is high, the doors aren't very thick and the seat is a long way off the floor, meaning the distance between the front and rear seats isn't made smaller by angled legs. It's comfortable, too.
Which is lucky because you won't have anywhere to put your drinks or phones or your inboard elbows, which is a shame.
Front seat passengers have somewhere to put their elbows and there are two cupholders. All four doors have a bottle holder.
The boot has a false floor under which you can hide a decent amount of stuff, including small bags. Its volume starts at a decent 375 litres (beaten only by Honda's HR-V and Nissan's Qashqai). Drop the rear seats and space increases to 1120 litres.
---
Mitsubishi Outlander
One of the Outlander's few outstanding features has been its status as a bargain seven-seater. That's out the window with the PHEV, but given it needs a (big) battery, that's fair enough.
The boot is a handy 477 litres with the rear seats in place and if you put them down, you have an impressive 1608 litres. Front and rear rows score a pair of cupholders each and there's a bottle holder in each door.
Passenger space is good for four but given it's slightly narrower than similar cars its size, the middle rear passengers feels the squeeze.
Price and features
Suzuki Vitara
7/10
Engine aside, there is much to like about the base model Vitara - in fact any Vitara - and this one is a pretty decent $24,990.
That lands you, all the way from (somewhat unexpectedly) Hungary, 17-inch alloys, climate control, reversing camera, keyless entry and start, sat nav, leather steering wheel, cloth trim, power windows, four-speaker stereo and a space-saver spare.
Perhaps the only complaint about the price is that similar competition from Hyundai and Mazda come fitted with a few more safety features.
That four-speaker stereo is run from the same touchscreen found in pretty much every Suzuki. The basic software is okay but the hardware itself is a bit iffy. Cleverly (and unlike Toyota), Suzuki knew an easy fix for that is to throw in Apple CarPlay and Android Auto. Sorted.
---
Mitsubishi Outlander
The $53,990 PHEV Exceed, the car I had for a week, recently came in for a price cut, a very handy $1500. If you don't need or want what the top-of-the-range has to offer, you can start with the ES at $45,990, the ES ADAS (Advanced Driver-Assist Systems) at $47,490 and the LS at $50,490.
The Exceed rolls quietly off the line with 18-inch alloys, a six-speaker sound system, reversing camera, keyless entry and start, dual-zone climate control, active cruise control, auto headlights and wipers, partial leather interior with micro-suede inserts, electric front seats, heated and folding power mirrors and electrochromatic rear vision mirror.
Entertainment comes from Mitsubishi's new 7.0-inch touchscreen from the ASX and, truth be told, it's fairly ordinary. But it does have Apple CarPlay and Android Auto, which is very welcome indeed given the absence of sat nav.
Engine & trans
Suzuki Vitara
5/10
The 1.6-litre naturally-aspirated engine in the base Vitara wheezes up just 86kW and 156Nm, easily the least-powerful in its class, and by some margin.
I often joke that it's almost like there is legislation about how much power a compact SUV must have. The Vitara is proof there isn't. The $29,990 Turbo has 102kW/220Nm, for comparison.
As with the turbo cars, the 1.6 has a proper six-speed automatic driving the front wheels. You can also get a five-speed manual for $23,990. Luckily it weighs bugger-all at 1180kg.
The Vitara offers 1200kg towing for braked trailers and 400kg unbraked.
---
Mitsubishi Outlander
The PHEV has a 2.0-litre petrol engine producing 87kW/186Nm and two 30kW electric motors that bring the total combined power outputs to 120kW/332Nm.
A 12kWh/40Ah battery hides under the boot floor and takes around six hours to charge from a domestic circuit and if you get a fast-charger, that comes down to an 80 percent charge from 25 minutes.
Power goes out via all four wheels and a single speed automatic.
Fuel consumption
Suzuki Vitara
6/10
The non-turbo Vitara clocks up an official combined cycle fuel consumption rating of 6.0L/100km, 0.1L/100km worse than the Turbo.
My week with the car saw an indicated 9.2L/100km which is almost a litre worse than the Turbo Allgrip I last tested, and a whole lot less fun.
---
Mitsubishi Outlander
The official combined cycle figures are listed at 1.7L/100km. Some years ago editor Flynn managed something close to this figure but I fear it involved hazard lights and driving slowly down the hard shoulder - hyper-miling, if you will.
My esteemed colleague managed a day's motoring on 7.5L/100km which seems reasonable, but he started the day with a full battery. When I did that, I saw about the same figure, which seems a bit high. You're not necessarily going to save a lot of fuel or carbon unless you're careful on the road and diligent with the charging.
Mitsubishi says a full battery will give you 54km but that's exceedlingly (sorry) unlikely.
What might you expect if you drive it without having charged it up? We gave that a go and the results weren't amazing - 11.3L/100km. So keep it charged or it's just a heavy, quiet Outlander LS.
Driving
Suzuki Vitara
6/10
As has been the case since the Vitara's re-emergence a few years ago, it's a good car to drive. Light steering, supple ride and good body control mean progress is smooth and, if you're going downhill, fun.
For a modern car, it's a featherweight, but without the bounciness of some other cars of this weight. It's also quite maneuverable and is unexpectedly slim, meaning you can thread it around easily and it's not a bother in car parks or tight city streets.
It's good on urban streets, too, because it soaks up bumps and lumps very well. 
I've said it before and I'll say it again - the Vitara is a good car. But in this spec, it's a good car with a deeply ordinary engine.
It's noisy, which wouldn't matter except to get anything like decent movement, you have to rev it. If you use anything more than quarter throttle - and you really have to - the transmission kicks down to try and find the scraps of torque on offer. It might be light, but the torque figure just isn't enough to move the Vitara with any urgency.
The base Vitara is slow and noisy and from that perspective is no match for its similarly-priced competition. Compounded by a lack of refinement from both engine and transmission, it highlights what a good engine is the 1.4-litre turbo.
The Vitara is slow and noisy, and from that perspective is no match for its similarly-priced competition.
---
Mitsubishi Outlander
While the petrol and diesel Outlanders are varying levels of ho-hum, the PHEV is not too bad. The instant response of the electric motors is far preferable to the teenage whining of the petrols and grumbling of the diesel. One of the Outlanders worst features, the CVT, is absent as the engine plays no part in directly driving wheels.
When I first started driving it, I was deeply disappointed that the PHEV doesn't try very hard to recover charge when you lift off the throttle. Drive a BMW i3 and you'll find you barely need the brake. But I discovered if you nudge the nasty plastic shifter down (or pull the lovely alloy paddle), the display told me I was in B3. Lifting off created a much more agreeable drag and the dash graphic showed more enthusiastic recovery. Another nudge or pull and B5 got me closer to what I thought should be the starting point. But I was pleased nonetheless as it helps eke out further electric range.
The model featured below is the 2020 Mitsubishi Outlander LS 2WD
Explore the virtual Mitsubishi Outlander

Apart from that, the ride is crashy and bumpy - Mitsubsishi's engineers seem to have 'solved' the extra kerb weight problem by stiffening everything up, meaning the lolling body control of the other cars is firmed up a little. It just isn't all that flash at suburban speeds on suburban roads.
The near-silent whoosh of the electric motor will eventually be replaced by the daggy drone of the petrol engine. It's sharply at odds with the calm refinement of the electric propulsion and is a bit of a shame that it crashes the party so rudely.
In highway running the engine fades into the background and you can get used to the comfortable seats, pleasant cabin ambience and the good view ahead.
Safety
Suzuki Vitara
6/10
On board are seven airbags, ABS, stability and traction controls. And that's it. If you want advanced safety, step up to the Vitara Turbo.
The Vitara scored a maximum five ANCAP stars in July 2016.
---
Mitsubishi Outlander
The Exceed has seven airbags, ABS, stability and traction controls, reversing camera, reverse parking sensors, forward AEB, lane-departure warning, active cruise, lane-change warning, lane-change assist, around-view camera, reverse cross-traffic alert, blind-spot warning and auto high beam.
Also on offer are two ISOFIX and three top-tether child seat anchor points.
The Outlander range scored five ANCAP stars in 2014.
Ownership
Suzuki Vitara
7/10
Suzuki offers a three year/100,000km warranty, but there's a small catch. If you continue to service it at Suzuki dealer every six months/10,000km, you're extended to five years/100,000km. That seems like a decent deal. 
Somehow, the 1.6 costs more to service than the more complex 1.4-litre turbo, working out at an average $516 per year over the first 60 months.
---
Mitsubishi Outlander
Mitsubishi offers a five-year/100,000km warranty with four years roadside assist in the form of a motoring organisation membership.
The company also offers capped-price servicing, which amounts to $1095 over the three years of the program. It would be nice for that to extend further, but there you go. The PHEV's servicing is cheaper than the diesel but more expensive than the petrol by about 30 percent.
Your dealer expects a visit every 12 months or 15,000km.