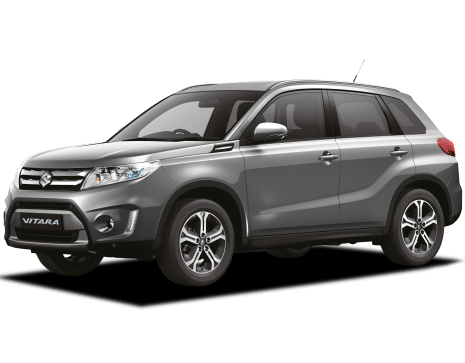 COMPARE
Suzuki Vitara
VS
Peugeot 2008
Suzuki Vitara
Likes
Good interior space
Reasonably priced
Apple CarPlay/Android Auto
Dislikes
Engine
Lack of advanced safety
Servicing
---
Peugeot 2008
Likes
New engine and trans combo
Interior still cool
CarPlay across the range
Dislikes
Tight rear seats
Grumbly engine at low revs
Some cheap plastics
Summary
Suzuki Vitara
Suzuki's much-loved Vitara returned in 2015 and it was a happy day for people over a certain age. Over the years, Suzuki has tweaked and trimmed the range, ditching the diesel (much to the chagrin of towing fans) and leaving us with three Vitaras with the subtly updated 2019 model - the entry-level, the Turbo and the Turbo Allgrip.
The entry-level Vitara is a lot of car for the money but there is a small catch - instead of the excellent 1.4-litre turbo engine of the other two, it ships with a 1.6-litre naturally-aspirated engine that has significantly less power than anything else in the segment.
That doesn't seem to bother the target market, though - the base Vitara is by far the biggest seller in the range.
| | |
| --- | --- |
| Safety rating | |
| Engine Type | 1.6L |
| Fuel Type | Regular Unleaded Petrol |
| Fuel Efficiency | 6.2L/100km |
| Seating | 5 seats |
---
Peugeot 2008
Peter Anderson road tests and reviews the new Peugeot 2008 with specs, fuel consumption and verdict at its Australian launch in NSW.
You have to feel for Peugeot. Back in 2013 when the 2008 launched, the mini-SUV market was pretty limp, with four so-so offerings. While the French company was hardly expecting the kind of numbers cars like the Mazda CX-3 or Mitsubishi ASX achieve today, there was probably a bit of optimism considering the lacklustre competition.
Sadly, the 2008 was not a smash-hit, despite critical acclaim for its inventive interior and dynamic appeal. Where it all fell down was the combination of engines and transmissions - manuals came with the diesel (which almost nobody bought) and the automatic was a decidedly 1990s four-speed automatic that didn't pair well with the petrol engines.
The 2008 had an identity crisis Peugeot needed to fix. Was it a wagon? Was it a cheap alternative to the others? Why can't I get an auto on the Active? Why does it look high tech but the drivetrain isn't? So many questions that Peugeot has to answer.
| | |
| --- | --- |
| Safety rating | |
| Engine Type | 1.2L |
| Fuel Type | Premium Unleaded Petrol |
| Fuel Efficiency | 4.9L/100km |
| Seating | 5 seats |
Verdict
Suzuki Vitara
6.4/10
It's frustrating that the Vitara is a good car fitted with such a weak engine. It's got great interior space for less money than a Qashqai, a big boot and some nice touches.
The ledger for the base model Vitara is more balanced than the higher grades. While the turbo-engined machines get along very nicely, the ride and handling are great and all the Vitara's strengths are magnified, the entry-level struggles against similarly-priced competition.
The Vitara Turbo is the one to get if you can stretch to it. The Vitara isn't ruined by this engine, but it is compromised. 
Is engine power a big deal for you? Or is the Vitara's lack of pace and refinement secondary to its undeniable charms? Let us know in the comments below.
---
Peugeot 2008
6.9/10
The 2008's identity crisis is partly solved, but as this is a mild update rather than ground-up rebuild, it was never going to be the CX-3 killer product planners dream about. With the new engine and transmission, though, the range is more appealing and easier to make sense of.
It retains what made the car so original at launch, with the polarising i-Cockpit, clever-on-a-budget interior detailing and, as it turns out, it's a tough customer loved by rural folk.
All of this won't rocket the Frenchie to market leadership, but it puts it in the mix where it was previously too confusing an idea for many buyers.
Can the 2008's French flair tempt you away from the Japanese juggernauts? Tell us what you think in the comments below.
Design
Suzuki Vitara
7/10
Not everyone is a fan of the new Vitara's looks, but I am. Most of the colours are fairly vivid and everyone seems to buy it in metallic green, so it was nice to have it in this grey/silver (optional) colour.
The chrome grille can be a little bit much, but I really like the purposeful, chunky profile. Wasn't sure about the new rear lights at first, but as I said in the Allgrip review, they had already grown on me.
The Vitara's interior isn't going to win any materials quality awards, but it seems like it will last a long time. There's nothing amazing about it apart from the fact it's roomy and everything looks and feels honest.
---
Peugeot 2008
7/10
One of the 2008's problems is its looks. Nothing wrong with them, it's just that it looks like a jacked up 208 with an extension on the back. When punters saw it, they thought wagon rather than SUV. Part of that is to do with Peugeot's messaging. The material we got called it 'New SUV 2008', but the fact it doesn't look like its competitors plays against it.
The new 2008 has been lightly revised front and rear to make it a little more butch and a little less 208. The direction is clearly influenced by the forthcoming 3008, but there wasn't a great deal to be done with the older car.
There's a more bluff nose with a bigger vertical grille to add some visual heft. The wheel arches have unpainted plastic extensions (on the Allure and GT) and there are now scuff plates to make it feel a bit more off-roadery. It is looking its age, though and will look older when the 3008 lands here later in the year.
In Allure and GT models the headlights are black and chrome and the taillights are Peugeot's 'three claw' design.
Inside is, mercifully, much the same and dating more gracefully than the exterior. The i-Cockpit is an acquired taste with the tiny 350mm steering wheel set low under a high-up instrument pack, designed to help keep your head up. It does take some getting used to, but with plenty of adjustment, most people can get the right spot behind the wheel.
The new 7.0-inch screen responds well to the touch and looks like it belongs, while the shrewd use of textured materials and, in the Allure, metallics, helps offset some of the cheaper materials and the low-rent plastic gear selector with its chromed, gated lever. Give me the selector from the 308 any day.
It's airy and light but if you want the sunroof, be aware it has a white, translucent blind that creates a lot of glare. Works fine in Europe, not so great under our harsh sun.
Practicality
Suzuki Vitara
7/10
Passenger space in the Vitara is excellent for a compact SUV. Part of the reason back seat occupants do so well is because the roof is high, the doors aren't very thick and the seat is a long way off the floor, meaning the distance between the front and rear seats isn't made smaller by angled legs. It's comfortable, too.
Which is lucky because you won't have anywhere to put your drinks or phones or your inboard elbows, which is a shame.
Front seat passengers have somewhere to put their elbows and there are two cupholders. All four doors have a bottle holder.
The boot has a false floor under which you can hide a decent amount of stuff, including small bags. Its volume starts at a decent 375 litres (beaten only by Honda's HR-V and Nissan's Qashqai). Drop the rear seats and space increases to 1120 litres.
---
Peugeot 2008
6/10
Front seat passengers will enjoy comfortable seating in both Allure and Active models with space in the doors for bottles, a pair of (small) cupholders and a good-sized central console storage bin, which is also cooled. The glovebox is tiny, but it means you've a lot more knee room than you might expect in a car this size.
The rear seat legroom is tight for over 150cm folk, but the seats themselves are comfortable, with three across possible if not appreciated. Sadly, there are no air vents or cupholders out back, although small bottles can go in the doors. There's not even an armrest for rear seat dwellers.
Boot space is excellent at 410 litres (the class-leading HR-V is 437, the rather bigger Qashqai 430) and with the 60/40 seats down that number more than triples to 1400 litres. Under the boot floor is a further 22 litres and either side of door opening are plastic pockets with retaining straps.
There is one USB port up front, a 12V next to it and another 12V port for the rear seats.
Price and features
Suzuki Vitara
7/10
Engine aside, there is much to like about the base model Vitara - in fact any Vitara - and this one is a pretty decent $24,990.
That lands you, all the way from (somewhat unexpectedly) Hungary, 17-inch alloys, climate control, reversing camera, keyless entry and start, sat nav, leather steering wheel, cloth trim, power windows, four-speaker stereo and a space-saver spare.
Perhaps the only complaint about the price is that similar competition from Hyundai and Mazda come fitted with a few more safety features.
That four-speaker stereo is run from the same touchscreen found in pretty much every Suzuki. The basic software is okay but the hardware itself is a bit iffy. Cleverly (and unlike Toyota), Suzuki knew an easy fix for that is to throw in Apple CarPlay and Android Auto. Sorted.
---
Peugeot 2008
7/10
The 2008 range has been significantly reduced. First to depart was the bargain-basement Access model, a theme repeated on the 208 and 308 model lines. Nobody bought it (three per cent of buyers, or about 20-ish per year), so that was the one to go. Peugeot's local brand boss, Kai Bruesewitz told CarsGuide at the launch that Australian buyers like their SUVs with "the lot."
The existing engines were turfed, and in their place is Peugeot's lauded 1.2-litre turbo petrol triple cylinder, known as 'PureTech e-THP' (Turbo High Pressure), paired exclusively with the Aisin-sourced six-speed automatic transmission found in the 308.
The range is now three cars, starting with the Active at $26,490, moving on to the Allure, and ending with the GT-Line, which replaces the Outdoor trim level.
The Active opens the range with 16-inch alloys, six speaker stereo, 7.0-inch touchscreen with CarPlay and MirrorLink (Android Auto is three to six months away), cloth trim, leather steering wheel, reversing camera (factory fit rather than dealer-fitted), air-conditioning, rear parking sensors, electric folding mirrors and cruise control.
Peugeot Australia says the new Active's higher price of $26,490 (+ $1000) is offset by $2000 of extra stuff when compared with the 1.6-litre Active auto of old.
The Allure is still $30,990 and swaps 16s for 17s, adds city auto emergency braking, auto parking, grip control, sat nav and a different cloth trim, active cornering lighting, auto headlights and wipers, front parking sensors, rear privacy glass and dual-zone climate control.
The GT-Line keeps the Outdoor's $32,990 price but picks up automatic transmission, different 17-inch alloys, red LED interior lighting to replace the blue in lower grades, and some interior and exterior detailing to set it apart, as with the 208 GT Line.
The GT-Line won't be available until the middle of the year.
Options across the board include $990 for metallic paint or $1050 for pearlescent. For Allure and GT-Line models you can add a panoramic sunroof for $1000 and leather for $2200. You can also specify sat nav on the Active for $1500 but given it has CarPlay and MirrorLink, that seems expensive and unlikely to attract too many buyers.
Engine & trans
Suzuki Vitara
5/10
The 1.6-litre naturally-aspirated engine in the base Vitara wheezes up just 86kW and 156Nm, easily the least-powerful in its class, and by some margin.
I often joke that it's almost like there is legislation about how much power a compact SUV must have. The Vitara is proof there isn't. The $29,990 Turbo has 102kW/220Nm, for comparison.
As with the turbo cars, the 1.6 has a proper six-speed automatic driving the front wheels. You can also get a five-speed manual for $23,990. Luckily it weighs bugger-all at 1180kg.
The Vitara offers 1200kg towing for braked trailers and 400kg unbraked.
---
Peugeot 2008
7/10
All 2008s are powered by the same 1.2-litre turbocharged three-cylinder, developing 81kW (down 7kW on the old 1.6, up 21kW on the old 1.2) and 205Nm (up 45Nm on the 1.6 and 25Nm up on the old 1.2) of torque. While the power figure doesn't compete with the 1.8 or 2.0 naturally aspirated engines of other cars in the class, the torque figure is a little higher than most.
The sprint from 0-100km/h stops the clocks at a leisurely 11.3 seconds with a tare weight of just 1188kg to push along.
Power goes to the front wheels via an Aisin six-speed automatic, already seen in the 308.
Compared to the old 1.6-litre four, the THP engine is 12kg lighter and features stop-start to help cut consumption.
Fuel consumption
Suzuki Vitara
6/10
The non-turbo Vitara clocks up an official combined cycle fuel consumption rating of 6.0L/100km, 0.1L/100km worse than the Turbo.
My week with the car saw an indicated 9.2L/100km which is almost a litre worse than the Turbo Allgrip I last tested, and a whole lot less fun.
---
Peugeot 2008
7/10
Peugeot claims 4.8L/100km on the combined cycle. On launch day, with a good mix of highways and backroads and a variety of drivers, we saw an indicated 7.3L/100km after 400km of running.
The 2008 requires premium unleaded.
Driving
Suzuki Vitara
6/10
As has been the case since the Vitara's re-emergence a few years ago, it's a good car to drive. Light steering, supple ride and good body control mean progress is smooth and, if you're going downhill, fun.
For a modern car, it's a featherweight, but without the bounciness of some other cars of this weight. It's also quite maneuverable and is unexpectedly slim, meaning you can thread it around easily and it's not a bother in car parks or tight city streets.
It's good on urban streets, too, because it soaks up bumps and lumps very well. 
I've said it before and I'll say it again - the Vitara is a good car. But in this spec, it's a good car with a deeply ordinary engine.
It's noisy, which wouldn't matter except to get anything like decent movement, you have to rev it. If you use anything more than quarter throttle - and you really have to - the transmission kicks down to try and find the scraps of torque on offer. It might be light, but the torque figure just isn't enough to move the Vitara with any urgency.
The base Vitara is slow and noisy and from that perspective is no match for its similarly-priced competition. Compounded by a lack of refinement from both engine and transmission, it highlights what a good engine is the 1.4-litre turbo.
The Vitara is slow and noisy, and from that perspective is no match for its similarly-priced competition.
---
Peugeot 2008
7/10
Modest though the outputs may be, the turbo triple is the right engine for the 2008. Standardising across the range means you don't have to play option Tetris and you know exactly what you're getting, no matter which one the dealer throws you the keys to.
While a bit grumbly low-down (this problem doesn't afflict the bigger 308), the turbo spins up and, once you're moving, provides decent thrust. Engines this size have little right to be so good on the motorway, but overtaking required less planning than anticipated, and the transmission, while kept busy, is smooth and unobtrusive. Job done there.
The steering is very good, aided by the small steering wheel, helping make the car feel as light as it is (just under 1200kg). I am not convinced by the tyres, though.
Shod with Goodyear Vector all-weather tyres, there just isn't the grip through the tight and twisty stuff, so the stability control fires up earlier than perhaps it would with 'summer' tyres. That's easy fixed at the first tyre change as long as you're not after the semi off-road capabilities of the standard rubber.
On loose or wet surfaces, the tyres to make a better case for themselves and once you twiddle the 'Grip Control' dial for the surface you're on, they're even more useful. I'd probably want a set of normal tyres on an Active, which doesn't have Grip Control and is probably intended more for city use buyers.
Overall, it's a refined package, with just the sometimes intrusive engine note coming through at low revs and tyre noise on poor tarmac.
Safety
Suzuki Vitara
6/10
On board are seven airbags, ABS, stability and traction controls. And that's it. If you want advanced safety, step up to the Vitara Turbo.
The Vitara scored a maximum five ANCAP stars in July 2016.
---
Peugeot 2008
7/10
The basic safety package on the Active includes six airbags, ABS, plus stability and traction controls.
Allure and GT-Line also have 'Grip Control', a switchable terrain system that plays around with the brakes to help keep the front wheels moving in mud, sand and snow.
Ownership
Suzuki Vitara
7/10
Suzuki offers a three year/100,000km warranty, but there's a small catch. If you continue to service it at Suzuki dealer every six months/10,000km, you're extended to five years/100,000km. That seems like a decent deal. 
Somehow, the 1.6 costs more to service than the more complex 1.4-litre turbo, working out at an average $516 per year over the first 60 months.
---
Peugeot 2008
7/10
The 2008 comes with a five year/100,000km warranty for the first three months on sale (until May 31 2017), but Peugeot says they're negotiating with the parent company to make that standard. Roadside assist is offered for three years/100,000km.
Peugeot will want to see you every 12 months or 15,000km for a service, with the average over five years working out at $544.20 per year, which is a little over the average for the segment. The cheapest is $404 and the three year/45,000km service is a stiff $723.