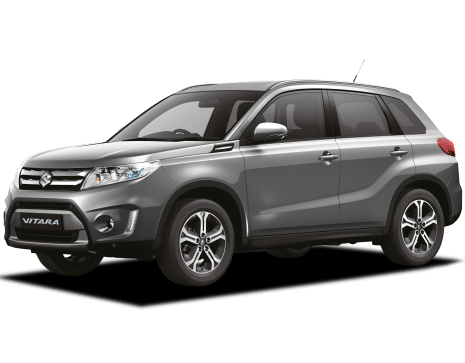 COMPARE
Suzuki Vitara
VS
Mitsubishi Eclipse Cross
Suzuki Vitara
Likes
Good interior space
Reasonably priced
Apple CarPlay/Android Auto
Dislikes
Engine
Lack of advanced safety
Servicing
---
Mitsubishi Eclipse Cross
Likes
Overall fresh feel
Impressive practicality for size
AEB standard
Dislikes
Cabin plastics feel more durable than luxurious
Sloping roof eats into back seat access
Summary
Suzuki Vitara
Suzuki's much-loved Vitara returned in 2015 and it was a happy day for people over a certain age. Over the years, Suzuki has tweaked and trimmed the range, ditching the diesel (much to the chagrin of towing fans) and leaving us with three Vitaras with the subtly updated 2019 model - the entry-level, the Turbo and the Turbo Allgrip.
The entry-level Vitara is a lot of car for the money but there is a small catch - instead of the excellent 1.4-litre turbo engine of the other two, it ships with a 1.6-litre naturally-aspirated engine that has significantly less power than anything else in the segment.
That doesn't seem to bother the target market, though - the base Vitara is by far the biggest seller in the range.
| | |
| --- | --- |
| Safety rating | |
| Engine Type | 1.6L |
| Fuel Type | Regular Unleaded Petrol |
| Fuel Efficiency | 6.2L/100km |
| Seating | 5 seats |
---
Mitsubishi Eclipse Cross
If the hugely popular Mazda CX-5 barely fits your family's needs, why would you ever go smaller?
Because you can, with the new segment-splitting Eclipse Cross reminding us that practicality and overall size aren't directly proportional.
Straddling what we've come to define as the small and mid-size SUV segments, the new Mitsubishi sits between the top-selling ASX and the successful Outlander. The new model, however, brings one of the latter's biggest packaging benefits to make it a smaller alternative to the mid-size SUV brigade, with overall dimensions closer to the next size down.
This idea is hardly new, with the Jeep Compass and Nissan Qashqai blazing this trail, but neither can match the Eclipse Cross's interior trump card, so far. 
| | |
| --- | --- |
| Safety rating | |
| Engine Type | 1.5L turbo |
| Fuel Type | Regular Unleaded Petrol |
| Fuel Efficiency | 7.7L/100km |
| Seating | 5 seats |
Verdict
Suzuki Vitara
6.4/10
It's frustrating that the Vitara is a good car fitted with such a weak engine. It's got great interior space for less money than a Qashqai, a big boot and some nice touches.
The ledger for the base model Vitara is more balanced than the higher grades. While the turbo-engined machines get along very nicely, the ride and handling are great and all the Vitara's strengths are magnified, the entry-level struggles against similarly-priced competition.
The Vitara Turbo is the one to get if you can stretch to it. The Vitara isn't ruined by this engine, but it is compromised. 
Is engine power a big deal for you? Or is the Vitara's lack of pace and refinement secondary to its undeniable charms? Let us know in the comments below.
---
Mitsubishi Eclipse Cross
7.6/10
The Eclipse Cross will represent the right solution for a lot of SUV buyers. It offers better value than a few smaller rivals, and matches a few larger ones for practicality, while fitting within a smaller body.
Given its generous levels of standard equipment and value, I'd pick the LS as the sweet spot of the range, but this is dependent on where the upcoming ES slots in price and spec-wise. Either way, the new Eclipse Cross is an impressive package.
Do you reckon the Eclipse Cross's size might be just right? Tell us in the comments below.
Check out Mal's Eclipse Cross preview drive video from late last year:
Design
Suzuki Vitara
7/10
Not everyone is a fan of the new Vitara's looks, but I am. Most of the colours are fairly vivid and everyone seems to buy it in metallic green, so it was nice to have it in this grey/silver (optional) colour.
The chrome grille can be a little bit much, but I really like the purposeful, chunky profile. Wasn't sure about the new rear lights at first, but as I said in the Allgrip review, they had already grown on me.
The Vitara's interior isn't going to win any materials quality awards, but it seems like it will last a long time. There's nothing amazing about it apart from the fact it's roomy and everything looks and feels honest.
---
Mitsubishi Eclipse Cross
7/10
The Eclipse Cross builds on the edgy 'Dynamic Shield' looks of the recent Pajero Sport but brings a distinctive wedge-like profile and a tapered rear end akin to a coupe.
This rear end also features a back window split by a rear spoiler that integrates full-width lighting, in a similar approach to the original Honda CR-X, and more recently, the Toyota Prius.
You'll be doing well to pick the top-spec Exceed from the entry Eclipse Cross LS, with just the black roof of the dual sunroof-equipped Exceed to distinguish it visually. 
When it comes to dimensions, the Eclipse Cross is 40mm longer than the ASX, but 290mm shorter than the Outlander. It's 5mm narrower than both, stands 45mm taller than the small SUV, and 25mm lower than the mid-sizer.  
One clever detail is doors extending below the sills to help keep your clothes clean on entry and egress, and the whole interior is a big step forward compared to its nearest siblings.
The dash binnacle-mounted head-up display on the top-spec Eclipse Cross Exceed may seem cheap and nasty compared to in-glass systems, but you'll love the Mitsubishi version if you ever need to replace a windscreen. Another plus is adjustment for the height of the display is via a simple switch next to the steering wheel. Take note, Mazda.
One element we're less than excited about is the Lexus-style touch-pad controller for the new multimedia system, which is just about as fiddly as it is with the luxury brand, so you'd probably find yourself using the touchscreen instead. Note that the touch-pad doesn't work with Android Auto anyway.
Practicality
Suzuki Vitara
7/10
Passenger space in the Vitara is excellent for a compact SUV. Part of the reason back seat occupants do so well is because the roof is high, the doors aren't very thick and the seat is a long way off the floor, meaning the distance between the front and rear seats isn't made smaller by angled legs. It's comfortable, too.
Which is lucky because you won't have anywhere to put your drinks or phones or your inboard elbows, which is a shame.
Front seat passengers have somewhere to put their elbows and there are two cupholders. All four doors have a bottle holder.
The boot has a false floor under which you can hide a decent amount of stuff, including small bags. Its volume starts at a decent 375 litres (beaten only by Honda's HR-V and Nissan's Qashqai). Drop the rear seats and space increases to 1120 litres.
---
Mitsubishi Eclipse Cross
8/10
You probably won't notice this on a test drive, and to be honest I only truly understood it by bringing my 14-month-old son along for the Eclipse Cross's weekend launch, but the new Mitsubishi does a better job of swallowing a rearward-facing child seat than some larger SUVs.
Two which are definitely on this list are the Ford Escape and Mazda CX-5. Thanks to recent long-term tests of each, I've found both leave just enough room for a less than average height adult (I'm 172cm) in the front passenger seat.
A more upright, and therefore compact, forward-facing baby seat is a different story, but the lengthy rearward-facing set-up is a non-negotiable reality for the first year or so of a baby's life.
The Eclipse Cross, on the other hand, leaves ample room for this front passenger. How, you ask? It's not a feng shui feat, but rather, simply using the sliding rear seat mechanism from the Outlander.
This allows you 200mm of choice between maximum rear seat legroom and maximum boot space, with the max legroom option creating more baby seat space than the aforementioned bigger players. The sliding function is also split 60/40 with the split-fold, so you can create max legroom on one side, while preserving max cargo space on the other. 
The respective boot space adjusts between a decent 341 litres and a pretty good 448-litre maximum, which is aided by having a space saver spare tyre under the floor.
Aside from this back seat/boot party trick, the Eclipse Cross's identical wheelbase to the ASX and Outlander gives it ample room for four adults. There's slightly less rear headroom than the Outlander due to its sloping roofline, which also tightens up rear entry space and could be annoying for taller parents when loading children.
One other less than ideal element is the lack of directional air vents for the back seat. This is common among smaller, cheaper SUVs, but we find the under-seat vents are nowhere near as effective as adjustable outlets in the back of the centre console.  
As is par for the course these days, there are dual cupholders front and rear plus bottle holders in each door, with decent storage around the cabin for things like mobile phones, plus ISOFIX child seat mounts for the two outer positions.
Price and features
Suzuki Vitara
7/10
Engine aside, there is much to like about the base model Vitara - in fact any Vitara - and this one is a pretty decent $24,990.
That lands you, all the way from (somewhat unexpectedly) Hungary, 17-inch alloys, climate control, reversing camera, keyless entry and start, sat nav, leather steering wheel, cloth trim, power windows, four-speaker stereo and a space-saver spare.
Perhaps the only complaint about the price is that similar competition from Hyundai and Mazda come fitted with a few more safety features.
That four-speaker stereo is run from the same touchscreen found in pretty much every Suzuki. The basic software is okay but the hardware itself is a bit iffy. Cleverly (and unlike Toyota), Suzuki knew an easy fix for that is to throw in Apple CarPlay and Android Auto. Sorted.
---
Mitsubishi Eclipse Cross
7/10
The $30,500 list price of the base LS is a fair bit higher than the kick-off point for its closest rivals, but Mitsubishi plans to add a base ES spec by the end of the year to help meet them head on. 
For now, the LS comes impressively equipped for the price, with all of the important safety gear like AEB and seven airbags fitted as standard, plus a new multimedia interface that's compatible with Apple CarPlay and Android Auto, front and rear parking sensors, tinted rear windows, lane departure warning, auto headlights, active high beams and rain-sensing wipers, plus 18-inch alloys.
For an extra $5500, the $36,000 Exceed adds leather trim and a dual sunroof, dual-zone climate control, head up display, 360 degree cameras, active cruise control, a few extra active safety functions like rear cross-traffic alert, blind-sport warning, lane change assist, and the novel misacceleration mitigation system which is designed to avoid driving into stationary objects.
If you're not an Android Auto or Apple CarPlay user, you will likely be miffed at the lack of built-in sat nav on either grade, but we reckon the smartphone-mirroring route is the better option for the long term.
It's also worth noting that only the front half of the dual sunroof on the Exceed opens, but both sections have electronic shades that can block light 100 per cent. 
Based on Mitsubishi's marketing to date, you might be surprised to find that the Eclipse Cross is available in colours other than red, and possibly grateful given the new 'Brilliant Red' hue is an $890 option. All other metallic colours will cost you an extra $590, with the sole cost-free paint option being white. 
Engine & trans
Suzuki Vitara
5/10
The 1.6-litre naturally-aspirated engine in the base Vitara wheezes up just 86kW and 156Nm, easily the least-powerful in its class, and by some margin.
I often joke that it's almost like there is legislation about how much power a compact SUV must have. The Vitara is proof there isn't. The $29,990 Turbo has 102kW/220Nm, for comparison.
As with the turbo cars, the 1.6 has a proper six-speed automatic driving the front wheels. You can also get a five-speed manual for $23,990. Luckily it weighs bugger-all at 1180kg.
The Vitara offers 1200kg towing for braked trailers and 400kg unbraked.
---
Mitsubishi Eclipse Cross
8/10
Another element that probably propels the Eclipse Cross to the top of the small mid-size SUV class is its new engine and transmission. 
Australia misses out on the diesel option available overseas, in favour of a new all-aluminium 1.5-litre petrol turbo motor that sports both direct and multi-port injection as well as variable valve timing. 
This smaller capacity, turbocharged formula is still spreading through the mainstream brands, and brings the key benefit of delivering maximum torque from lower in the rev range (from 1800rpm in this instance).
Engine specs of 110kW/250Nm are more than enough horsepower and urge for the 1490-1555kg SUV, with the other key part of the equation being a new CVT auto transmission. No, there's no manual option. 
There is the opportunity to have your Eclipse Cross with all-wheel drive (4WD), however, with the top-spec Exceed available in all-paw form for an extra $2500. 
Another surprise is the Eclipse Cross's braked towing capacity of 1600kg. Applying to both front- and all-wheel drivetrains, this comfortably eclipses its closest rivals and is backed by a healthy gross vehicle mass of 2100kg, which results in a generous gross combination mass of 3700kg.
Fuel consumption
Suzuki Vitara
6/10
The non-turbo Vitara clocks up an official combined cycle fuel consumption rating of 6.0L/100km, 0.1L/100km worse than the Turbo.
My week with the car saw an indicated 9.2L/100km which is almost a litre worse than the Turbo Allgrip I last tested, and a whole lot less fun.
---
Mitsubishi Eclipse Cross
7/10
Official combined fuel economy figures of 7.3L/100 km for the front-wheel drive versions and 7.7L/100km for the all-wheel drive are only average for a car of this size, but are somewhat balanced by the engine's surprising ability to cope with Regular 91 RON unleaded. 
Most small turbo motors insist on Premium 95 RON to do their best, so the Mitsubishi's actual fuel costs would look a bit rosier than what the windscreen label suggests. Using this week as an example, Regular 91 is 12.4 cents per litre cheaper than Premium 95 on average in Sydney. 
Over a 448km weekend, our Eclipse Cross two-wheel drive was showing 9.6L/100km on the trip computer, which isn't brilliant, but we did cover plenty of urban driving and bush exploration.
Driving
Suzuki Vitara
6/10
As has been the case since the Vitara's re-emergence a few years ago, it's a good car to drive. Light steering, supple ride and good body control mean progress is smooth and, if you're going downhill, fun.
For a modern car, it's a featherweight, but without the bounciness of some other cars of this weight. It's also quite maneuverable and is unexpectedly slim, meaning you can thread it around easily and it's not a bother in car parks or tight city streets.
It's good on urban streets, too, because it soaks up bumps and lumps very well. 
I've said it before and I'll say it again - the Vitara is a good car. But in this spec, it's a good car with a deeply ordinary engine.
It's noisy, which wouldn't matter except to get anything like decent movement, you have to rev it. If you use anything more than quarter throttle - and you really have to - the transmission kicks down to try and find the scraps of torque on offer. It might be light, but the torque figure just isn't enough to move the Vitara with any urgency.
The base Vitara is slow and noisy and from that perspective is no match for its similarly-priced competition. Compounded by a lack of refinement from both engine and transmission, it highlights what a good engine is the 1.4-litre turbo.
The Vitara is slow and noisy, and from that perspective is no match for its similarly-priced competition.
---
Mitsubishi Eclipse Cross
8/10
If you've been hanging out for the Eclipse's arrival, you may recall our very brief experience with a prototype version in the Northern Territory late last year. Driven back-to-back with the now aged Outlander and even older ASX, the Eclipse Cross felt smoother, quieter and more comfortable in general. As you'd hope. 
Now that we've driven it extensively on the road, I can tell you it's still a nice thing in reality. 
The ride comfort is particularly good - even on 18-inch wheels - and noise insulation is impressive for a mainstream model like this.
We didn't push it too hard with the family on board, but it felt stable around corners and the engine had plenty of urge around town, at highway speeds and up hills. If I were to quite a 0-100km/h figure (not that Mitsubishi quotes one) it would hardly do the drivetrain justice. It just works well in the real world. 
We're generally not a fan of CVT autos because of their tendency to groan and flare engine revs, but the turbo's low down grunt means the new transmission rarely gets the chance to make its presence known. The two complement each other very well. 
The steering feel is vastly better than the numbness of the Outlander, with the only real criticism being the rather rough leather on the wheel itself.
Driver visibility is quite a surprise considering the sloping roofline and split rear window, in that it's quite good, and the door-mounted mirrors help eliminate blind-spots up front. 
We didn't take the Eclipse Cross too far off-road at its Tasmanian launch event, but we did manage to safely traverse two hard-packed beaches on Bruny Island. These were Jetty Beach and Cloudy Bay if you're ever in the area, and provided a nice little taste of adventure considering we were piloting a two-wheel drive Exceed. 
For those interested in taking the Eclipse Cross further, both two- and all-wheel drive versions have a useful ground clearance of 183mm, with 18.8 degree entry and 29.2 degree departure angles. We plan to put the all-wheel drive through its paces on a proper adventure test shortly.
Safety
Suzuki Vitara
6/10
On board are seven airbags, ABS, stability and traction controls. And that's it. If you want advanced safety, step up to the Vitara Turbo.
The Vitara scored a maximum five ANCAP stars in July 2016.
---
Mitsubishi Eclipse Cross
8/10
All Eclipse Crosses are covered by a maximum five-star ANCAP rating (tested 2017), with the key pluses being standard AEB plus dual front, side head and chest airbags, plus a seventh airbag for the driver's knees. 
The LS also comes with lane departure warning, but the top Exceed adds 360 degree cameras, active cruise control, rear cross-traffic alert, blind-sport warning, lane change assist, and a novel 'Misacceleration Mitigation System' which is designed to avoid driving into stationary objects.
Ownership
Suzuki Vitara
7/10
Suzuki offers a three year/100,000km warranty, but there's a small catch. If you continue to service it at Suzuki dealer every six months/10,000km, you're extended to five years/100,000km. That seems like a decent deal. 
Somehow, the 1.6 costs more to service than the more complex 1.4-litre turbo, working out at an average $516 per year over the first 60 months.
---
Mitsubishi Eclipse Cross
8/10
Like all Mitsubishi vehicles, the Eclipse Cross is covered by a five-year/100,000km warranty, which also covers perforation corrosion for five years. Five years still beats the industry standard of three, but some brands offer unlimited kilometre coverage. 
Service intervals are 15,000km or 12 months, with capped price servicing for the first three services of $300, $400 and $400 respectively.