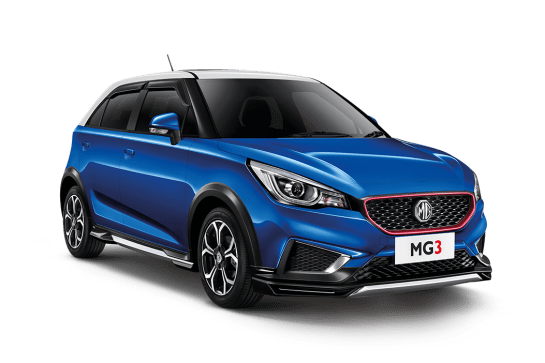 COMPARE
MG 3
VS
Peugeot 208
MG 3
Likes
Good ride
Fun to drive
Great ownership prospects
Dislikes
Lacking safety tech
Powertrain not great in demanding situations
No digital speedo
---
Peugeot 208
Likes
Unique styling
Sporty drive
Spacious and comfortable
Dislikes
Pricey
Missing advanced safety
Barely any cabin storage
Summary
MG 3
This story has been updated in February 2022 to reflect market changes and pricing adjustments for the MG3. It was originally published in the first half of 2020.
My time at CarsGuide started in October 2017, and since then I've booked literally thousands of cars across Australia. One car that has eluded me - and the CarsGuide team - over that period is the one you see here: the MG3. Or the MG MG3, or MG 3, if you wish.
Despite asking MG's Australian arm countless times to loan an MG3 hatchback over that period, the company in charge of the brand's PR in Australia refused to agree to loan us a vehicle to test. Now the company has an in-house PR team with a pretty decent fleet of press cars, yet still, no MG3.
Over the years, our desire to review the MG3 hatch - and to help you decide whether it's right for you or not - has only gotten stronger because sales have skyrocketed. Back in late 2017 the brand was averaging only a handful of cars per month - indeed, just 52 examples of the MG3 were sold in total in 2017.
Since then, the MG3 has skyrocketed, and it is the best-selling light car in Australia. In 2021, the brand moved more than 13,000 MG3s - meaning it is averaging 250 cars sold per week. Makes the paltry 2017 numbers look a bit meagre. In becoming the number-one seller in the segment, it has beaten big-name rivals including the Kia Rio, Mazda 2 and now defunct Honda Jazz, while also being well clear of the cheaper Kia Picanto, which is what many people will be shopping this car against if price is a key driver for their decision.
And that's the case in point, really - a lot of its success comes down to the price of the Chinese-built, British-badged city car. It's cheap - but is it a cheerful experience? We got the chance to find out in 2020, thanks to a friendly MG dealership in NSW - and this review has been updated with the most current pricing, because nothing else has changed.
| | |
| --- | --- |
| Safety rating | |
| Engine Type | 1.5L |
| Fuel Type | Premium Unleaded Petrol |
| Fuel Efficiency | 6.7L/100km |
| Seating | 5 seats |
---
Peugeot 208
In a world of cheap, popular and well-specified Japanese and Korean small hatchbacks, it's easy to forget the humble French cars that once helped define the segment.
They're still around, though. You've probably seen a few Renault Clios, you might not have seen the tragically underrated new Citroen C3, and there's at least a chance you've seen one of these – the Peugeot 208.
This iteration of the 208 has been around in one form or another since 2012 and is due to be replaced by a second-generation model in the near future.
So, should you consider the aging 208 in a busy market segment? I spent a week behind the wheel of the second-from-the-top GT-Line to find out.
| | |
| --- | --- |
| Safety rating | |
| Engine Type | 1.2L turbo |
| Fuel Type | Premium Unleaded Petrol |
| Fuel Efficiency | 4.5L/100km |
| Seating | 5 seats |
Verdict
MG 3
7.1/10
Aside from its safety shortcomings and underwhelming powertrain, it's easy to see why the MG3 has become a successful part of the brand's line-up. If you're driving around a rural centre like I was, it makes a lot of sense.
Whether you choose the Excite model, which has a bit more visual pizzazz, or the Core model, which is our pick of the range, the MG3 is well priced, has the media tech buyers are after, is a charming looking thing that comes in a range of great colours, and is smartly packaged, too. 
Thanks to the team at Orange MG for assisting us with this the loan vehicle for this review. Head to Orange MG for more information.
---
Peugeot 208
7.1/10
The 208 GT-Line is hardly a car purchased on its value offering; it's an emotional purchase. Fans of the brand know it, even Peugeot knows it.
Here's the thing, though, the GT-Line looks the part, is true-to-its-roots in how fun it is to drive, and will surprise most with its spacious dimensions and decent spec level. So, while it might be an emotional buy, it's not necessarily a bad one.
Have you owned a Peugeot in the past? Share your story in the comments below.
Design
MG 3
8/10
It's a fresh looking thing, the MG3. 
From its attractive front-end with "London Eye" LED daytime running lights, its Euro-look angular front bumper and chrome-trimmed grille, and its angular window lines, it really does have a distinct personality.
It looks a lot more modern and enticing than the first version of the MG3 sold here, and I have no doubt that a lot of buyers of the MG3 have been attracted by its sharp styling first and foremost. MG has done a tremendous job of creating a family look - it just happens that the family looks like it has been taking good care of itself, keeping active and trim, too.
The rear end isn't quite as attractive, with the vertical tail-lights making it seem taller than it is. It's still a nicely sculpted back-end, though.
On the Core model you'll get some lower blacked-out design trim bits, and the wheels fitted are 15-inch alloys. 
The Excite model seen here is a little more, dare we say it, exciting to look at. That's down to its body kit, consisting of lower chrome elements on the front bumper, a set of black side skirts, and a hatch-mounted rear spoiler. You get 16-inch alloy wheels, too. 
In terms of dimensions, it's closer in size to the Kia Rio than it is the Picanto. With a length of 4055mm (on a long-for-its-size 2520mm wheelbase), a width of 1729mm and height of 1504mm, it's a pretty chunky little unit. 
It is rather conventional in the way its interior is designed, however - there's no sliding second row (like the Suzuki Ignis) or flip-folding seats (a la the Honda Jazz). Check out the interior pictures below to see for yourself.
---
Peugeot 208
7/10
It might not be for you, but I had come around to the 208's design by the time I handed the keys back. It's a bit more upright and frumpy than the slick, conservative design of the Volkswagen Polo, or the swish, cutting-edge lines of the Mazda2.
It's undeniably a European city car in its short and upright stance, but blazes its own path, even compared to French competitors. I grew quite fond of its weird, slopey bonnet, unconventional face and tough rear wheel arches. The way the rear light clusters clasp the rear to bring the design together is quite satisfying, as are the aluminium-brush alloys, recessed lights and the single chrome tailpipe.
It could be argued that this is a path well-travelled, with this 208 mirroring the design cues of the 207 that came before it, but I'd argue it holds its own, even in 2019. If you're after something radically different, the styling on its replacement, due next year, is one to look out for.
On the inside, things are… unique.
There are cushy, deep seats for front occupants, with a super vertical dash design, leading up from the deep-set shifter (an older look) to the top-mounted media screen, which is slick, with its chrome bezel and lack of buttons.
The steering wheel is awesome. It's tiny, strongly contoured and covered in nice leather trim. Its small, almost oval shape is super satisfying to wrangle, and enhances the way you interact with the front wheels.
What is extra strange about it is how far separated it is from the dash cluster. The dials are perched way atop the dash in a layout Peugeot refers to as the 'iCockpit'. This is all very cool and aesthetic and French if you're my height (182cm), but if you're particularly short or particularly tall, the wheel begins to obscure vital information.
Other strange things about the cabin mainly involve little bits of plastic of varying quality strewn about the place. While the overall look is very cool, there are some odd bits of chrome trim and hollow black plastics about that probably don't need to be there.
Practicality
MG 3
7/10
If you've owned the same old car for years and you're setting foot in an MG3 for the first time, you'll probably feel amazed that you can get an interior with interesting finishes, a high-tech screen and decent materials at this price point.
Earlier versions of the MG3 were nowhere near as good inside as the current model, which has been on sale since 2018. It's not perfect, but there are plenty of things to like.
The seats offer plenty of adjustment, including a huge amount of height adjustment for shorter drivers. The seat is comfortable, though some drivers might find it hard to get the right position: there is no reach adjustment for the steering wheel (only rake adjust), and you can't adjust the seatbelt height, either. 
I really like the seat trim which is a broad tartan design (with "synthetic leather" bolsters and contrast stitching in the top-spec Excite), mirrored by an etched tartan aluminium trim piece on the dashboard - it looks really smart, even if my OCD radar was set off by the fact the trim wasn't aligned to match perfectly between the cushion sections. Take a look at the interior pictures to see what I mean.
There are some really nice elements to the cabin. Things like the 'lock' and 'unlock' button on the driver's door, which looks like it has been stolen directly from Audi's parts catalogue. The same can be said for the speedo instrument font. 
There's no doubt that it's built to a price, but it doesn't feel anywhere near as cheap as you might expect. We've criticised Audi, VW and Skoda for cutting costs with hard plastic trims on doors and dashboards, and the MG has plenty of hard plastics, too - but it's expected at this price, not double it.
There's a standard 8.0-inch touchscreen media system with AM/FM radio and Bluetooth phone and audio streaming, plus USB connectivity and smartphone mirroring - meaning you get Apple CarPlay, essentially negating the need for sat nav if you use an iPhone. You can option a GPS navigation system on the Core model, but satellite navigation comes standard on the Excite. There's no Android Auto mirroring available at all, though.
In previous models from the SAIC stable - including the LDV T60, and MG ZS - I had troubles with the media screen, but the version in the MG3 Excite I drove was quick and problem free, even when disconnecting and reconnecting my phone multiple times. 
There are other little things that could be improved, like the fact the trip meter is difficult to navigate, and there's no digital speedometer. Also, the digital climate control in the Excite model shows up on the media screen, though by way of a graphic rather than a temperature number. In the base model Core there's a simpler manual a/c system. 
The steering wheel has a part leather trim with perforated edges which makes it look and feel a little bit sporty – and it has a flat bottom as well, which will appeal to the sporty-minded buyer. There are stereo and cruise control buttons on the wheel, but the stalks behind are "back to front", with the left stalk for indicators and lights, and the right for wipers. 
As for storage, up front there is a single cup holder between the seats, a couple of small storage sections including a trench for a wallet, and another storage section in front of the gear selector - that's where the MG3's single USB port is, too.
The front door storage includes bottle holders, and there are soft padded elbow pads on the front doors - which is more than we can say for some of those aforementioned Euro brands.
With the driver's seat set in my position (I'm 182cm tall), I had enough back seat space to be comfortable. There was enough knee room and toe room, and reasonable headroom if I sat perfectly still - although the slightest tilt of my head to the outer side of the car saw my noggin contact the headlining. Rear seat comfort is okay - the backrest is a firm, but there's good visibility out the windows. There are dual ISOFIX child seat anchor points, and three top-tether points for baby seats. 
In the back the storage is minimal. There are two map pockets, but no door pockets, and there's no flip-down centre armrest with cupholders. But there is one large pocket in front of the middle-seat rear passenger which would do for a bottle. The back seat also misses out on soft elbow pads on the doors. 
Boot space is good for a car in this size segment. You'll only really do better if you buy a Honda Jazz or Suzuki Baleno, as the MG3 offers a deep and boxy cargo zone, with a cargo capacity of 307 litres to the cargo cover. 
Need more luggage capacity? The back seats fold down in a 60:40 split, alleviating 1081L of space - though the load-through is limited as the seats don't fold completely flat. Or you could fit a roof rack. 
---
Peugeot 208
7/10
The 208 hit me with some surprises here. Firstly, don't drink and drive this car. And, by that I mean, don't even begin to think you'll find a good spot for a decently sized coffee. There are two cupholders under the dash; they are about an inch deep, and narrow enough to accommodate maybe a piccolo latte. Place anything else in there and you're asking for a spillage.
There's also an odd little trench there that barely fits a phone, and a top-box arm-rest thing that's tiny and bound to the driver's seat. The glovebox is large and also air-conditioned.
The front seats offer heaps of room, though, for arms, head and especially legs, and there is no shortage of soft surfaces for elbows.
The back seat was also a surprise. I was expecting it to be an afterthought, as it is in many cars this size, but the 208 delivers, with excellent matching seat trim and generous legroom.
Sadly, that's where back-seat amenities end. There are tiny trenches in the door, but no air vents or cupholders. You'll have to make do with just the pockets on the backs of the front seats.
Don't be fooled by the 208's cropped rear, the boot is deep and grants a surprising 311 litres to the shelf, and maxes out a 1152L with the second row folded down. Also surprising  is the inclusion of a full-size steel spare, stashed under the floor.
Price and features
MG 3
8/10
The success of the MG3 in Australia has been largely driven by its price. 
And no wonder - pricing for cars of this size has increased steadily, and plenty of brands have found their light cars in the "too hard" basket as a result.
But the MG3 is still relatively cheap. Prices have jumped over the time since we drove this particular car, but they're still sub-$20K for all models in the range.
For context, the 2020 model started at just $16,490 drive-away for the Core model and topped out at $18,490 drive-away for the top-spec Excite, and those prices were the RRPs listed on MG's site at the time.
But now the MG3 has become a bit pricier - the current pricing for the range is up, with the base model Core now $18,490 drive-away, while the Core with Nav model costs $18,990 drive-away, and the top-spec Excite grade is a Macca's meal short of twenty grand at $19,990 drive-away.
Wondering what features you get when it comes to the models in the range? It's pretty simple, so let's run through what each model gets.
The Core gets 15-inch alloy wheels, cloth tartan finish seat trim, auto on/off halogen headlights with LED daytime running lights, manual air conditioning, electric windows, electric mirrors, and a leather steering wheel with audio and cruise control buttons. There's a space-saver spare wheel, too.
The media system includes a 8.0-inch touchscreen with USB connectivity, Apple CarPlay (no Android Auto), Bluetooth phone and audio streaming, and AM/FM radio. There's no CD player, and the Core model gets four speakers. If you're keen on sat nav, you can step up to the Core Nav model, which adds $500 to the bill.
Stepping up to the Excite nets you a few extras like 16-inch two-tone alloy wheels and a body kit, body-coloured mirrors, vanity mirrors in the sun-visors, and synthetic leather trim on the seats with contrast stitching. 
The Excite also includes GPS sat nav as standard, and steps up the sound system to be a six-speaker unit with "Full Vehicle Yamaha 3D Sound Field".
Interested in the safety spec inclusions? Read the safety section below for what's included, and what's missing.
Our friendly MG dealer let me know that he can't get enough of the Tudor Yellow models, and that colour - as well as Dover White and Pebble Black - are no-cost optional hues. You should bare in mind that Regal Blue metallic, Scottish Silver metallic and Bristol Red metallic (as seen here) will set you back an additional $500. Looking for orange, green or gold paint? Sorry, no can do.
As for accessories, beyond floor mats there's not a lot to speak of. Oh, and those wishing for a sunroof? No chance… unless you're handy with a Sawzall. Note: do not cut a hole in the roof of your car. 
While the prices have gone up since we originally published this review, the MG3 still scores strongly for pricing and specs, because the market has moved up, too, and like-for-like it's still cheaper than almost all of its rivals - Picanto excluded.
---
Peugeot 208
6/10
This Peugeot is never going to be as cheap as a Mazda2 or Suzuki Swift. The current range spans from $21,990 for the base Active to $26,990 for the GT-Line, and that's all before on-road costs.
Safe to say you're looking at a $30k hatch then. For the same money you could be hopping into a decently specified Hyundai i30, Toyota Corolla or Mazda3, but Peugeot bank on the fact that this car appeals to a special kind of customer; the emotional buyer.
Perhaps they had a Peugeot in the past. Perhaps the quirky styling calls out to them. But they aren't interested in value… per se.
So do you at least get a decent standard spec? The GT-Line comes with a 7.0-inch multimedia touchscreen with Apple CarPlay and Android Auto support, built-in sat-nav, 17-inch alloy wheels wrapped in some seriously low-profile Michelin Pilot Sport rubber, panoramic fixed glass roof, dual-zone climate control, self-parking function, front and rear parking sensors with a reversing camera, rain sensing wipers, sports bucket seats, auto folding mirrors and GT-Line specific chrome styling touches.
Not bad. The styling is certainly turned up a notch over the regular 208 range and the spec list makes it one of the better-equipped cars in the segment. However, there are some notable omissions which hurt on a car at this price. For example, there's no option for push-start or LED headlamps.
Safety is okay, but it could use update. More on that in the safety section.
Engine & trans
MG 3
6/10
Keen to know the engine specs for the MG3? Well, it's pretty simple on the specifications front.
There's just one motor available: a 1.5-litre four-cylinder non-turbo petrol engine, dubbed NSE Major by MG. 
It has class competitive outputs of 82kW (at 6000rpm) and 150Nm (at 4500rpm). It is only available with a four-speed automatic transmission and front-wheel drive. There's no manual transmission available anymore - it was available in the earlier MG3s, but no more. 
While some competitors offer higher-powered flagship variants that act as the horsepower hero of the range, there's no such variant in the MG3 range. Not yet, anyway. For now there's just one engine size, no turbo, and no diesel or EV models to speak of either.
The tare mass/tare weight for the MG3 hatch is 1170kg, which is a bit heavier than a Mazda 2, but pretty much on par with a Kia Rio. 
Considering a caravan holiday with your new MG3? Maybe think twice - the maximum towing capacity is just 200kg. 
If you're worried about engine problems, clutch problems, or have questions about the battery, gearbox, or the oil requirements, be sure to stay tuned to our MG problems page. And if you're curious about whether it has a timing chain or timing belt? It's a chain.
---
Peugeot 208
8/10
The regular (that's non-GTi) 208s are offered with just one engine now. A 1.2-litre turbo petrol three-cylinder, which produces 81kW/205Nm. While that doesn't sound like an awful lot, it turns out to be plenty for the little 1070kg hatch.
Unlike some notable French manufacturers, Peugeot has seen the light and dumped single-clutch automatics (aka automated manuals) in favour of a six-speed torque converter auto, which does its best to have you not notice it.
It also has a stop-start system, which might save fuel (I couldn't objectively prove that it did) but will definitely annoy you at the lights.
Fuel consumption
MG 3
7/10
The combined cycle fuel consumption claim - which is what the brand claims the vehicle should use across a mix of driving situations - is the same across the MG3 line-up: 6.7 litres per 100 kilometres.
During my time with the car - which consisted of exactly 100km of mixed driving - I saw an at-the-pump fuel economy return of 7.7L/100km, which is decent.
The fuel tank capacity of the MG3 is 45 litres - meaning a theoretical mileage per tank of about 580km. It runs on regular unleaded (91RON), too.
Just be aware, the filler neck of the fuel tank is a little less angled than some other cars, so you might find it can splash back when it 'clicks' the first time.
---
Peugeot 208
7/10
The claimed/combined fuel number for the 208 GT-Line is a slightly unrealistic-sounding 4.5L/100km. Sure enough, after a week of city/highway combined driving, I produced a number of 7.4L/100km. So, a solid miss. Slightly less-enthusiastic driving should see that number drop, but I still don't see how you could get it down to 4.5L/100km.
The 208 requires a minimum of 95RON mid-range fuel, and has a 50-litre tank.
Driving
MG 3
7/10
You might think of MG as a sports car brand - that's what they built back in history, after all, and those are the reminiscences the company is hoping you'll have when you see the famed octagonal badge.
And of the current crop of models that MG sells in Australia, the MG3 is undoubtedly the sportiest. 
That comes down to its driving manners, steering and ride - but not the engine and transmission.
The powertrain feels to be lacking enough power and torque to make it feel light and zippy when accelerating. The automatic transmission doesn't make the greatest use of the engine, and can be indecisive when climbing hills or when you ask more of the car. Oh, don't even think about a 0-100 performance claim - no such number exists.
In urban driving at lower speeds it's fine. Between traffic lights and encountering roundabouts, and there's not much to complain about. It doesn't have any lag or lurch from a standstill, and is smooth and quick enough to get away from rest, too.
It's just once you start to ask more of the engine and transmission that you notice that things could be better. There is, at least, a manual shift mode for the transmission to allow you to take control of the shifts, and there's a sport mode too, which will hang on to gears and quell the indecision of the transmission to a degree.
On the open road it gets along fine, sitting at the speed limit without much fuss - although once you encounter a hill, you will notice the speed drop off a little. And the cruise control seemingly has a bit of a mind of its own, with a set speed displayed at 100km/h, I noticed the speed varying between 90km/h and 110km/h, depending on the terrain.
It's the road holding, grip, handling and steering that help it live up to the badge, with steering that has a nice hefty weight to it and good directness at pace or around town. It even offers a little bit of feel through the wheel, which is welcome. That grip was surprising given the tyres fitted to the Excite's 16-inch alloy wheels (Giti GitiComfort 228 tyres in 195/55/16 size).
The ride is tuned with a firmer character to it than you might expect. It's not to the point of discomfort, and nor is it fidgety or clumsy over potholes or sharp edges. And that tune for the Macpherson strut front suspension and torsion beam rear suspension means that it feels plenty grippy in corners. Over my drive loop - incorporating sweeping bends and tighter twists - the MG3 stuck itself to the road commendably, with no noticeable skittishness to speak of. 
Indeed, I kept thinking that the suspension tune reminded me of a VW, Skoda or Audi city car - assured, confident, and ultimately a bit of fun.
The braking performance was good, too - it pulled up true and straight under heavy braking, and offered decent response at city speeds, too.
One minor criticism was some noticeable wind noise from around the windscreen pillar / mirror area, which was evident at speeds from 70km/h up.
---
Peugeot 208
8/10
The 208 is good fun, and lives up to its heritage of making the most of its lightweight dimensions and small figure to make for an agile city-slicker. The engine outputs might look like just any other hatch in this class, but the turbo comes on nice and strong in an impressively linear fashion.
It makes for reliable and strong acceleration, with the peak 205Nm of torque available at 1500rpm.
A featherweight at 1070kg, you'll find no complaints from me about its performance. It's no GTi, but it will still be warm enough for most.
Despite its upright figure, handling is fantastic, too. The low-profile Michelins feel planted at the front and back, and, unlike the GTi, you never really feel at risk of understeer or wheelspin.
This is all enhanced by the intense helm, with the small steering wheel giving it a thoroughly engaging feel. You can chuck this car into corners and down alleyways with enthusiasm, and it feels like it loves it as much as you do.
The suspension is stiff, especially at the rear, and the low-profile rubber makes it noisy on coarse-chip surfaces, but you'll barely hear a peep out of the little engine. Other notable downsides include the slow-to-react stop-start system (which you can turn off) and the lack of active cruise, which would be nice at this price.
Safety
MG 3
6/10
Safety technology is the MG3's biggest shortfall. There's no ANCAP crash test safety rating to speak of, and the MG3 doesn't come with any form of auto emergency braking (AEB), which is disappointing given the tech has been available on affordable city cars since 2013 (the VW up! was an early benchmark). 
Even the facelifted Mitsubishi Mirage has AEB with pedestrian detection, but the MG3 doesn't. Nor does it come with lane keeping assist, lane departure warning, blind spot monitoring, rear cross-traffic alert or rear AEB.
So what do you get? The range comes standard with a reversing camera, rear parking sensors, electronic stability control, and six airbags (dual front, front side, full-length curtain). And that may be enough for you, but we know you can get more safety tech in rival cars, so it can't score well against this criteria.
Where is the MG3 built? It's made in China. 
---
Peugeot 208
7/10
On the topic of active cruise, this car is showing its age in the safety department. Available active safety is limited to a camera-based city-speed auto emergency braking system (AEB). The lack of a radar, even optionally, means no active cruise or freeway-speed AEB. There's also no option for blind-spot monitoring (BSM), lane-departure warning (LDW) or lane-keep assist (LKAS).
Sure, we're talking about a car which largely dates back to 2012, but you can get cars a full size up with all those features for close to the same money from Korea and Japan.
On the more impressive side, you get an above-average set of six airbags, seatbelt pre-tensioners and rear ISOFIX child-seat mounting points, as well as the expected set of electronic braking and stability aids. A reversing camera is also now standard.
The 208 previously held a maximum five-star ANCAP safety rating from 2012, but that rating is limited to four-cylinder variants, which have since been phased out. Three-cylinder cars remain un-rated.
Ownership
MG 3
8/10
I kept thinking about one particular thing over my time in the MG3 - the warranty. It's such a great peace of mind move from the company to back its cars with a seven-year/unlimited kilometre warranty plan. 
If your brain works like mine, you could calculate it out and see the purchase of the MG3 completely differently: what about thinking of it as a $2500-ish-per-year investment, and at the end you get a free car…! The same can be said of the Kia Picanto and Rio, though.
That warranty should put your mind at ease when it comes to reliability, problems, common faults and issues, as any required fixes are set to be covered by the brand over that period. And buyers get seven years of roadside assistance included, too.
Maintenance is required every 12 months/10,000km, whichever comes first. That's a bit more regular than some rivals (most have 15,000km intervals), but the brand backs its cars with a seven-year fixed service cost plan. Servicing costs averaged out over the first seven years/70,000km of ownership equate to $382 per visit (before GST), which isn't cheap, but nor is it expensive.
Here's a rundown of the recommended service costing (all prices pre-GST): 12 months/10,000km: $231.76; 24 months/20,000km: $385.23; 36 months/30,000km - $379.72; 48 months/40,000km - $680.74; 60 months/50,000km - $231.76; 72 months/60,000km - $533.19; 84 months/70,000km - $231.76.
Keep the service logbook stamps up to date in your owners manual - it's a ticket to better resale value. 
---
Peugeot 208
7/10
Peugeot offers a five-year/unlimited-kilometre warranty on its entire range of passenger cars, which is up-to-date and in-line with most segment competitors.
The 208 requires servicing at yearly or 15,000km intervals (whichever occurs first) and has a fixed price to the length of the warranty.
Servicing is not cheap, with yearly visits costing between $397 and $621, although there's nothing on the optional extras list, that price is all-inclusive.
Total cost over the five-year period is $2406 for an (expensive) average of $481.20 a year.