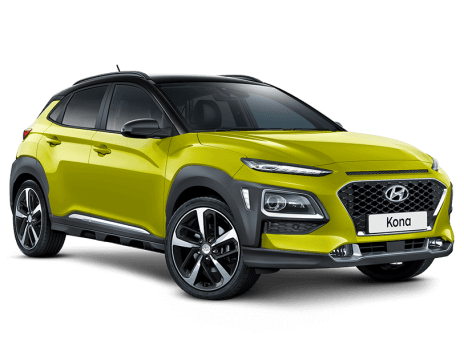 COMPARE
Hyundai Kona
VS
Mazda CX-3
---
Mazda CX-3
Likes
Design, inside and out
Sharp handling
Fun steering
Dislikes
Small boot
CarPlay still not fixed (it's coming)
Engine can sound like it's working hard
Summary
Hyundai Kona
I think it's just human nature to like explosions.
There's something fascinating and wonderous about how an internal combustion engine unites the chaos of exploding petrol with a few hundred moving parts to send a car hurtling forward.
So, I should hate the Hyundai Kona Electric. I should hate it for the simple fact that it is the almost undeniable future of motoring, and it has no engine.
But for so many reasons, I can't hate it. I can't hate it because for the first time since I first drove a Tesla Model S, the Kona Electric made feel like I've had to the opportunity to experience a little slice of the future before we're really supposed to see it.
So, should we be ready for it? Is this Kona going to be a big part of the proliferation of electric cars in Australia? Importantly, is it a realistic cut-price long-range alternative to the wildly expensive Tesla range?
 The answers lie in this review…
| | |
| --- | --- |
| Safety rating | |
| Engine Type | — |
| Fuel Type | Electric |
| Fuel Efficiency | —L/100km |
| Seating | 5 seats |
---
Mazda CX-3
Some cars are just so desirable, so delectably tempting to look at, that they cause people to abandon all logical and practical concerns and buy them anyway. Fortunately, most vehicles in this category of dangerous desirability are stupidly expensive, but when you combine the cuter-than-a-puppy looks of a car like Mazda's CX-3 with a price range that starts in the low $20,000 range, anything can happen.
Throw in the fact that this diminutive darling of a thing is a small SUV - one of the most desirable categories in the Australian market, with sales in the segment doubling in the past five years - and Mazda may need to reinforce the doors in its showrooms with the launch of this new one.
I speak from experience here because my wife loves the look of the CX-3 so much she wanted to buy one. So I explained that it is built on the Mazda2 platform, which means its boot is too small for a family of four, and that the rest of it probably wasn't suitable for us either. But she was still keen.
I know of a young family who bought one because they were so taken with its prettiness, but when they got it home they remembered they had a small child and realised that their pram would never, ever fit in the back. Oh dear.
If you are a young single or a childless couple, of course you can enjoy its alluring looks all you like, and the tight rear seats and small boot volume probably won't bother you at all.
Mazda happily admits the way this car looks is the main reason people buy it, which is no doubt why the new one looks so much like the highly successful old one (more than 58,000 CX-3s have been sold in Australia since its launch in 2015).
So, what actually is new about this incorrigibly cute crossover? We went to the local launch drive to find out.
| | |
| --- | --- |
| Safety rating | |
| Engine Type | 2.0L |
| Fuel Type | Regular Unleaded Petrol |
| Fuel Efficiency | 6.6L/100km |
| Seating | 5 seats |
Verdict
Hyundai Kona
7.8/10
On price alone, the Kona Electric is not quite the Volkswagen Beetle or Ford Model T of the electric car world.
It does stand for something, though. It stands as an example that practical and reasonably range-anxiety-free electric vehicles are a realistic ownership proposition, and one which is achievable for automakers a little less volatile than Tesla.
Importantly, the Kona Electric 'normalises' the EV powertrain in that it feels so natural to drive, so much like its petrol equivalents that you don't question it, and you spend far more time marvelling at the cool bits than you do getting frustrated with the compromises.
For now, the key to uptake of these vehicles will be in government incentives (right now there are next to none) and the proliferation of more up-to-date non-Tesla charging points.
What would it take for you to make the switch to electric? Tell us what you think in the comments below.
---
Mazda CX-3
7.8/10
If you liked the previous Mazda CX-3 - and just about everyone did - then you're going to love this one even more. It's got a tiny bit more presence, a less busy and more classy interior and marginally better engines with slightly improved fuel economy. Basically, it's a little bit more of the same for this little gem of a compact SUV.
Would you have a Mazda CX-3 over a Mitsubishi ASX, on looks alone? Tell us in the comments section.
Design
Hyundai Kona
Our loan car was fully tricked out with the 'eco' look. That includes the Kona Electric's hero colour of 'Ceramic Blue', the two-tone white roof and the airy blue and grey interior trim.
Some will love this aesthetic, to me it was total eco-credential overkill. Regardless, the electric Kona carries most of the styling points which made the original car a bit of a hit.
In fact, in some ways I think the electric Kona improves on the base car by eliminating the overcomplicated grille.
Round the back is less revolutionary, featuring a re-designed lower bumper and a simple 'electric' badge to set it apart from the regular range.
Inside has the same symmetrical design which makes the regular Kona and i30 so appealing.
The electric car gets a raised up centre console which offers easy access to the little SUV's many buttons and functions as well as giving the cabin a slightly more futuristic look.
The centre stack is nicely designed with the climate control functions leading up to a set of vents and the pride-of-place multimedia touchscreen jotting out of the dash. It's a good look and easy to use for both the driver and front passenger.
Less good is the abundance of matte silver finish everywhere, there's simply no need for it, anyone who gets behind the wheel will already realise this car is from the near future.
Unfortunately, the interior, as full-on as it looks, is comprised mostly of hard plastics. This is a consistent Kona problem - there's even more hard surfaces present here than there is in its i30 hatchback sibling.
---
Mazda CX-3
9/10
In the right light, in the right colour, (obviously the hugely popular red), the CX-3 can move beyond being just small and sweet looking and reach the point of genuinely striking. There's a lovely, criss-crossing line that swinges down the sides, crossing over at its mid point. It's what Mazda calls pure Kodo design - simple, sleek and slightly sexy.
The angle most people fall in love from, though, is front on, with the CX-3's toothy grin only slightly changed for this new version with a new "more assertive" grille, with a  solid, detailed design featuring horizontal bars of different thicknesses.
The goal here, as CX-3 program manager Takata Minoru explained, was to make "no unnecessary changes" and only to "refine the beauty and enhance the quality feel".
The new grille is supposed to give the car a sharper look and a greater feeling of depth, but to us it just looked like a new grille. Mazda says the new car is defined by being "exquisite" and "edgy", but it's not clear what that means in terms of new-ness.
The sTouring and Akari grades get a new line of chrome along the front bumper and sides, which is pleasant enough, while there are also new fog light bezels in gloss black on Maxx Sport variants and above. 
Oh, and the rear lights, in the top two grades, have adopted a cylindrical shape for the facelift version, because round things are classier than square ones. Apparently.
Colours, of course, in a car so pretty and feminine, are a big deal, and there are now eight to choose from - 'Soul Red Crystal Metallic' (as opposed to just Soul Red Metallic) and 'Machine Grey Metallic' are new and join 'Dynamic Blue Mica', 'Titanium Flash Mica', 'Jet Black Mica', 'Snow Flake White Pearl Mica', 'Ceramic Metallic' and 'Eternal Blue Mica'.  Brown is not an option, happily.
In short, it's a good looking car, much like the old one, and it's hard to imagine a vehicle of this size and shape being any more attractive. It's surprising, then, to learn that the CX-3 is only the second-best seller in its segment, behind the Mitsubishi ASX. 
Ground clearance for the CX-3 is 160mm unladen. So, no rock hopping then.
Practicality
Hyundai Kona
The Kona is already hardly the most practical small SUV out there, as the base car features a decent boot, but middling rear legroom.
The same is true here, only the boot floor has been raised to accommodate batteries. As a result, total boot space has been reduced 39L down to 332L (VDA).
That's unfortunate, but despite the sacrifice, it's somehow not the smallest boot in the small SUV class (it still bests the Mazda CX-3, for example). The Highlander grade gets a really quite handy luggage net across the boot floor.
Underneath the boot floor, the on-board charging cable packs away neatly into a zipper bag alongside the puncture repair kit.
Rear legroom is a bit of an issue. If you're any taller than me (182cm) you simply won't fit and you'll have your legs jammed up against the front seat.
On my test week I put three adults across the rear row and while they were too polite to complain, it didn't look particularly comfortable, particularly for the middle occupant.
In terms of amenities the rear seats get small cupholders in the doors and nettings on the back of the seats, but no power outlets or air-conditioning vents.
Up front is a much better story, where the driver and front passenger benefit from deep cupholders in the centre console and doors, a neat little Qi wireless charging point, USB point and 'aux' input in the dash, as well as a huge storage area and 12-volt output underneath the raised centre stack. There's also a decent console box.
Sure, the electric Kona can't compete on practicality with something like the brilliantly-packaged Honda HR-V, but it isn't as compromised as it could have been.
---
Mazda CX-3
7/10
Considering the external dimensions of the car, the CX-3 does quite well. Allow me to illuminate you with my own example, which is that I recently spent 10 days driving one of these around Italy, with my wife and two young children on board, plus a significant amount of luggage. 
I had sleepless nights before picking up the car, because I was sure we'd never get it all in, or be able to breathe if we did, but not only did we fit, we were quite comfortable and happy with the luggage capacity.
Rear leg room is just bearable for an adult, but no problem at all for small kids (although it wouldn't suit teens). The boot space, at 264 litres, is very small, and even calling it adequate seems generous. What it will not fit, though, due to its narrow dimensions, is a pram of any sort, so young families should look elsewhere. Although if they don't, there are two ISOFIX points and two top-tether points for child seats.
The biggest change for the new model in cabin terms is the inclusion of an electronic park brake, which has allowed Mazda to include a new centre console/armrest, with two handy cup holders of different sizes, there are also bottle holders in all four doors, and (for Maxx Sport spec and above) a rear armrest with two more cupholders).  
Indeed, Mazda says the cupholders have had their depth and diameter revised so they can now fit giant, American-sized cups if required.
That centre console also offers useful, deep storage and there are two USB points handily located in front of the shift lever. The control buttons for the MZD media system are also more ergonomically positioned thanks to the electronic park brake.
The rear seat armrest, with built in storage box, is said to "embody the human-centred philosophy by increasing comfort and reducing fatigue". I know I always find that armrests make me less tired, but then I wouldn't volunteer to sit in the back of a CX-3 anyway. 
The overall goal with the new interior was to make it more minimalist and Japanese, and when you compare it with photos of the old one it does look less busy and less cluttered, with classy touches here and there. That is only slightly offset by the cheaper, harder feeling plastics around the doors on their armrests.
Top-shelf Akari models come with genuine leather seats in black or white, sTouring gets grey with black leatherette and everything beneath that gets a black interior with black cloth seats. 
A sunroof is available on the Akari models.
Price and features
Hyundai Kona
Let's get the major downside of the Kona Highander electric out of the way right off-the-bat, shall we?
This car costs a whopping $64,490 before on-roads. So, for what is essentially a budget-style small SUV you'll be punished to the tune of almost $30 grand more than its petrol-powered Highlander equivalent.
In fact, as Richard Berry pointed out in his launch review, this is the most expensive car Hyundai sells in Australia. More than even the top-model seven-seat Santa Fe Highlander diesel, which will set you back a (suddenly cheap-sounding) $60,795.
On the upswing, it is much cheaper than any other electric car with an equivalent range on full charge. The cheapest current Telsa Model S, for example (now simply called the 'Long Range'), comes in at an even more whopping $123,500.
Sadly, a slice of the future is still limited to those who are wealthy enough to afford it.
Our electric Highlander does come with decent kit to help mitigate the cost a little. Included is the full suite of standard features from the regular Kona, and then some.
There's an 8.0-inch multimedia touchscreen with DAB+ digital radio, Apple CarPlay and Android Auto, built-in sat-nav and Bluetooth connectivity, an eight speaker premium audio system, Qi wireless phone charging pad, full LED front lighting, front & rear parking sensors, a reversing camera, and 17-inch 'eco-design' alloy wheels.
Unlike the Elite which sits below it, the Highlander is offered with a choice of either a two-tone roof or sunroof option at no extra cost. All Kona Electrics have leather-appointed interior trims as standard, but the Highlander adds power operated, heated & ventilated front seats.
There's also a head-up display standard on our Highlander, but with all the required information being displayed across the media system and dash cluster I hardly found it useful.
The Kona also has a substantial safety suite (explored in the safety section of this review).
---
Mazda CX-3
8/10
Comparing the differences between the CX-3 range, there really is a variant for all budgets, with an entry price of $23,990 drive-away for the Neo Sport with a six-speed manual, cloth seats and steel wheels, rising all the way to $37,490 for the leather-filled, sunroof-topped Akari LE, which gets some impressive tech previously only seen in German cars, like a driver-attention monitor and radar cruise control with full stop and go functionality. 
Prices have risen over the previous model, but Mazda says this pricing reflects the fact that you're getting more equipment in the new version. 
You are also, undeniably, getting a less busy and more classy interior, although the changes to the exterior design are so small you wouldn't want to be paying for them. Nor would you want to change a look that is this pretty, and successful.
Standard kit for your $23,990 drive-away Neo Sport (that's manual, auto adds another $2000) includes 16-inch steel wheels, body-coloured powered mirrors, black cloth front seats with height adjustment, electric parking brake, Bluetooth functionality, a 7.0-inch full-colour 'MZD Connect' touchscreen to control your infotainment and sound system with DAB and six speakers (but no CD player and no GPS), and a multi-function 'Command Control', plus keyless start, rear parking sensors, a reversing carer and 'Smart City Brake Support', which works in both forward and reverse. It's a (very) good-looking package at a tempting price.  Apple CarPlay, which would helpfully allow you to run navigation from your iPhone in the base model, is not yet available, but it's coming soon, and a kit to retrofit it will be available at Mazda dealers in the near future.
The Maxx Sport adds 16-inch alloys, auto headlights, rain-sensing wipers, a fold down armrest with two cupholders for the rear passengers, leather-wrapped gear shift knob and steering wheel, climate-control air con, sat nav, 'Blind Spot Monitoring' and 'Rear Cross Traffic Alert'.
Step up to the sTouring and win 18-inch alloy wheels, LED lights all round, slightly nicer black 'Maztek' and cloth seats, a handy head-up display, keyless entry and start, 'Driver Attention Alert', from parking sensors and 'Traffic Sign Recognition'.
The Akari does feel noticeably nicer inside with its softer dash material and leather seats in white or black, plus 'Mazda Radar Cruise Control' with start-stop function, a 360-degree view monitor and adaptive LED headlights and lane-departure warning.
Personally, I'd be quite happy with my value at $25,490 for a manual Maxx Sport. Indeed, it's a bit of a bargain.
The prices we've listed here are drive-away (no more to pay!), which is something new for Mazda and does provide wonderful clarity.
Engine & trans
Hyundai Kona
The Kona Electric drives the front wheels via an electric motor producing 150kW/395Nm.
It's more powerful than any other Kona model, most other small SUVs and even most electric cars around this price.
It's not as… ahem… ludicrous as a Tesla, with a claimed 7.6 second 0-100km/h time, but it really doesn't need to be. It has plenty of power for what it is.
Electric motors don't require a transmission in the traditional sense, and the Kona simply has a single-speed 'reduction gear'.
The Kona feeds power back into its battery pack via regenerative braking, which has three levels controlled by paddle-shifters on the wheel. More on that in the driving and fuel consumption segments.
Sadly, the motor still juts into the regular engine bay, so there's no extra storage up front. There's also a standard battery to power auxiliary functions alongside the gigantic battery pack.
---
Mazda CX-3
7/10
Mazda is offering a new SKYACTIV-D turbo-diesel engine with the CX-3 -  which has increased in capacity from 1.5 to 1.8 litres, which takes power from 77kW up to 85kW, while torque stays at 270Nm - but you have to wonder why. Mazda Australia predicts the diesel will make up a measly one per cent of sales, which probably explains why they didn't bring one along to the launch for us to drive.
Almost everyone, then, will be choosing the revised  SKYACTIV-G 2.0-litre direct-injection petrol engine, which makes 110kW at 6000rpm and 195Nm of torque at 2800rpm, an increase of exactly one kilowatt  and three newton metres from the previous model. 
Changes to the engine have focused on improving fuel consumption, and variations in that consumption caused by seasonal changes and usage patterns. Apparently the new version offers improved combustion efficiency when under heavy load - climbing hills for example - and thermal-management tech to reduce excess fuel consumption when it's cold outside.
New high-pressure injectors also help to improve torque delivery, with the amount of torque on offer throughout the rev range increased by "one to two per cent". Fuel economy is also improved by the same percentages. Not huge improvements, then. 
You can also choose between a six-speed manual and a six-speed automatic transmission, and between front-wheel or all-wheel drive (not on the base Neo Sport, though). Not surprisingly, for a city crossover like this, 92 per cent of CX-3s sold will be FWD, and 90 per cent will be automatics. 
Having driven the manual version myself on holiday, I would highly recommend it, because it allows you to get the most out of the engine. With a weight of 1266kg it's useful to be able to get involved in shifting.
The CX-3's engine uses a timing chain rather than a belt and you should check our problems pages to see if there are any reports of problems with automatic transmissions.
Fuel consumption
Hyundai Kona
The Kona consumes precisely zero fuel, due to the whole 'lack of an engine' deal. Really, in the future, we'll have to rename this segment to 'energy consumption'.
To that end you're probably used to measuring consumption in terms of litres per hundred kilometres (L/100km), but the new figure against which electric cars are measured is kilowatt hours per hundred kilometres (kWh/100km).
Over my week of testing the Kona produced 14.1kWh/100km. No context for that? Here, I'll provide some. The Kona has a 64kWh battery pack, which Hyundai claims will give you a "real-world range" of 449km.
If you put the numbers together, it means at the rate I was using power I would have actually scored a greater range than Hyundai's estimate at 453.9km.
That's legitimately impressive, because the Nissan Leaf I had on test immediately afterwards couldn't get below 15.3kWh/100km.
Weirdly, on both tests I found EVs aren't more efficient on the freeway, producing the same or even better numbers in traffic.
Charging any electric car is a sticky topic. The Kona has a single port, a 'Type 2' (Mennekes) European-standard charging port. This is a three-phase standard port which can be charged at stations 'up to 100kW'.
I couldn't find a single 100kW charging port in Sydney, but there is a lone NRMA 50kW Mennekes connector in Olympic Park (which will charge from zero to 80 per cent in 75 min) or 22kW versions at ChargeFox stations (which require the ChargeFox app to use).
Unfortunately, you can't make use of Tesla's extensive fast charge network, nor can you make use of the ChargePoint network which has 6.6kW 'J1772' connectors.
Hyundai offers an optional 7.2kW wall-mounted home charger, which can fill the battery in nine hours and 35 min.
Faced with little option but to charge it from a humble wall socket in the CarsGuide garage (which had a max output of 2.2kW) the Kona informed me a max charge from 29 per cent battery would take 24 hours and 47 minutes…
---
Mazda CX-3
8/10
One of the aims of upgrading the CX-3's engine was better fuel economy, and yet the Mazda engineers admit they managed an improvement of just "one to two per cent" on the 2.0-litre petrol engine and 3 per cent with the diesel, which has grown from 1.5 to 1.8 litres and still manages to use slightly less fuel, at an impressive 4.7L/100km.
The 2.0 petrol has claimed figures of 6.6L/100km for the FWD manual, 6.3L/100km for the FWD auto and 6.7L/100km for the AWD automatic. People who are chasing better economy would go for the diesel, but customers for this car obviously aren't that bothered, or are happy with mid-sixes, because Mazda tips just one per cent of sales will be the diesel.
Driving
Hyundai Kona
The Kona Electric is great to drive because it's so natural, so much like a 'normal' car. It's quite literally as though somebody cross-bred a Tesla with a regular Kona Highlander, and that's a very good thing.
If you've never driven an electric car before (and let's face it, few people have) there are some distinctly different characteristics you should know about. Firstly, the way you slow down is not usual.
Electric cars like to reclaim energy through regenerative braking, which feeds energy back into the battery as the wheels turn. This means instead of coasting, electric cars will actively slow down when you let your foot off the accelerator.
In the Kona, you can control three levels of this braking depending how how comfortable you are with it or turn it off entirely, which I would advise against as it saves a surprising amount of battery, especially in stop-start traffic.
You can also hold down the brake level paddle to bring the car to a full stop with just regeneration. Efficient. This will also prolong the life of your brake pads, a further cost saving over time.
The acceleration is smooth and swift, but not brutal like a Tesla, and you seldom need to hop on the brakes hard if you have the regen braking on, although if you do the pedal has an odd, disconnected, woody kind of feel.
The electric Kona feels heavy thanks to its big battery mounted below the floor. This gives it a weightiness through the corners, but also a solid amount of grip. I never really felt as though the Kona would understeer despite its front-wheel drive disposition.
The suspension, like all Hyundai products now, is well sorted and tuned locally in Australia. Due to the extra weight of the electric components, this Kona has a different tune from its petrol-powered equivalents.
It's less springy, but still a little sporty, and by nature of the extra weight alone it feels super settled over bumps.
Obviously, the lack of an engine makes the Kona Electric quiet, but it does make a rather strange noise. It's like a choral ringing noise that's most evident during low speed acceleration and braking.
You may have heard similar noises from electric trains before. It is undeniably cool and futuristic though, and results in more than a few turned heads from nearby pedestrians.
---
Mazda CX-3
8/10
In a world of constant downsizing, a 2.0-litre engine might sound brutish and bold in a car of this size, but 110 is certainly not an overpowering number of kilowatts. As a result, the petrol-powered CX-3 feels spry and sprightly, but certainly never sporty.
There is a Sport button you can press, but all it seems to do is hold the gear you're in for longer, causing the engine to drone on like a Peter Dutton speech, and not really making much happen in excitement terms.
A sports car this is not, obviously, so perhaps the words "more than adequate" are best for describing the car's performance. You're not going to fly up any hills, but you can zip off traffic lights with reasonable aplomb, and you're never genuinely found wanting for power. More torque would be nice for overtaking, but you could choose the diesel for that (if you're a 'one percenter'). 
One of Mazda's goals with the new CX-3 was improving NVH and they've done a stellar job with that. While the old car was bit of a buzz box at times, the new one is far quieter and more refined in terms of road-noise intrusion, but if you are tempted to push on, the noise from the engine remains strident, and at times strained. 
In most driving conditions, however, it's a pleasant cabin to be in, with negligible road noise (although it's more noticeable with the optional 18-inch wheels). And if you do enjoy a slightly lower driving position, you have the ability to drop your chair to a point where you feel more like you are sitting in the car rather on it.
The newly fettled electronic power steering is sharp and fun to use, falling at that point just before it becomes too light and wafty to give proper feedback. The engineers concentrated on "rolling plushness", which is the feel you get through the wheel, basically, and produced an 18 per cent reduction in buzziness through the steering wheel.
Ride control is good over most surfaces - and with ground clearance of 155mm you won't  be going too far off road - but there's still a bit clatter over really sharp impacts. Overall, it's a very comfortable cruiser, even on our more brutal country roads. Mazda says it worked on "reducing choppiness", or vertical body movement, and it seems to have succeeded.
Cornering is something you can actually enjoy, if you care for that kind of thing, and this CX-3 benefits from Mazda's 'G-Vectoring Control' (GVC), which is meant to provide "neutral cornering" by minutely reducing torque output to the appropriate wheel to cancel out understeer, or oversteer moments.
It's all about giving the driver that sense of "oneness" with their vehicle that Mazda likes to call "Jinba-ittai" - horse and rider as one. In terms of horsepower and performance figures, they're not something CX-3 buyers are going to worry too much about, clearly, as Mazda makes no mention of  the car's 0-100km/h time. A bit of research uncovered the fact that it ranges from 9.0sec for the manual to 9.5 for the auto.  Not terrible, then.
Overall, much like the Mazda2 this vehicle is based on, the CX-3 is one of those cars that is genuinely as much fun as it looks, and slightly more fun than you expect it to be.
Throw in its good looks, economical engines and reasonably affordable pricing and it's a complete package. Up until the point where you have kids, and you're forced to upgrade to something that can actually carry a pram.
Safety
---
Mazda CX-3
8/10
Mazda says its new CX-3 is part of its "aim for a safe and accident-free automotive society", which means the company is living slightly in dream land, but at least you know it's thinking about safety.
The 360-degree view monitor is very handy, but you can only have it on the Akari, where you'll also get eight parking sensors, while the base model makes do with rear ones only. 
Indeed, the base model goes without most of the safety goodies that are sprinkled across the more expensive variants - blind-spot monitoring, rear cross traffic alert, lane-departure warning, traffic-sign recognition, adaptive LED headlamps, driver-attention alert (with a coffee cup popping up to remind you that you might be tired) and the very handy, almost autonomous radar cruise control with full stop and go function. 
What you do get on the entry Neo Sport is 'Smart City Brake Support', which works when moving forwards or backwards and is basically Mazda's name for AEB. The system works with both cars and pedestrians at speeds of up to 80km/h. The previous CX-3 received a maximum five-star ANCAP rating.
Ownership
Hyundai Kona
The Kona Electric is covered by Hyundai's competitive five-year unlimited kilometre warranty offering, sitting on-par with most competitors.
It came as a surprise to find Hyundai actually guarantees the battery for longer than the car itself, with an eight-year/160,000km warranty.
The lack of moving parts in the Kona Electric's drivetrain means (theoretically) less to service and less to go wrong. As such, Hyundai has capped electric Kona servicing at $165 per 12-monthly 15,000km visit for the length of the warranty.
Services have capped prices beyond that with Hyundai's 'iCare' packages, although we're waiting for confirmation on pricing.
Whether any long-term issues will show up with electric drivetrains is yet to be seen.
---
Mazda CX-3
7/10
Surprisingly, Mazda claims its customers are completely unconcerned by the fact that it doesn't offer free roadside assistance as part of its new and improved five-year warranty, although it does occasionally offer it as a promotional thing. I'd be negotiating hard to have it included in the price. 
The five-year/unlimited kilometre warranty, from Mazda Motor Corporation itself, is a real selling point, however.
Servicing is due every 10,000km or 12 months and the first one will cost you $289, the second $317, third $289, fourth $317 and fifth $289. Seems to be a pattern there.