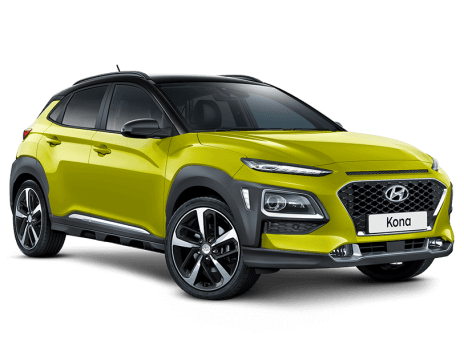 COMPARE
Hyundai Kona
VS
Suzuki Jimny
---
Suzuki Jimny
Dislikes
Slow
Impractical
Relatively thirsty
Summary
Hyundai Kona
I think it's just human nature to like explosions.
There's something fascinating and wonderous about how an internal combustion engine unites the chaos of exploding petrol with a few hundred moving parts to send a car hurtling forward.
So, I should hate the Hyundai Kona Electric. I should hate it for the simple fact that it is the almost undeniable future of motoring, and it has no engine.
But for so many reasons, I can't hate it. I can't hate it because for the first time since I first drove a Tesla Model S, the Kona Electric made feel like I've had to the opportunity to experience a little slice of the future before we're really supposed to see it.
So, should we be ready for it? Is this Kona going to be a big part of the proliferation of electric cars in Australia? Importantly, is it a realistic cut-price long-range alternative to the wildly expensive Tesla range?
 The answers lie in this review…
| | |
| --- | --- |
| Safety rating | |
| Engine Type | — |
| Fuel Type | Electric |
| Fuel Efficiency | —L/100km |
| Seating | 5 seats |
---
Suzuki Jimny
One thing is clear: The Suzuki Jimny does not need this media coverage.
No. The quaint little off-roader is somehow so entrenched in the Australian mindset that for the first year of this fourth-gen model's existence, there has been a waiting list to get one consistently between six and 12 months long.
Few cars can claim the same. Recent new car examples with similar waiting lists include hybrid versions of the Toyota RAV4 and Subaru Forester, but the mass-market appeal of those is self-evident.
In fact, reading this review will probably be of little use to you, given every new Jimny from now until some time in 2021 is spoken for despite a 30 per cent increase in production and prices inching up by roughly $2000.
We already know this quirky alternative SUV is as good as it looks off-road, so the question we're out to answer in this review is: Is the Jimny nostalgic to a fault? That is, is it even remotely practical as a daily driver in an urban centre? Read on to see if we found an answer…
| | |
| --- | --- |
| Safety rating | |
| Engine Type | 1.5L |
| Fuel Type | Regular Unleaded Petrol |
| Fuel Efficiency | —L/100km |
| Seating | 4 seats |
Verdict
Hyundai Kona
7.8/10
On price alone, the Kona Electric is not quite the Volkswagen Beetle or Ford Model T of the electric car world.
It does stand for something, though. It stands as an example that practical and reasonably range-anxiety-free electric vehicles are a realistic ownership proposition, and one which is achievable for automakers a little less volatile than Tesla.
Importantly, the Kona Electric 'normalises' the EV powertrain in that it feels so natural to drive, so much like its petrol equivalents that you don't question it, and you spend far more time marvelling at the cool bits than you do getting frustrated with the compromises.
For now, the key to uptake of these vehicles will be in government incentives (right now there are next to none) and the proliferation of more up-to-date non-Tesla charging points.
What would it take for you to make the switch to electric? Tell us what you think in the comments below.
---
Suzuki Jimny
7/10
If you love the Jimny and are in the already excessively long line to buy one, you don't need me to tell you it's not the smartest, most advanced, and user-friendly choice to drive around town.
If you're on the fence about it, just know this little box is retro to a fault, and if you're not planning on going out of bounds once in a while, it really won't be living its best life.
And while that might sound a bit negative, it has to be said I loved every moment of driving and looking at this car despite its SUV shortcomings.
Design
Hyundai Kona
Our loan car was fully tricked out with the 'eco' look. That includes the Kona Electric's hero colour of 'Ceramic Blue', the two-tone white roof and the airy blue and grey interior trim.
Some will love this aesthetic, to me it was total eco-credential overkill. Regardless, the electric Kona carries most of the styling points which made the original car a bit of a hit.
In fact, in some ways I think the electric Kona improves on the base car by eliminating the overcomplicated grille.
Round the back is less revolutionary, featuring a re-designed lower bumper and a simple 'electric' badge to set it apart from the regular range.
Inside has the same symmetrical design which makes the regular Kona and i30 so appealing.
The electric car gets a raised up centre console which offers easy access to the little SUV's many buttons and functions as well as giving the cabin a slightly more futuristic look.
The centre stack is nicely designed with the climate control functions leading up to a set of vents and the pride-of-place multimedia touchscreen jotting out of the dash. It's a good look and easy to use for both the driver and front passenger.
Less good is the abundance of matte silver finish everywhere, there's simply no need for it, anyone who gets behind the wheel will already realise this car is from the near future.
Unfortunately, the interior, as full-on as it looks, is comprised mostly of hard plastics. This is a consistent Kona problem - there's even more hard surfaces present here than there is in its i30 hatchback sibling.
---
Suzuki Jimny
This whole car is pretty much built around the way it looks. Is it form over function? That depends.
For off-road capability it would seem form and function are in sync. But around town there's a bit of give and take. We'll explore that more in the practicality section of this review.
In terms of its retro look though it's clear the Jimny is almost universally loved. It's cute but tough, approachable but utilitarian.
The styling elements of the Jimny are intentionally made up of elements from each preceding generation. The rounded-out LED lights with separate indicators and its flat face are in reference to the original LJ10 which hit the market in 1960, the bonnet design harks back to the second-generation (SJ410) in 1981, while the slotted grille and pumped guards are in reference to the third-generation (aka the Sierra) from 1998.
There's more than a little Toyota LandCruiser, Land Rover Defender, and Mercedes-Benz G-Wagen about its guttered roofline, square profile, rear bumper, and window line, though.
Inside the rugged aesthetic continues, with grab handles and hose-out plastics adorning the dash. You probably shouldn't actually take a hose to it though, because the modern screen, climate cluster, and multifunction wheel are lifted straight from the Swift, leaving no question this is a Suzuki product.
The seats are literal blocks of foam, the plastics are hard, and everything is manually adjustable – there isn't even keyless entry or push-start ignition. Some will hate its lack of luxuries, but more than a few will be willing to forgive its commitment to rugged simplicity.
If I could make one change? Give the Jimny it's own rugged-looking steering wheel! The modern Swift one looks almost out of place.
Practicality
Hyundai Kona
The Kona is already hardly the most practical small SUV out there, as the base car features a decent boot, but middling rear legroom.
The same is true here, only the boot floor has been raised to accommodate batteries. As a result, total boot space has been reduced 39L down to 332L (VDA).
That's unfortunate, but despite the sacrifice, it's somehow not the smallest boot in the small SUV class (it still bests the Mazda CX-3, for example). The Highlander grade gets a really quite handy luggage net across the boot floor.
Underneath the boot floor, the on-board charging cable packs away neatly into a zipper bag alongside the puncture repair kit.
Rear legroom is a bit of an issue. If you're any taller than me (182cm) you simply won't fit and you'll have your legs jammed up against the front seat.
On my test week I put three adults across the rear row and while they were too polite to complain, it didn't look particularly comfortable, particularly for the middle occupant.
In terms of amenities the rear seats get small cupholders in the doors and nettings on the back of the seats, but no power outlets or air-conditioning vents.
Up front is a much better story, where the driver and front passenger benefit from deep cupholders in the centre console and doors, a neat little Qi wireless charging point, USB point and 'aux' input in the dash, as well as a huge storage area and 12-volt output underneath the raised centre stack. There's also a decent console box.
Sure, the electric Kona can't compete on practicality with something like the brilliantly-packaged Honda HR-V, but it isn't as compromised as it could have been.
---
Suzuki Jimny
Put simply: It's not practical at all on the inside.
Let's start with the driver's area. Immediately annoying is no telescopic adjust for the steering, and minimal manual adjustment for the basic seats. Storage is limited to some very small binnacles in the doors, a tiny slot for your phone, as well as two non-adjustable cupholders and another tiny slot (which I put my wallet in for an idea of how big it is) near the transmission.
In terms of connectivity there is a single USB port, auxiliary input, and a 12V power outlet.
The rear seat is even more basic, consisting of a foam bench and some rudimentary seat backers which can fit two occupants. I was genuinely surprised to find dual ISOFIX child-seat mounting points back there, as well as top-tether anchors. Clambering in is easier than it might look thanks to the huge door aperture and I fit with limited room and comfort behind my own driving position.
Was it adequate? Yes. Would I want to spend much time there? Probably not.
Boot space is non-existent with the rear two seats in their upright position, but they do fold flat for a large, open and useful area when operating as a two-seater. Suzuki says this space is 377 litres, but it seems larger. Check out our pics to get an idea of what it looks like with a large luggage case and some extra equipment bags.
One drawback I found is the hard-wearing plastic surface made it impossible to keep loose objects from being thrown around in the corners. Consider investing in a luggage net, perhaps.
One practicality wonder for urban users will be this car's tiny dimensions. At 3645mm long (including the spare wheel) and 1645mm wide, the Jimny occupies a footprint much smaller than even Hyundai's new Venue small SUV.
This means you can park pretty much anywhere, although the 1720mm height makes for some sketchy moments in some multi-story carparks.
Price and features
Hyundai Kona
Let's get the major downside of the Kona Highander electric out of the way right off-the-bat, shall we?
This car costs a whopping $64,490 before on-roads. So, for what is essentially a budget-style small SUV you'll be punished to the tune of almost $30 grand more than its petrol-powered Highlander equivalent.
In fact, as Richard Berry pointed out in his launch review, this is the most expensive car Hyundai sells in Australia. More than even the top-model seven-seat Santa Fe Highlander diesel, which will set you back a (suddenly cheap-sounding) $60,795.
On the upswing, it is much cheaper than any other electric car with an equivalent range on full charge. The cheapest current Telsa Model S, for example (now simply called the 'Long Range'), comes in at an even more whopping $123,500.
Sadly, a slice of the future is still limited to those who are wealthy enough to afford it.
Our electric Highlander does come with decent kit to help mitigate the cost a little. Included is the full suite of standard features from the regular Kona, and then some.
There's an 8.0-inch multimedia touchscreen with DAB+ digital radio, Apple CarPlay and Android Auto, built-in sat-nav and Bluetooth connectivity, an eight speaker premium audio system, Qi wireless phone charging pad, full LED front lighting, front & rear parking sensors, a reversing camera, and 17-inch 'eco-design' alloy wheels.
Unlike the Elite which sits below it, the Highlander is offered with a choice of either a two-tone roof or sunroof option at no extra cost. All Kona Electrics have leather-appointed interior trims as standard, but the Highlander adds power operated, heated & ventilated front seats.
There's also a head-up display standard on our Highlander, but with all the required information being displayed across the media system and dash cluster I hardly found it useful.
The Kona also has a substantial safety suite (explored in the safety section of this review).
---
Suzuki Jimny
Given the Jimny's unique character, it's hard to argue with its budget price-point. At an MSRP of $27,990 for the priciest automatic version (as tested here), it's not even really expensive for its size-bracket. To get something which looks and feels like this, your next port of call is the Jeep Wrangler at a whopping $59,450.
Makes sense the Jimny is flying off the shelves, then.
Standard fitment isn't too bad. Almost everything from the Swift hatchback is not only included but looks about the same, with familiar gear appearing in the form of a 7.0-inch multimedia touchscreen with Apple CarPlay and Android Auto support, as well as built-in navigation.
On the outside there are retro-inspired 15-inch alloy wheels in 'gunmetal', retro-inspired round headlights, and a straight-up retro full-size spare bolted to the rear door.
Other notable features include single-zone climate control, privacy glass, a small function screen nestled in the instrument cluster, a reversing camera, and of course, a low-range transfer case with H4 and L4 modes.
Options are limited to premium paints at $500 which can also be two-tone with a contrast roof for $1250.
There are some active safety features, although the Jimny misses out on a high score. More on that later.
Engine & trans
Hyundai Kona
The Kona Electric drives the front wheels via an electric motor producing 150kW/395Nm.
It's more powerful than any other Kona model, most other small SUVs and even most electric cars around this price.
It's not as… ahem… ludicrous as a Tesla, with a claimed 7.6 second 0-100km/h time, but it really doesn't need to be. It has plenty of power for what it is.
Electric motors don't require a transmission in the traditional sense, and the Kona simply has a single-speed 'reduction gear'.
The Kona feeds power back into its battery pack via regenerative braking, which has three levels controlled by paddle-shifters on the wheel. More on that in the driving and fuel consumption segments.
Sadly, the motor still juts into the regular engine bay, so there's no extra storage up front. There's also a standard battery to power auxiliary functions alongside the gigantic battery pack.
---
Suzuki Jimny
The Jimny has a 1.5-litre non-turbo four-cylinder petrol engine producing 75kW/130Nm. There's no getting around the fact this SUV is low on power and you'll need to really kick it to the firewall at times to extract close to peak power (which arrives at a distant 6000rpm).
For this test, we had the automatic Jimny which comes with a four-speed torque converter automatic.
You read that right, four speeds. It even has an overdrive button. Very '90s.
The Jimny also has a real transfer case with low-gearing however, so it makes up for its low-tech drivetrain by having some real ability behind its tough looks.
Fuel consumption
Hyundai Kona
The Kona consumes precisely zero fuel, due to the whole 'lack of an engine' deal. Really, in the future, we'll have to rename this segment to 'energy consumption'.
To that end you're probably used to measuring consumption in terms of litres per hundred kilometres (L/100km), but the new figure against which electric cars are measured is kilowatt hours per hundred kilometres (kWh/100km).
Over my week of testing the Kona produced 14.1kWh/100km. No context for that? Here, I'll provide some. The Kona has a 64kWh battery pack, which Hyundai claims will give you a "real-world range" of 449km.
If you put the numbers together, it means at the rate I was using power I would have actually scored a greater range than Hyundai's estimate at 453.9km.
That's legitimately impressive, because the Nissan Leaf I had on test immediately afterwards couldn't get below 15.3kWh/100km.
Weirdly, on both tests I found EVs aren't more efficient on the freeway, producing the same or even better numbers in traffic.
Charging any electric car is a sticky topic. The Kona has a single port, a 'Type 2' (Mennekes) European-standard charging port. This is a three-phase standard port which can be charged at stations 'up to 100kW'.
I couldn't find a single 100kW charging port in Sydney, but there is a lone NRMA 50kW Mennekes connector in Olympic Park (which will charge from zero to 80 per cent in 75 min) or 22kW versions at ChargeFox stations (which require the ChargeFox app to use).
Unfortunately, you can't make use of Tesla's extensive fast charge network, nor can you make use of the ChargePoint network which has 6.6kW 'J1772' connectors.
Hyundai offers an optional 7.2kW wall-mounted home charger, which can fill the battery in nine hours and 35 min.
Faced with little option but to charge it from a humble wall socket in the CarsGuide garage (which had a max output of 2.2kW) the Kona informed me a max charge from 29 per cent battery would take 24 hours and 47 minutes…
---
Suzuki Jimny
The Jimny's official combined fuel usage figure when fitted with the automatic transmission is 6.9L/100km. Sounds fine, although our weekly test which mainly kept to urban streets produced a dash-reported 8.5L/100km.
Fine for a capable off-roader, I suppose, but less impressive in the context of the Jimny's size and relatively lean 1090kg kerb weight.
Driving
Hyundai Kona
The Kona Electric is great to drive because it's so natural, so much like a 'normal' car. It's quite literally as though somebody cross-bred a Tesla with a regular Kona Highlander, and that's a very good thing.
If you've never driven an electric car before (and let's face it, few people have) there are some distinctly different characteristics you should know about. Firstly, the way you slow down is not usual.
Electric cars like to reclaim energy through regenerative braking, which feeds energy back into the battery as the wheels turn. This means instead of coasting, electric cars will actively slow down when you let your foot off the accelerator.
In the Kona, you can control three levels of this braking depending how how comfortable you are with it or turn it off entirely, which I would advise against as it saves a surprising amount of battery, especially in stop-start traffic.
You can also hold down the brake level paddle to bring the car to a full stop with just regeneration. Efficient. This will also prolong the life of your brake pads, a further cost saving over time.
The acceleration is smooth and swift, but not brutal like a Tesla, and you seldom need to hop on the brakes hard if you have the regen braking on, although if you do the pedal has an odd, disconnected, woody kind of feel.
The electric Kona feels heavy thanks to its big battery mounted below the floor. This gives it a weightiness through the corners, but also a solid amount of grip. I never really felt as though the Kona would understeer despite its front-wheel drive disposition.
The suspension, like all Hyundai products now, is well sorted and tuned locally in Australia. Due to the extra weight of the electric components, this Kona has a different tune from its petrol-powered equivalents.
It's less springy, but still a little sporty, and by nature of the extra weight alone it feels super settled over bumps.
Obviously, the lack of an engine makes the Kona Electric quiet, but it does make a rather strange noise. It's like a choral ringing noise that's most evident during low speed acceleration and braking.
You may have heard similar noises from electric trains before. It is undeniably cool and futuristic though, and results in more than a few turned heads from nearby pedestrians.
---
Suzuki Jimny
The Jimny drives how it looks, for better or worse. The good includes visibility thanks to its big upright windows and generous rear vision mirrors, the ride which is so beyond capable for urban use it'll have you driving over roundabouts and mounting kerbs for fun, and your distance from the ground makes the cabin surprisingly quiet despite thin sheet metal.
You'll probably never tire of its fun interior fittings and touch-points which blend the modern feel of the Swift's steering wheel and multimedia screen with the distinctly military-look dial cluster, manual handbrake and transfer case shifter.
There are some quirks of the Jimny though, which you will tire of over time. The steering is fine at most urban speeds, but gets vague above 80km/h and annoyingly heavy at or near a standstill, making parking more of a chore than it should be.
The little box's centre of gravity is notably high, too, and you feel disconnected from corners and the road generally thanks to its ladder frame and capable suspension. You'll find yourself slowing down for bends, which at best are tipsy and at worst uncomfortable.
The 1.5-litre engine and old-school four-speed auto combine to make a less-than-enthusiastic package. You'll really need to kick the Jimny in the guts to get it up to speed, leaving you very little power in reserve for overtaking.
What's more, the transmission is noisy and incredibly transparent about what it's doing, lurching between gears in an acceleration experience which is a little too reflective of cars from 20 years ago.
At this point, I know what you're thinking: "So, you didn't like it very much?" Actually, quite the opposite. The Jimny possesses an honest old-world charm few vehicles on the market today come anywhere close to. There is something genuinely appealing about how it wears its flaws on its sleeve, so I subjectively enjoyed the drive experience quite a lot, bouncing around in the driver's seat with a smile on my face every trip. Potential owners deserve to know it is nostalgic to a fault, however.
Safety
---
Suzuki Jimny
The Jimny's less-than-impressive three-star ANCAP rating was widely publicized near its release, and one look at the photos from the offset crash tests are enough to make you a little uncomfortable behind the wheel.
Still Suzuki has put effort in to include active safety refinements, like auto emergency braking (works from 15-100km/h, detects pedestrians but not cyclists, limited function at night), and lane departure warning. There is no lane keep assist, blind spot monitoring, adaptive cruise control, or more advanced items like traffic sign recognition.
Six airbags are standard along with electronic brake, traction, and stability controls.
Ownership
Hyundai Kona
The Kona Electric is covered by Hyundai's competitive five-year unlimited kilometre warranty offering, sitting on-par with most competitors.
It came as a surprise to find Hyundai actually guarantees the battery for longer than the car itself, with an eight-year/160,000km warranty.
The lack of moving parts in the Kona Electric's drivetrain means (theoretically) less to service and less to go wrong. As such, Hyundai has capped electric Kona servicing at $165 per 12-monthly 15,000km visit for the length of the warranty.
Services have capped prices beyond that with Hyundai's 'iCare' packages, although we're waiting for confirmation on pricing.
Whether any long-term issues will show up with electric drivetrains is yet to be seen.
---
Suzuki Jimny
Suzuki offers all of its vehicles with an updated five-year unlimited kilometre warranty (on par with other mainstream automakers) and requires servicing once every 12 months or 15,000km whichever comes first.
Service pricing is fixed for the first six visits and costs between $239 and $519 per appointment and comes out to a yearly average of $362.33. Not bad.