Holden Colorado 2012 Problems
No car is perfect, but we've gathered everything relating to the Holden Colorado 2012 reliability here to help you decide if it's a smart buy.
How do I fix the vibration issue on my 2012 Holden Colorado?
Answered by CarsGuide
7 Feb 2022
Your problem could well be torque converter-related, but it could also be something else inside the transmission. The fact that the transmission will not shift back out of sixth gear even going uphill, suggests that there's – in theory least – a problem with the electronics or hydraulics that control the shifting patterns. That the transmission is also shuddering is either a symptom caused by the same problem, or a result of a second fault in the unit.
It always raises suspicions when a problem crops up just after a vehicle has been serviced, and sometimes that suspicion is well placed. Have you double-checked the level of fluid in the transmission since it was flushed and refilled? Incorrect fluid levels can cause the sorts of problems you're seeing. So can the incorrect grade of type of fluid used. You should check both these things first and move on from there if they check out okay.
How do I disable the seat-belt sensor for the passenger seat in my 2012 Holden Colorado?
Answered by CarsGuide
2 Jun 2021
A better idea would be to fix the sensor that's creating the false alarms. That will probably be simpler and quicker than finding the right wire to cut or fuse to pull out, as well as maintaining the car's legality. A car that doesn't have all its safety equipment functioning properly is, technically, unroadworthy and if that fault can be blamed for any injury in a crash, then you could be in real trouble in a legal and insurance sense.
Don't forget, too, that a car such as yours will usually have a sensor to determine whether the seat-belt is secured and another to determine if the passenger's seat is occupied. Either of those could conceivably be causing your false alarm.
Holden Colorado 2009 - 2012: What are the servicing intervals?
Answered by CarsGuide
9 May 2020
The recommended service interval for this vehicle is every 10,000km. Roughly speaking, every second service is a bit more involved, so that suggests it's more of a `major' service. Either way, skipped services on a vehicle like this will be false economy in the longer term.
On the timing belt front, there's good news and bad. The good news is that both the turbo-diesel and petrol V6 versions of the Colorado both use timing chains, so there's no need to change a timing belt. The bad news is that the petrol version uses the Alloytech V6 which is renowned for its ability to stretch its own timing chain to the point where it needs costly replacement. This is a known fault with this engine.
Holden Colorado 2012: Turbocharger whistle
Answered by CarsGuide
6 Sep 2013
No there appears to be something amiss with it, so get the dealer to check it again. If that doesn't resolve the issue take it to an independent diesel engine mechanic and have them check it for you.
Holden Colorado 2012: Faulty seat belt pre-tensioner
Answered by CarsGuide
19 Jul 2013
We have asked Holden to check your complaints and give us a date that the part will become available. The warning lights and alarm must be annoying, but the airbags should still operate normally despite the faulty seat belt pre-tensioner. When working, the pre-tensioner comes into play before the airbag and provides protection in less severe crashes where the airbag wouldn't be deployed. The airbag operates in severe crashes, independently of the pre-tensioners. If you are in any doubt get your dealer to explain the operation of the car's safety systems.
Holden Colorado: Suspension squeak
Answered by CarsGuide
21 Jun 2013
The information we received from Holden last week was that the bushes were available to fix the squeak, so go back to your dealer and tell him.
Squeak and clunk noise
Answered by CarsGuide
22 Mar 2013
It depends on what causes the squeak or rattle as to whether it's covered by the warranty. In this case it is caused be premature wear of the shock absorber bushes, and that's covered under warranty. Holden has told us that they are working on new bushes and that the parts would be available to be fitted to complaint vehicles within weeks. It's not dangerous to keep driving the vehicle in this condition; it's just an annoying noise.
Colorado upper shock absorber squeak
Answered by CarsGuide
22 Feb 2013
You're not alone, we have had queries about this same problem from other Colorado owners and contacted Holden. Holden spokesman John Taylor confirmed to us that there was a problem, saying that "some premature wear on the upper shock absorber bushes has been seen on some vehicles under certain conditions." Taylor went on to tell us that Holden has developed new parts and that they would be arriving in the coming weeks and made available to customers experiencing this issue on their vehicles.
Colorado LXR wheel nut update
Answered by CarsGuide
28 Dec 2012
As can be seen Holden has told us that the vehicle was correct to specification when it was sold to the customer and that there were issues that would compromise its roadworthiness at that time. As a result the issue remains one between the owner, Bob Webb, and the Victorian Police. A possible course of action would be for Bob to consult a Vicroads approved engineer for an assessment of the vehicle in its current condition.
Search from Over 8,000 questions
Over 8,000 questions answered by CarsGuide
Complete Guide to Holden
Colorado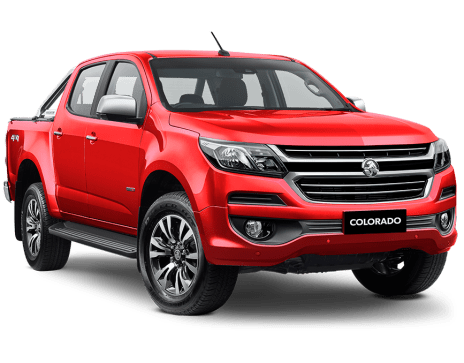 Reviews, price, specs and more