Talk about a crazy press car collection.
The day I went to pick up my new Skoda Octavia RS wagon long-term loan car was also the day I became a dad.
My partner Gemma was at home organising some stuff in the nursery while I was out filming the farewell video for my last long-termer, the Hyundai Venue. Our videographer Sam and I finished the job in quick time, then he helped me move some stuff to a storage shed nearby, because he's a great bloke.
After that, he dropped me to Volkswagen Group Australia's head office in southwestern Sydney, about 45 minutes from my house. It was there that Gemma called me and said I'd better get home quick. 
Read more about Skoda Octavia
Of course I obeyed the law on my way home, thinking "nah it can't possibly be the baby, she's almost a month early!" while also barely getting to grips with the settings and stuff in the Skoda. 
I pulled into the driveway, grabbed a quick photo of the car, and we hustled to pack an emergency bag (hadn't even done that yet!) and get back into the car to drive to the hospital. Four hours later, I was a dad, Gemma was a mum, Eliska was a daughter and the Skoda Octavia RS was a true long-term 'family car'.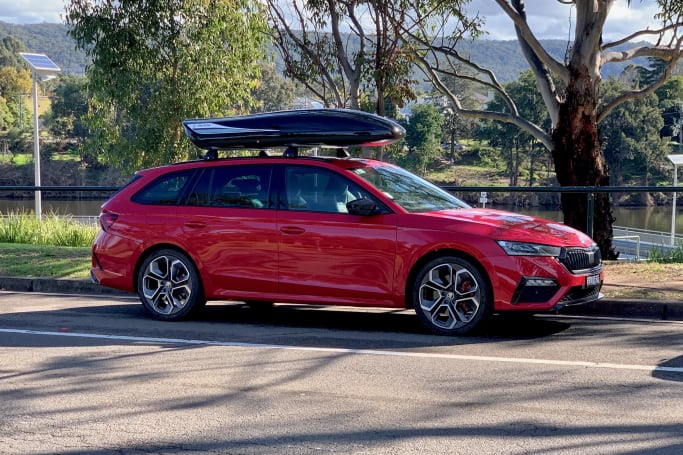 The day I went to pick up my new Skoda Octavia RS wagon long-term loan car was also the day I became a dad.
The idea behind getting a Skoda Octavia RS was that it would be exactly that - a family sled for the three of us and our two dogs. I even got Skoda Australia's team to fit a genuine cargo box on top, in order to store the smelly dog stuff (their beds and food and so on) for longer trips, with the idea being that it would no doubt double as a spot for smelly nappies if no bins were nearby on road-trips, too.
Admittedly I was probably getting ahead of myself, thinking about the movements of a family with a six-month old rather than a six-hour old, but that doesn't mean we won't do a long drive in the RS by the end of this loan (lockdowns in NSW permitting).
Over the next six months I plan to assess just how easy the car is to live with, having being sincerely stoked with its all-round abilities when I drove it for the launch event a few months ago.
I'll assess whether it stacks up on value first, because for some, this is going to be "too expensive for a Skoda", especially one that isn't an SUV.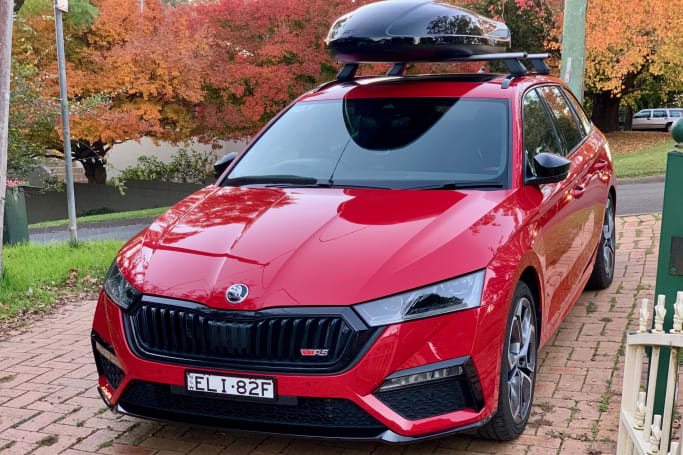 Is this wagon too expensive for a Skoda?
Why? Because the Octavia RS wagon is priced at $49,090 plus on-road costs. Skoda is promoting a $52,990 drive-away price for the wagon, but that's for a white one with no options. That price has gone up since we first collected the car, though nothing has changed spec-wise for the wagon - read our 2022 Skoda Octavia pricing and specs story here.
"My" long-termer has a few boxes ticked, including the RS Premium Pack ($6500) that includes things that I've already fallen in love with: the adaptive chassis control adjustable suspensions teamed to the drive mode selector means it can be supple or sporty, depending on what you need.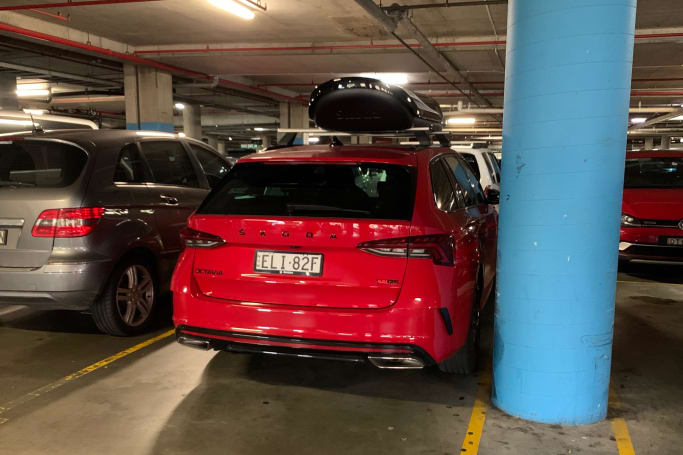 The Octavia is known for being one of the most well-rounded cars on the market.
That pack also includes electric front seat adjustment, heated front seats and heated rear outboard seats, driver's seat massage function (ooh, haven't tried that yet!), a head-up display, semi-autonomous parking (haven't tested it yet either), tri-zone climate control meaning there are rear temp settings as well as adjustable vents, and rear sunblinds, which are an excellent inclusion, even if they do seem a little thin to offer any serious sun protection.
Plus because the RS I have is the wagon, it is available with a sunroof ($1900), which I personally wouldn't bother with.
The other item you'll notice (especially if you look through the glass roof) is the Skoda genuine roof cargo box, which has a retail price of $1120 fitted, plus you need to get the roof racks / cross bars ($517 fitted).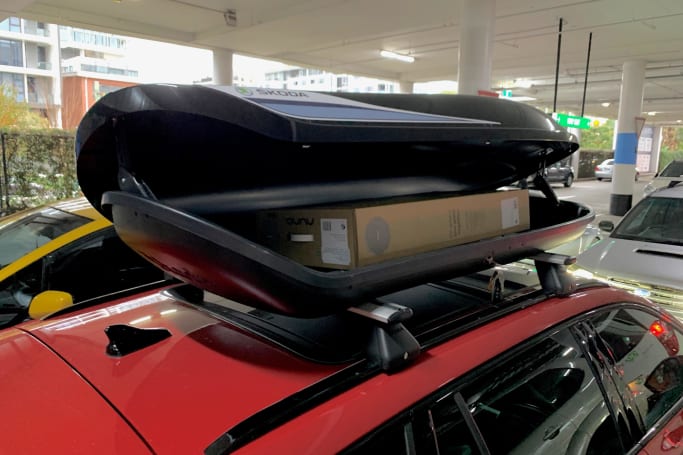 Featuring a Skoda genuine roof cargo box.
We'll see if we actually get a chance to do any road trips later in the year, because the pandemic seems to have other thoughts on mobility for people in the Greater Sydney area.
You'll spot the familiar face of CarsGuide editor Mal Flynn in these images, as Mal lives around the corner from me and - having not had a kid before and having only a hint of an understanding as to how to correctly fit a child seat - I called on his expertise to fit the seat to the Skoda. Mal has three kids under four, so he's at "Expert Level" for this job! This was on day two of my "ownership" of the Skoda - I made a mercy dash home from the hospital to sort it out!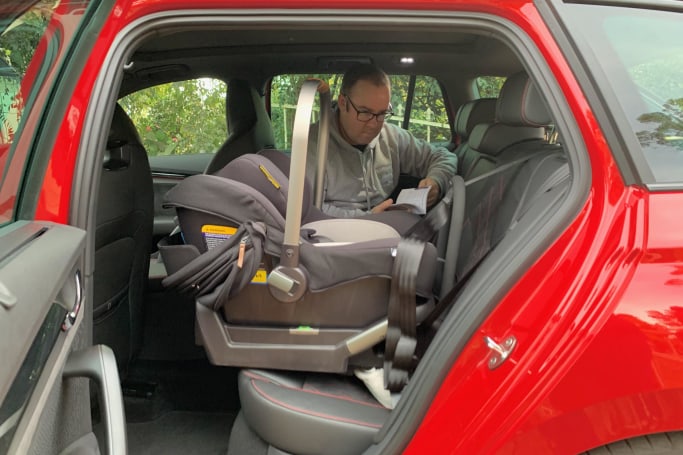 I called on Mal's expertise to fit the seat to the Skoda.
What I thought might be better is the amount of space for the front passenger. With a rearward facing baby capsule fitted, there's not a whole lot of legroom to be had for the front occupant. The wheelbase hasn't changed between the last generation and this one, and while the back seat space is good for adults, with a baby seat fitted it could be better for front-seaters.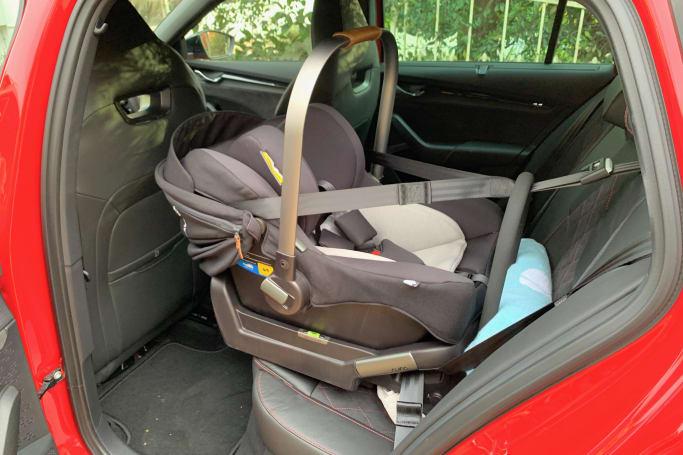 With a rearward facing baby capsule fitted, there's not much legroom for the front occupant.
Gemma isn't very tall (165cm / 5'4"), but still, she seems a bit cramped - the RS sports seats a bit bulky, and that might be something you want to consider. (For what it's worth, we have the Nuna Klik Plus capsule, which may or may not be bulkier than other capsules.)
As it stands, the Octavia has been a solid family wagon so far. The boot is easily large enough for a pram, some luggage and other stuff. See the leaving hospital images and the first (maybe last, as we're definitely on the shopping home delivery bandwagon now!) trip to the shops for an idea of the practicality it offers.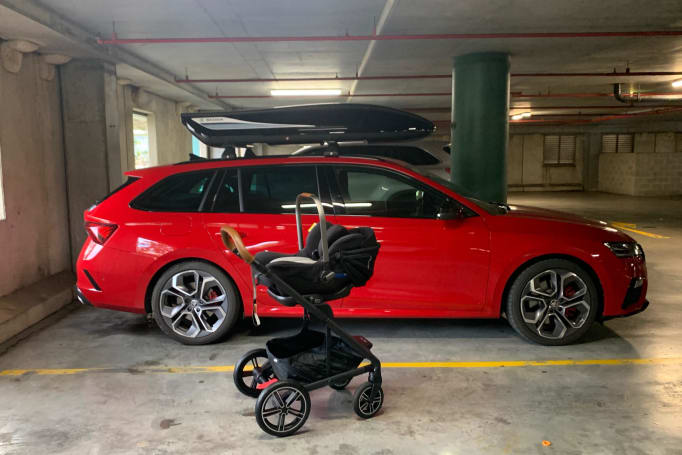 The Octavia has been a solid family wagon so far.
In the first month we did a lot of trips to and from the hospital in Randwick where our daughter had a 10-day stay, going from there to home in the Blue Mountains a few times plus also running errands to baby supplies stores for stuff we hadn't got in time (a bub arriving three-and-a-half weeks early really makes you realise how underprepared you were!) and we even put the roof pod to use. Very handy!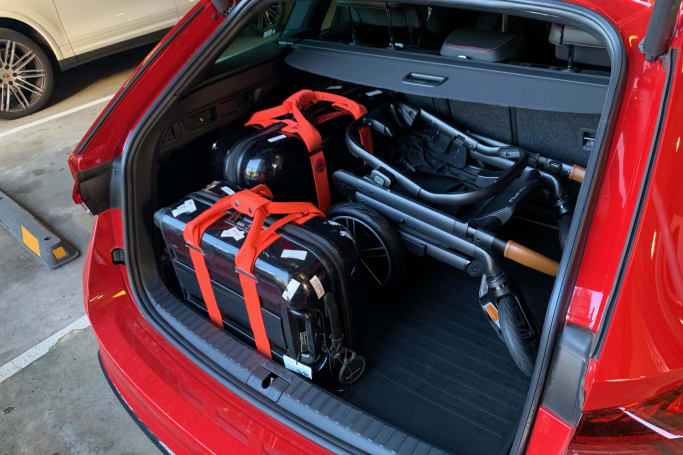 In the first month we did a lot of trips to and from the hospital and running errands.
Not so handy was the fact the media unit seemed to have a real issue with the wireless Apple CarPlay connection, glitching and not working at all with my phone at times. It has also failed completely when reversing - freezing the camera on a specific frame, or simply showing a black screen - and this is a more common concern when you jump in the car and want to get going straight away. We're all in a hurry all the time, so this could get on your nerves. We'll see if it continues to be an issue in future instalments.
Our first month of trips meant we went through two tanks of premium unleaded for an at-the-pump return of 8.77L/100km - a bit over the official figure of 6.8L/100km but a very respectable return in my opinion.
Stay tuned for more family driving impressions (hopefully).
Acquired: 31 May 2021
Distance travelled this month: 1005km
Odometer: 2474km
Average fuel consumption for June: 8.77L/100km (measured at the pump)