There's a sports pedigree in the detailing with extra air-intake vents at the grille and bonnet and rear façade vents adding to a 'sports car' feel. The bronze chrome accents (on 330S and GT line) against the black mesh grille makes the front stand out. The grille with the protruding bottom reminds me of another thoroughbred – the Mustang, which speaks volumes for how much I like the look of the car.
The swoopy-roofed rear that widens over the wheels, makes it look low and mean. However, the line from the doors has been carried across the roofline and it cuts off the back and makes the car look like it's been cut in two.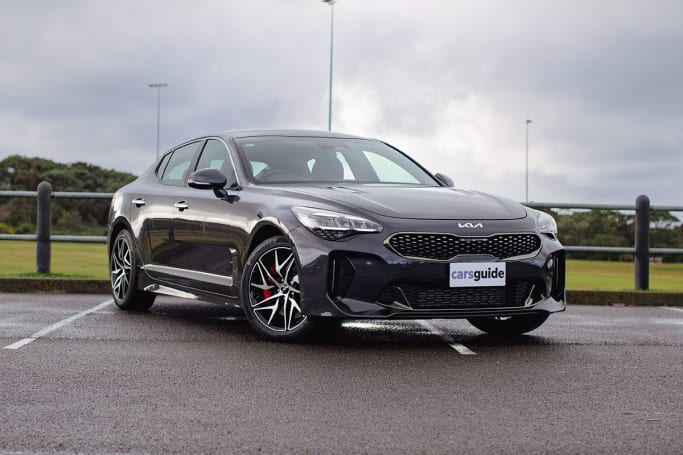 There's a sports pedigree in the detailing of the Stinger. (image: Dean McCartney)
The interior is a little hit and miss. There's some retro detailing with the round air vents and '80s coloured graphics in the touchscreen, but the interior is missing some much-needed personalisation. An easy way of incorporating this would have been adding some adjustable ambient lighting in the cabin because at the moment there is none and it feels ordinary at night time. Isn't it funny how some cheap LEDs can change the experience of something?
The retro vibe jars with the rest of the sleek styling throughout the car. No one 'style' has been fully executed and it seems at odds with the strong exterior. Which is a shame because this could have been one of those cars that you look back on and wish you had held onto because it has most of the elements to become something… almost classic.

The swoopy-roofed rear that widens over the wheels, makes it look low and mean. (image: Dean McCartney)