Holden Colorado 7 LTZ 2012 review

Holden hasn't had a genuine off road passenger 'fourbie' for more than a decade, ever since the demise of the Holden Jackaroo and before that, the 'postcode' size Holden (Chevy) Suburban.
Smaller Captiva SUV has limited dirt credentials and the Colorado ute on which the 7 is based is too much of a tradie truck for people wanting a family vehicle with off road capability.
Colorado7 was developed alongside it's ute sister and is built on the same Thai production line but differs in a number of areas, in particular, the rear live axle/coil spring suspension and the wagon body (on-chassis ute style). Front suspension remains a double wishbone setup.
Value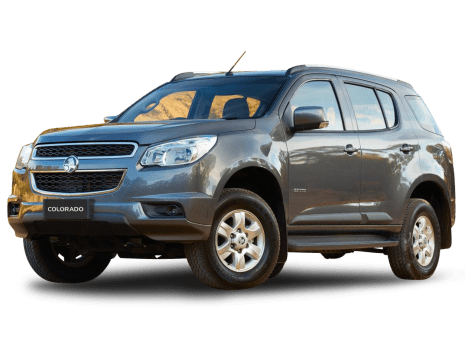 Explore the 2012 Holden Colorado 7 range
With a Toyota Prado GX five-door diesel wagon nudging the $60 grand mark on the road, Holden's new Colorado7 medium large, genuine off-roader seems like a real bargain at a starting price of $46,990 for the LT model. It's more of a competitor for the awful Mitsubishi Challenger and costs about the same.
Two models are available; the LT and leather equipped $50,490 LTZ which scores 18-inch alloys, LED tail lights, chrome body hardware and climate control among a somewhat generous equipment list for the ask.
Both vehicles have plenty of kit - the usual stuff you'd expect in a new model like Bluetooth, multi-function steering wheel, trip computer, power ancillaries and cruise control. Nothing really clever though... like some of the Europeans.
Design
We only got to drive the LTZ with leather, climate control and electric adjust driver's seat. It was OK. The seat is a bit flat and that overpowering grey plastic is not nice. It shares a similar boof-head style with the Colorado ute which might be to some people's taste (not ours) and is a good size for general duties - not too big though it's a fair hoik up into the cabin.
The third row of seats folds into the floor and is relatively easy to access for smaller people. Second and third row seats tumble-fold into the floor to create a large load space.
Technology
Power comes from the same 2.8-litre four-pot turbodiesel out of Colorado ute that achieves a strong 132kW/470Nm output while consuming fuel at a claimed average of 9.4-litres/100km. The engine and a six-speed conventional auto transmission are standard on both models.
As is selectable 4x4 with 2WD and 4L and 4H available by turning a dial in the centre console (on the fly too) though we couldn't get it to work on our test drive. This type of 4x4 system is old-school but preferable for serious off road driving.
Safety
Crash rating is five stars and it has safety features such as a reversing camera and rear park assist.
Driving
Despite it's on road ride/handling shortcomings (like a truck), Colorado7 is quite handy off road where the soft suspension comes into its own as does the ride height/ground clearance and other off-road features. Still, one of the drive cars got stuck on a slippery hill off road due to the road biased tyres losing traction.
It will tow 3.0-tonnes though we wouldn't like to do it to a Colorado7 we owned. There's a sump guard for rough roads and other handy stuff like hill start assist and a limited slip rear diff. We were left in two minds about this vehicle. It's only average on sealed roads, bit of a bus actually but is pretty good off road.
So... good if you get out into the bush or tow a smallish trailer/boat/van, not so much if you intend using it as a people mover around town.
Verdict
In Colorado7 you'll have to be prepared to put up with the cheap, hard grey plastic interior, unrefined engine, large turning circle and roly-poly on-road handling. Just a bit of tweaking would have yielded something special.
Pricing guides
$23,990
Based on 12 cars listed for sale in the last 6 months
Pricing Guide
$18,800
Lowest price, based on 11 car listings in the last 6 months
View cars for sale