Holden Commodore SS V Redline ute 2011 review

 


Immense outputs
Car-like ride and handling.
Cabin features and comfort

 


No spare
Small payload
Needs rear parking sensors
There are plenty of brands launching new "green" cars - although many use Blue terminology - but Holden has gone red and green. The new Commodore line-up now has a dark-ish green called Chlorophyll and it is draped over this Redline SS V ute, for now the only sub-$50,000 option for a V8 ute - if you want anything with a Blue Oval you're off to an FPV showroom and looking at an extra $3000..
Value: 
The standard SS V is priced from $47,490, plus the $2500 on top of that for the Redline package. That extra cash buys Brembo four-piston front brakes with bigger discs, 19in forged alloy wheels wrapped in low-profile rubber, controlled by FE3 "Super Sports Performance" suspension with new dampers and stiffer stabiliser bars. 
The ute suffers for all that by only coming with a tyre inflator kit instead of a normal spare wheel. Other standard fare includes the Holden iQ touchscreen infotainment system that has satnav, hard drive, Bluetooth phone and audio link, as well as a USB jack.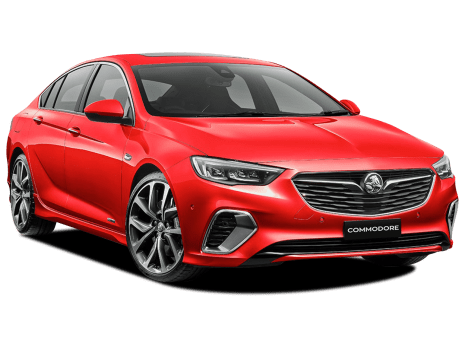 Explore the 2011 Holden Commodore range
There's also dual-zone climate control, cruise control, comfortable and reasonably supportive leather-trimmed sports seats and leather-wrapped steering wheel, reach'n'rake adjustment for the steering, automatic headlights, power windows and mirrors, trip computer.
Technology:
Much of what would be considered technology can be found further down in the Safety section, but the Holden iQ system certainly qualifies - the touchscreen controls the audio system, which can take tunes from the radio, CD, a built-in memory that can store as many as 15 standard CDs or external devices that connect via Bluetooth or USB cable. 
There's also full-colour satnav via the same touchscreen, with real-time SUNA traffic information as well as alerts for school zones, fixed traffic cameras and a speed zone display, although the latter doesn't always agree with the ever-changing roadside signs. 
The system also integrates phone function as well via Bluetooth, meaning the phone book and dialling can be done without touching a phone, which we all understand is a no-no. The system can also be tailored to lock out certain functions while the car is moving.
Design:
From dead front-on you're not going to see any difference from the rest of the range - full of stance and presence, the flared guards and the fog lights, sitting above a deeper front splitter, all shout menace. Look aft and there's a really big boot thankfully covered by a traditional soft tonneau, albeit clamped down with the sandwich bag sealing system which isn't always easy to lock in. 
That said, at least you can use the tray for taller stuff without being stymied by the hard-tonneau set-ups that are becoming more common and make security less of an issue. But any pretence to the vehicle actually being used for carting gear above the tray topline means the old-school tonneau. 
The cabin has plenty of space - even storage behind the two pews is half-decent now - but sadly the centre-mounted switchgear and cupholders remain a pain, particularly for those in a manual model.
Safety:
This no bare-bones widowmaker workhorse - airbags front and side (seat and curtain), load-limiting and pre-tensioned seatbelts, stability and traction control and anti-lock brakes mean a 5-star ANCAP safety rating has been applied to the ute. There's also a limited slip differential, sports-tuned "F3" suspension and the aforementioned big brakes. 
Driving:  
This sportscar with a very big boot also requires some muscle to get the best from it - and I don't mean in terms of loading it up. It's not a light and easy thing to drive day to day, it's muscly V8 after all, but if you have no need to hurry you can loll along in a high gear and it will rarely complain. 
Getting it fired up is amusing, but don't expect a raucous soundtrack to go with it - it's almost refined by comparison to some of the same breed that have obviously consulted aftermarket assistance to clear the V8's throat. 
The price will be paid at the pump if you get busy with it regularly - the six-litre V8 doesn't get the active fuel management (that's only teamed with the automatic) so unless you resist all temptation to stretch the ute's legs and visit the top half of the tacho, the fuel use will be high. 
Official figures suggest that even with the cylinder drop-out system, the manual is a little better at the bowser. Our time in the car yielded 17 litres per 100km (close to the official urban figure) but with more time on the open road that number would drop. 
The tall sixth gear and considerable bottom-end urge would translate into a more civilised thirst, but if that's high on your list of priorities then maybe one of the new LPG models might better suit . 
It's more sharp chainsaw than scalpel when it comes to corners, ripping through bends at anything from a brisk clip to maniacal, but stability control helps keep the rump from leading the charge, although the rear does require provocation - on a dry, sealed surface at least - to break away. 
Sitting only 100mm off the tarmac means any farmyard excursions will need to be carefully planned - the low clearance, low-slung nose and "workhorse" appearance don't always translate - a rough farm track could remove plenty.
Verdict
The humble ute has certainly grown out of its bumpkin forebears and for a performance machine there's much to like about the Redline edition. Grab it by the scruff of the neck and have a giggle, but don't expect it to work hard to earn its keep - this is the site supervisor, not the labourer, Holden's next Colorado will take care of that.
Pricing Guides
$12,595
Based on 639 cars listed for sale in the last 6 months
Range and Specs
| Vehicle | Specs | Price* | |
| --- | --- | --- | --- |
| Berlina | 3.0L, ULP, 6 SP AUTO | $5,990 – 15,990 | 2011 Holden Commodore 2011 Berlina Pricing and Specs |
| Berlina Dual Fuel | 3.6L, LPG, 4 SP AUTO | $8,250 – 11,660 | 2011 Holden Commodore 2011 Berlina Dual Fuel Pricing and Specs |
| Berlina International | 3.0L, ULP, 6 SP AUTO | $4,995 – 13,999 | 2011 Holden Commodore 2011 Berlina International Pricing and Specs |
| Equipe | 3.0L, ULP, 6 SP AUTO | $7,990 – 16,990 | 2011 Holden Commodore 2011 Equipe Pricing and Specs |
Pricing Guide
$18,990
Lowest price, based on 9 car listings in the last 6 months
View cars for sale
Similar Cars
Holden Calais

Toyota Corolla

Ford Mondeo

Audi A3