Holden Commodore SV6 ute 2011 review
What we don't
Engine harshness
Quality of plastics
Park brake lever
What we don't
Engine harshness
Quality of plastics
Park brake lever
Being acknowledged as the country that invented the ute is like being lauded for being the first person to market pet rocks.
It's a novelty that is starting to wane.
Yes, utes have their place - and will continue to have a place - in any industry that involves itself in moving things that can't be carried by humans.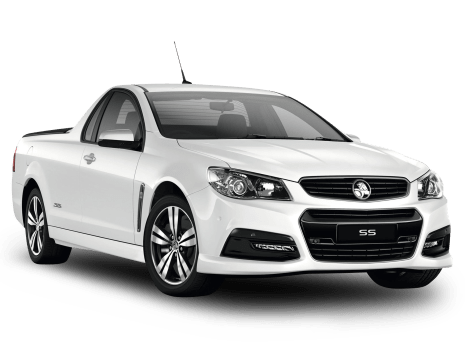 Explore the 2011 Holden Ute range
But in a world that is heaving towards space and fuel-efficient transportation, a two-seat semi-commercial vehicle with a thirst for dwindling fossil fuels is starting to lose gloss.
Value
Holden's SV6 ute is not a bad piece of work - once you figure out what to do with it.
At $38,490 plus on-road costs, it's an expensive vehicle compared with some overseas-made utes that are more purpose designed to haul stuff.
The SV6 has Holden's rather hoarse-sounding 3.6-litre V6 that, later this year, gets the ability to run on E85. In some states, that indicates a small fuel saving.
Standard kit in the SV6 is noice - sports seats, Bluetooth integration with iPod/USB connectivity, 18-inch alloy wheels, cruise control, a neat touchscreen for the audio and trip computer, auto headlights and a poly tub liner.
Design
The front bit from the B-pillar forward is Commodore, the back bit is a ute.
But though the design parameter is fixed, Holden makes a very stylish machine. Something that looks macho and makes all the guys turn an notice. Girls? Nah!
Its style is THE reason why logic goes out the window and sales continue to be stable - against all odds.
Love the big wheels, pumped wheel arches, tight fascia with its hard-edged grille, and the profile that tilts the cabin forward like its about to ski a Vail slope.
Technology
The direct-injection 3.6-litre V6 is all technology. It gets quad cams and 24 valves and all the promise of 210kW and 350Nm of torque. It's all good on paper but the deliver is harsh and noisy when pushed.
It gets a six-speed automatic that, again, has loads of promise. But perhaps it's the engine interfering because the changes aren't smooth and there seemed to be a lot of lag in the torque converter.
No big surprises underneath with a strut front and independent coils and multi-links at the rear.
Safety
This is Australia's first five-star crash rated ute. The SV6 gets electronic stability control, brakeforce distribution and six airbags to take its safety spec up to premium level - very unusual for a commercial vehicle.
Any rear-drive workhorse vehicle that will spend most of its life without any load in the tray - or within the van - is screaming out for ESC. Well done, Holden.
Driving
I know that some guys think this is a sports car because it has two seats.
It's not. This is a Commodore with an empty hole in the back where your mates were supposed to sit.
It doesn't even get a weight reduction over the Commodore sedan, either, with its 1750kg an 18kg penalty over the equivalent SV6 sedan.
This doesn't help performance, though the ute can be muscled along to deliver some smiles.
The 3.6-litre V6 has plenty of poke but its delivery is harsh. The six-speed auto also dulls the delivery unless the manual-shift option is employed to sharpen up shift points.
Handling is actually very good and even though the steering doesn't feedback much feel, it's positive and well weighted. The brakes are spongy and that took the edge off the package.
Despite the big open box behind the driver's ears, the ute is quiet at cruising speed and has a compliant ride whether empty or loaded.
Verdict
Nice machine for workers without friends.
Pricing Guides
$17,999
Based on 259 cars listed for sale in the last 6 months
Range and Specs
| Vehicle | Specs | Price* | |
| --- | --- | --- | --- |
| OMEGA | 3.0L, ULP, 6 SP AUTO | $7,499 – 16,990 | 2011 Holden UTE 2011 OMEGA Pricing and Specs |
| OMEGA (D/FUEL) | 3.6L, LPG, 4 SP AUTO | $7,590 – 10,670 | 2011 Holden UTE 2011 OMEGA (D/FUEL) Pricing and Specs |
| SS | 6.0L, ULP, 6 SP MAN | $15,800 – 24,800 | 2011 Holden UTE 2011 SS Pricing and Specs |
| SS THUNDER | 6.0L, ULP, 6 SP AUTO | $16,995 – 25,990 | 2011 Holden UTE 2011 SS THUNDER Pricing and Specs |
Pricing Guide
$6,950
Lowest price, based on 35 car listings in the last 6 months
View cars for sale