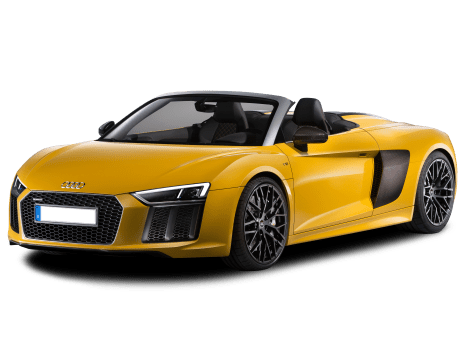 COMPARE
Audi R8
VS
KTM X-Bow
Audi R8
Likes
Howling V10
Amazing traction
Looks more aggro now
Dislikes
No high-tech safety
Interior short on flexibility
Didn't get to drive it on 'real' roads
---
KTM X-Bow
Likes
Fast and utterly furious
Unique in Australia
A track-attack special you can drive to the track
Dislikes
Even a light sprinkling of rain will leave you in despair
Safety kit non-existent
An expensive toy
Summary
Audi R8
There is typically no need for introductions when it comes to the Audi R8. But the 2019 Audi R8 isn't the one you've come to know - its been sharpened up in terms of both its appearance, and its performance.
This heavily facelifted version of the second-generation Audi R8 keeps its high-revving V10 engine, and turbochargers have been kept at bay, too. It can't hold off the march of progress for much longer, though - it's almost certain this will be the last V10-engined R8… thankfully it has only just launched, so it should be on sale for a few years yet. 
I got a chance to drive the new Audi R8 V10 Performance model in Spain at the model's international launch drive this week - but only on Circuito Ascari race track. 
| | |
| --- | --- |
| Safety rating | — |
| Engine Type | 5.2L |
| Fuel Type | Premium Unleaded Petrol |
| Fuel Efficiency | 12.3L/100km |
| Seating | 2 seats |
---
KTM X-Bow
I know what you're thinking: "How is this thing legal?" And to be honest, somewhere between a rock flung from the tyre of a passing car colliding with my forehead like it had been fired from a pistol, and the pouring rain lashing my exposed face like a damp cat-o'-nine-tails, I'd begun wondering the same thing.
The answer is barely. The product of a years-long fight to overcome our import rules, this madhouse KTM X-Bow R is now finally free to roam Australian roads and racetracks - though, with sales capped at 25 per year to comply with the Specialist Enthusiast Vehicle Scheme.
The price? A slightly eye-watering $169,990. That's quite a lot, and places the X-Bow R miles above its closest lightweight, carbon fibre-tubbed competitor, the Alfa Romeo 4C ($89,000).
But then, the KTM X-Bow R is unlike anything else on the road today. Part super bike, part open-wheeler and all mobile madness, the 'Crossbow' is fast, furious and completely insane.
Expect no doors, no windscreen, no roof. On-board entertainment is limited to the turbo whistling behind your head, the car's standard safety list is as barren as the interior and the climate control is dependent on the temperature of the wind that's smashing into your exposed face.
And we couldn't wait to take it for a spin.
| | |
| --- | --- |
| Safety rating | — |
| Engine Type | — |
| Fuel Type | — |
| Fuel Efficiency | 8.3L/100km |
| Seating | 2 seats |
Verdict
Audi R8
7.6/10
This iteration could well be the final Audi R8 with a V10 engine, and what a note to go out on. Emissions laws and the ever-present push towards electrification are almost certain to see the next-generation R8 take a very different tack to this model. Lucky, then, that this is the best R8 yet. 
I know the final score doesn't necessarily reflect that - but that's because it falls short on 'regular' car things. Even so, it's an epic machine.
Would you have an Audi R8 over one of its rivals? Tell us what you think in the comments section below.
---
KTM X-Bow
6.8/10
Okay, so rain is not your friend. Neither is brutal sunshine, strong winds or any speed bump anywhere. There are probably a handful of times you'll want to drive it, and when you do you will definitely get hit in the face with rocks and bugs, and spend most of your time wondering just how the hell this thing is legal.
And yet, we are hopelessly, head-over-heels in love with it. It's an absolute weapon on a track, a joy on anything even resembling a twisting road and it is one of the few genuinely unique cars on the road today. And the fact it exists at all is a cause for absolute celebration.
Does the KTM X-Bow R's purity of purpose appeal to you, or is its performance focus just too narrow? Tell us what you think in the comments below.
Design
Audi R8
9/10
Wow, it was possible to make the Audi R8 even more attractive - the brand's designers have gone and done it with this facelift, which sees a number of changes to the exterior styling that combine for a more aggressive, sharper look.
The 'Singleframe' grille now looks even more menacing, having been widened and flattened, and any trace of chrome has been removed. As the chief designer told us, a supercar is no place from chrome. There are three small slats above the grille, which hark back to the iconic Audi Sport quattro model of the 1980s.
Further, the front splitter is wider, the rear diffuser has been made even more prominent, and there are new oval exhaust pipe outlets - previously reserved for Audi RS models only. 
My only 'errr' moment with the design is the mesh cooling section at the rear bumper, which appears a touch unfinished in combination with some colours, and it's also very rectangular, meaning the new exhaust tips are at odds with it. But it all has a purpose, and applies to the regular R8 and the LMS racer.
There are three new exterior packages available, which change elements such as the front splitter, door sill trims (side skirts) and diffuser. On the base car, there's a high-gloss black look; on the V10 Performance there's a matte titanium look to these bits. Optionally, there's a high-gloss carbon package.
Further, customers can get the badges and Audi rings painted in gloss black, while body paint colours now include 'Kemora grey' and 'Ascari blue'. There'll be 19-inch and 20-inch wheels offered, depending on the model.
Inside, there's been a bit less of a noticeable change. Check out the interior photos to see for yourself.
---
KTM X-Bow
8/10
The X-Bow R is built for purpose in the most wonderful of ways. From the visible suspension components to the rocket-style exhausts, to the stripped-bare interior, it's fairly obvious that form came a distant second to function in the X-Bow's design process.
And, for us at least, that's a tremendous thing. It looks raw and visceral, and a bit like Harvey Dent post-fire - you can see all the normally hidden components doing their thing. It's mesmerising.
Practicality
Audi R8
7/10
Okay, so Audi claims "the driver sits in the new R8 like in a race car". 
Having been a passenger in the Audi R8 GT3 car the brand had on show, I can tell you that's not entirely true - because while you do sit about 12 centimetres higher than that ground-hugging beast, the regulation R8 model is superbly comfortable.
What the brand is getting at, though, is that the focus of all the interior design is to serve the driver. As such, there's no central media screen - instead, there's a 12.3-inch digital instrument cluster (Audi 'virtual cockpit') which is where the driver takes charge using steering wheel controls.
The system is crisp to look at, but it can be a little hard to get used to the controls, especially for sat nav inputs and so on. And that's even with the central MMI rotary dial with touch pad. 
But the other controls are great - I love the air-conditioning knobs, the gear selector and the switchgear, which all has a technical and beautiful finish to it. The steering wheel is a delight to hold, and the push-button starter is a real eye-catcher in red.
The seats in the cars we tested were superbly supportive and very comfortable, but the lack of adjustment of the fixed buckets means you might find yourself a bit too upright (if you get to spend more time in the car than we did).  
And even though it's a supercar, the R8 offers a level of practicality. Sure, the door pockets are virtually useless and there are no properly usable cupholders, but that gives you an idea to the intent of the car. There are, however, storage spots behind both of the seats, and there's a centre storage area in front of the shifter and in the armrest.
And while the R8 has a mid-mounted engine, there's still a boot: the R8 coupe's rear cargo bay offers enough room for a suitcase or two soft smaller bags for a weekend away, with 226 litres of cargo capacity - according to Audi, that's enough for a golf bag. There's a secondary storage area under the bonnet, which adds an extra 112L of space. Don't buy the Spyder if practicality is important to you, as it has even less storage space.
---
KTM X-Bow
5/10
Short answer? It's not. People are unlikely to test drive an X-Bow R and start looking for cupholders and storage space, but if they did, it wouldn't take long.
Aside from the twin seats, a four-point racing harness, a high-mounted gearshift, a pull-lever handbrake, and detachable steering wheel, the cabin is as bare as Old Mother Hubbard's cupboard.
Luggage space is limited to what you can carry in your pockets (though wearing cargo pants will help) and even getting in and out of the thing takes some fleet-footed antics. With no doors you need to literally jump in. And the side sills are only rated to 120kg, so heavier types will need to avoid stepping on them at all, and instead attempt a kind of running leap into the cockpit.
Price and features
Audi R8
7/10
It's expected Audi Australia will again offer the R8 in two different specs when it launches in Australia around the fourth quarter of 2019. 
That means a base model (if you can call it that) V10 variant, and a higher-grade V10 Performance grade with more power and torque. The latter is expected to be the bulk seller - the current V10 Plus model accounts for some 90 per cent of R8 sales. Maybe they'll drop the base car - time will tell.
It's too early to have a stab at pricing and specifications, because nothing has been confirmed as yet and we'd be on Audi keeping prices relatively stable or maybe bumping them up - hey, you're getting more power for your money, after all! 
But you can bank on goodies like LED headlights, auto high-beam lights, leather seat trim, DAB+ digital radio, sat nav, Apple CarPlay and Android Auto, a 13-speaker sound system, auto headlights and wipers, push-button start and keyless entry and a fair bit more.
The V10 Performance model we drove had 20x8.5-inch front wheels and 20x11-inch rear wheels, with super grippy Michelin Pilot Sport Cup 2 tyres. 
For a guide, the current start price for the V10 is $366,340 plus on-road costs, while the V10 Plus (which will be renamed V10 Performance) currently lists at $402,430 before on-roads. Those prices are for the coupe - the Spyder convertible adds roughly $20,000 on both grades.
Considering some of the competitors, it is a little pricey - although it's the cheapest way into V10 supercar ownership. 
So, what are its rivals? Lamborghini has the Huracan (essentially an R8 twin - priced from $378,900 in RWD, or $428,000 for the AWD model), or you could take a look at a McLaren 570S ($395,000), Mercedes-AMG has the GT (from $261,130) and there are about 20 versions of the Porsche 911 you might consider (from $220,500). If the Spyder is more your go, I'd take a look at the Ferrari Portofino ($398,888), too.
---
KTM X-Bow
7/10
Keen readers of this site will recognise this as the area where we outline the many and varied features that come along with a normal new car purchase, but that's just not going to work this time. In fact, it'll be considerably easier to talk about what's missing, so let's start with the obvious: doors, windows, roof, windscreen. All conspicuously absent from this weird and utterly wonderful X-Bow.
Inside, you'll find two thinly (and we mean thin - we've seen thicker contact lenses) padded seats fixed into the tub. You'll also find push-button start, a digital screen reminiscent of those found on motorbikes (KTM is an Austrian-based motorcycle company, after all) and a pedal box that slides backward and forwards to offset the height of the pilot. Oh, and that steering wheel can pop off to make getting in and out easier.
Climate control? Nope. Stereo? Nope. Proximity unlocking? Well, kind of. With no doors, you'll always find it unlocked when you enter its proximity. Does that count?
But what it does have is a turbocharged two-litre engine. And in a car that weighs a sprightly 790kg, that means it's quick, pulling like a rabid sled dog in every gear, rear tyres chirping with every change.
Engine & trans
Audi R8
9/10
The new R8 retains the same 5.2-litre V10 (FSI) naturally-aspirated engine, but Audi's engineers have wrung its neck to squeeze more power and torque out of it.
There are two tunes available - the regular version, which has 419kW of power (up from 397kW), and 560Nm of torque (up from 540Nm). It only comes with a seven-speed 'S tronic' dual-clutch automatic transmission, and comes with quattro all-wheel drive. 
The claimed 0-100km/h time is just 3.4 seconds for the coupe and 3.5sec for the Spyder convertible. It tops out at 324km/h, or 322/km/h in the convertible.
The higher-grade version is by far the most potent R8 yet, with 456kW of power (up from 449kW) and 580Nm of torque (was 560Nm). Again, S tronic and quattro, and this time around with a 0-100km/h acceleration claim of 3.1sec for the coupe (3.2sec convertible). Top speed is 331km/h or 329km/h, depending on body type.
---
KTM X-Bow
8/10
The X-Bow R's power comes from an Audi-sourced, turbocharged 2.0-litre engine, paired with a VW Group six-speed manual transmission (and one of the stubbiest gearsticks in existence). That mid-mounted marvel produces 220kW at 6300rpm and 400Nm at 3300rpm, and ships it off to the rear tyres with the assistance of a Drexler mechanical limited-slip differential.
Thanks to its lithe and lightweight body, that's enough to propel the X-Bow R from 0-100km/h in a blistering 3.9 seconds, and on to a top speed of 230km/h.
Fuel consumption
Audi R8
7/10
Don't expect to see the official claimed fuel consumption figure on a regular basis. The number is 12.3 litres per 100 kilometres for the most potent coupe version, while the lower-power version uses a claimed 11.4L/100km. 
The engine has cylinder deactivation for less intense situations, and there's engine stop-start, too. 
It uses 98RON premium unleaded fuel, and has an 83 litre fuel tank capacity. 
---
KTM X-Bow
7/10
KTM lists the X-Bow R's claimed/combined fuel figure at 8.3 litres per hundred kilometres (though we were managing mid-12s after an, ahem, very spirited test), with emissions pegged at 189 grams per kilometre.
The X-Bow R is also fitted with a 40-litre fuel tank, accessed via a side-mounted inlet. Instead of a fuel gauge, expect a digital reading showing how many litres you have left.
Driving
Audi R8
9/10
I can't say what it's like on public roads, but my stint on a shortened track at Circuito Ascari near Ronda in Spain left me grinning ear to ear.
And so it should, with the immense performance of the V10 engine - tested on track in the higher output R8 Performance spec with the full 456kW and 580Nm complement of grunt numbers. 
Driving the R8 reminded me of that one time in under 11s rugby league when a much smaller defender managed to lift me up and dump be on the ground - an impressive effort, because I was heavy enough to be running around in under 15s. At that time, it took a second for me to realise what had happened, and was enough to leave me a bit short of breath. 
The same sensation came to mind as I loaded up the throttle and threw myself at the horizon from the pit exit. Under a heavy right foot, the world around me started to blur and the first corner of the track suddenly approached after the crest. I had to try and remember what the lead car had shown me in the sighting laps prior, where to turn, how hard to get on the gas. 
But I was distracted by the mind-bending physics I was experiencing, not to mention the theatre of the R8. The sound really is hard to beat - the howl of a high-revving V10, unmuffled by turbochargers, is something to behold when it's enveloping you, and the fact the noise emanates from behind your ears almost makes you want to push it even harder. 
1 – 6 – 5 – 10 – 2 – 7 – 3 – 8 – 4 – 9. That's the firing sequence of the V10. Just thought you might like to know.
The gearshifts cut through the noise with prodigious sharpness, and when I chose the 'Performance' drive mode (which firmed everything up, enabled even more manic acceleration and disabled traction control) the shifts were brutal, often resulting in a shockwave through the car. It was some seriously good feedback for me as the driver, though it may not bode well for longevity…
There was tremendous traction from the quattro all-wheel drive system from a standstill, and across a long, banked corner on the track I felt super confident, pushing harder than I know I would have dared in a rear-drive car. 
I managed to get a steer in both an R8 with the regular steering system and a model with the brand's 'dynamic' steering set-up. Both have been retuned to be "more direct and precise throughout the entire speed range".
I preferred the dynamic steering set-up which can vary the steering ratio based on the speed, and is "very direct" according to Audi - and even more so when Performance mode is engaged.
I found it to be super predictable at lower cornering speeds, and therefore more manageable to an amateur like me. One of Audi's test drivers told me that he prefers the normal steering set-up, because at 'really big speed' it's easier to predict. 
The highest speed I saw was just a tickle over 200km/h, and I understood his take on it. Maybe normal steering for high-speed tracks, then? Or I just need to learn to drive faster…? Hey, no-one wants to be the guy who bins the $400k supercar on the very first rotation of about thirty over a two-week run of international journalists visiting to sample the newest, bestest and most expensivest Audi has to offer. 
The models we drove were all fitted with the optional carbon ceramic braking package, which allowed the stoppers to resist fade for a lot longer - ideal for extended track time sessions, and they certainly stood up to my reliance on them on my few short stints on the track. They came in especially handy during a (very cool) night session where we were expected to remember the track layout about seven hours after our first outing.
It would have been great to drive it on real roads, because apparently that's where the dynamic steering is most impressive. 
---
KTM X-Bow
9/10
It couldn't be more Fast and Furious if it had Vin Diesel growling under its (non-existent) bonnet. We have technically driven faster cars, but we have never driven anything that feels quite so fast as this utterly insane X-Bow R.
Climb in, strap into the four-point harness and select first via the surprisingly easy-to-manage gearbox and clutch set up, and, at slow speeds, wrestle with the dead weight of the completely unassisted steering, and it's immediately clear that this is a driving experience like nothing else currently road-legal in Australia. Even at walking pace, the X-Bow R feels poised for an assault on the future, and it attracts attention on the road like nothing else we've ever driven.
Its road-scraping ride height and diminutive dimensions make tackling traffic an intimidating prospect, with regular hatchbacks suddenly taking on truck-like proportions and actual trucks now looking like passing planets. There's a constant concern that you're sitting well below the traditional blind spot, and that you could be crushed at any moment.
Combine all that with the bad weather that cursed our final day of testing, and the X-Bow R is all sorts of watery hell. It is truly homicidal in the wet, too, with the back end breaking grip at the slightest provocation. And the turbocharged 2.0-litre offers plenty of that.
But on a sunny day, and on the right road, it's pure driving bliss. The acceleration is brutal, the grip endless and the Audi sourced gearbox an absolute treat. And it pulls in every gear, tackling 35km/h corners in third and absolutely blasting out the other side.
Cornering is scalpel sharp, and the steering - so heavy at slow speeds - is light and efficient at pace, requiring only the most minuscule of movements to bite into a bend.
It is anything but perfect in the city, and even a light sprinkling of rain will have you seeking shelter (and a refund), but on the right road, on the right day, there are few if any cars that offer the kind of razor-sharp thrills and intoxicating excitement of KTM's monstrous X-Bow R.
Safety
Audi R8
7/10
The Audi R8 hasn't been crash-tested by ANCAP or Euro NCAP, but Audi claims the car's spaceframe chassis offers "high crash safety". 
You get a reversing camera and parking sensors (optional in Europe, expected to be standard in Australia) plus the R8 comes with six airbags, including dual front, front side and curtain coverage. Spyder models miss out on curtain airbags.
But there is no advanced safety equipment - no auto emergency braking (AEB), no lane-keeping assist, no blind-spot monitoring, rear cross-traffic alert or adaptive cruise control. 
Top spec models are expected to get the excellent laser headlights (auto high-beam light up to 600 metres throw distance), and all models come with LED headlights.
---
KTM X-Bow
5/10
Next to none. There is no ABS, traction or stability control. No airbags, powered steering or ISOFIX attachment points, either. If you break traction (which, in the wet, is more than a little bit likely) it'll be up to you to ensure you straighten up again. Helpfully, there's a ton of grip from the Michelin Super Sport tyres.
As part of the compliance program, Simply Sports Cars (the company responsible for introducing the X-Bow R) actually crash tested two cars in Europe, and raised the ride height by 10 millimetres. Oh, and there's now a seatbelt warning sign, too.
Ownership
Audi R8
6/10
The warranty plan for the Audi R8 is the same as all other Audi models - three years/unlimited kilometres. Not as good as you'll get from Ferrari, which can be optioned with up to 15 years' warranty.
There is no capped price service plan for the R8, and no pre-purchase plan like you can get on the rest of the 'regular' Audi range. 
---
KTM X-Bow
5/10
The X-Bow R is covered by a two-year, unlimited-kilometre warranty, and while service prices aren't capped, Simply Sports Cars estimates an average serve cost at about $350.