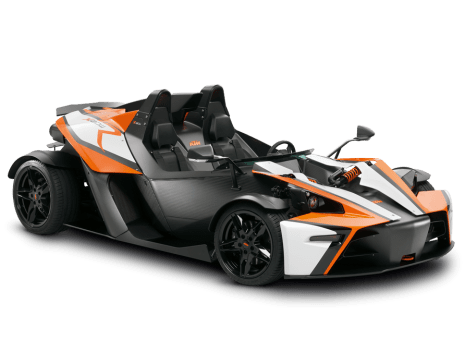 COMPARE
KTM X-Bow
VS
Audi R8
KTM X-Bow
Likes
Fast and utterly furious
Unique in Australia
A track-attack special you can drive to the track
Dislikes
Even a light sprinkling of rain will leave you in despair
Safety kit non-existent
An expensive toy
---
Audi R8
Likes
Superb dynamics
Naturally aspirated V10
Everyday usability
Dislikes
Where's the advanced safety tech?
No central media screen
Not much in the way of cabin storage
Summary
KTM X-Bow
I know what you're thinking: "How is this thing legal?" And to be honest, somewhere between a rock flung from the tyre of a passing car colliding with my forehead like it had been fired from a pistol, and the pouring rain lashing my exposed face like a damp cat-o'-nine-tails, I'd begun wondering the same thing.
The answer is barely. The product of a years-long fight to overcome our import rules, this madhouse KTM X-Bow R is now finally free to roam Australian roads and racetracks - though, with sales capped at 25 per year to comply with the Specialist Enthusiast Vehicle Scheme.
The price? A slightly eye-watering $169,990. That's quite a lot, and places the X-Bow R miles above its closest lightweight, carbon fibre-tubbed competitor, the Alfa Romeo 4C ($89,000).
But then, the KTM X-Bow R is unlike anything else on the road today. Part super bike, part open-wheeler and all mobile madness, the 'Crossbow' is fast, furious and completely insane.
Expect no doors, no windscreen, no roof. On-board entertainment is limited to the turbo whistling behind your head, the car's standard safety list is as barren as the interior and the climate control is dependent on the temperature of the wind that's smashing into your exposed face.
And we couldn't wait to take it for a spin.
| | |
| --- | --- |
| Safety rating | — |
| Engine Type | — |
| Fuel Type | — |
| Fuel Efficiency | 8.3L/100km |
| Seating | 2 seats |
---
Audi R8
Supercars can sometimes be seen as the divas of the auto world – delicate, over-the-top, not very good with reality. Well that may be the case for some supercars but not Audi's R8. It's affordable by supercar standards, easy to drive and still very, very fast.
Now the updated R8 has arrived, looking fiercer than ever, but remaining one of the smartest supercar buys on the market. But did you know there are two types of R8? Both have very distinct personalities and I lived with them for two days – in the reality of road works and also ideal country roads.
Here's everything you need to know...
| | |
| --- | --- |
| Safety rating | — |
| Engine Type | 5.2L |
| Fuel Type | Premium Unleaded Petrol |
| Fuel Efficiency | 12L/100km |
| Seating | 2 seats |
Verdict
KTM X-Bow
6.8/10
Okay, so rain is not your friend. Neither is brutal sunshine, strong winds or any speed bump anywhere. There are probably a handful of times you'll want to drive it, and when you do you will definitely get hit in the face with rocks and bugs, and spend most of your time wondering just how the hell this thing is legal.
And yet, we are hopelessly, head-over-heels in love with it. It's an absolute weapon on a track, a joy on anything even resembling a twisting road and it is one of the few genuinely unique cars on the road today. And the fact it exists at all is a cause for absolute celebration.
Does the KTM X-Bow R's purity of purpose appeal to you, or is its performance focus just too narrow? Tell us what you think in the comments below.
---
Audi R8
7.8/10
The Audi R8 V10 RWD and V10 Performance Quattro have their own personalities. I'm a big fan of the lower-powered rear-wheel drive car, but the Performance is the ultimate here with better brakes and that 330km/h top speed. Either way the R8 is a true supercar, but one that doesn't have to be driven gingerly as though something may break off.
Design
KTM X-Bow
8/10
The X-Bow R is built for purpose in the most wonderful of ways. From the visible suspension components to the rocket-style exhausts, to the stripped-bare interior, it's fairly obvious that form came a distant second to function in the X-Bow's design process.
And, for us at least, that's a tremendous thing. It looks raw and visceral, and a bit like Harvey Dent post-fire - you can see all the normally hidden components doing their thing. It's mesmerising.
---
Audi R8
9/10
Lamborghini styling can look over the top, McLarens can sometimes appear delicate and fragile, and Ferraris seem to be everywhere, and even for me, begin to blend into one.
The R8, though, looks exactly how an Audi supercar should look – understated, tough and serious. Have you seen that Audi advert with the R8 on a dyno not wearing any pants? That sounds ridiculous but Google it because it sums up what the R8 is – a real car with a raw race car underneath, that's meant to be driven comfortably on the road and hard on a race track and the styling indicates that intent with little in the way of fanfare.
Well, there is that big window at the back which shows off the engine and the 'side blades' that surround the large vents carved into the side of the car to cool the engine.
The latest update has taken the design from the second-gen car which arrived in 2016 and added a new grille, front bumper, door sills and vents in the rear bumper. It's a more angular, sharper, and busier design with more vents and winglets than ever.
The R8 V10 RWD and R8 V10 Performance are close to identical in their styling. You can pick the Performance by its gloss carbon front spoiler, side sills, mirror caps and rear diffuser. The RWD has gloss black elements instead.
Which looks best: the Coupe or Spyder? That's a personal thing, but I reckon race cars need to have a hardtop roof, so it's the coupe for me, please.
Built using the 'Audi Space Frame' which weighs only 200kg, the R8 is 4426mm long and just 1240mm tall, but at 1940mm across it has a wide, planted stance.
Practicality
KTM X-Bow
5/10
Short answer? It's not. People are unlikely to test drive an X-Bow R and start looking for cupholders and storage space, but if they did, it wouldn't take long.
Aside from the twin seats, a four-point racing harness, a high-mounted gearshift, a pull-lever handbrake, and detachable steering wheel, the cabin is as bare as Old Mother Hubbard's cupboard.
Luggage space is limited to what you can carry in your pockets (though wearing cargo pants will help) and even getting in and out of the thing takes some fleet-footed antics. With no doors you need to literally jump in. And the side sills are only rated to 120kg, so heavier types will need to avoid stepping on them at all, and instead attempt a kind of running leap into the cockpit.
---
Audi R8
7/10
The R8 is a two-seater supercar and practicality isn't high on its 'to do' list with limited cabin storage in the form door pockets almost as small as my jeans pockets, two cupholders hiding under a trapdoor in the centre armrest, a hidey hole in front of the shifter containing a wireless charger and two USB ports and the glove box.
As for the boot – there are two: one in the nose with a 112-litre cargo capacity and another behind the mid-mounted engine with 226 litres.
Room for people, well you and a friend, is excellent. I'm 191cm (6'3") tall with a 2.0m wingspan and found the footwell deep and spacious, while head and shoulder room is also good.
Price and features
KTM X-Bow
7/10
Keen readers of this site will recognise this as the area where we outline the many and varied features that come along with a normal new car purchase, but that's just not going to work this time. In fact, it'll be considerably easier to talk about what's missing, so let's start with the obvious: doors, windows, roof, windscreen. All conspicuously absent from this weird and utterly wonderful X-Bow.
Inside, you'll find two thinly (and we mean thin - we've seen thicker contact lenses) padded seats fixed into the tub. You'll also find push-button start, a digital screen reminiscent of those found on motorbikes (KTM is an Austrian-based motorcycle company, after all) and a pedal box that slides backward and forwards to offset the height of the pilot. Oh, and that steering wheel can pop off to make getting in and out easier.
Climate control? Nope. Stereo? Nope. Proximity unlocking? Well, kind of. With no doors, you'll always find it unlocked when you enter its proximity. Does that count?
But what it does have is a turbocharged two-litre engine. And in a car that weighs a sprightly 790kg, that means it's quick, pulling like a rabid sled dog in every gear, rear tyres chirping with every change.
---
Audi R8
9/10
The entry level R8 RWD Coupe lists for $295,000, while the Spyder version is $316,500. The R8 V10 Performance Coupe is $395,000 and the Spyder is $416,500.
It's in my view the best value supercar on the market. The Lamborghini Huracán Evo shares the same 5.2-litre V10, the transmission and the chassis (like Audi it's part of the Volkswagen family) and starts at $460K.
A Ferrari 488 Pista is pushing $600K, but the McLaren 570S is closer in price at $395,000 – although I find the R8 much less stressful and completely different to drive – read about that below.
Let's talk features. Coming standard on the R8 RWD Coupe and Spyder are laser LED headlights (new to the R8 for this update), 20-inch cast aluminum wheels (also new), a full leather interior (new) with heated and power adjustable RS sports seats, 12.3-inch instrument cluster, Bang & Olufsen 13-speaker stereo (new, too), sat nav, digital radio, proximity key and wireless device charging (new).
The R8 V10 Performance Coupe gets all of the features above but swaps the wheels for lighter, milled alloy rims, ditches the steel brakes for ceramic (pricey to replace, though), and adds other mechanical extras over the entry car such as Audi's magnetic dampers, plus a carbon-fibre reinforced polymer front swaybar.
Explore the virtual Audi R8
What's missing? A central media screen would be good so your passenger can pick the music or follow the sat nav. Audi calls it a 'driver-focused cabin', but the Huracán has a media screen in the centre console.
I think there's a bit of advanced safety equipment missing, too – but that's in the section down further.
Engine & trans
KTM X-Bow
8/10
The X-Bow R's power comes from an Audi-sourced, turbocharged 2.0-litre engine, paired with a VW Group six-speed manual transmission (and one of the stubbiest gearsticks in existence). That mid-mounted marvel produces 220kW at 6300rpm and 400Nm at 3300rpm, and ships it off to the rear tyres with the assistance of a Drexler mechanical limited-slip differential.
Thanks to its lithe and lightweight body, that's enough to propel the X-Bow R from 0-100km/h in a blistering 3.9 seconds, and on to a top speed of 230km/h.
---
Audi R8
10/10
There are two grades in the Audi R8 range – the entry-point R8 V10 RWD which has rear-wheel drive (RWD), and the R8 V10 Performance Quattro which has all-wheel drive (AWD).
Both obviously have V10 engines, it's a naturally aspirated 5.2-litre petrol unit (so no turbos here), but the RWD makes less power and torque at 397kW and 540Nm, while the Performance produces 449kW and 560Nm.
The V10 is mounted behind the driver's seat but ahead of the rear axle making it mid-engined car. The engine even has its own window and you can see it in there with its face pressed up against the glass.
There are two body styles as well – the Coupe and Spyder (convertible, roadster, just another word for a retractable soft roof). We'll get to the prices in the next section, but let's talk about the more interesting numbers such as top speeds.
The V10 RWD in coupe form can reach 324km/h and the Spyder can hit 322km/h while the V10 Performance Coupe and Spyder are both a smidge quicker at 330km/h.
Those are all go-straight-to-jail speeds in Australia, so if you're tempted to fact check my numbers then do it on a racetrack. Audi holds excellent track days – I've done them and you'll not only get to drive the R8 as fast as you can, the instructors will help you improve your advanced driving skills, too. Do it, it could save your life.
Acceleration from 0-100km/h is rapid – 3.7 seconds and 3.8 seconds for the V10 RWD Coupe and Spyder respectively, while the V10 Performance Coupe and Spyder can nail it in 3.2 seconds and 3.3 seconds.
The V10 engine has a cylinder-on-demand feature which can shut down five of the cylinders while cruising on a motorway, say at 110km/h. It's a fuel-saving system, but keep in mind this V10 loves petrol and lots of it – I've hidden that all the way down the bottom of this review.
Shifting gears in all R8s is a seven-speed dual-clutch automatic transmission.
Fuel consumption
KTM X-Bow
7/10
KTM lists the X-Bow R's claimed/combined fuel figure at 8.3 litres per hundred kilometres (though we were managing mid-12s after an, ahem, very spirited test), with emissions pegged at 189 grams per kilometre.
The X-Bow R is also fitted with a 40-litre fuel tank, accessed via a side-mounted inlet. Instead of a fuel gauge, expect a digital reading showing how many litres you have left.
---
Audi R8
7/10
That's like asking how many calories are in this pavlova that I'm about to push into my mouth? Seriously if you're asking then you shouldn't be eating it – or driving the R8.
But just for the record, according to Audi the RWD R8 uses 12.0L/100km in Coupe form and 12.2L/100km in Spyder guise after a combination of urban and open roads, while the AWD R8 of course will use more at 13.4L/100km for both Coupe and Spyder.
Driving
KTM X-Bow
9/10
It couldn't be more Fast and Furious if it had Vin Diesel growling under its (non-existent) bonnet. We have technically driven faster cars, but we have never driven anything that feels quite so fast as this utterly insane X-Bow R.
Climb in, strap into the four-point harness and select first via the surprisingly easy-to-manage gearbox and clutch set up, and, at slow speeds, wrestle with the dead weight of the completely unassisted steering, and it's immediately clear that this is a driving experience like nothing else currently road-legal in Australia. Even at walking pace, the X-Bow R feels poised for an assault on the future, and it attracts attention on the road like nothing else we've ever driven.
Its road-scraping ride height and diminutive dimensions make tackling traffic an intimidating prospect, with regular hatchbacks suddenly taking on truck-like proportions and actual trucks now looking like passing planets. There's a constant concern that you're sitting well below the traditional blind spot, and that you could be crushed at any moment.
Combine all that with the bad weather that cursed our final day of testing, and the X-Bow R is all sorts of watery hell. It is truly homicidal in the wet, too, with the back end breaking grip at the slightest provocation. And the turbocharged 2.0-litre offers plenty of that.
But on a sunny day, and on the right road, it's pure driving bliss. The acceleration is brutal, the grip endless and the Audi sourced gearbox an absolute treat. And it pulls in every gear, tackling 35km/h corners in third and absolutely blasting out the other side.
Cornering is scalpel sharp, and the steering - so heavy at slow speeds - is light and efficient at pace, requiring only the most minuscule of movements to bite into a bend.
It is anything but perfect in the city, and even a light sprinkling of rain will have you seeking shelter (and a refund), but on the right road, on the right day, there are few if any cars that offer the kind of razor-sharp thrills and intoxicating excitement of KTM's monstrous X-Bow R.
---
Audi R8
9/10
A race circuit is the best place to test the performance of an Audi R8. I've been lucky enough to have done this in the past, but for this update of the R8 the Australian launch was held on public roads and included a convoy of RS models such as the RS 6 Avant, RS 7, RS Q3 and TT RS.
Even then I think I was 'stitched up' because I began the day in the R8 V10 Performance Coupe but spent almost the entirety of my allocated time in roadworks at 40km/h before swapping to an RS Q3.
So, while I can't honesty comment about the dynamics on this updated R8 V10 Performance Coupe I can tell you that having driven every iteration of the R8 since 2012 that it's a weapon, with helicopter-like visibility out of that large front window.
If, like me, you think turbos are 'cheating' (superchargers are fine), then you'll love the linear power delivery of the R8's naturally aspirated V10, and while I love front-engined sportscars, nothing beats a mid-engined car for the feeling of balance and lightness in the nose while having the sound of thousands of explosions going off just behind your back.
Having AWD is not just great for acceleration and perfect traction from Audi's quattro system, I think it's a good safety feature in a supercar, and while only your judgements can stop things going pear shaped, the system will be there to help on slippery roads.
The following day was different. I was in the R8 V10 RWD, the country roads were superb and while it wasn't a racetrack it was enough to get a hint of the capabilities of the RWD R8.
While the R8 V10 RWD feels the same to sit in with the same great view, it feels different to drive than its faster sibling, in a good way. First there's the noticeable power difference – more than 50kW and 20Nm less – but also the lack of AWD makes the front end feel more pointable, and the car feel more like a traditional sportscar that pushes from behind rather than pulling from the front. Less power, but more fun.
The RS cars in our test convoy were all awesome machines, but stepping out of even the RS6 Avant and slipping down into the R8 cockpit was like getting into a UFO – it's so far ahead dynamically of any other Audi that all I could do was laugh like an idiot. Corners which were making an RS 7 really struggle, were handled effortlessly by the R8. And in a straight line it's a bullet in a barrel.
The Performance has the better brakes: 380mm ceramic discs with six piston calipers up front and 356mm discs with four piston calipers at the rear. The RWD has steel discs – 365mm with eight piston calipers up front and 356mm discs with four piston calipers in the rear.
Keep in mind if you are planning on track days, you'll find the ceramic discs costly to replace, and beside the stopping power of the steel ones is excellent.
And yet, on pot holed course bitumen the ride is a lot more comfortable than you might think and having driven the Performance in traffic it's a much nicer place to sit than the claustrophobic cabin of a McLaren 570S. You could honestly use the R8 daily.
Safety
KTM X-Bow
5/10
Next to none. There is no ABS, traction or stability control. No airbags, powered steering or ISOFIX attachment points, either. If you break traction (which, in the wet, is more than a little bit likely) it'll be up to you to ensure you straighten up again. Helpfully, there's a ton of grip from the Michelin Super Sport tyres.
As part of the compliance program, Simply Sports Cars (the company responsible for introducing the X-Bow R) actually crash tested two cars in Europe, and raised the ride height by 10 millimetres. Oh, and there's now a seatbelt warning sign, too.
---
Audi R8
5/10
ANCAP has not tested the Audi R8 so there's no star rating available. What we can tell you is that the R8 has a low level of advanced safety technology – there's no AEB, no adaptive cruise control, no rear cross traffic alert, nor blind spot warning, nor lane keeping assistance. That's the reason why the score is so low here.
The R8 does have electronic stability control and ABS, and active roll over protection, plus six airbags, although the Spyder doesn't have curtain airbags.
Ownership
KTM X-Bow
5/10
The X-Bow R is covered by a two-year, unlimited-kilometre warranty, and while service prices aren't capped, Simply Sports Cars estimates an average serve cost at about $350.
---
Audi R8
6/10
The R8 is covered by Audi's three-year, unlimited kilometre warranty which not only falls behind in duration compared to mainstream brands but also its direct rival Mercedes-Benz which now has five-year, unlimited kilometre coverage.
Service intervals are every 12 months or 15,000km but unlike other Audi models there isn't a three-year or five-year plan available.