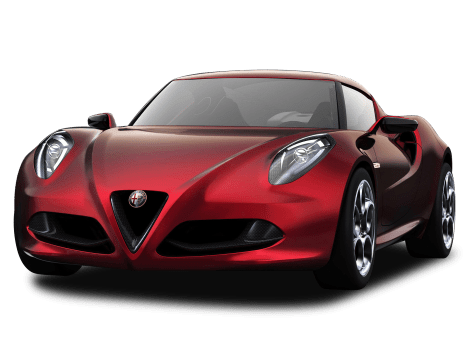 COMPARE
Alfa Romeo 4C
VS
Audi S3
Alfa Romeo 4C
Likes
Startling performance
Superbly in tune with the road
Addictive to drive
Dislikes
Expensive
Lacking gear
Rich servicing costs
---
Audi S3
Likes
Great handling
Excellent engine
Perfectly proportioned
Dislikes
Not much leg or headroom in the back
Standard feature list is a bit light
Artificially enhanced sound
Summary
Alfa Romeo 4C
Nothing could've better prepared me for my drive in the 2019 Alfa Romeo 4C than a trip to Sydney's Luna Park.
There's a rollercoaster there called Wild Mouse - an old-school, single carriage coaster with no loop-the-loops, no high-tech trickery, and with each ride limited to just with two seats apiece.
The Wild Mouse throws you around with very little regard for your comfort, gently impinging your fear factor by making you consider the physics of what is happening underneath your backside. 
It's an unbridled adrenaline rush, and genuinely scary at times. You get off the ride thinking to yourself, "how the hell did I survive that?".
The same can be said with this Italian sports car. It's blisteringly quick, it's superbly agile, it handles like it has rails attached to its underbody, and it could potentially do brown things to your underpants.
| | |
| --- | --- |
| Safety rating | — |
| Engine Type | 1.7L turbo |
| Fuel Type | Premium Unleaded Petrol |
| Fuel Efficiency | 6.9L/100km |
| Seating | 2 seats |
---
Audi S3
Richard Berry has gone low-profile and high-performance behind the wheel of Audi's S3 sedan, a Bavarian wolf dressed in very stylish sheep's clothing.  His road test and review includes specs, fuel consumption and verdict.
Would you be comfortable wearing a flat-brimmed baseball cap in public? If you answered: "FTW! I do already, brah!" then head over to our Golf R review here. If your answer was a definite no, then stay where you are because the Audi's S3 Sedan could be for you. And if you don't know what a flat-brimmed baseball cap is then you might be interested in reading about a Camry here.
See, the S3 Sedan takes the boy racer recipe of crossing a little car with a high-output engine and puts it in a grown-up package – a sedan, and a small one at that. Based on the A3 Sedan the S3 is visually so subtly different from its sedate brother that only those who know would know that this car is a bit of an animal. It's not as much of a beast as the RS3, however. That thing is brutal. 
Audi's not the only one to cotton on to the small prestige missile concept: Mercedes-Benz has its CLA 250 Sport 4Matic and BMW has the M240i. Both awesome, and a step down from the full-blown AMG and M versions.
Audi updated the S3 Sedan just as 2016 was shutting up shop and it's this new, quicker and smarter version we've road tested here.
So, what's it like to live with? Why is sitting in the backseat a pain in the neck for me? How do the magnetic shock absorbers work? Is a virtual cockpit as good as it sounds? Where's that noise coming from? So many questions… all answered.
| | |
| --- | --- |
| Safety rating | |
| Engine Type | 2.0L turbo |
| Fuel Type | Premium Unleaded Petrol |
| Fuel Efficiency | 7.1L/100km |
| Seating | 5 seats |
Verdict
Alfa Romeo 4C
7.1/10
People might wonder if there's a reason to buy an Alfa Romeo 4C. It has some great dollar-for-dollar competitors - the Alpine A110 does most of the things the Alfa does, but in a more polished way. And then there's the Porsche 718 Cayman, which is a considerably more, well, considered option.
But there is no doubt the 4C stands alone, a sort-of cut-price alternative to a Maserati or Ferrari, and nearly as rare to spot on the road as those cars, too. And just like the rollercoaster at Luna Park, it's the sort of car that'll leave you wanting another go.
Would you take the 4C over a Alpine A110? Let us know in the comments.
---
Audi S3
7.5/10
The S3 Sedan is the perfect midpoint between domesticated and wild. It doesn't have the sledgehammer performance of the BMW M240i or the bling factor of the Benz CLA 250 Sport, but for many buyers that's just what they're after – a low-key, quick, fun, but prestigious car.
Click here for more 2017 Audi S3 pricing and spec info.
Are the S3 Sedan's looks too subtle or do you like it low-key? Let us know what you think in the comments below.
Design
Alfa Romeo 4C
8/10
Slap a Ferrari badge on it, and people would think it was the real deal - a pint-sized performance hustler, with all the right angles to get plenty of glances.
In fact, I had dozens of punters nod, wave, mount 'nice car mate' and even a few rubber-neck moments - you know, when you drive past and someone on the footpath can't help but forget they're walking, and they stare so hard they might well collide with the upcoming lamp-post. 
It really is a head-turner. So why does it only get an 8/10? Well, there are some elements of the design that make it less user-friendly than some of its rivals.
For instance, the step-in to the cabin is enormous, because the carbon-fibre tub sills are huge. And the cabin itself is pretty tight, especially for taller people. An Alpine A110 or Porsche Boxster are much more amenable for day-to-day driving… but hey, the 4C is markedly better than, say, a Lotus Elise for ingress and egress.
Also, as smart as it still looks, there are elements of Alfa Romeo design that have moved on since the 4C launched back in 2015. The headlights are the bit that I dislike most - I had a real thing for the spider-eyes lights of the launch edition model.
But even if it isn't unmistakably Alfa Romeo, it's unmistakably a 4C. 
---
Audi S3
8/10
Okay, if you can spot the difference between the new S3 and the previous S3 then you're an Audi spy or you own one, because the changes are minor.
The grille is now wider and its corners meet at sharper points, while the LED running lights, which are still integrated into the headlights, provide more of a frame around a new intricate lens design, while the outside plastic casing is more angular in its styling. The tail lights have been redesigned and the rear indicators have gone all Vegas and now use strip LED lighting which progressively illuminate in the direction the vehicle is turning. The rear diffuser has also been restyled.
Picking an S3 from an A3 is tricky – they look so much alike. The easiest way to know if you're looking at an S3 and not an A3 is if it has the beefy rear diffuser and quad exhaust tips.
Apart from those tail pipes, the S3 looks a lot like an A3, which looks a lot like an A4, and an A6, and an A8, only smaller. Which is no bad thing – it's a sleek good looking shape and the S3 appears perfectly proportioned despite its small size.
It really is small. At 4469mm long, 1960mm wide and 1392mm tall the S3 Sedan is shorter than a Mazda3 sedan. As for its rivals the S3 is 171mm shorter than the four-door CLA 250 Sport and 37mm longer than the two-door M240i.
The cabin is refined and prestigious and shares the same materials and styling as higher-end Audis.
Practicality
Alfa Romeo 4C
6/10
You can't get into a car this small and expect a lot of space.
The dimensions of the 4C are tiny - it's just 3989mm long, 1868mm wide and only 1185mm tall, and as you can see from the pictures, it's a squat little thing. The Spider's removable roof could be great for you if you're tall.
I'm six-feet tall (182cm) and I found it to be cocoon-like in the cabin. You feel almost as though you're tying yourself to the tub of the car when you get into the driver's seat. And getting in and out? Just make sure you do some stretches beforehand. It's not as bad as a Lotus for ingress and egress, but it's still hard to look good clambering in and out of. 
The cabin is a cramped space. There's limited head room and leg room, and while there is reach and rake adjustment for the steering wheel, the seat only has manual slide and backrest movement - no lumbar adjust, no height adjust… almost like a racing bucket. They're hard like a race seat, too. 
The ergonomics aren't terrific - the controls for the air-con are hard to see at a glance, the buttons for the gear select take some learning, and the two centrally-mounted cup holders (one for your double-shot mocha latte, the other for a hazelnut piccolo) are inconveniently positioned exactly where you might want to put your elbow. 
The media system is rubbish. It'd be the first thing to go, if I bought one of these, and in its place would be an aftermarket touchscreen which would: a) actually let you pair to Bluetooth; b) look like it was from sometime after 2004; and c) be more fitting for a car of this price tag. I'd upgrade the speakers, too, because they're poor. But I can totally understand if those things don't matter, because it's the engine you want to hear.
The materials - aside from the red leather seats - aren't great. The plastics used are similar in look and feel to what you find in second-hand Fiats, but the sheer volume of exposed carbon-fibre does help you forget those details. And the leather pull straps to close the doors are nice, too. 
The visibility from the driver's seat is decent - for this type of car. It's low, and the rear window is small, so you can't expect to see everything around you at all times, but the mirrors are good and the forward vision is excellent.
---
Audi S3
6/10
Yes, it has four doors and five seats but space in the back row is limited. Tall friends won't be pleased sitting behind you. I'm 191cm and can only just sit behind my driving position. The bigger issue is the lack of headroom and I can't sit up straight without having my cheek up against the roof. That's literally a pain in the neck.
Up front you'd never know about the space issues behind you. The cockpit is roomy from the pilot's seat, with good headroom, plenty of space in the footwell and stacks of shoulder room.
There was somebody that did love sitting in the back seat - my two year old son in his car seat. Apart from him having plenty of space, the low window sill meant he had a better view of the outside world than many other cars I've tested lately.
So a young family or empty nesters with grandchildren may find the size suits their life best, or treat it as a two seater with a bonus back row if you need to give people a lift.
Storage throughout isn't great – there are no cup holders in the back, but there are two up front. You'll find small bottle holders in the back doors and larger ones in the front.
Boot size is impressive though at 425 litres – that's just 55 litres less than the A4's luggage capacity. The M240i's cargo capacity is 390 litres. It's even bigger than the boot in the A3 Sportback hatch (340 litres), but the boot opening itself isn't big and we couldn't fit the CarsGuide pram in no matter how much violence we directed towards it.
Price and features
Alfa Romeo 4C
6/10
Look, no-one considering an Italian sports car is likely to be wearing their common sense hat, but even so, the Alfa Romeo 4C Spider is an indulgent purchase.
With a list price of $99,000 plus on-road costs, it isn't affordable. Not considering what you get for your money.
Standard inclusions consist of air conditioning, remote central locking, heated electric door mirrors, leather sports seats with manual adjustment, a leather-lined steering wheel, and a four-speaker stereo system with USB connectivity and Bluetooth phone and audio streaming. It's not a touchscreen, so there's no Apple CarPlay or Android Auto, and there's no sat nav… but the thing about this car is going the fun way home, so forget maps and GPS. And there's a digital instrument cluster with a digital speedometer - believe me, you'll need it.
The standard wheels are a staggered set - 17-inch at the front and 18-inch at the rear. All 4C models have bi-xenon headlights, LED daytime running lights, LED tail-lights and dual exhaust tips. 
Of course, being the Spider model, you also get a removable soft top and you know what's neat? You get a car cover included as standard, but you'd want to put it in the shed, as it takes up a bit of boot room!
Our car was even further up the pay scale, with an as-tested price of $118,000 before on-roads - it had a few option boxes ticked. 
First there's that beautiful Basalt Grey metallic paint ($2000), and those contrasting red brake calipers ($1000).
Plus there's the Carbon & Leather package - with carbon-fibre mirror caps, interior bezels, and a stitched leather instrument cover panel. It's a $4000 option.
And finally, the Racing Package ($12,000), which includes a staggered set of 18-inch and 19-inch wheels with a dark paint finish, and those wheels are fitted with model specific Pirelli P Zero tyres (205/40/18 up front, 235/35/19 at the rear). Plus theres the sports racing exhaust system, which is awesome, and a racing suspension setup. 
---
Audi S3
7/10
The S3 Sedan 2.0 TFSI quattro S tronic lists for $64,500 and that's $1600 more than the S3 Sportback, but $7500 less than the S3 Cabriolet.
Standard features in the S3 Sedan include 18-inch alloy wheels, leather seats (sports buckets up front), dual-zone climate control, a 7.0-inch screen, sat nav with six monthly map updates, CD and DVD player, digital radio, 10-speaker 180W Audi sound system, Apple CarPlay and Android Auto, as well as Bluetooth connectivity. There's also the Audi virtual cockpit – a fully digital instrument cluster.
You'll also get LED headlights, drive mode selector, front and rear parking sensors plus reversing camera and blind spot warning. There's also new advanced safety equipment – read about that below.
It's disappointing that features such as auto parking, adaptive cruise control, lane keeping assistance, collision warning, auto headlights and even hill hold need to be bought as options, particularly when they are offered standard on many Hyundais, Kias and Volkswagens.
Our test car was optioned with Navarra blue metallic paint for $1150, Magnetic Ride dampers for $1600, the $850 black high gloss package and $1350 18-inch five spoke 'Turbine' design alloy wheels, bringing the total package to $69,450.
On the upside, the S3 Sedan's list price undercuts its rivals, with the CLA 250 Sport selling for $67,600 and the M240i listing at $74,900.
Engine & trans
Alfa Romeo 4C
8/10
The Alfa Romeo 4C is powered by a 1.7-litre turbocharged petrol four-cylinder engine, which produces 177kW of power at 6000rpm and 350Nm of torque from 2200-4250rpm. 
The motor is mounted amidships, and it is rear-wheel drive. It uses a six-speed dual-clutch (TCT) automatic with launch control. 
Alfa Romeo claims a 0-100km/h time of 4.5 seconds, which makes it one of the quickest cars at this price point. 
---
Audi S3
9/10
The latest S3 Sedan is more powerful and quicker than the previous one – by a smidge. Power has been increased to 213kW (+3kW) with torque staying at 380Nm and the claimed 0-100km/h time drops by 0.2s to 4.8s. It's a better sprinter thanks to the new transmission – the six-speed dual-clutch from the previous version has been swapped for a seven-speed.
Drive goes to all four wheels thanks to Audi's signature quattro system.
Fuel consumption
Alfa Romeo 4C
8/10
Claimed fuel consumption for the Alfa Romeo 4C Spider is rated at 6.9 litres per 100 kilometres, so it's no miser.
But, impressively, I saw real-world fuel economy of 8.1L/100km, over a loop that included urban, highway and 'spirited' driving on twisty roads.
---
Audi S3
7/10
Audi says the S3 should drink premium unleaded at an average rate of 6.5L/100km when driving under combined conditions. My fuel consumption was a bit more than Audi's serving suggestion at 11.0L/100km, but I drive like I'm on the run.
There's a stop-start system which is great at saving fuel but it's annoying in traffic, particularly with a DSG gearbox. The system will cut the engine when coasting to a stop which I find unnerving, particularly when I'm turning at an intersection. For these reasons, unless I need to save fuel, I'll switch it off.
Driving
Alfa Romeo 4C
9/10
I said that it's like a rollercoaster, and it really, truly is. The air doesn't quite rush through your hair as much, sure - but with the roof off, the windows down and the speedometer constantly edging towards licence suspension, it's a real hoot of an experience.
It just feels so tight - the carbon-fibre monocoque chassis is rigid and super stiff. You hit a cats-eye and its all so sensitive, you could mistake it for having hit an actual cat. 
Alfa Romeo's DNA drive modes - the letters stand for Dynamic, Natural, All Weather - is one of those proper examples of this type of system done well. There's a marked difference between how these different settings operate, where some other drive modes out there are more sedate in their adjustments. There's a fourth mode - Alfa Race - which I didn't dare sample on public roads. Dynamic was enough to test my mettle. 
The steering in Natural mode is lovely - there's great weighting and feedback, super direct and incredibly in touch with the surface below you, and the engine isn't quite as zesty, but still offers tremendous response on the move. 
The ride is firm but composed and compliant in any of the drive modes, and it doesn't have adaptive suspension. It is a stiffer suspension setup, and though the damping doesn't change in Dynamic mode, if the surface is anything but perfect you will tram-track and twitch all over the place, because the steering feels even more dialled in. 
In Dynamic mode the engine offers amazing response when you're at pace, building speed incredibly and before you know it, you're in licence loss zone.
The brake pedal requires some firm footwork - just like in a race car - but it pulls up strongly when you need it to. You've just gotta get used to the pedal feel. 
The transmission is a good thing at speed in manual mode. It won't overrule you if you want to find the redline, and it sounds tremendous. The exhaust is exhilarating!
With roof on and windows up there's very noticeable noise intrusion - lots of tyre roar and engine noise. But remove the roof and drop the windows and you get the full effect of the drive experience - you'll even get some "sut-tu-tu" wastegate flutter. It doesn't even matter that much that the stereo system is so rubbish.
At normal speeds in normal driving you do need to be considerate of the powertrain because it is finnicky and slow to react at times. There's notable lag if you're gentle on the throttle, both from engine and transmission, and the fact peak torque doesn't come on song until 2200rpm means there's lag to contend with. 
It'll be a difficult choice between this and Alpine A110 and a Porsche Cayman – each of these vehicles has a very different character. But for me, this is the most go-kart like and it is, undeniably incredibly involving to drive.
---
Audi S3
8/10
Just say you were looking for a getaway car then the S3 may be ideal. It's low key enough for it not to stand out and quick enough to out accelerate mostly everybody else you'll encounter. A sprint time of 4.8s for the 0-100km/h dash is almost a second in front of Ford's new V8 Mustang and only 0.2s behind an entry-spec Porsche 911.
The M240i is quicker at 4.6s to 100km/h, but the CLA250 Sport is way back at 6.4s.
The best part of the S3 is the driving. This thing feels sharp, agile and well balanced. There were times I wanted more grunt when climbing corkscrewing hill roads, or coming out of turns onto a straight, but that would begin to encroach into the RS3's territory.
No, the S3 is a playful and safe-feeling little missile with great pedal feel, and an excellent low seating position. Dynamic mode can be set through the Drive Select function to adjust steering weight, change the throttle mapping and firm the dampers for better handling.
The Magnetic Ride Control system adjusts the dampers continuously to suit the situation. Charged particles in the oil inside the shock absorber align themselves when a magnetic field is applied in connection to the driving conditions – this changes the viscosity of the fluid.
The S3's sound completes the fun package, although it's slightly artificial. There's an actuator under the bonnet which looks like a hockey puck and vibrates to enhance the sound to a deeper growl. I'm not a fan and don't see the need for it when the engine note would still sound great without it. Oh and yes, the S3 lets rip a burp on the upshifts.
The Virtual Cockpit is an excellent feature. You can digitally configure the instrument cluster to your own tastes – the view which reduces the speedo and tacho down and fills the screen with your sat nav map means you don't have to keep looking across to the main display.
That main display, by the way, is looking dated and small – it's been the same since the A3 launched in 2013, and tech (as proven by the virtual cockpit) has come a long way since then.
Mechanically, the S3 is closely related to the all-wheel drive Golf R (both being in the Volkswagen Group family), although the current version of that hot hatch is more like the old S3 with a six-speed dual-clutch and 206kW engine.
Safety
Alfa Romeo 4C
6/10
You're in the wrong spot if you want the latest in safety technology. Sure, it's at the cutting edge because it has an ultra strong carbon-fibre design, but there's not much else happening here.
The 4C has dual front airbags, rear parking sensors and an alarm with tow-away protection, plus - of course - electronic stability control. 
But there are no side airbags or curtain airbags, there's no reversing camera, there's no auto emergency braking (AEB) or lane keep assist, no lane departure warning or blind spot detection. Admittedly - there are a few other sports cars in the segment which lack safety smarts, too, but 
The 4C has never been crash tested, so there's no ANCAP or Euro NCAP safety score available.
---
Audi S3
8/10
The S3 Sedan has seven airbags and the maximum five-star ANCAP rating, but that score has really become the new minimum these days, so the way to see if a brand is going further is to look at the advanced safety equipment list. AEB with pedestrian detection (up to 65km/h) is offered for the first time in this S3 and so is rear cross traffic alert. 
For child seats there are two ISOFIX mounts in the back row and two top tether anchor points.
Ownership
Alfa Romeo 4C
6/10
If you're hoping that a 'simple' car like the 4C will mean low ownership costs, you might be disappointed in this section.
The Alfa Romeo website service calculator suggests that over 60 months or 75,000km (with service intervals set every 12 months/15,000km), you will have to fork out $6625 total. For a breakdown, the services cost $895, $1445, $895, $2495, $895.
I mean, that's what you get when you buy an Italian sports car, I suppose. But consider you can get a Jaguar F-Type with five years of free servicing, and the Alfa looks like a rip-off. 
The Alfa does, however, come with a three-year/150,000km warranty plan, which includes the same cover for roadside assist.
---
Audi S3
7/10
The S3 Sedan is covered by Audi's three-year/unlimited kilometre warranty. Owners can purchase a three-year/45,000km servicing plan for $1700. Servicing is recommended at 15,000km/one year intervals.